Technology is reshaping the way the real estate market works.
And like any other industry, real estate exhibits a substantial potential for app development. From customers to realtors, the benefits of apps can be reaped by everybody.
With the rise in prices of the housing market, real estate continues to be a lucrative industry. So it makes sense for the IT sector to digitize various aspects of the trade. So developing real estate phone apps is a great way to boost awareness about the housing market as well as revenue.
But what exactly should you keep in mind when developing a real estate app? To answer this and more, continue reading for an in-depth explanation.
Here's why you need a real estate mobile app
Radical technological advancements are being implemented in our lives. And as everything becomes digital, businesses are facing a substantial amount of competition.
It's not only about the sheer volume of real estate agencies that can be found online that is adding to corporate pressures. The constant updates on search algorithms are adding to the mix of elements required to maintain a robust online presence. But real estate agencies realize that mobile apps can immensely help the trade.
5 things you can do with a real estate mobile app
Real estate is a dynamic business, and the opportunities for app development are tremendous, ranging from communication to task management to customer relationship management. No matter what, agents must be able to perform their duties efficiently, including financial management, market analysis, verification of customer data, and much more.
Some of the most valuable technology tools used by real estate agents are CRMs, cameras and imaging equipment, document storage software and document creation software, social media platforms, lockboxes and smart key devices, and local MLS websites and apps, as evidenced in the below graphic.

Needless to say, mobile apps for real estate business should aim at facilitating their jobs while also enhancing the client's experience. So let's break it down and take a closer look at some of the ways that a real estate mobile app can help the business.
1. Improve your clients' experiences
For most people, buying a home can be one of the largest purchases they'll ever make. Buyers now have access to a multitude of apps to fulfill this dream. Apps must be designed to resolve end-user concerns.
Common issues that current customers are facing include the lack of time to go from house to house to view and compare properties; the need for up-to-date information about each property; and searching for a property that falls within budget and other preferences.
Apps are helping to improve the customer buying experience. Because they have access to a mobile phone's hardware, apps are faster and better adapted for mobile devices.
Some of the advantages of real estate mobile apps for customers are:
User-friendly experiences
Access to data while on the go
Staying connected with everyone in the industry 24/7
Greater engagement
Extended market reach
Enhanced property viewing experience
A personalized experience
Ninety-three percent of people visit websites, and 73% utilize apps to search for homes. It's the easiest option to survey and research the market. But when it comes to apps, several features enhance the customer's experience.
Apps allow individuals to search for a property with a variety of options. This includes buying or renting a property depending upon size, location, neighborhoods, price, type of property (bungalow, office, apartment, etc.), number of rooms, the age of the property, parking facilities, and so on.
With the availability of this information and much more at their fingertips, homebuyers are better equipped to find a property that aligns with their preferences. Alongside this, interested parties can view several potential properties with the aid of virtual tours. That way, people can effortlessly compare houses without having to drive to each location.
2. Leverage data (about the housing market and customer demographics)
According to a report from the National Association of Realtors, 76% of all buyers found a home on a mobile device, and 17% of all buyers found an agent the same way.
More interestingly, 58% of millennials, 46% of gen x, and 33% of baby boomer home buyers found a property on a mobile device. And as the newer generation matures and becomes interested in investing in property, real estate agents must cater to these potential clients in ways that they are more likely to interact. Customers need to narrow down their search and decide whether a property is worth visiting.
They often demand the following information:
Contacting a real estate agent that can take them to the next stage of the sales funnel. Apps not only provide all this but can also gather a great deal of information. Current data about the housing market can be crossed against customer needs to find the ideal house.
3. Amplify your marketing efforts
Apps have the uncanny ability to gather and analyze consumer data. Not only does this allow individuals to find a property according to their needs, but it also promotes a more personalized experience.
For real estate agents, information about consumers is essential to help seal the deal. With demographic, contextual, and behavioral data, realtors can segment app users and target the audience with better marketing strategies.
Demographic data helps identify who the users are, while contextual information considers what device is being used, the time of the day, the current geographic location, and so on. Additionally, the app can adapt to consumer behavior in real-time to display more properties that they might be interested in.
All of these aspects can facilitate the creation of custom experiences and displaying content that is most relevant to the user. But realtors can enhance marketing strategies with artificial intelligence and data science techniques. Analytics tools can help scrutinize and analyze search-related data that the app has amassed in much greater depth. Thus they can give priority to more frequently searched criteria.
Moreover, this allows real estate agents to provide better support to clients during a long-term property search or an extensive set of requirements for a property based in a specific, high-demand area. Realtors can then meet a user's preferences and continue interacting with them through email.
4. Organize your team of realtors
Eighty-two percent of all transactions in real estate business are made due to referral or repeat business. So realtors need an app that streamlines their work. But above all, effective communication between team members and clients is what drives any business towards success.
A real estate mobile app must effectively support and facilitate communication and interaction between all real estate agents working in the agency and your clients. Ninety-two percent of agents prefer to communicate through text messaging. But offline mode can help realtors keep in touch even if there is a poor network connection.
Apps can help track clients and therefore allow agents to manage leads throughout the property sales cycle. For instance, real estate agents can check what homes clients have recently viewed, communicate with them, and set reminders for team members to follow up on a lead.
Agents can track the performance of team members throughout the property sales cycle and assign tasks to facilitate a sale. With the aid of reporting and analytics, the admin can evaluate progress and schedule further tasks or meetings.
Apps simplify the management of property listings and comparative market analysis with detailed, up-to-date property profiles and can enhance communication processes by promoting the sharing of property profiles between agents as well as with prospective clients. Moreover, apps allow personalized interactions so team members can focus on making interactions more engaging and productive.
Plus, they can help manage tasks such as scheduling appointments and linking them to properties and clients, and they may support crucial calculations that clients may inquire about a prospective property, such as loan interest, initial payments, loan repayment period, or mortgage payments.
5. Send documents (legal or otherwise) to clients
Real estate requires comprehensive communications and interactions between the agency, the team of realtors, and clients. While a chat feature of an app can immensely boost this aspect, there must also be a system that allows the sending of audio and video files that match the users' requirements.
Mobile apps for real estate agents help prepare and send documents to clients as well. But the latest advancements are also promoting electronic signing. More importantly, being mobile improves the client's experience because replies are received a lot quicker. This way, real estate agencies can acquire a competitive advantage as well as retain more customers.
4 examples of real estate mobile apps
Real estate apps can help realtors from lead generation, managing listings, streamlining closings, expense tracking, open house management, optimizing marketing campaigns, simplifying transaction management, and much more.
But others are helping people find suitable properties, contact a realtor, set up a house visit, and more. Let's take a closer look at some top real estate software available in the market.
1. Trulia
Trulia offers individuals the opportunity to explore neighborhoods on a full-featured map, whether using the web or the app. People can browse through neighborhood photos, drone footage, resident reviews, and much more. And sharing information about various properties with house hunting companions couldn't be easier.
The app provides deep insights about the real estate of interest and its surroundings, so there is a higher chance of finding the right place and heading towards a successful purchase. Search features allowing users to choose parameters and filters to locate properties that align with their requirements. Users can also access current mortgage rates.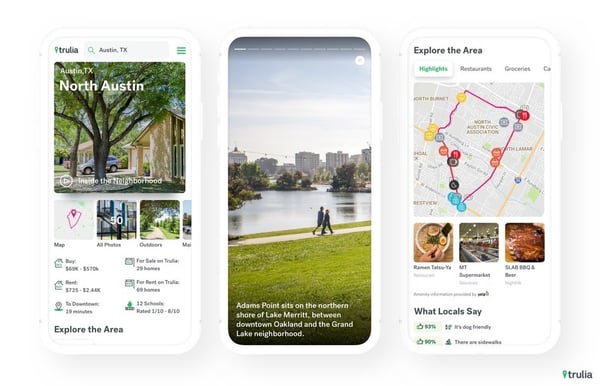 But one of the best app features is the ability to use the built-in GPS on a smartphone to identify homes for sale or rent in the vicinity. As users drive through neighborhoods, they can also discover neighborhood points of interest, schools, homes recently sold, average home prices, an overview of local crime, and much more.
2. Zillow
With Zillow, every aspect of real estate is taken care of, including buying, selling, renting, financing, remodeling, and more. So owning a home couldn't be easier. People can hunt for homes by address or use a smartphone's GPS.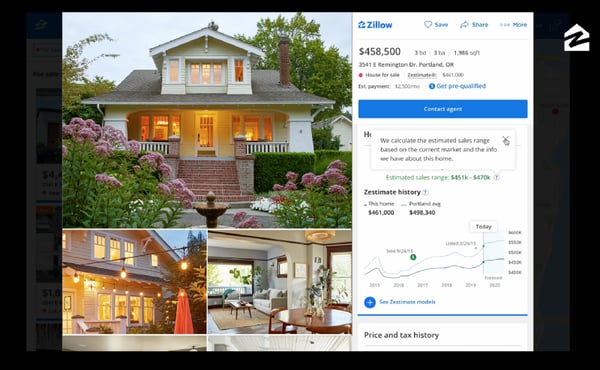 By searching areas on a map with the aid of filters, individuals can gather detailed information about a property, including the price, tax history, forecast value details, and more. But with this real estate app, users can hide properties they are not interested in, access foreclosure property listings, and locate bank-owned properties.
Zillow is unique in that it also provides other free apps beyond basic home search:
Zillow Rentals for those looking to lease property
Zillow Mortgages for help in calculating mortgages and everything related
Zillow Home Loans for help in acquiring loans
Zillow Premier Agent to find an agent
Zillow Digs to get additional remodel and design ideas
3. Realtor.com
With Realtor.com, users will have access to a broader range of listed properties and the most recent real estate listings, whether it's through the app or the website. As the official search portal for the National Association of Realtors, Realtor.com has a close relationship with the Multiple Listing System (MLS). This means that individuals can obtain comprehensive data quicker here than from other sites.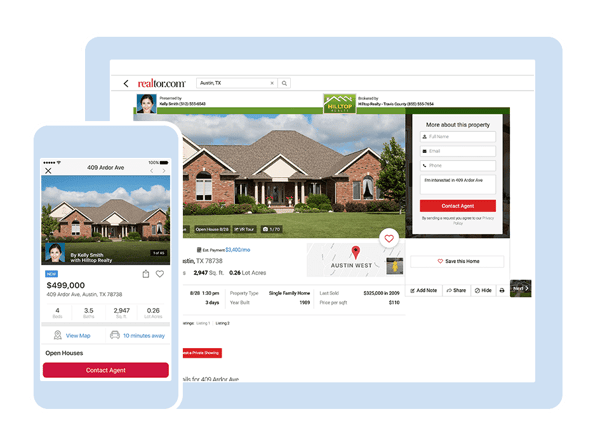 Source
As a pioneer in the digital real estate space, this app has received a 4.6-star rating on both iOS and Android. It offers features that not only inform users but effectively ease the anxieties people often face searching for the perfect home.
Some of the features are:
Price Perfect: helps to specify the costs of real estate in different neighborhoods
Commute Time: allows people to understand the time it takes to commute to and from work. Users can filter listings to match time preferences in 10-minute increments. The "traffic" toggle offers commute times with and without traffic.
Photo First: enhances the browsing experience. This feature focuses on deep learning photo interests to create a more personalized experience.
And now, you can search for both a home and an agent with Realtor.com.
4. Redfin
Redfin is one of the many well-designed real estate search engines available. It's an up and running brokerage firm that offers services online as well as through an app. People can search by filtering upcoming open houses and get an idea of what homes in an area are like.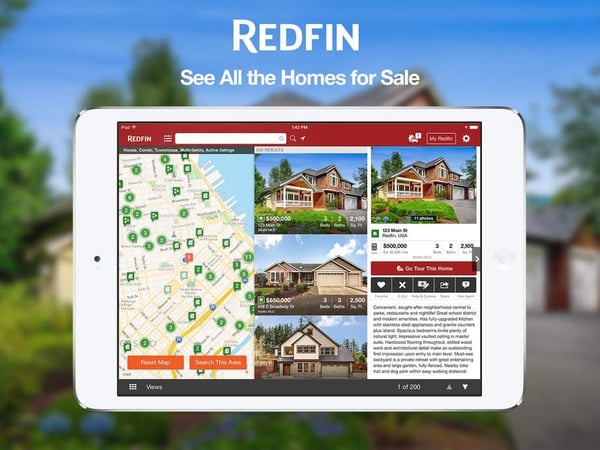 Redfin offers an online, map-based real estate search to those interested in buying or selling property. Moreover, it speeds up and facilitates the entire process by customizing search. Redfin provides in-depth data on each listing, such as the standard real estate specifications, local pricing, schools, photos, and even insights from other agents.
People can get a competitive home-buying edge by booking a free home tour with a Redfin real estate agent. And because the listings are updated every 15-30 minutes, the information is quite accurate.
4 reasons real estate agents should use mobile apps
The world is downright obsessed with smartphones. It only makes sense for real estate brokers to back their services with everything IT has to offer. With apps being the latest customer-oriented trend, let's explore what every realtor needs to stay competent and competitive.
1. Provide a better experience
An app uses a device's hardware and optimizes the app's functions. Moreover, app features are created for device-specific interactions. Only the most critical information and functions are on mobile apps, making them lightweight and easier to use. This provides a stronger UX for agents who need to work constantly while on the go.
2. Improve customer reachability
Once downloaded, an app allows agents to stay connected with clients 24/7. Push notifications can be sent about new listing updates, price reductions, and property recommendations. Additionally, agents can use in-app messages to communicate with customers effectively.
Communication through apps acquires faster responses than traditional emails. More importantly, they are not as intrusive or annoying as phone calls. With push notifications, agents can keep in touch with clients more efficiently.
3. Direct marketing efforts
Real estate needs a lot of marketing. Apps can be a useful tool to reach clients with up to date data about property listings. Moreover, apps can also gather a wealth of information and help in lead generation. Analytics tools can further segment the audience and allow realtors to target clients more effectively, making it easier and faster to seal a deal.
4. Promote data sharing
Information about real estate such as location, property details, images, etc. can be shared effortlessly. The ease with which agents interact with clients and manage operations of the business fosters a positive image of the agency.
Specific property management tools, such as commercial building software, can create centralized databases with mobile access, ensuring a streamlined data sharing process.
Final thoughts
An app can make or break a business. But a high-quality real estate mobile app can give agencies an edge over others. They can bring numerous benefits to agents and home buyers alike. But aspects such as customizing search to personalizing the online experience, apps have a lot to offer to the real estate industry. With the right approach, real estate apps can automate and streamline processes. And with data analysis, customer reach could not have been easier.
Discover how to create an unmatched mobile app via the right software for your real estate company to bring ease of use and an improved user experience to your customers today.