The first group of public service loan forgiveness applicants are finally eligible, however the results don't look great.
For those unfamiliar, public service loan forgiveness (PSFL) is a student loan repayment initiative that was signed into law back in 2007 by President George. W. Bush as a response to the growing student loan crisis.
PSFL was designed to reward graduates who entered careers in "public service" fields such as nonprofit work, teaching, or government jobs. Applicants are required to work in the public service field for ten years before qualifying to have their loans forgiven. The first batch of eligible recipients hit their ten-year mark in 2017 and participants applied in waves.
The results? Of the 65,500 applications that came in as of December 31, 2018, only about 640 applications were approved.
How did a program designed to forgive such a large number of student loans manage to reject 99% of the people who applied for it? The answer is in the details.
Looking for specific information about PSLF applications or common PSLF mistakes? Use the links below to jump ahead:
Why are so many PSLF applications being rejected?
It's no surprise that there were so many applications for the public service loan forgiveness program. What is shocking is the volume of rejections. There are a couple reasons for the high rejection rate, the primary one being a fundamental misunderstanding of the requirements.
What are the requirements for public service loan forgiveness?
Must be employed full-time by a qualifying employer
Must make 120 qualifying payments (10 years)
Must have loans through an in-come driven or standard repayment plan
Those requirements seem simple enough, but even those are just the surface level details. Many applicants who thought they were following the basic requirements found out years into their repayment process that they, in fact, did not qualify or had missed basic requirements.
The reason most public service loan forgiveness applications are rejected seem to fall into one of four main categories: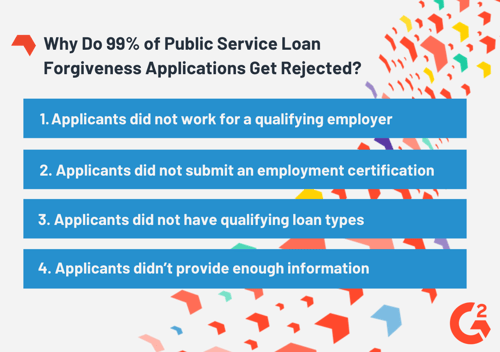 Let's break down each of these issues and review how these problems can be avoided.
How to avoid common public service loan forgiveness application mistakes
Increasing your chances of qualifying for public service loan forgiveness is about planning ahead. The program runs the length of ten years and one misstep can send you right back to the start. It pays (literally) to be proactive and get as much information as you can.
Here are the four most common mistakes and how to avoid them.
1. Applicants did not work for a qualifying employer
The first mistake many applicants make is assuming they qualify for public service loan forgiveness based on the type of work they do. The reality is that your qualification for the program is based on who you're employed by, not the nature of your work.
Which types of employers qualify under public service loan forgiveness?
501(c)(3) charities
Federal, state, local, or other government organizations
A nonprofit that's not a 501(c)(3), but does meet other public service requirements
AmeriCorps or the Peace Corps
It's not enough to hold a position with one of these employers. You must be employed full-time and complete an employment certification form every year. If you switch jobs and your new employer doesn't qualify, the clock on your student loan repayment forgiveness path is paused until you begin working for a qualified employer again.
2. Applicants forgot to submit an employment certification form
The employment certification form isn't something you can set and forget. Neglecting to verify whether your employer counts as a qualifying employer or updating your employment information is one of the main reasons applications get rejected.
You should be submitting an employment certification form:
Upon starting your first public service job
Annually after you start working in public service
Anytime you switch employers
One of the main requirements for the program is working in public service for ten years while making loan payments. This step helps create a paper trail that makes it easy for the government to track your work in public service.
3. Applicants did not have qualifying loan types
This is the trickiest part of the public service loan forgiveness program. In order to qualify, your loans must be direct or federal loans.
A direct loan is a type of loan in which an institution lends directly to the borrower and involves no third-party lenders. These can include non-bank institutions, the government, or banks.
What loan types qualify for public service loan forgiveness?
If you have loans that don't qualify as direct loans, don't worry. You can consolidate your loans under a qualifying loan type. If you consolidate your loans, however, it resets the clock on your time in the program.
Example: If you've been working toward public service loan forgiveness program for six years and then consolidate your loans, you start back at square one and have to make ten more years of payments.
This is the most important step to get right at the beginning. You don't want to do all the work of tracking your employers, paying your loans, and collection the right information, only to find out your loans don't qualify.
4. Applicants didn't provide enough information
This reason for rejection can be the most confusing (and frustrating) because it's vague. In many cases, applications are rejected initially because there isn't enough information to prove you qualify for the program.
An easy way to remedy this? Keep track of everything. Ten years is a long time and it's easy to misplace important documents or files. Investing in a cloud-based storage software is one way you can proactively work against this.
Cloud-based storage, also known as cloud content collaboration software, allows you to remotely upload important documents, files, and information in one secure place. You can access it from any connected device and even if your computer breaks, gets lost, or stolen, you don't lose any of your stored information.
Collect all of your important information in one place. Find the best cloud content collaboration software on the market.
Plan ahead and join the 1%
Hopefully this guide and others like it will help increase the number of accepted public service loan forgiveness applications over the next couple years. Remember, planning head and meticulous documentation will help you overcome many of these common problems.
Ready to put it all together? Consult our free public service loan forgiveness checklist to ensure you're on the right track.