What is professional services automation (PSA)?
Professional services is probably one of the most misunderstood industry sectors, and professional services automation (PSA) software doesn't mean the same thing to everyone. According to the North American Industry Classification System (NAICS), the professional, scientific and technical services sector "comprises establishments engaged in activities where human capital is the major input."
This definition is slightly inaccurate, as "services" nowadays means pretty much anything that is not manufacturing. Furthermore, manufacturing companies are diversifying their offerings to include services related to the products they produce. Additionally, companies from relatively new industry segments, such as cloud software or online commerce, rely more on services to attract and retain customers.
The graph below shows the distribution by industry of 2,100 reviewers who used G2 to review PSA software. The number of respondents from sectors such as computer software (14%) and information technology and services (28%) is much higher than those from traditional professional services industries, such as marketing and advertising (9.4%), management consulting (5.7%), accounting (3.7%), or financial services (2.4%).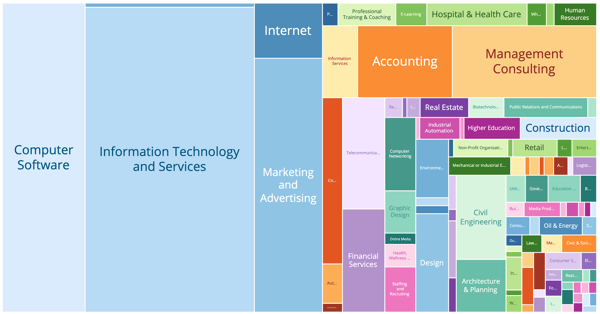 Software for professional services is also changing. Until recently, only a dozen enterprise resource planning (ERP) vendors offered what is known as PSA software. Previously, PSA was an ERP program for professional services; this type of software wasn't always user-friendly, nor easy to implement, nor affordable. All this changed when three factors made it easier for other players to get into this software market segment: the consumerization of IT, the ascension of the cloud delivery model, and mobile devices.
New types of functionality also improved PSA software, the most important being:
Collaboration allowing users to work together on tasks, which wasn't easy to do using old project management features
Analytics providing improved and easier-to-use insights into the performance of a service business, as opposed to rigid reports or data export
Integration with other software solutions is more accessible by using application programming interfaces (APIs) and API management software or cloud data integration software
To better understand how the PSA software space is evolving, let's take a look at reviews and feedback from actual users.
All these options—and the fact that they are continually updated and revised—led to the development of software products that focus exclusively on various types of compliance.
What users think about PSA software
We analyzed data from 2,100 reviewers who provided feedback on multiple aspects of PSA ERP, such as Ease of Use, Ease of Setup, pricing, adoption and return on investment (ROI). The reviews have been created by users of PSA software between August 2012 and July 2019. The demographics of the reviewers are summarized below:
Reviewers are overall satisfied with their PSA software but we found the following concerns vendors still need to address:
While reviewers from small businesses and mid-market companies gave high scores for Ease of Setup, enterprise users are far less satisfied (almost 50% gave a score of 4 or 5 out of 7 for this criterion).
The level of adoption also varies by company size: 74.5% of small businesses declared a level of adoption of 90% and higher, but only 53.5% of enterprise users achieved the same level.
60% of reviewers noted needing 12 months or longer to go live (70% for small businesses and 55% for enterprise).
PSA software is perceived as being expensive—on a scale from 1 to 7 where 1 is least expensive and 7 is most expensive, 56.8% gave scores of 5, 6, and 7.
When it comes to ROI, 31% of reviewers mentioned they needed 12 months or longer to achieve ROI, 76.4% for enterprise users. Additionally, 5.8% of all reviewers never achieved ROI.
On the bright side, 49.8% of reviewers gave maximum scores for Quality of Support, and 53% were also very satisfied with Ease of Doing Business With. This shows that PSA vendors are starting to focus on relationships with customers, not just the software and services they deliver.
What FinancialForce is doing to adapt
When I attended FinancialForce Community Live, it was evident that the vendor understands the challenges described above. For instance, I noticed that FinancialForce has customers from a large variety of industries, including some that aren't typical professional services sectors, such as real estate, software, and training. As for manufacturing and distribution, FinancialForce does not intend to compete with manufacturing ERP providers directly, but provides functionality that can be beneficial for these industries, such as procurement and fulfillment. The vendor plans to add more functionality for manufacturing and distribution, such as return material authorization, blanket purchase orders and procurement manager workspace.
The latest versions of FinancialForce's main products deliver new and improved functionality:
FinancialForce PSA includes enhanced analytics powered by Salesforce Einstein, a new connector with Concur, improved GANNT functionality, and a new workspace for project managers
Customer-Centric ERP includes enhanced features for accounting (collections, consolidated billing, and financial consolidation), a new app for mobile expense management, and improved user experience using Salesforce Lightning (LEX)
Another way to adapt to a changing market is to listen to customers and provide a customer experience that helps companies better select, implement, use, and optimize their PSA software. This is why the vendor launched two important initiatives at FinancialForce Community Live:
FinancialForce ACCELERATE is a mix of solutions and services for all stages of the customer lifecycle, from evaluation to implementation. Adoption services are also provided to help customers achieve ROI, and companies can be involved in advisory boards and advocacy programs.
MyFinancialForce is a portal for FinancialForce customers which allows them to improve collaboration with the vendor, quickly find information and content on its products and services, and track the progress of implementation activities.
Finally, the old strategy adopted by large ERP vendors to build and buy software to cover multiple markets is now outdated. Instead, pragmatic vendors focus on partnerships. FinancialForce is a major Salesforce partner and one of the few vendors who built an ERP system on the Force.com platform. The vendor also partners with other companies that offer software and services in various domains. Some of its partners are Avalara for tax management, ADP for human resources and talent management, or ServiceMax for field service management.
New important partnerships were announced at FinancialForce Community Live: Asperato (payment processing), Zimit (provider of configure, price, quote software for services companies), and Conga (documents, contracts and e-signature management).
FinancialForce's efforts are paying off, and its users agree that the product is headed in the right direction:
"Having full visibility of our global organisation's active projects, resource availability & utilization & overall financial performance are just some of the key features we use daily to monitor how our business is performing." — Reviewer from the mining and metals industry
Despite increasing competition, FinancialForce is the leader in the G2 Grid® for Professional Services Automation and achieved the highest Satisfaction score in the enterprise segment. The image below shows the top PSA products based on G2 user reviews, as of July 2019.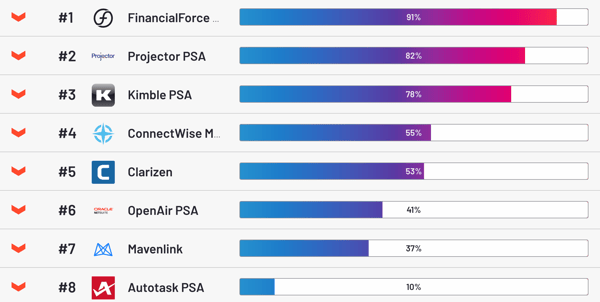 To learn more about FinancialForce PSA and many other PSA software products, visit our Professional Services Automation software category page.