Being able to quickly capture and share your work is one of the great powers of the internet.
While the functionality has often been referred to as 'print screen' due to its origins on Windows/PC devices, there is a notable absence of a corresponding button on the traditional Mac keyboard. This is due, in part, to Apple's desire to streamline the user experience through applications such as screen sharing and make a keyboard that is somewhat easier to use than their competitors.
Now, let's dive into how to take a screenshot on your Mac.
Print screen on Mac: the basics
The various screen capture functionalities of your Mac will allow you to capture your entire screen, a windowed segment, or a selected box.
How to Print Screen on Mac
'Command — Shift — 3' immediately takes a screenshot of your full screen or display array.
'Command — Shift — 4' brings up a selection box that allows you to tailor a screenshot.
'Command — Shift — 5' brings up the Mac screen capture controls.
Mac users have several different key combinations that will allow them to access the print screen functionality without wasting space on their keyboard with a dedicated button.
Capture the entire screen
It's simple to take pictures of everything that appears on your screen at a given moment. Here's how it's done:
1. Press 'Command — Shift — 5' on your keyboard to open the Mac screen capture controls: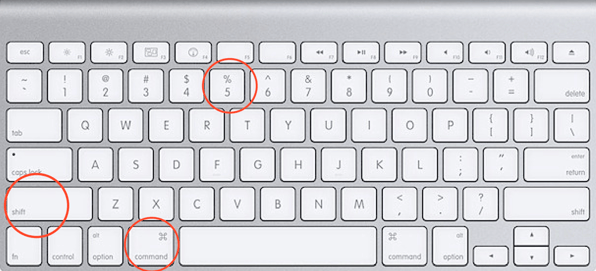 Once you've done so, a menu should appear that looks a little something like this: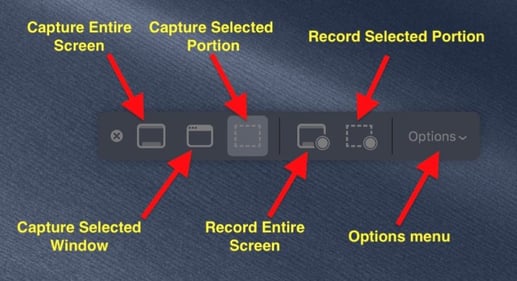 Image courtesy of Macrumors.com
2. Click the 'Capture Entire Screen' button. Your mouse icon should turn into a little camera.
3. Click anywhere on the screen to capture the current display. Alternatively, you can use the 'Capture' option to get a shot of every screen on your computer simultaneously, even if they're not the current display
4. Finally, after every screenshot, you should see a little depiction of your screenshot appear in the bottom left of the screen. Clicking on it will allow you to interact with and edit your recent screen capture before it's saved to your device.
Capture a windowed segment
This is an easy way to grab the immediate thing you're looking at and store it for future reference or share with a friend.
1. Press 'Command — Shift — 5' on your keyboard to open the mac screen capture controls.
2. Click on the 'Capture Selected Window' button. Your mouse icon will turn into a camera.
3. Click a window to have an image of that window saved to your device.
Capturing a selected box
Capturing a selected box will let you take a minute cross section of some of what you're viewing for use however you wish. This is an excellent way to share a small portion of your screen or protect your privacy when posting online. Here's how to do it:
1. Press 'Command — Shift — 4' on your keyboard. This will turn your mouse into a special capture icon.
2. Click and drag the area of the display you wish to save.
It's as simple as that!
While Mac doesn't have a print screen functionality, the quick and easy shortcuts at your disposal have made capturing and sharing different displays easier than ever! Hopefully you can use this tool to help boost your productivity through quickly sharing information.
Looking for more helpful productivity tips? We have a handy guide on how to split-screen on a Mac for you to look into!