Whether you're selling coffee beans or subscription boxes, you've realized the importance of maintaining a brick-and-mortar retail location and a digital storefront.
In today's digital age, businesses must present their products and services online, seamlessly offering the same kind of customer service and personalization that consumers would experience at a physical location. This is, of course, made possible through the use of e-commerce platforms.
E-commerce platforms unify, scale, and maintain core business processes like front-facing selling of products and services, back-end functions like the management of inventory, and customer order history. Depending on a business' need, security, and potential for growth, an e-commerce platform can be either open source or proprietary.
However, for businesses looking to reap the benefits of e-commerce without breaking the bank, or simply looking to test the waters with an e-commerce platform, open source may be the route to go.
In this article, we break down the top 10 open-source e-commerce platforms in 2019 based on real user reviews on G2.com.
Open-source e-commerce platforms give developers the freedom to customize features by allowing retailers to download the code and operate the e-commerce platform themselves. As a result, the business owner is responsible for building and optimizing the features of an e-commerce platform to improve the appearance of their online store and keep tabs on important things like customer interaction, engagement and purchasing history.
Additionally, you will have access to the open-source community of experts – which is, arguably, the best part about utilizing any open-source software tool – who can offer advice on setting up, managing and customizing the software.
Top 10 best open source e-commerce platforms in 2019
So, without further ado, here are the top 10 open-source e-commerce tools to consider, based on user satisfaction as of June 18, 2019.
1. Ecwid
Ecwid provides a platform for business owners to set up an e-commerce shop on a variety of different platforms. Users can set up a store on a website, social media, or an existing marketplace. A free account will allow a user to set up a single online store, but additional features will require a paid account.
Image courtesy of Ecwid
Ecwid features:
Website, social media, and marketplace stores
Mobile point of sale
Access to an app market with extensions
Staff accounts
The ability to sell on multiple websites simultaneously
Inventory management
---
2. WooCommerce

WooCommerce is an easy-to-use open-source tool, but it's widely used from small businesses to large online merchants. It is built on top of WordPress, one of the more prominent web publishing and content management tools. WooCommerce also boasts a global online community of open-source developers.
Image courtesy of WooCommerce
WooCommerce features:
Lightweight and modular
Built on WordPress
Large open-source community
More than 400 official extensions
REST API and documentation
Robust inventory management
Seamless commerce content integrations
---
3. Big Cartel
Big Cartel caters to artists and designers, providing the option for users to customize their store theme. Users can also use a custom domain to build their brand. Big Cartel allows businesses to sell both in-store and online.
Image courtesy of Big Cartel
Big Cartel features:
Customizable themes and access to their code for editing
Real-time statistics
Custom domains
Inventory tracking
Shipment tracking
Bulk editing
---
4.
Magento Open Source (formerly Community Edition)
Magento Open Source (formerly Community Edition) is an open-source, cloud-based e-commerce platform written in the PHP programming language. There are a variety of rich, out-of-box features of Magento Open Source that are useful to small businesses, mid-market, and even some large scale merchants. One of these features is an immersive drag-and-drop site builder, which allows full shop customization the way the user wants.
Image courtesy of Magento Open Source
Magento Commerce features:
Drag-and-drop site builder
Customer segmentation and profile building
Full scale content deployment
Rule-based product relations
Instant purchase cart
Elasticsearch for handling large product catalogs
---
5. PrestaShop
PrestaShop focuses on customization capabilities, clean and responsive designs, and simplified platform management. When it comes to back-of-office and keeping track of administrative tasks, PrestaShop thrives. PrestaShop also has integrated marketing tools to get a clear picture of customer activity on your e-commerce website.
Image courtesy of PrestaShop
PrestaShop features:
Full store customization
Simple product catalog creation
One page checkout system
Product search on 404 error pages
Quick order validation
Sales and marketing insights using store data
---
6. X-Cart
X-Cart is a full-scale open-source e-commerce platform built for the customer experience. Through thoughtful design, X-Cart aims to increase overall conversions and sales opportunities for your digital storefront. It is optimized for small businesses, and allows for hosting anywhere, anytime.
Image courtesy of X-Cart
X-Cart features:
2 CPUs per online retailer
Real-time smart search
84 e-commerce templates
Drag-and-drop designs
Marketing and SEO tools
Thoughtful abandoned cart email marketing
Full admin portal for full control
---
7. Drupal
Commerce
Drupal Commerce is a true open-source tool, with a robust online community of developers and documentation to get your e-commerce platform up-and-running. Drupal Commerce actually augments the content management system called Drupal, so a prior knowledge with that product could help merchants in the long run.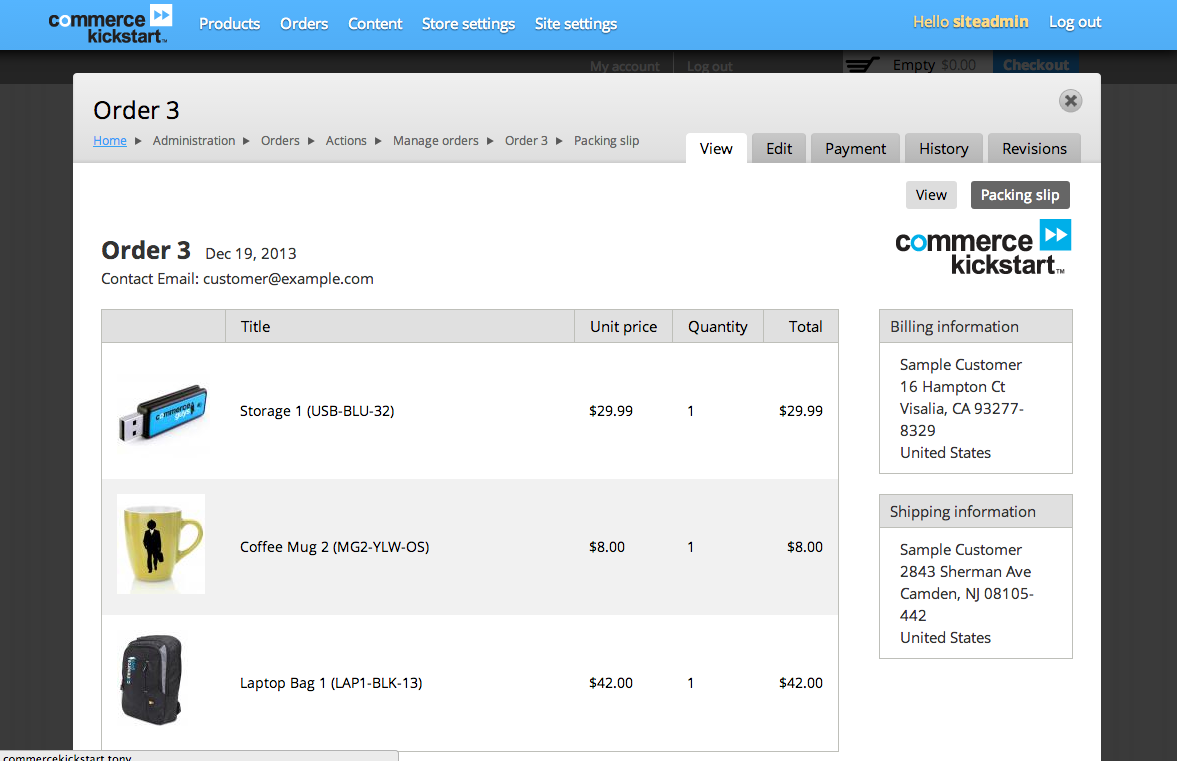 Image courtesy of Drupal Commerce
Drupal Commerce features:
Deployed on Drupal CMS
Custom content types
Dynamic product displays
Simple order management system
Discount pricing rules
Deep integrations with certain APIs
---
8. Spree
Commerce
Spree Commerce is another true open-source e-commerce framework, however, it is built with the Ruby on Rails programming language. Spree Commerce already has a wide-reaching reputation in open-source e-commerce, with clients in a variety of industries around the globe. This product gives customers an engaging native experience on desktop and mobile.
Image courtesy of Spree Commerce
Spree Commerce features:
Progressive front-end with app-like storefront
Native mobile apps for m-commerce
Pre-built mobile-first component library
Fast checkout support using industry-leading tools
Subscription and membership support
WordPress integration
A/B product catalog testing
---
9. osCommerce
osCommerce is a growing community of over 300,000 store owners, developers, and service providers. The open-source e-commerce software can be used on any web server as long as it has PHP and MySQL installed. osCommerce boasts secure online shopping features as well as nearly 9,000 add-ons and extensions.
Image courtesy of osCommerce
osCommerce features:
User-friendly admin back-end
Clean shop front-end
Thousands of add-ons
---
10. Jigoshop
Jigoshop is a free WordPress e-commerce plugin with a variety of plugins available. Anyone can become a Jigoshop plugin developer or create their own theme. Many extensions for Jigoshop are free, and the base store comes with a variety of features for any e-commerce business.
Image courtesy of Jigoshop
JigoShop Commerce features:
Quick loading and quick running
A variety of themes and extensions available to customize a store
Reporting and analytics
Customizable code and the ability to create your own extensions
---
E-commerce for your business
Whether you're just getting started with your digital storefront or planning and scaling for the long run, having an e-commerce platform is the first step to acquiring online customers. Choose from one of the 10 open-source platforms above, or try them for free to see which solution is right for your business.