Your supporters are online – learn how to connect with them on social media.
Social media has come a long way from the early days of MySpace and Friendster. Brands are finally learning how to harness these online communities to activate their fans and turn a profit.
If your nonprofit isn't using social media as part of your overall marketing strategy, then you could be missing out on a cost-effective, easy way to build your brand, reach new people, and educate the world about your cause.
Using social media in your nonprofit marketing strategy
Recent nonprofit statistics show that online giving is the way of the future when it comes to nonprofit marketing. There have been substantial year-over-year gains in donations and brand awareness for nonprofits that are utilizing social media in their broader marketing plan.
How do nonprofits use social media?
Educate the public about their cause
Solicit online donations
Recruit new volunteers
Share the stories of the people they help
Foster community engagement
Manage their online reputation
But creating a social media plan for a nonprofit presents unique challenges. Tighter budgets and smaller staffs can make tackling the social media landscape seem difficult. The good news is that there is a right way to market your nonprofit online.
If you're looking for specific information about marketing your nonprofit on social media, use the links below to jump ahead:
1. Start with the basics
This first step is important for laying the groundwork for your social media strategy. Whether you're already using social media or you're new to the game, these questions will help your team start to think about social media in a new way.
What should you consider before creating a social media strategy?
What will your budget be?
What's already working?
What can you change?
What platforms will you use?
Who will manage everything?
What does success look like?
What will you do if you fail?
Once you've answered these questions and brainstormed with your team, you can move on to the next step of the process.
2. Define your goal
Like any good marketing plan, your social media strategy should start with your goals. One key mistake marketers tend to make is jumping on a trend just because other companies are.
Going all in on social media might seem like a good idea at first, but without an idea of what you want your end result to be, it can end in a mess. You need to ask yourself what your end goal of creating a social presence is because that will help inform your strategy.
What are some social media goals your nonprofit can consider?
If you've never created a social media strategy before, it can be difficult to pinpoint what goals you should aim for. When it comes to nonprofits specifically, there are a variety of options you can take for your digital communications plan.
1. Education and awareness
Nothing is more frustrating than working for a wonderful nonprofit that nobody seems to know about or understand. The causes you support are important, but it can be hard to communicate that to the public.
Social media is a cost-effective way to spread your message. You can link your followers to newsworthy articles about the work you do, dispel myths or misunderstandings about your nonprofit, and connect with people who haven't heard of your cause.
A perfect example of this done well is the ALS Association. Back in 2014, they created the viral Ice Bucket Challenge which encouraged social media users to donate to their cause and raise awareness by dumping cold buckets of ice on themselves.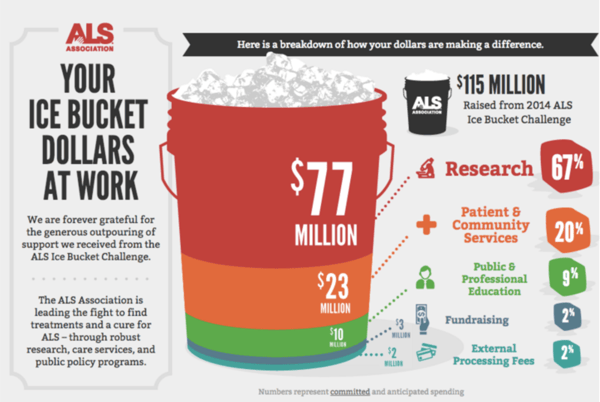 The viral campaign raised more than 115 million dollars that helped fund more than 200 new research projects. This simple act of using social media helped the ALS Association spread the message about their cause and bring awareness to the struggles those with ALS face every day.
2. Community engagement
Have you ever been having a conversation with someone and they can't seem to stop talking about themselves? Annoying, right?
That's how your followers will feel on social media if you focus too much on self-promotion and not enough on building a community. People want to feel connected to the nonprofits they support. Your donors, advocates, and volunteers feel a personal bond with your brand, and using social media can help you nurture those relationships.
How does this help you? It can help improve the public's opinion of you, strengthen existing relationships, and build new ones. Taking the time to answer questions and respond to your loyal followers can increase your brand awareness as well.
Related content: Interested in learning more about community engagement? Learn how to increase your brand awareness with these tips!
3. Volunteer recruitment
Looking to support your volunteer management strategy? Social media is the perfect platform for recruiting volunteers. According to recent data, roughly 45% of the entire global population uses social media. Your future volunteers are already online: you just need to reach them!
And you don't need a large paid social media budget to reach potential volunteers. Creating a Facebook event for upcoming volunteer opportunities is a free and easy way to let your community know that there are opportunities to get involved.
You can also share photos of your current volunteers to inspire new volunteers to sign up for future events. This is a great strategy because photos are sharable and heartwarming. People will comment, tag their friends, and share this content, which ultimately puts more eyes on your social media pages.
4. Fundraising
This is the section most nonprofits are interested in when they think about social media – and for good reason. Online fundraising is a great resource that every nonprofit should be utilizing. On average, nonprofits raise 7.6% of their total revenue online.
There are a couple of ways you can use social media to fundraise. You can create a crowdfunding campaign for your latest project to inspire people to donate to your cause. There's also the option to share stories about who previous donations have helped in order to inspire your supporters to donate.
Social media is perfect for fundraising because it's the perfect mix of actionable tools and visual storytelling. You can tell the story of who you're aiming to help and then give your supporters a clear call-to-action to donate to your cause.
Related content:
Learn how to create a well-rounded
fundraising plan
for your nonprofit
5. Reputation management
In the age of digital media, news of scandals and upsets travels faster than ever. If you're ever in the unfortunate situation where you are at the center of a communications crisis, social media can be your best defense weapon. Social media allows you to answer questions the public might have, quickly disseminate information, and update everyone about the steps you're taking to fix things.
People are going to talk about your brand online, whether or not you have a social presence. It's imperative that you are where your audience is and can communicate with them when they are talking about you.
3. Identify your audience
Once you've defined your goal for your social media campaign, you'll need to decide who to target with your content. You can do this by creating a customer profile, also known as an audience persona, and outlining your target audience's motivations, fears, pain points, and more.
If you've never created an audience profile before, think of it as a playbook for dealing with different types of consumers. Someone who is looking to become a volunteer will have different motivations than someone looking to donate money. You'll want to create a different audience persona for each target demographic.
Here's an example nonprofit audience persona to help get the ideas flowing: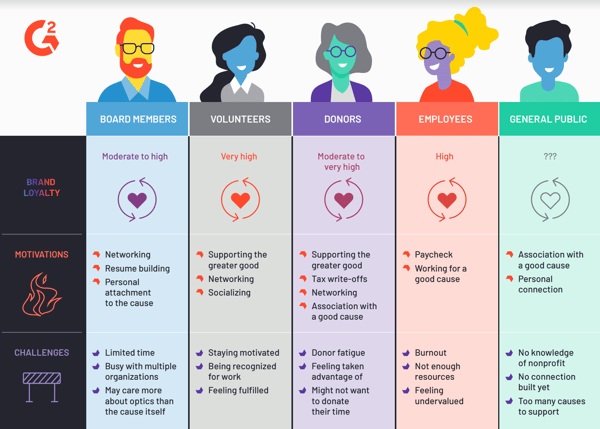 Once you've created different audience personas for each of your target demographics, you can start creating your strategy on how to communicate with them. Remember, different personas respond to different triggers. It may seem time-consuming, but this really is the best way to see conversions early and often.
Never built an audience persona before? Don't worry, we've got you covered.
4. Create your content strategy
The key to a successful social media strategy is the content you put out on your platform. There are dozens of different content types, each with its own purpose. Whether you're a small nonprofit or a national organization, you can use a good content strategy to drive your social media plan.
Three tips for creating a content strategy
The following section will provide a brief overview of the content strategy process. For a more in-depth look at any of the steps listed below, you can check out our resource on creating a content marketing strategy.
1. Set objectives
Much like your social media strategy, a content strategy is nothing without a focused end goal. You can use SMART goals to help guide your decision making process along the way.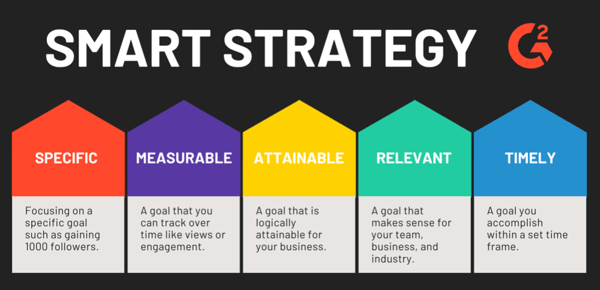 Remember, different projects will have different goals, and that means different content. Always reference your SMART goals when starting a new project.
2. Stand out from the crowd
Your nonprofit is unique and your content should reflect that. What is your selling point? Why should someone support your cause over another? Brainstorm the things that make your mission stand-out among others and make that the focus of your content strategy.
3. Stay organized
Tracking your progress is about more than just tracking the analytics. Creating content for special events, holidays, or fundraising events takes forethought and planning.
A social media calendar is the perfect way to keep all of your content organized in one place. This tool will allow you to collaborate across teams, strategize for long-term content, and track what content works with your audience.
Don't have a social media calendar? Don't worry, we've got you covered.
5. Focus on storytelling
The key to a great nonprofit campaign is a great story; there's a good reason for that.
As humans, our brains are 22% more likely to remember a fact if it's presented to us as a story. Why is that? Stories are emotional, they're something we can all relate to, and they are an easy way to wrap up a lot of information in a single package.
Those reasons are why marketers across every industry are turning to brand storytelling as a way to communicate with their audiences. Nonprofits are the perfect businesses to use brand storytelling because they are ripe with stories of the people who have been helped by their organizations.
How can you use brand storytelling to market your nonprofit?
Focus on the people you help, not the money you raise
Interview donors about why they love your cause
Create videos about the volunteers working with you
Show the impact of your work through stories
Instead of telling the public what you do, show them. Create an emotional and engaging experience that puts the focus on your cause and not yourself. This will move potential donors and volunteers and help you avoid looking self promotional.
6. Use free tools to your advantage
Nonprofits have a key advantage that most other businesses don't: other companies like giving you free stuff. It's true! A lot of businesses routinely offer software, tools, and resources to nonprofits at discounted or free rates.
The same is true for social media. As a nonprofit, there are a bevy of free tools designed specifically to help your business grow your online presence, reach new donors, and increase fundraising dollars online. Here are a few to help get you started.
1. Google for Nonprofits
Google for Nonprofits is a partnership program designed by Google to provide free communication and fundraising tools to qualifying nonprofits. These tools are available to any 501(c)(3) that meets Google's eligibility requirements.
Google for Nonprofits includes:
G-Suite for Nonprofits
Google Ad Grants
YouTube's nonprofit program
Google donation tools
If you'd like to learn more about any of the tools listed above or are interested in how you can register for an account, read our complete guide to Google for Nonprofits for more information.
2. Microsoft for Nonprofits
Microsoft for Nonprofits is a new series of digital solutions offered by Microsoft to help small nonprofits digitally transform their marketing, communications, and outreach strategies online. This offering was designed by the team at Microsoft with small nonprofits of fewer than 10 employees in mind.
Microsoft for Nonprofits includes:
Microsoft 365 Business for Nonprofits
Microsoft's Digital Skills Center for Nonprofits
Microsoft Nonprofit Operations Toolkit
If you'd like to learn more about any of the tools listed above or are interested in how you can register for an account, read our complete guide to Microsoft for Nonprofits for more information.
3. Facebook Fundraisers
You're probably already familiar with Facebook Fundraisers. The popular social media platform has made it easy for 501(c)(3) charities to create online fundraisers that allow themselves or others to collect money for your charity.
Facebook Fundraisers offer many tools such as birthday fundraisers, donation matching, and more. You can even create a call-to-action on your page or any post you publish that asks viewers to donate to your cause.

Facebook is constantly changing their offerings for Facebook Fundraisers. The best way to stay up to date with all the latest offerings is to follow the Facebook Fundraisers page and explore all the offerings available for your nonprofit.
4. Instagram donate button
Much like Facebook, Instagram also offers nonprofits a way to reach their audience with a donation button. First, you'll need to register with Facebook as an approved 501(c)(3) and then you can start integrating the donation button into all of your Instagram stories.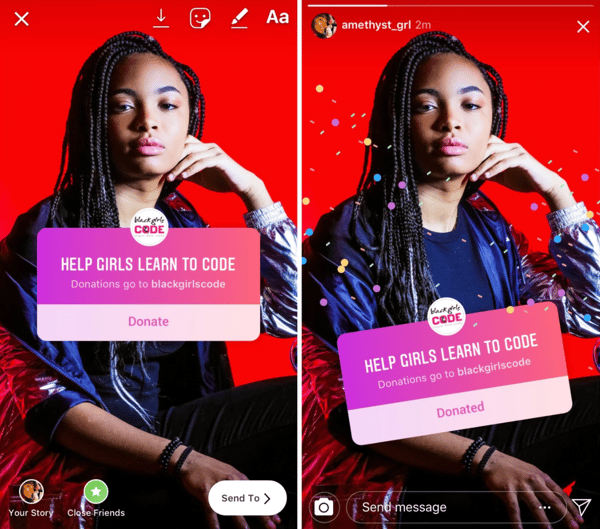 Image courtesy of Instagram
Instagram's donation tool is still relatively new and offers less flexibility than Facebook does. Keep an eye on this platform as the donation tools for nonprofits roll out over the next couple of years. Chances are this will become a big focus for nonprofit marketing in the near future.
7. Track everything with analytics
All of this work means nothing if you're not tracking the impact it has. That's why tracking everything with analytics is key to your success. Luckily, most of the major social media platforms allows you to track analytics within the platform without much hassle.
Here are your guides to tracking analytics in each of the major social media platforms:
Tracking analytics is the best way to see what content is performing well, which posts get your donors to convert, and how to fine-tune your strategy for optimal performance. All of the major social media platforms make it easy to learn, and many offer free courses to help beginners get their feet wet.
8. Optimize your website
Driving traffic to your social media pages is just the first step. Where are you sending them from there? For most nonprofits, the answer is their website. Here's the ugly truth. A bad website will cost you serious money.
Think about the last time you were on a bad website.
You likely had the intention of purchasing a product or service but quit because the user interface was too difficult to use. Now imagine a donor is using your website and can't find where to donate. Or maybe a volunteer is trying to sign up for an event and can't find the page to register.
A bad website can corrupt the user experience and make your nonprofit seem less trustworthy. Your social media presence is your public-facing persona; your website is your business persona. The pair need to work together harmoniously for your nonprofit to see success.
Your social strategy should be as unique as your nonprofit
The great thing about creating your own social strategy is that you don't have to focus on just one of these areas. You can choose from a variety of options and mix and match them to fit your unique needs. Play around with your social strategy and don't be afraid to switch things up as your marketing tactics evolve.