Like it or not, we leave our digital footprints all over the websites we visit.
For brands we enjoy, this digital journey may involve clicking on a call-to-action (CTA), downloading some web content, or even signing up for an email newsletter.
If you have taken any of the above actions, you're probably in a company's system defined as a marketing-qualified lead, also known as an MQL.
What is a marketing qualified lead?
For non-marketers, the abbreviation "MQL" could sound like nonsense. So, let's define MQL in simpler terms.
MQL definition
A marketing-qualified lead, or MQL, is a lead that has been deemed more likely to become a customer at some point based on their engagement with a company's web content.
Every website has visitors that get there in a variety of ways. Organic search results, paid search results, direct traffic, social media, press releases, etc.
A visitor will be "qualified" once they engage with marketing collateral to learn more about a company or its offerings.
Common actions that determine MQLs include:
Downloading case studies, white papers, or other web content.
Signing up for email marketing campaigns (newsletters and product catalogs are perhaps the most common).
Signing up for webinars or e-learning courses.
Requesting a product demo.
Putting items in shopping carts, even if a purchase didn't occur.
MQLs can also occur off a website in the form of advertising clicks. These clicks typically funnel the visitor to a landing page or contact form.
Finally, it's important to remember that the MQL standards listed above are just the most common. A company may have very specific parameters for defining its leads, and these parameters are often set from both marketing and sales departments – which brings us to the next section.
TIP: Learn about the best strategies to generating high-value B2B leads in 2019.
MQL vs SQL
A visitor that has shown clear interest for a company by engaging with its web content is listed as an MQL. So, what's next? How do you get this potential customer to convert, or at least get them on the phone or live chat to discuss more?
This is when the marketing team passes off the lead to the next stage. This lead will then become a sales-qualified lead, or an SQL.
Think of it this way. Marketing captures visitors, sparks interest, and introduces value. Sales shows how that value can benefit the potential customer and leads them along the buying process.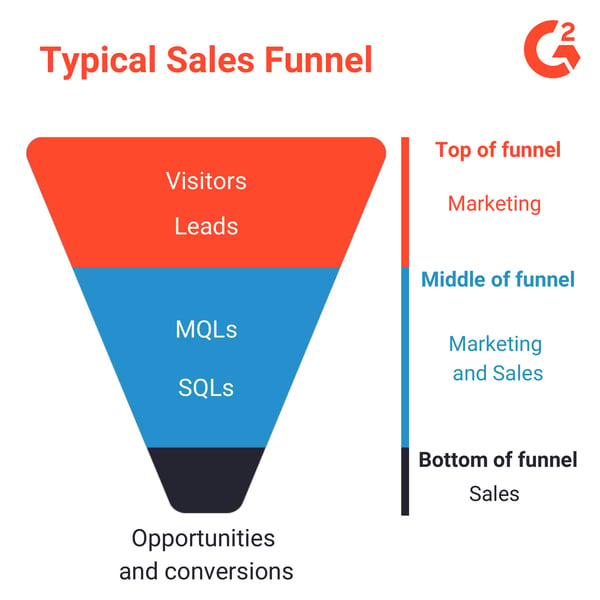 For this process to be as smooth as possible, it's important for both marketing and sales teams to work in tandem. When done correctly, leads will feel nurtured in a personalized way. We all enjoy personalization.
Tip: Sales enablement software builds a repository where marketing collateral and sales playbooks meet, making it easier to create a personalized customer experience. Find the best software for your business today:
MQLs and lead scoring
So, we have the parameters of what defines an MQL, but the reality is that not all leads are created equal.
To really gauge how ready an MQL is to be passed on to the sales team, some companies could look toward lead scoring.
Lead scoring is a key feature of today's top CRM software. What this score does is determine the quality level of a lead based on information like occupation, industry, and their role within an organization.
For example, an intern looking to learn the basics of marketing may have a lower lead score compared to a sales manager looking to download a case study.
Previous engagements with web content, demo requests, and even interaction on social media are factors of lead scoring. This score is indicative of buyer intent, and helps marketers provide higher-quality leads to their sales teams.
Tip: Not looking to invest in CRM software? There is lead scoring software solely dedicated to determining business opportunities. Discover the best software for your business:
Why are MQLs important?
Identifying MQLs are important because it typically signifies the first time a visitor has shown interest in a company or its offerings.
Even if this interest is for basic educational purposes – like a webinar or downloadable infographic – it's a visitor's first of many steps in the sales funnel.
At the very least, MQLs who don't convert are still likely to come back and find value in your web content and your brand.
---
Now that you know the basics of MQLs and what qualifies these leads, it's time to put that knowledge to use. Learn how to generate high-quality leads with real-time purchase intent insights.