Journalists don't have time for your pitches.
They are on their feet 24/7, reporting current events and happenings to influence the masses. You need to send a perfectly crafted pitch to get their attention toward your brand.

Elements of your media pitch should captivate the editor or journalist you're trying to win over. It shouldn't just promote your brand but provide an excellent reading experience for the journalist or influencer. But for that, you need to find the right catch.
It's easy to annoy journalists and influencers with media pitches because they're inundated with generic, copy-pasted emails day in and day out. But if you can identify the right editors and outlets through public relations (PR) software, you'll soon be swimming in sponsorships.

What is a media pitch?
A media pitch is a small, personalized letter or email pitch for editors, PR agencies, or reporters. Brands try to get their name in the news by narrating their product story and strategy. It helps you bond with external journalists and media houses to promote your brand, product, and client-side content.
Different types of media pitches lead to different opportunities for brands. A PR media pitch boosts your recent product launch or company takeover while bringing your vendors or clients into the limelight. Gaining the attention of a journalist or influencer puts you in front of their target audiences.
Whatever the media pitch is, authorize your value with it. Your subject matter expertise will be counted in as a part of the email. The topic should also be relevant to the journalist's current area of research. Keeping these points in mind would get you noticed.
Importance of a media pitch
As simple as writing a media pitch sounds, 43% of journalists and influencers receive more than 20 daily. For those who don't feel like doing the math, that's anywhere from 100-500 pitches per work week.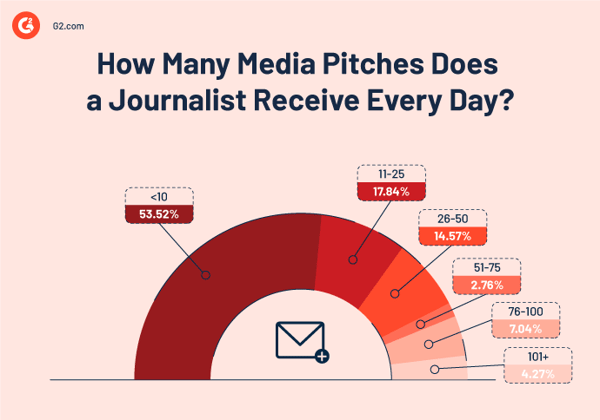 With these media pitches flooding the inboxes of journalists and influencers, you may wonder why PR professionals continue to pitch. But if you think about it, once you shake hands with a news editor or a media agency, you get direct access to other people's audiences (OPA), which brings a huge bout of organic traffic and promotes your brand online in seconds. Being the belle of the online market rakes more visitors and customers and increases your market presence and conversion rate. Being involved in the process of selling seems sketchy, but as a PR professional, it's worth the effort.
Writing a media pitch outline
The goal of a media pitch is to generate direct press or media coverage that gains positive attention and bolsters brand awareness as well as revenue. Writing an effective media pitch also strengthens relationships with the press.
Focus on the wins of your brand when you begin writing your pitch. If you're promoting a new product, highlight what problem it solves. The raging concerns of today's marketplace get views, likes, comments, and shares.
You'll lose potential eyeballs on your content if you send a mere outreach email that doesn't outline your core purpose. Frame your outreach so that each journalist doesn't just get crowdsourced jargon but pitch-perfect content.
Improve subject line
A creative subject line can increase the open rate of your email, so create quirky, out-of-the-box, and knowledgeable subject lines that pique interest. Don't use clickbait or heavy adjectives. Keep it clear, concise, and aligned with your journalist's favorite media gatherings. No matter what, make sure it sounds like you know what you're talking about.

Fun fact: Journalists open only 3% of media pitches they receive in a week!
Source: Spinsucks
Lay out trendy statistics or data points
Journalists want to keep their pulse on the current inventions of the market. Encourage your public relations teams to dive into research and bring data to the table – the exclusive stuff that no one else has access to. Ignite the curiosity of your journalists toward lesser-known innovations that will sweep the nation.
Give a special mention
Whether you have a full-fledged team of in-house researchers or an external ambassador, give a mention. Let the journalist know your research on a particular topic is substantial, not wordy. Putting out names from your organization to the media can differentiate you from other competitor pitches.
Highlight pain points
Apart from looking for a brand push, offer something valuable to your journalists.
The benefits should be a two-way street. Let your journalist or influencer know your brand solves major problems with cutting-edge solutions. Highlight aspects of consumer issues and how your product tackles them on a mass scale.
Elaborate on your subject
Try to explain the importance and the uniqueness of your pitch. Bring something completely new to the journalist's plate. The body of your email should have two short paragraphs where you explain the ins and outs of a particular topic. Your story should be one-of-a-kind, and you should be the original source. Although journalists like to-the-point pitches, don't let that stop you from giving complete context.
Stay true to the journalist's beat
Whatever your objective might be, it should align with the journalist's current area of research or "beat." Be on top of editors' list of expert references by tuning in to their content. Include recent quotes, roundups, and commentaries that elaborate on a certain issue for the journalist's audience. Don't make the journalist scavenge for reliable stories. Give them one in your pitch.
Call to action
Lastly, end with a call to action (CTA). Tell the journalist or media professional what to do next. Ask them to reply by a certain date if they find you enticing enough for their next news story. If not, move on to the next media contact.
The easier you make their lives, the better your chance of getting a reply.
Signing off
Sign off your media pitch in style. Dignified closures call for sure-shot deals. Prolonging your media pitch with innumerable references, resources, and templates leads you nowhere. Keep it wholesome, short, and sweet. After stating what you're working on, let the journalist or influencer decide whether they wish to collaborate. Don't keep pushing your points beyond a stretch. Mark an end and wait a while for a turnaround. A good closure makes you a professional PR expert.


How do you think like a journalist?

Imagine you're in the middle of a news studio with multiple cameras and a curious audience focused on you. Or you're outside in a tornado reporting important safety information. Or you're covering a school board meeting that goes from heated into an all-out brawl in moments. The extremities of a journalist's job should be kept in mind when you decide who to pitch to.
Timeliness: Sharing stories on trending topics everyone talks about gets a journalist's attention. Since journalists are busy, your story needs to stand out from the clutter to impress.


Impact: Ensure you promote your brand and influence its dedicated audience. Consumers will notice you once you broaden the impact of your content.


Prominence: Talk about a person, technology, or innovation gaining prestige in the news. Don't chip off paint from old walls. Talking about outdated stuff doesn't get anyone excited.

Media monitoring:

Keep track of the latest topics and newsfeeds that pop up on the internet. Stay afloat with innovations, recent trends, and publications.

Proximity: The story that you pitch should be in the vicinity of the journalist's coverage. Don't force the journalist to travel for your story.


Humanization: Sprinkle your pitch with a touch of humanity—factor in statistics that directly correlate to consumers. Explain consumer benefits and challenges in detail. Play up the emotional aspect of your product and its impact on the audience's base.
Goals of a media pitch
Before anything else, identify the professional goals of your pitch. Not only are you looking to earn high-quality organic media for your website, but you're also looking to increase your product value in the market. The end goal is simple: activate your brand for the masses.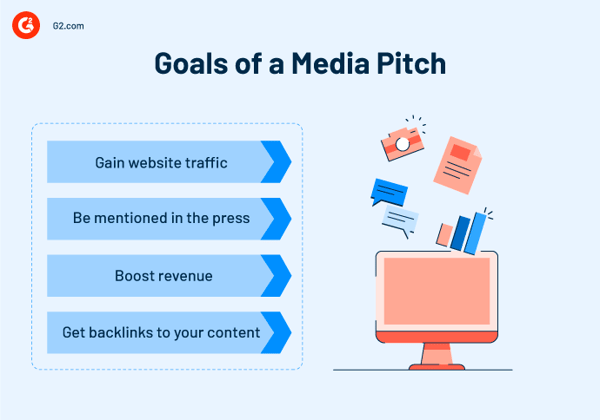 1. Gain website traffic
The main goal of your email media pitch should be gaining organic traffic to your official website. It takes great effort to frame a media pitch and promote your content, but it takes even greater effort to find the right influencers. Influencers can raise your traffic numbers and make you stand out on the search engine ranking page (SERP).
When influencers or journalists promote your brand in a digital space or with their followers, some of their bases might return to your website or register as a lead to learn more about your product. The greater the traffic influx, the higher the click-through rate and scope of conversions.
2. Be mentioned in the press
Every brand wants PR or news coverage from a trusted publisher. Brands spend countless hours brainstorming over media pitch ideas, presentations, and PR activities to earn external press attention.
Press attention is like the express train to successful brand mentions, direct revenue, and word-of-mouth marketing. Press mentions can get a brand up and running in no time, regardless of how much impact they have made or how long they have been a part of the market. If you're running a brand and don't have an ample marketing budget, media pitching to the press is a wise move.
3. Boost revenue
The idea is to get a well-suited media outlet to accept your pitch and share your narrative with their readers and viewers. They'll relate to your story, talk about your brand in their circles, and send potential prospects your way.
Some might trust the press enough to sign up for your product without a sales call because press releases are more genuine than paid anything you can buy. Paid marketing pushes people to check out your website, regardless of whether they are interested. But press media pitches directly address search queries, get clients and grow your financial reserves.
4. Get backlinks and social shares
Every high-end press release gets organic backlinks and social shares. You'll notice leads streaming into your registration desk if you include a webinar link or a podcast link in your PR media pitch. It increases your sign-up numbers and helps you promote content better. Not only this, but if a media agency agrees to roll out your webinar on its channel, you win the attention of investors, spectators, and fellow entrepreneurs who subscribe to it. You'll also attract a number of relevant domains linking back to your website as a valuable resource for their own audience.

After you've established the goal(s) of your pitch, it's time to begin the process of writing a pitch that won't be mass deleted. Let's look at a few examples.
Media pitch examples
To pitch correctly, you need to become the internet's heartbeat. Keep your fingers on what's trending in your brand segment. Use those learnings to build a narrative that will incite journalists and leave them wanting more.
Pitches can be categorized into the following buckets.
Cold media pitch
Media pitches are mostly sent to cold leads, i.e., journalists who aren't in touch with your brand. You aspire to bond with the recipient through your cold email and earn a platform to speak. You should interact with them before even sending a cold email. Otherwise, it appears out of the blue. Follow them on social media, like and comment on their posts, and make them aware of your presence before initiating the pitch.
Note: These examples are just standard templates that you can use in order to pitch your brand. The content can vary as per the type, industry, and product.
Subject: Role of virtual reality in the warehousing and logistics industry
Hi <recipient's name>,
We're sure you're aware of the ways immersive technologies are changing how we shop, work, and play. In fact, according to a study by DHL, companies that use immersive tech for supply chain processes saw almost 15% improved productivity and supply approval rates.
Sounds unreal? We at <name of the company> have carved out excellence in developing virtual reality platforms to make imagination a reality. Our solutions create a virtual environment that powers headsets to identify objects in a 360° space without manual navigation.
Negotiating the ins and outs of your warehouses is no longer a protruding challenge, with our virtual reality solutions helping you identify your pick-ups and transport goods with ease. Our clientele includes reliable names like <name 1>,<name 2>, and <name 3>.
For a detailed look at the virtual reality experiences in warehousing and logistics, visit <link>.
If this sounds relevant to your beat, feel free to drop us a line. Here's to creating more immersive collaborations!
Sincerely,
<sender's name>
To grab immediate attention, you can pitch media-specific resources to journalists to give a sneak peek into your brand's content.
Press release pitch
Knowing when to send a press release pitch to the journalist frames your future footsteps in media. You must inform the media whenever you launch a product or acquiesce a company.
Journalists take a lot of time to accept a press release. Tools, like Help A Reporter Out (HARO), have made PR promotions easier by directly connecting with the experts and sharing roundups for their newsflash stories.
To frame a PR media pitch, try the following example.
Subject: Making education financing easier with no upfront expenditure and 100% cash liquidity


Hi, <recipient's name>


Education financing is a growing concern of any home in the US. Most folks, living paycheck to paycheck, can't afford hefty sums of school fees.


Thousands of students in the US self-fund their education to take the burden off their parents' shoulders. But the anxiety and guilt parents deal with looms as their children go to great lengths to pay for their own schooling. Our newest launch of <ABC> financing platform ensures upfront cash liquidity for parents at zero cost equated monthly installment so that parents can finance the future of their kids better without worrying over their expenses.


Our in-house experts have surveyed the who's who of the finance industry and can share their take on the future of education financing and the dying process of bank loans.

We're excited to collaborate with your esteemed publishing house to support the careers of the young leaders of tomorrow. Let's join hands to spread the word and say hello to a modern and inclusive way of financing education!
Yours sincerely,
<sender's name>
Personalized pitch
If you send a dedicated pitch to someone, your chances of getting published or a social media shoutout increase. Unpersonalized pitches get ignored and tossed over, like other nameless media pitches. But if you spare an extra minute and form a relationship through email, you'd be surprised at the results.
To personalize a pitch, you can refer to the following template
Subject: Revelation of AI assistants in the writing and digital marketing industry


Hi, <recipient name>


Artificial intelligence is taking every major industry by storm. From self-driving cars to AI-based writing, companies are hopping onto the digital bandwagon. Smart accessories and devices make up most metropolitan cities, teaching people how to lead better, less exhausting lives.


In the sphere of content writing, AI has proven to be meticulous. It saves writers tons of hours by crafting informative pieces of content. In an in-depth 2021 survey, the American Marketing Association (AMA) noted a steep 29% increase in the usage of AI writing assistants by US marketers from 2019. This shows how fast AI has swept over the competitive mindset of companies.


We have nothing but praise for your work in the artificial intelligence awareness domain. We're certain with the startling increase in the number of budding writers and content creators that, our association will be of great help. At <company name>, our goal is to spread the word and motivate people to be smart and savvy.


If this sounds like a plan, please respond to us at <email id>. Our vendor <vendor name>, who recently won an award at <conference>, has researched the AI writing domain for 15 years. They're ready to offer insights to help people scratch the surface of AI and engage with it to their maximum benefit. Their contact information is attached.

Together, let's make AI software our friend!
Yours sincerely,
<sender's name>
How to pitch subject lines
I don't think I forgot about the subject line. Most journalists and influencers open a media pitch email based on the subject line alone. So after you've written your pitch, carve out time for crafting the most attention-grabbing and informative subject line they've ever seen.
Mass email subject lines will not work – you need to personalize them. Another downfall to watch out for is making the subject line clickbaity. They're professional writers, too, so they'll steer clear of anything that seems fake.
Instead, include something surprising in the subject line. Journalists and influencers are always looking to be the person to debut breaking news to their readers, so provide a tidbit of research in your subject line that'll blow them away.
Getting your email opened may be the hardest part of this process. Focus on original, groundbreaking news in your subject line, and the chances they'll open your media pitch email will rise.

When you follow up after a few days of not hearing back, keep these points in mind.
Be action driven.

Refrain from repeating the content of the earlier pitch and keep the follow-up very short, with a direct call to action.




Be nice and respectful.

Honor the fact that journalists might not be interested in your pitch.




Don't get pushy.

Highlighting urgency is good, but not beyond a certain limit. Leave an open end for them to decide what to do without sounding obnoxious.

Be prepared.

If you get a positive response, be prepared for the next steps and the resources or people you might need to collaborate with.



Best practices for a media pitch
A subject matter expert has their own following to take care of, but that doesn't earn you dollars. When you diversify your circle, that's when deals start pouring in. Let's look at a few practices that will get your foot in the door with the media.
Be personalized and concise.

Your media pitch isn't your autobiography; it's a precise outline of how your brand can help the journalist or influencer reach their goals. Because you've already connected with your target on social media, you should be reading their content to identify their objectives so you can tailor your pitch to their needs.

Consult an expert or become one.

If it seems that one of their goals is to increase their page views, think about how you could make them be seen as experts or offer them exclusive research that will make their content the first to cover a specific topic.

Stay true to the beat.

Once you decide on the benefits you can give the journalist or influencer, cater to their interests; if their beat is sports, don't pitch them an article about fashion and style. This is an automatic red flag that you haven't done your research.

Give a shoutout to the potential journalist.

Reference their work, highlight what you enjoyed, and prove you can add value to their pieces. Don't lead with a paragraph about yourself; use these tips to write a short and valuable first paragraph.

Use original research.

Don't include an attachment to a drafted article. The second paragraph is meant as a teaser for the story you're media pitching and proof that the information you're providing is well-researched.

Reference the data you've compiled and the resources you've used. Fill in the gaps in the journalist's work so they don't have to do the heavy lifting. Figure out why people should care about this topic and explain your point of view.

Maintain media relations:

Don't brew the journalist off after you get the growth you desire. Maintain your media relations and keep collaborating from time to time to build your professional circle.
Summarize the main points.

Since brevity is the key to a successful media pitch, recap the main points in bullets at the end of your media pitch. Keep it to 3-4 bullets and get straight to the point. The person receiving your media pitch may scroll to the bottom if they're pressed for time, so use this space to tell them exactly what they want to hear.
Pitching your way to success
Breaking through the email clutter is difficult. But if you take the time to craft the perfect media pitch that's personalized, concise, informative, and interesting, journalists and influencers will have a hard time saying no. Reinstate your value in the market by spreading awareness in the media and ringing the bells of quality and sustainability.
In the news for the wrong reasons? Save your company's reputation by mitigating a PR crisis.