What would you justify as a necessity?
Maybe you absolutely cannot live without your moisturizing face cream or you don't leave your house without a journal. Necessities are different for everyone and change based on a variety of factors like age, geographic location, interests, gender identity, and occupation.
Although a well-made journal is nice to jot down your thoughts, a necessity is considered something that people require to function such as food, water, a toothbrush, a bed to sleep on, toilet paper, et cetera. Companies enlist the help of mass marketing to sell us these products. So what is it?
What is mass marketing?
Mass marketing is the process of appealing to an entire market rather than one targeted group. The marketing technique uses mass distribution and mass media to reach the widest audience possible.
Mass marketing aims to advertise to the highest number of potential customers. The technique is largely popular among big corporations and is quite literally the polar opposite of niche marketing. Mass marketing markets to everyone and commonly focuses on selling "must-have" products at a lower price to achieve a higher number of sales and to obtain maximum brand exposure.
In this article, we'll discuss the advantages and disadvantages of mass marketing and take a look at a few successful examples.
Mass marketing explained
These days, with so many brands using clever advertising to sell us products and services, consumers are presented with a plethora of options to choose from when making a buying decision. Mass marketing capitalizes on this as well as the size of the market they advertise to.
The advantages of mass marketing
One of the biggest advantages mass marketing has is the scope and cost-efficiency of advertising on a much larger scale than smaller business marketing strategies. When a company uses mass marketing, every single advertisement that they deploy is sent across a variety of channels (such as print media, social media, and broadcasting) and has the potential to reach thousands or even millions of customers. By sending these ads out through as many channels as possible, their message is received in one single ad push and can save the company a slice of their budget.
Because companies that utilize mass marketing are pushing their product or service with such force, the production of their product becomes cheaper when compared to companies that produce products for a smaller, more targeted audience.
Think of bulk buying at Costco. Because you buy so much of a product, the cost is discounted. Companies that use mass marketing experience the same thing.
Another advantage of using this marketing technique is the increase in brand awareness. Let's take a massive company like McDonald's as our example. You see their ads everywhere: on the bus, on the train, on billboards, social media, TV, Spotify ads, and even on the radio. They have mass marketing on lock and have consistently used it in their marketing efforts for decades. Because of it, they've become a giant in the fast-food industry. This strong brand image has the power to discourage competitors and new restaurant chains from entering the market.
Another way to increase your brand awareness is through reviews on a third-party platform. If you're a B2B company, create a free profile and start getting your G2 reviews now!

The disadvantages of mass marketing
The major disadvantage of using mass marketing is that it puts all of your eggs in one basket. Although mass marketing can be hugely successful for large companies, changes in the market can and often do happen and can leave smaller to mid-size companies vulnerable to the effects.
The more obvious disadvantage is that mass marketing aims to please everyone in a large market with a singular product or service and can be challenged by other companies who are targeting smaller groups to serve them better. Many consumers are growing tired of the "one size fits all" approach and are starting to specialize their searches when considering which product to purchase.
Mass marketing examples
Mass marketing campaigns are certainly not new. Think about a product that nearly every person uses. Toothpaste.
Brands like Crest and Colgate utilize mass marketing by running commercial spots on TV, placing magazine ads, and pushing their product on other channels like social media and city billboards. Often times, companies partner with big-name celebrities so that the consumer's brain links a need (like toothpaste) with a celebrity they like (in this case, Beyonce).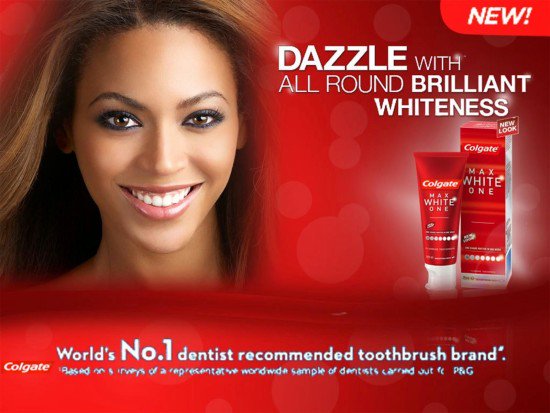 Source: Colgate
Another example includes deodorant ads like this one from Secret.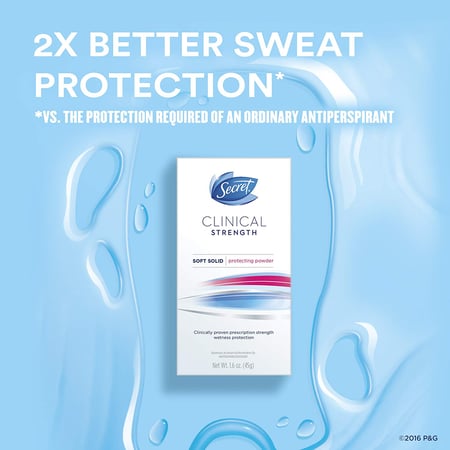 Source: Secret
Most of the time, these advertisements highlight why you need this product. They'll often include an impressive statistic or a short sell on why the product is better than competitors'. Take Dawn's dishwashing detergent ad as an example.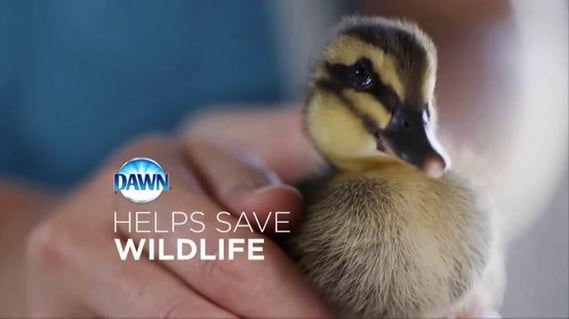 Source: Dawn
Dawn reinforces why their product is most desirable with this cute photo of a duckling. Back when the campaign just launched, Dawn saw the oil spill as a chance to advertise their product. They marketed the dish soap as a product gentle and safe enough to clean crude oil from a bird's feathers. According to an animal rescue worker, when asked why they chose Dawn to clean animals affected by the oil spill, they replied, "Dawn definitely works the best. It very effectively removes grease but does not cause harm to the skin of the birds."
In short, if you see a brand, restaurant, or product every day on your way to work, driving down the highway, or on social media, chances are they're using mass marketing to reach the largest audience possible (including you!)
Conclusion
Mass marketing can be extremely effective to push new products or services, to increase brand awareness, and retain loyal customers. Before you decide to implement it into your marketing strategy, be sure to assess the demand for a certain product so that your efforts aren't wasted and you get the maximum return on investment. Certain companies or industries may use mass marketing more than you'll need to and that's ok. It's all about finding the right strategy for you.
Not sure if mass marketing is for you? Read up on how you can implement content marketing or inbound marketing into your next campaign.