Have you ever seen the show Cake Boss on TLC?
If you haven't, the concept is pretty simple: it's an American reality TV show that follows the operation of Carlo's Bakery, run by Buddy Valastro.
Clients come to Carlo's with outrageous requests for a cake they need for their extravagant events from birthday parties to aquarium openings. Buddy and his associates sit down with the client, ask questions, and sketch out their ideas for the cake.
Then, they bake and decorate it to perfection.
At the end of each episode, a cake is delivered to the client (usually in perfect condition) and the clients are often over the moon with how the edible art turns out.
What does this have to do with the difference between marketing and advertising?
Marketing vs advertising
Everything about Cake Boss can be turned into a metaphor for marketing and advertising. And it's about to make the difference between those two words very clear.
But before we take care of the metaphor, let's just run over the technical differences.
What is the difference between marketing vs advertising?
Marketing is the overall process of product development, market research, distribution, sales strategy, promotional efforts, public relations, and other activities that help to promote a product or service. Advertising is one of these activities in which the research and thought process is creatively executed into a tangible idea that is positioned across multiple mediums.
The marketing process is a long one, full of ingenious strategy, extensive analysis, impeccable execution, and constant follow-ups.
How could a dry definition turn into a piece of cake?
Marketing: Carlo's Bakery
We've gone over what happens on Cake Boss. Let's connect it to marketing.
Carlo's Bakery already has a mission: to bake cakes for clients. That's equivalent to the mission of an advertiser: to make consumers aware of a product so that they purchase it.
Carlo's Bakery also hires people who have specific strengths and weaknesses that are previously analyzed. Buddy knows what each person is and is not capable of doing, and assigns each employee to a project he knows they're capable of. This is similar to the situation analysis step in the marketing planning process in which marketers analyze and identify their most critical problems and relevant opportunities in order to show how well the company as a whole can take on a project.
If Carlo's Bakery doesn't have an adequate cake decorator, they'll probably have to look into freelancing one for the job.
When a client comes to Carlo's Bakery, that client typically has an idea of what they want down to the very last detail, including how much they're willing and able to pay for the final result. This is the cake version of the marketing strategy, in which marketers define their target audience, set goals that can be measured, and begin to develop a budget. Without this step, Cake Boss or otherwise, no team can move forward in a logical manner.
Then, the team gets to work. They sketch out a draft, begin to throw some ideas onto the table, get the fondant rolling and somehow end up with a 100lb masterpiece. This is similar to the fourth step of the marketing planning process, the marketing mix, in which marketers work on the product they're developing, how they'll price it, promote it, and distribute it.
They deliver it to the client (usually without any accidents), and the client is either extremely pleased or somewhat disappointed. As time goes on, Carlo's Bakery often improves in their designs and clients are increasingly impressed. This is similar to the final step in the marketing planning process, in which the creation is finally put into action and monitored for success based on a number of predetermined metrics.
Advertising: a piece of cake
If we say the entire process of the Cake Boss show is parallel to the marketing process, where do you think advertising comes in? Marketing is the thought process, execution of ideas, and analysis of the results. Advertising is the creative execution.
So, looking at Cake Boss...advertising is a piece of cake.
Advertising, like cake, is often the most creative (and most expensive) part of the marketing process. Done well, these advertisements turn heads and might look more like art rather than a marketing effort, in the same way that Buddy's cakes rarely look edible.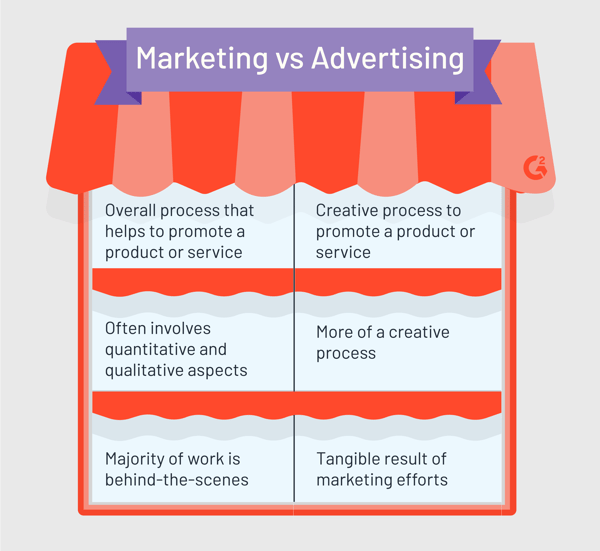 Maybe "difference" isn't the right word
It's more how one relates to the other. Overall, advertising is the most creative part of the marketing process and is what the audience sees from marketers more than anything. Without the show, the efforts of Carlo's Bakery would be completely behind the scenes, just like any other bakery or marketer's efforts.
When we say advertising is a piece of cake, we don't mean it's easy. We just mean it's the tastiest and most tangible part of the marketing process.
Recipes change, and so has advertising. Learn more about the history of advertising and the innovators who made it what it is today.