Logo recognition is related to object detection, a computer technology linked to computer vision and image processing.
What is logo recognition?
Logo recognition is defined as the process of grouping and identifying logos, which presents many challenges as logos have no clear rules defining what a logo is.
What's the goal of logo recognition?
The goal of logo recognition is to classify an image into a certain brand and identify the location of the logo. Thus, logo recognition can be considered a classic object detection task.
How data scientists define logo recognition
Modern image recognition solutions typically use end-to-end deep learning methods based on convolutional neural networks. It allows detection of logos in different scales, colors, and rotations.
The innovative visual insights technology has been in development for a while; we first started demonstrating the image recognition function in CIS. However, it took a lot of time and effort to fully incorporate resource-heavy artificial intelligence and machine learning algorithms into image recognition for large-scale projects and on a multi-million online data stream.
How is logo recognition used by marketers?
Logo recognition can help marketing teams find mentions of your brand in social media posts that contain no words – all you need is a recognizable image of your brand's logo to be present somewhere in the photo, aiding organizations with their online reputation management.
AI-powered image recognition is the latest breakthrough in modern digital marketing. The ability to identify logos or their various iterations on user-generated photos – which contain no text whatsoever – means new opportunities for the brand to communicate with their consumers.
Everyone understands the fun of this feature, but only a select few know more than a couple of basic use cases.
7 ways to use logo recognition
Logo recognition offers new opportunities for next-level digital marketing:
1. Obtain user insight
Visual analysis of the context surrounding the identified logo allows you to get useful insights to inform your social media communications strategy.
Based on the information about the objects that appear on the photo (people, pets, buildings), the setting (street, office, bar, outdoors), and the analytics report, you can understand key factors in various use cases of your products by your brand's audience.
You can apply these insights by correcting or resetting your audience targeting. The Visual Insights feature from YouScan also allows you to catch and better understand the audience's impressions of your brand and use this new knowledge to reposition your marketing efforts or plan a brand refresh.
Before integrating the Visual Insights image recognition function into our platform at YouScan, our data science specialists tested out the algorithm images of cats and dogs (the AI learned this way). When it was time to develop the logo recognition feature, they noticed a peculiar connection between brands and animals: For example, "smart" gadget brands, especially Apple, often appear in numerous user photos along with cats, while sports brands (like Adidas) are more "drawn" toward dogs.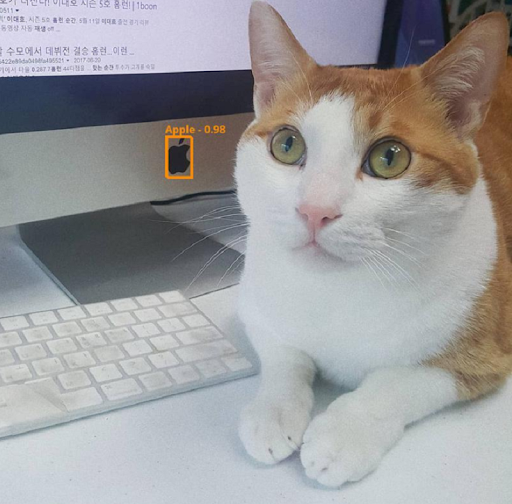 We even made a ranking system of brands that appear on the same photos as cats. Apple came in first by a large margin.

A likely reason for this is cats' affinity to lounge on laptops; delighted owners love taking photos of their cats and sharing those photos on social media. Alongside an adorable photo of their pet, they're inadvertently advertising Apple products. We made a similar ranking for brands and dogs where Adidas came out on top.

This also makes sense. Owners often walk their dogs while dressed in athleisure, which often includes Nike or Adidas brands. Since we were conducting this research during the 2018 World Cup, feeds across social media sites also featured a lot of photos of dogs in hoodies, shirts and hats.
So there you go, new insights. Sometimes a picture tells a better story than words.
2. Analyze large-scale events
Imagine that your brand is sponsoring a sporting event, another public event of that scale, or acting as a sponsor to a sports team. Your logo is featured on the uniforms of players, referees, coaches, and fans, and is displayed on stadium banners among numerous other places. You're aiming to increase recognition of your logo through brand marketing since it'll be seen by in-person fans as well as millions of online viewers.
In order to objectively measure the impact of this sponsorship activity, it's important to understand which audience demographics are seeing your logo, in what context they're seeing it, what kind of engagement the posts with your logo are getting online, and what the overall content and tone of the publications that feature your brand is.

If you run a major consumer brand, then it is imperative for you to understand where, how, and in what contexts your brand appears in your consumers' real life scenarios in order to conduct effective ad campaigns.
No market research or focus group surveys will give you the kind of information you can get from a social media image analysis.
How often are your products used at home? On the street? Outdoors? Do other objects often appear alongside your product? Do these surroundings change over time? How do your ad campaigns influence these use cases, if at all? There is no limit to the number of insights you can draw from Visual Insights.
3. See user reviews via implicit brand mentions
Users don't always include explicit mentions of your brand in their written posts; sometimes, they simply share an image of your product. Visual Insights lends you the power to find these implicit mentions of your brand and analyze them using the full analytical capacity of our monitoring system.
Image text: "That's what I call [the] sportswear!"
4. Track negative sentiment toward your brand
As previously mentioned, a picture is worth a thousand words. Social media users can post photos of your brand in a negative context, modify branded images, or publish photos of counterfeit or pseudo-counterfeit products. Social media sentiment analysis helps with finding and mitigating these types of publications, which is especially important for online brand protection.
5. Identify thought leaders
The logo recognition function allows gives a greater competitive advantage to those who possess it – namely, by removing the need for explicit advertising. Integrating ads into the users' native feeds by sponsoring popular bloggers' content allows you to skip cumbersome practices like branded hashtags or special campaign trackers – AI will do the tracking for you.
The logo recognition function will track all of the blogger's sponsored posts and shares of that post, and all of the negative comments on such posts can be removed.
Social media influencers won't have to mention your brand anywhere in the caption, therefore avoiding the explicit association with paid ads; the brand manager, in turn, will only have to track the photos of a recognized thought leader.
For example, let's look at this Instagram post from Wanda Nara, an Argentine media personality and football (soccer) agent:
Image courtesy of @wanda_icardi Instagram profile

Wanda's photo contains an Adidas logo, but the caption doesn't tag or mention the brand. If this mention were organic, Adidas would likely want to know about it as soon as possible. Similarly, if Adidas was already collaborating with Wanda, our Visual Insights technology would have helped the brand track how and when the celebrity represents it.
Image analysis gives brands access to the whole picture of their consumers' online conversations, and logo recognition is just the beginning! The ability to identify objects, settings, faces, and actions in photos allows brands to analyze images the same way as text.
Every day, users post more photos and videos on their social media feeds, and some 3 billion images are uploaded to the internet daily. This creates a huge amount of data for researchers and marketers to tap into in order to find new tools for effective communication with their consumers.
6. Discover "Instagrammable" people
Have you ever thought of tracking the contexts in which users are most likely to share photos of your branded assets?
Images courtesy of Instagram
Lately, marketers aim to leverage organic user-generated content in their visual content strategy. The goal of many contemporary events, locations, and spaces is to be "Instagram-worthy," or worthy of being the visual setting of their customers' social media appearances.
The future of Instagram marketing lies in creation of such Instagrammable spaces, which will set the perfect environment for a new type of customer experience with the brand. The good news is you already have the perfect tool to identify and measure this kind of customer experience!

Our analysis of this festival revealed promotion strategies of brands that were supposed to be absent from the event, per its commodity-free mandate. Check out the photo in the center of the collage.

This is a more accurate and informative analysis of the objects and settings contained in the photos above.
By clicking on one of the bubbles in this cloud of objects and settings, we get a more granular look at the context of these photos. Top of the list is the most popular settings is the Black Rock desert landscapes Among the top most frequently featured objects (besides people) are motorcycles, bicycles, planes, and smartphones, selfies' eternal companions.

Using these tools, you can analyze any large-scale event that reaches a wide audience, such as championships, festivals, forums, conferences, fashion shows, and more. At the very least, you will be able to analyze: which brands stood out at the event; what type of audience was reached; and which objects and settings frequently appeared in photos from this event. The rest will be determined by your imagination and the imaginations of your consumers!
TIP: Want to know more on how your brand can have a presence at festivals? Discover the best music festival marketing strategies in 2019.
7. Understand user experience to a higher degree
The main task of social media listening is to help you understand what consumers say about your brand or product. But without image analysis, you can miss out on as much as 85% of mentions! Image Recognition will help identify visual assets for your brand among billions of user photos. Moreover, it will also list objects and scenes present in the images alongside your branded assets.

After that, moments of consumption analysis has always been one of the most interesting tasks solved by social media monitoring. Even simple word posts are already very interesting to brands. Photos, however, give you the most important information about use cases. For example, you can choose the "bottle" object and view its various use cases. Add the "person" object and see the consumers themselves.
Visual Insights will also show the context in which your brand appears on the photo. Such insights can give you plenty of ideas for new creative, allow you to run campaigns tailored to your consumers' needs, and even reveal cross-promotion opportunities with other brands.
Every day social media users publish over 100 million social media posts, over half of which are images. The majority of these images don't contain any written mentions of any brand. Companies miss out on up to 85% of posts if they rely solely on keyword searches.
So, what can Visual Insights help you do?
Visual Insights will help you the full picture of conversations surrounding your brand on social media. You'll hear your consumers even if they hadn't written a word. It will also find previously unknown influencers. You'll be able to see users who already act as your brand's ambassadors. It can measure ad campaigns.
You can track the reach of branded content as well as UGC, which will be a more accurate reflection of campaign reach. Next, it will help calculate ROI from your brand's sponsorship activities. You'll have an understanding of who has seen your logo and how many times they've seen it. Finally, it can analyze moments of consumption. You'll get insights into who utilizes your products, where, when, how, and – most importantly – why they use it
Ready to learn more about making the most of social media in 2019? Learn how your brand can leverage Instagram influencers to reach new audiences.