Whenever I'm in the market for a new book, the first two things I check are the cover and the Summary. The same concept applies to many recruiters and hiring managers on LinkedIn.
Let's take a quick look at my LinkedIn profile below.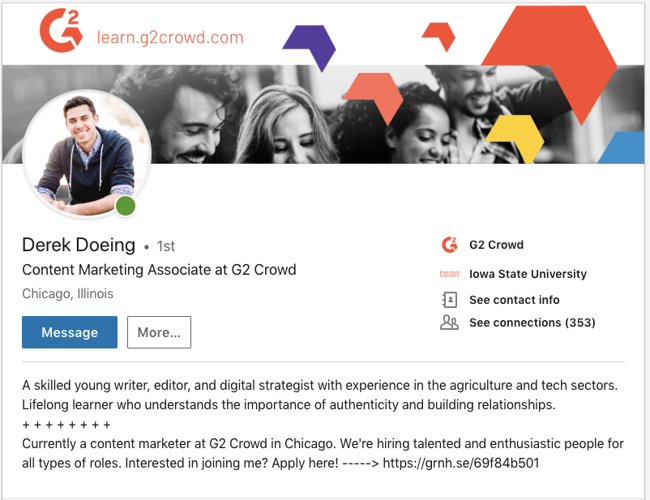 The first elements you should notice are my profile photo, background photo, name, and headline. As your eye naturally continues down, you'll see a small block of text. This is my LinkedIn Summary, and it's a great place to express who you are and what you do to anyone looking at your profile.
Crafting a quality Summary is key to getting the people who are already looking at your profile to dive further in and learn more about you. It's a first impression on your talents and skills, and should be your first selling point as someone explores your profile further.
While I'm a writer by trade, I understand that not everyone may be as comfortable constructing a Summary of their own. Lucky for you I've constructed some LinkedIn Summary templates that will set you apart from the herd of other professionals in your industry.
Let's start with a basic template based off my own Summary above:
LinkedIn Summary template
A skilled [1-3 roles you consider yourself talented in] with experience in [fields in which you have experience]. I understand the importance of [2-4 skills you are proficient in]. Pursuing interests and passion for [career or professional aspirations]. Let's connect and discuss [something career-related you are passionate about].
This basic template is a good place to start, but if you really want to stand out, you'll need to spice it up a bit with things more relevant to you or your industry. Feel free to skip ahead to a type of template that suits you best, or just continue on to read my tips on drafting an effective LinkedIn Summary.
5 LinkedIn Summary templates
Creating a LinkedIn Summary doesn't have to be hard. If you're hitting a bout of writer's block, take a look at these templates. Simply fill in the blanks and you'll have a Summary that will get recruiters and hiring managers to give your profile more than just a glance.
Student template
A full-time student in [field or major] at [college or university] pursuing opportunities to learn about [2-4 relevant industry skills]. I have experience in [additional skills or talents related to desired career]. Seeking to expand my knowledge of the [career field] industry. I'm passionate about [1-4 career or personal passions of yours].
This template is great for a student seeking an internship or first-time job experience. Be sure to summarize your skills and relevant involvement in campus organizations as well as where you hope to take your career in the next few years.
To-the-point template
[Role] at [company]. Formerly [past role] at [past company]. Interested in [2-3 personal interests]. Let's connect.
This template is concise, quick, and gets the job done. People will get a very brief and quick glance at who you are and can continue on for more.
Accomplishments template
Known best for [major accomplishment]. A [role] at [company] looking to [career goal you wish to accomplish].
[Relevant award or accomplishments]
[List any other prominent awards or accomplishments]
A template like this allows you to list out your awards and accomplishments in a way that doesn't feel like you are bragging. If you've been featured in a publication or met a huge goal, this is the place to share it. This type of Summary shows you are goal-oriented and can get the job done.
Mission statement template
To use my gifts of [2-3 qualities or skills] to [overarching goal you seek to reach].
If you already have a mission statement, simply write it here. If you don't have a mission statement, try using this template or check out these mission statement examples.
Company-based template
I'm a [job position] at [company]. [1-2 sentence description about what your company does, it's mission or goals]. [Any additional information about your company and its role in the market]. [Link to company website or careers hub].
You may not be in the market for a career change, but you could still have plenty of people checking out your profile. Rather than advertising yourself, use the Summary to share about the company you work for any why you're passionate about it.
Additional LinkedIn Summary tips
Creating a LinkedIn Summary may seem daunting at first, but using one of these templates can help set you apart. In addition to these general LinkedIn profile tips, there are some important things to keep in mind when drafting your Summary section.
Keep it clear and concise: No one wants to stare at a large wall of text.
Include a call to action at the end: Leave the reader with an invitation to connect with you, send a message, or even apply for a position at your company.
Take advantage of the See More option: LinkedIn allows 2000 characters for your Summary, but will smush it down to just the first 300 or so unless the reader expands the section. Keep this in mind as the formatting may appear different than you intend.
Make it current: Your LinkedIn Summary should be updated somewhat frequently. Any time you switch roles, join a new company, or are on the job hunt, your Summary should reflect those changes.
Now that you've got an amazing LinkedIn Summary, you can put your effort towards the more important things in your career.