If you're searching for a new job, there are bound to be a lot of tasks on your to-do list.
One major task is to make sure your LinkedIn is top-notch and can stand out from the crowd. Whether you're scouring the web for LinkedIn profile tips or learning how to upload a resume to LinkedIn, there's a lot that you can do to get your profile ready for the eyes of a recruiter or hiring manager.
One key point that your LinkedIn Profile should possess is a well-written Summary. Even though this feature is optional, it's important that you don't skip it. Whether you're a student new to the job market or a seasoned business professional, you may be unsure what kind of information to include in your summary.
If that's the case and could use some tips and examples, keep reading.
Elements of a LinkedIn Summary
Be concise

Treat it like a cover letter

Make sure it's free of errors

Use the right keywords

Brag a little
LinkedIn Summary examples
Your LinkedIn Summary is the chance you have on your profile to tell your story, explain what you're made of, and get a specific point across. Don't confuse your Summary with the Experience section. While the Experience section highlights your accomplishments, the Summary portion of your LinkedIn Profile is where you share your passions, strengths, values, and tell viewers of your Profile who you really are.
It's where you detail your story, the hopes you have for your career, and a chance to put those writing skills on display. Basically, it's another way to give your profile a little something something that could showcase why a company should hire you versus someone else.
Don't make it too long
LinkedIn provides you with 2,000 characters for your Summary, but that doesn't mean you have to use them. Plus, if you don't have decades of years experience to detail, keeping it short and sweet is the way to go.
It's also ideal that you make use of white space. Don't write in long, never-ending paragraphs. These types of paragraphs are hard to skim and it will seem like you're rambling. Shorter paragraphs make it easier for recruiters or other business professionals to read and know what you're all about.
Stick with 2-3 paragraphs that aren't longer than five sentences. If you aren't sure how to start off your Summary, maybe go with a business appropriate quote that has stuck out to you from a mogul you respect.
As an example, when writing my LinkedIn Summary, I started it off with my favorite Steve Jobs quote.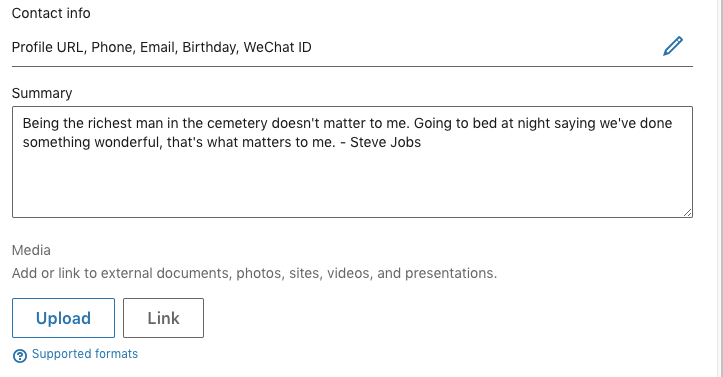 Treat it like a cover letter
It's easy to simply summarize your resume in your LinkedIn Summary, but there's nothing eye-catching about doing so, and your profile won't stand out in any way. In fact, it would probably be pretty boring.

Tell a brief story about your career so far, or explain the type of career you'd like to have. For instance, if you have interned every summer for the last three years, have moved up the corporate ladder of your current company, or have been on the board of your fraternity or sorority, your Summary is a great place to highlight these details.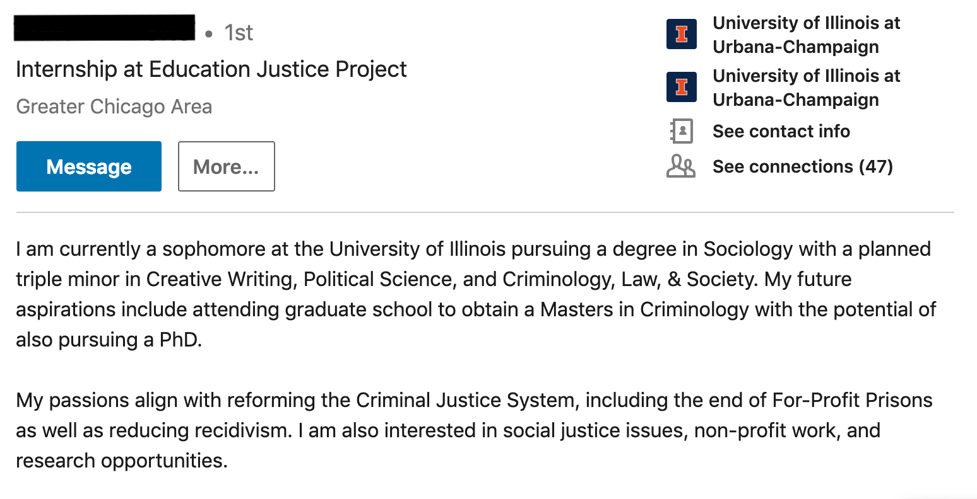 Make sure it's free of errors
After you've spent all this time and energy writing your LinkedIn Summary, having a typo that goes unseen can completely undo your hard work and can be a huge turn-off for recruiters who are looking at your profile and considering you for a position within their company.
There are a lot of proofreading programs that you can take advantage of, like Grammarly, that are free and easy to use. Just copy and paste your LinkedIn Summary into Grammarly to see if you've made any spelling or grammar errors that you may have missed during your writing process.
It's also important to keep in mind that programs like Grammarly won't catch a misspelling of most company names, especially if the company isn't well-known. Because of this, make sure you read through it again after you run it through an editing program.
Use the right keywords
I know I previously said that you don't want to just list your skills, but you do want to incorporate these skills into your summary. Recruiters have a lot of LinkedIn profiles to weed through, so they often search by specific term during their process. To ensure your profile shows up for these terms, you should have them not only in the skills portion of your profile but also the Summary.
Instead of going the route of listing these keywords, work them into the story of your career or experience so far. For example, if you listed various Microsoft Office Programs under Skills, explain in further detail that you are Google Analytics Certified and how you've used it, or that you used Microsoft Excel and Powerpoint to complete various assignments.
Brag a little
Your LinkedIn Summary is also a great place to sneak in a humble brag about yourself. Maybe you helped accomplish a specific goal within the recruitment process for your fraternity or sorority, made the Dean's List four years in a row, or even boosted lead generation at your startup. No matter what it is, your LinkedIn Summary is where you can go into more detail about something you accomplished.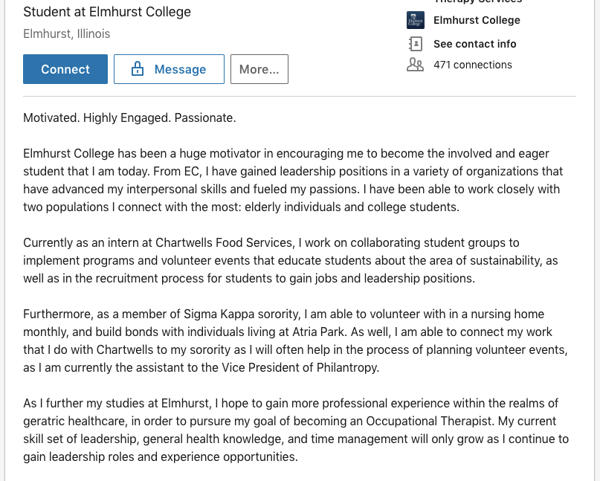 It's all about you
Your LinkedIn Profile is the first impression you make to many recruiters and other business professions, so make sure it's a good one. Ensuring that your Summary is well written, to the point, and showcases your personality and achievements is an absolute must.
Writing a LinkedIn Summary may seem like a skippable step in creating your Profile, but when done right, it could make a difference in whether you land your dream job or not. Apply these tips to your Summary!
Related: Got something to say about LinkedIn Premium and if it's worth it? Write a review and share your thoughts!
Interested in learning what else you can do to make your LinkedIn profile stand out? Check out our articles on: