When was the last time someone asked your for advice?
Was it a friend battling a personal situation? Your boss looking to improve diversity in the workplace? A wealthy individual asking you to take $5 million from their personal piggy bank and turn it into $10 million?
That last scenario seems weird and unlikely, right? To us, yes. To investment bankers, it's an everyday occurrence.
There is a lot to investment banking, and if you already know the basics and feel like skipping ahead, use these links to jump ahead to something a little more specific:
What is investment banking?
We've watched the women of Sex and the City date investment banker after investment banker, but did we ever look away from the glamour of their nights out to ask ourselves how they can afford to have such expensive taste? The answer lies in their nine to five at an investment bank.
What is an investment bank?
An investment bank is a financial service company, or division of a corporation, that is involved in well-advised financial transactions on behalf of individuals, corporations, or governments.
Essentially, investment bankers act as the middle men between investors looking to make an investment and businesses that could use some of that capital to grow.
You can also look at it like this: investment bankers are corporate financial advisors.
Two sides of investment banking
All investment banking activities are either placed on the sell or buy side of a transaction. Before we go on, you need to remember two things. First, you need to know the definition of securities.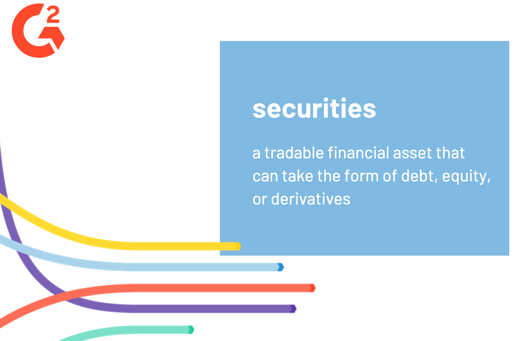 Second, you need to know that neither the sell or buy side of investment banking could exist without the other.
Think of it like this: you are having a lemonade stand. If you have no lemonade to sell, nobody can buy it. And if nobody comes to by your lemonade, you cannot sell any.
Sell side: The sell side of investment banking is involved in trading securities. These securities can be traded for cash or other securities, depending on what the investor wants.
Buy side: The buy side of investment banking involves providing informed financial advice to entities, which usually consist of private equity funds, mutual funds, life insurance companies, and hedge funds.
Investment bank structure
Investment banks are usually split into three sections: front office, middle office, and back office. The sections are divided based on their daily activities.
Front office: The front office is seen as the revenue generator. Activities in the front office include advising on mergers and acquisitions, providing capital raising strategies, sales and trading, and research. These team members are customer-facing.
Middle office: The middle office is responsible for risk management and information technology.
Back office: The back office handles human resources, office management, and customer service.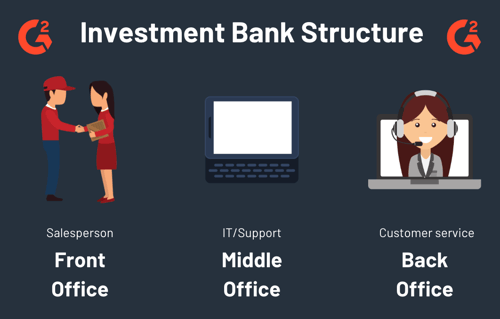 There are a lot of moving parts to an investment bank, and each part makes an important contribution to the company.
Investment bank services
Investment banks are often times confused with the investment banking division of a normal bank. What sets them apart is the services the amount of services they offer. In this face off, investment banks come out on top with a lot more on their plate.
Let's go over the typical services provided by an investment bank.
1. Arranging finance
If a business or government is looking to finance a big project for which they need more capital, they will seek guidance from an investment banker. This is the basic job duty of any investment banker: they will plan when to issue corporate bonds, price them to muster up demand, and help sell them.
If a business is interested in going public to raise funds and needs to come up with an appropriate initial public offering (IPO), an investment banker can help with coming up with the perfect price.
2. Underwriting
Underwriting is the process of taking on a financial risk for a fee. Investment banks will buy the stocks and bonds of the business they are working for and then market and sell those to other investors. The investment bankers are compensated for taking on the risk of the stock not selling. This is usually done by marking up the price at which they bought the stock to generate a profit as opposed to just breaking even.
There are certain situations where the investment bankers do not buy the stock but market and sell it. In this case, they are compensated on the basis of commission, meaning the more they sell, the more profit they see.
3. Mergers and acquisitions
Investment banks can also assist entities when they are looking to buy another business. With their extensive networks and relationships with clients, investment banks are a great resource for finding and evaluating the worth of a potential acquisition.
They can offer advice to parties on both sides of the acquisition. For the business looking to acquire another, they can advise them in valuing the company and coming up with a realistic price. For the business being acquired, investment bankers can help evaluate the asking price.
4. Private placement
Investment bankers can also help clients raise capital funds through private placements, which is the selling of securities to a smaller group of investors. Raising capital through private placements avoids the step of registering with the SEC.
This is the opposite of an IPO, where the securities are sold publicly.
5. Sales and trading
Investment banks also take care of sales and trading. They match up buyers and sellers looking to buy and sell securities they already own. They can even act as an agent for the client, conducting all of the activities of the trading on their own.
Investment banking industry
As an industry, investment banking is split into three different tiers: bulge bracket, middle market, and boutique market.
Bulge Bracket
The Bulge Bracket makes up the world's largest investment banks. In these banks, clients are usually large corporations, institutions, and governments. Bulge Bracket investment banks provide both advisory and financing services, conduct research, and are involved in inventing financial products.
Middle market
Middle Market investment banks do just about the same that Bulge Bracket's do, they just offer their services to smaller companies.
Related: Read about business size to learn what kind of businesses Middle Market investment banks are working for.
Boutique market
A boutique investment bank does not provide the same services as a Bulge Bracket or Middle Market establishment. Typically, they specialize in roughly one aspect of investment banking and offer that service to businesses that need that one thing.
Sometimes, boutique market investment banks will specialize in a certain industry, like media or health care.
Investment banker skills
Because of the wide range of services provided by investment banks, the people working inside them also need a variety of investment-related skills. Here are the top skills you need to become a successful investment banker.
1. Financial modeling
Financial modeling is the process of creating a representation of a financial situation. It typically includes creating mathematical models to represent the economic health, performance, and future potential of an asset, project, or investment.
Investment bankers use financial modeling to price assets and express it to their clients.
2. Business valuation
Investment bankers also need to be well versed in business valuation, which is the process of estimating the value of a company.
This skill comes especially in handy when investment bankers are advising clients during a merger or acquisition. They will have to give both the target company and buyer as accurate of a buying and selling price as possible.
3. Sales and business development
Investment bankers cannot do their job without some background knowledge of business development and sales development. Even though they need both, those two concepts are different.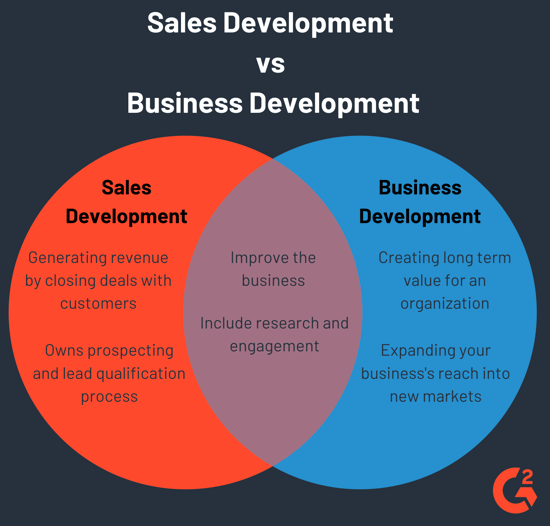 Investment bankers need both of these skills because they are constantly meeting with new and existing clients to pitch ideas and offer advice, both resulting in them getting new business and earning more money.
4. Relationship management
The entities that work with investment bankers will want updates on the status of their investments, as well as a solid relationship with the person managing their hard earned money. With financial services CRM software, maintaining a solid relationship with investors is made simple.
5. Negotiation
A big part of an investment banker's job is negotiating on behalf of their client. If the investment banker sells stock for a profit or helps acquire a company for cheap, they will have a happy client and a full wallet.
Invest in banking
There's a lot of money out there but not many people that know how to use it correctly. Investment bankers are not some of those people. However, it isn't luck. Investment banking takes the right kind of skills to be successful. But if you have it, you could be looking at a mighty fine paycheck, my friend.
Hooked on investing now? Don't worry, we've got a neat resource with over 30 investment statistics that will blow you away.