I may not be a private investigator, but Instagram search sure makes me feel like one.
Whether it's finding someone I met in an elevator once, a brand I think I saw an ad for weeks ago, or that restaurant I drove by in Nebraska, I consider myself an expert detective anytime I locate what I'm looking for.
Instagram search can seem pretty daunting at first. The photo-sharing platform has so many options and opportunities to complete searches. By the end of this guide, you'll have all the tools you need to become an expert at using searches to support your Instagram marketing strategy.
Instagram search
The Instagram search tool is more than just your typical search bar. With options to search for people, tags, and places, you're sure to find what you need. Looking for a specific section? Skip ahead to learn more about Instagram's various search functions.
Instagram search basics
The first step to becoming an Instagram sleuth is learning how to complete a basic Instagram search. Start by opening your app and selecting the magnifying glass icon at the bottom of the screen.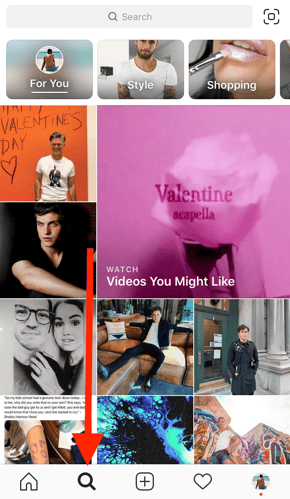 This is your Explore tab. You will see a grid of photos and videos from various users you aren't currently following. Instagram's algorithm places these posts here based off of the accounts you currently follow and the types of posts you like.
From here, tap the search bar at the top of the screen. This search bar immediately brings up some suggested accounts to follow based off of what it assumes your preferences might be.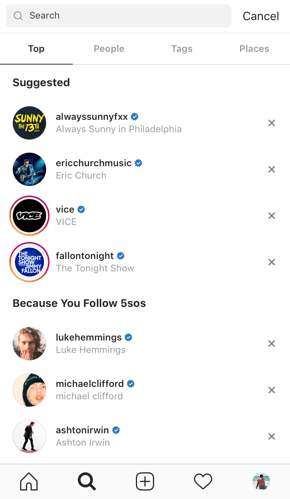 Begin typing a name, username, or hashtag (#) into the search bar to start your search. Generally, the result you're looking for will come up right away. Otherwise, try narrowing your results by specifying whether it's a person, tag, or place you're hoping to find. This can be a great tactic to find Instagram business profiles versus personal accounts.
Delete your Instagram search history
After some extensive detective work, you may find yourself falling down the rabbit hole of search results. Worry not, you'll find no judgement here. Let's discover how to get your search history cleared up right away.
First, go to your profile by tapping the icon at the bottom right of your screen. From your profile, tap the three vertical lines in the top right corner.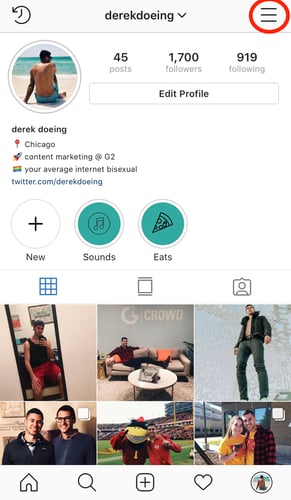 This will slide open a panel on the right. Look to the very bottom of this panel and tap the gear icon marked "Settings" to continue.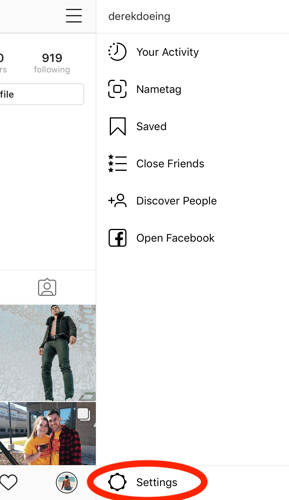 This will bring up all of your settings. Your search history settings are within Privacy and Security, so tap here to move on.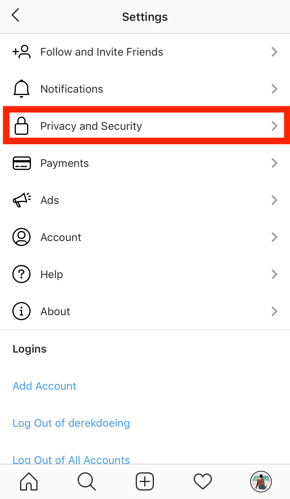 Within the privacy and security settings, scroll completely to the bottom and you will see the option for Clear Search History.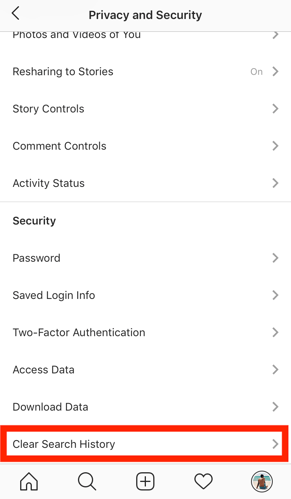 Once you've reached this final step, you can finish up by tapping the blue "Clear Search History" button. Now your search history is...well, history.
Search with confidence
You can now search Instagram for any user, hashtag, or location you would want to explore. Instagram is a huge wonderland of content, and searching it can help you find all sorts of new things you've never seen before!
Instagram search is just the start to what you can do on this social media behemoth. Check out our other guides: