When we talk about how trustworthy a business is, the first thing that comes to mind is probably online reviews.
Consumers have the power to look up information about businesses online and see what others are saying about it anytime they want to, online customer reviews have become more important than ever, now. This holds especially true for local businesses.
Furthermore, a recent survey indicated that 68% of U.S. consumers said that positive reviews made them more likely to use a business, while 40% avoid businesses that have negative reviews. This is a huge percentage of consumers that are basing their decisions about your business on online reviews.
How to increase positive online reviews
Besides influencing customers' purchase decisions, online reviews also benefit your business in other ways:
The quantity and quality of your business' reviews are two of the factors that help your business rank better in organic search results.
Reviews provide insight into the customers' pain points when it comes to your business, and lets you know which aspects of your business need improvement.
Given the massive influence that reviews can have on your business, putting more thought and effort into monitoring your business' online reputation management by improving its online reviews is important. But how do you generate positive reviews, and how do you make sure that you keep the reviews coming? Here is a list of 5 things that you can do to achieve that.
TIP: Discover the best reputation management software today to manage your brand's online presence.
1. List Your Business on All the Major Review & Social Media Sites
The first step you need to take to ensure that you get more reviews is to make sure your business is present wherever people can review them. This means getting your business listed/claiming your business on sites such as Google My Business, Yelp, Facebook, Yellow Pages, etc. And, if you're a B2B software/web company, you can create a profile on G2 Crowd.
At this juncture, the question, "But why can't I just list my business on Google and be done with it?" might pop into your head. The following infographic will provide you the answer to that, so take a look: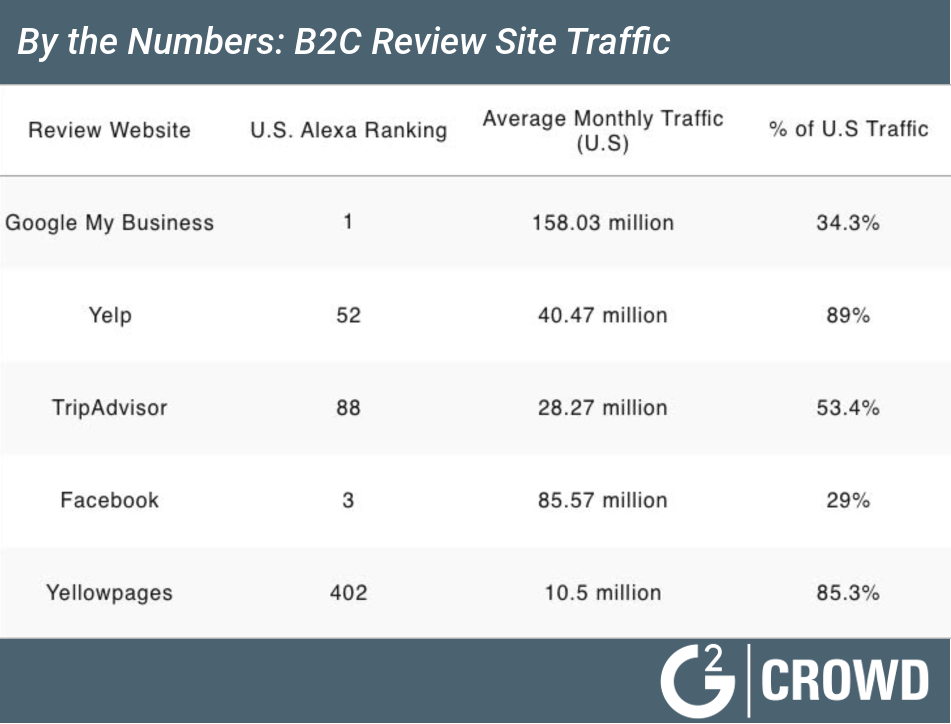 As you can see, Google might be the top website when it comes to reviews, but the amount of traffic that other review sites receive is still pretty substantial. Thus, listing your business in as many review sites as possible is paramount.
This ensures that when someone wants to leave your business a review, they will be able to find your business on the review website they use the most. Furthermore, getting your business listed on all these sites directly translates to more citations, which in turn improves your business' online presence.
Another thing to keep in mind is to make sure that your business profile is complete with accurate information such as location, business hours, contact information, and rich data (images, videos, etc.).
Taking an effort to provide your potential clients with the most accurate and engaging information about your business will go a long way to create a good impression, which can easily result in a positive review. Additionally, you can also use Google Posts to keep them engaged even more.
There are quite a few online review sites that you need to list your business on. This can seem like a daunting task, but you can automate this by using a local SEO software tool like Synup.
Tip: Read Synup reviews on G2 Crowd
2. Ask for Reviews
If you're thinking 'Well, if a customer wants to leave a review, they will. Asking them won't make a difference', you would be wrong. According to a survey by LSA, 68% of consumers left local businesses reviews when they were requested to. This shows that an increasing number of customers are willing to leave your business a review, but tend to overlook it owing to a number of reasons. Requesting them once to leave a review after they complete a transaction with your business can go a long way in generating more reviews for your business.
That being said, do refrain from incentivizing your customers for positive reviews. That is considered unethical, and owners can be penalized for doing so.
3. Make It Easy for Customers to Leave Reviews
Requesting your customers for reviews is one thing, but you also need to keep in mind that most of them probably have busy schedules. Hence, you need to take some measures to make the process easier for them.
You can do this by putting up signs and stickers that act as visual cues, and even include QR codes that the customers can scan to take them directly to a review site. Take a look at these examples: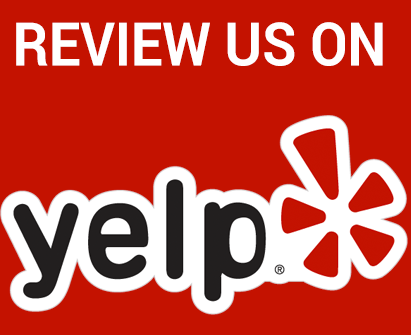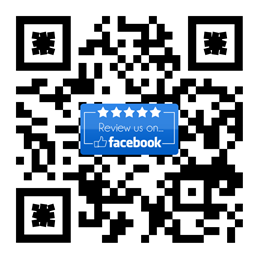 You can create such posters using a tool like Canva, and even get the QR code generated online. You might also want to consider giving your customers flyers and review handouts. Here's a review handout generator that you can use to generate and print your own review handouts.
4. Improve Customer Experience
Hopefully you've already started generating reviews. But in order to keep your customers happy and continue earning more positive reviews, you need to need to make sure that their opinions are heard and appreciated. You can do this by:
Continuously monitoring your business' reviews across all the review sites that you're listed in.
Responding to them promptly, thanking the ones who have left positive reviews and apologizing for any bad experiences that might have led some to post negative reviews. Responding to a negative review them know that you care about their opinions, and are invested enough in them to make amends for any negative encounters with your business through great customer service.
Taking serious measures to incorporate any viable feedback that you might have received.
5. Find Ways to Engage with Your Customers Online
Finally, you need to work on building your business' online presence by finding ways to interact with your customers and your target market online. For example, you can do this by using social media to build brand awareness through competitions, like how Backcountry did. You could also sponsor local events, and encourage people to share pictures of the event with your own hashtag for a chance to win a prize.
There are plenty of ways to engage with your existing and potential customers online. You need to put in the time and effort to do it, but the rewards can be extremely good for your business.
Next Steps: The Importance of Review Management
So there you have it, these are five of the most important things that you can do to improve your business' online reviews. Hopefully, this will help you get started on the right path to countless positive reviews online.
Still not convinced? Check out the impact of reviews with this roundup of the most staggering online review statistics in 2018.