Feeling discontent with your content strategy? There's a fix for that.
In the early days of the internet, there was a sentiment that "if you write it, they will come" and organic traffic would just appear on its own. But with the increased competition it's becoming clear that simply writing content isn't enough to entice your desired customers.
So, just how many blogs are there on the internet? The truth is that we don't know. Some studies claim there are 150 million blogs while others put the number closer to 440 million. And with thousands of new blogs being created every day, we might never know the exact number.
This crowding of the internet has led more teams to invest in full-stack content marketing strategies designed to reach customers at every point along their journey.
7 elements of a strong content strategy
Strong SEO
Defined tone and voice
A unique point of view
A variety of content mediums
A social media strategy
Measurable results
Customer-focused content
Beyond this basic approach to content marketing, many of the top marketing leaders are taking a step back to figure out new ways to cut through the noise. And many are finding success in refreshing their content and optimizing it for the user.
How to refocus your content strategy
You might be asking yourself, where are the success stories for a complete content refresh?
It's good to be skeptical. After all, you don't want to undo years of hard work without some solid proof that a refocused content strategy will work. Meghan Keaney Anderson, VP of Marketing at Hubspot is just one of the many marketing leaders who have seen drastic improvements after a content refocus.
And if you're wondering, could the VP of Marketing at Hubspot really understand how nerve-wracking this entire process is? The answer is – yes. Even the big-shots of the content marketing world feel the pressure.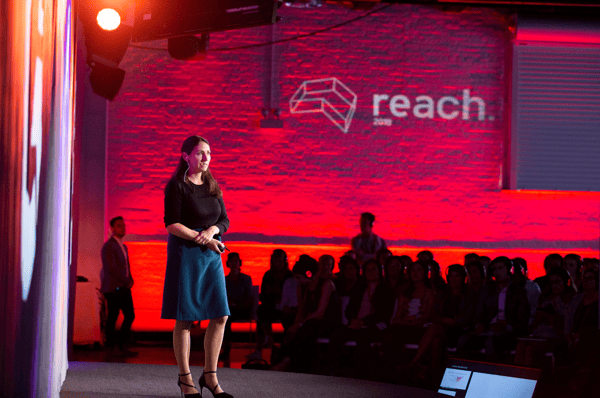 Anderson shared some of her tips during her Reach 2019 breakout session, "3 Simple Changes That Transformed Hubspot's Marketing."
We've taken some of the key highlights from her session and turned them into actionable takeaways your team can use to refocus your content strategy. Check it out!
1. You need a catalog of content to drive traffic
It takes time to build traffic and the key to building traffic is content. Nothing would be a bigger disappointment to a new reader than to find an incredibly written blog post on your website, only to discover you haven't written anything new in several weeks.
Anderson highlighted that companies that publish at least 16 blog posts a month get more traffic than those who publish less. That means an average of 3-4 pieces of content a week will be more than enough to help your team build their content catalog.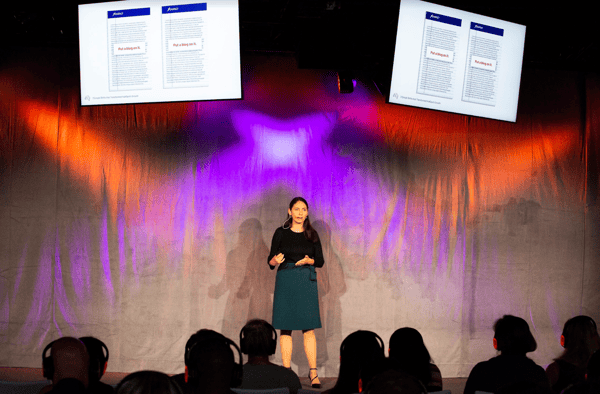 Start by developing a keyword strategy that targets content relevant to your industry and then start writing. Front-load your content strategy with writing before you dig into the more technical aspects of the job.
Once you've begun creating content, interlink relevant pieces and focus on the user intent. Don't write about things that you're not an authority on. Stay in your lane, in a sense, and build your brand authority before moving on to the next steps.
2. Old content is a new opportunity
For many content marketers, creating new content is one of the most exciting parts of the job. There is a certain satisfaction that comes from crafting something new and hitting publish. But there's a big opportunity most teams are missing in their content strategy – the content refresh.
Anderson pointed out that 92% of leads come from old content. If your company already has a backlog of content on your blog, you should spend a portion of your time optimizing old content.
If 92% of our #leads come from old #content why are 100% of our content creators focused on new stuff?! - @meghkeaney #HubSpot #G2Reach pic.twitter.com/nqNW203L5b

— SmartBug Media (@SmartBugMedia) September 11, 2019
It makes sense when you think about it. The longer a piece of content sits on your blog, the greater the chance it has of picking up backlinks, SERP rankings, and organic keywords. If you're not actively taking inventory of which pieces of old content are performing well, then you could be missing a big opportunity.
What are some ways you can optimize your old content?
Anderson split her team's time between writing new content and updating old content. The results? Hubspot saw double their monthly leads and a 106% increase in search views to their old content. This resulted in more views and conversions without having to create more content.
3. The structure of your team (and content) matters
The difference between a successful content strategy and one that falls flat is how you structure things. This is true for both your team as a whole and the content they produce. Anderson tackled this problem by creating a full-stack content marketing team with a dynamic workflow strategy.
Anderson merged the content and SEO teams at Hubspot and tackled their content refresh head-on by doing the following:
Restructured website to reflect the pillar/cluster model
Organized existing content by clustering related posts
Consolidated duplicate or cannibalized content
Cleaned up internal linking strategy
The end goal of this strategy was simple: turn each of her employees into an expert and streamline the user experience. When everyone on your content team becomes familiar with each part of the process, it makes it easier to spot the ways your team can optimize things.
This approach also eliminates workplace silos and empowers your employees to refine their skills. Not only does the old content improve, the new content your team produces is now created with a higher standard in mind.
Quality content takes commitment
If there's anything we learned from Anderson and the other incredible speakers at Reach 2019, it's that success doesn't come without innovation. The content teams that are climbing to the top (and staying there) are the ones that aren't afraid to take risks.
Sad you missed Meghan Keaney Anderson's break-out session at Reach 2019? Don't let it happen again! Sign-up for email alerts about Reach 2020, at our new location Navy Pier.