Rome wasn't built in a day, and neither were many of today's great businesses.
Keeping this perspective is important, especially because many of us see great businesses for their end-product; what they've ultimately become. It's easy to forget the early years of grinding, risk-taking, and overcoming innumerous obstacles.
Let's not forget about Ariana Huffington, co-founder of the Huffington Post, and how she was rejected by 36 publishers before her news organization came to life. Let's not forget about Larry Ellison, a two-time college dropout – the second time after the death of his adoptive mother – before co-founding a small business which later became Oracle.
At G2's latest conference, Reach 2019, entrepreneur Jeremy Bloom shared his story of overcoming physical and mental obstacles at a young age and how his experiences shaped him into the leader he is today.
Overcoming obstacles with Jeremy Bloom
If you're from Colorado or a fan of skiing, you probably have heard of Jeremy Bloom, but for those unfamiliar with him, here's a glimpse at his background.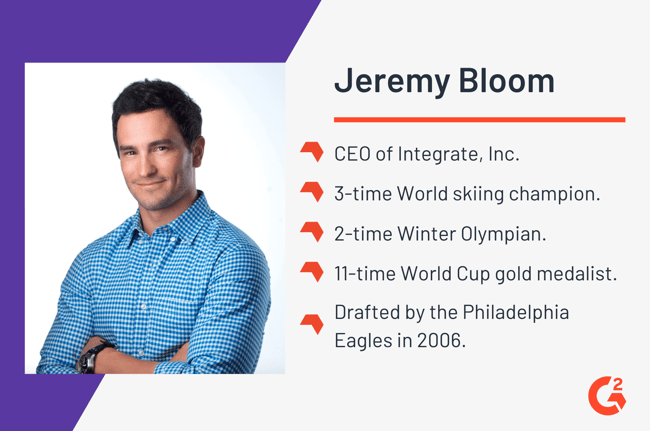 Jeremy Bloom has always been a skiing phenom. At just 15-years-old, he became the youngest male freestyle skier to ever make the U.S. National Ski Team. In 2005, he was the #1 ranked freestyle skier in the world. This led to his second Olympic appearance at the 2006 Torino Winter Games, where he was a gold medal favorite.
During Bloom's final freestyle run, however, he failed to capture the gold medal. His 22-second run wouldn't be enough. "I was one inch short," he said, "the difference between first and sixth-place was one inch."
Bloom experienced a wave of emotions after the loss. Years of preparation and a shot at an Olympic gold medal gone in 22 seconds. In his book Fueled By Failure, Bloom described how he felt later that night:
"When I returned to my apartment in Torino, I closed the door, sat down on the bed, and, well, that was it. I lost it. Tears flowed down my face. A torrent of emotion flooded over me. I wanted to crawl outside of my body because the pain was so unbearable. It was the lowest moment of my athletic life; I felt totally defeated once again on skiing's biggest stage. I woke up the next morning hoping that it was all just a bad dream. Still engulfed in the emotion of what had occurred, I kept replaying the run again and again in my mind. I didn't want to talk to anyone, I just wanted to keep to myself and be alone. But there wasn't much time for mourning and self-pity. Within 48 hours' time, I had to move on. There was another dream that wasn't going to wait for me to recover from this devastating emotional blow: football."
Life after skiing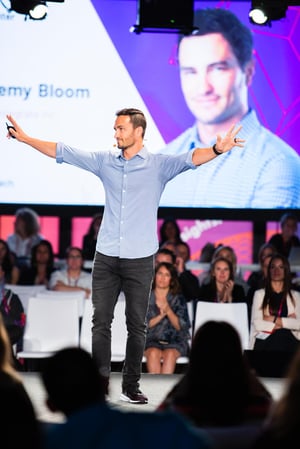 While skiing has always been Bloom's main focus, he also excelled at football. During his two-year tenure as a wide receiver and punt returner at the University of Colorado Boulder, he set numerous records. He was also selected to the first-team Freshman All-American list by College Football News and the FWAA.
Not more than 48 hours after his Olympic run, Bloom flew to Indianapolis for the NFL Combine to pursue a career in football. A week later, Philadelphia Eagles' coach Andy Reid called Bloom and told him they planned on drafting him in the fifth round.
Playing in the NFL was a dream come true for Bloom, even if his career was short-lived. But after getting traded to and ultimately released by the Pittsburgh Steelers in 2008, Bloom struggled with another obstacle – the realization of life after sports.
Finding purpose through philanthropy
Sports have always been a large part of Bloom's life. At Reach, he spoke about how his father instilled in him a winning attitude, which helped fuel his competitive nature in sports and business. But Bloom also mentioned his mother's influence and her emphasis on education and empathy. This was equally as important to him.
In 2006, Bloom received a degree in finance entrepreneurship from The Wharton Business School as part of the NFL Player's Association initiative to prepare athletes for life after sports. Now, it was time to do something meaningful with his education.
In 2008, Bloom launched his first 501(c)(3) non-profit called Wish of a Lifetime with the purpose of granting lifelong wishes to senior citizens.
Bloom described the immense joy he would get from his philanthropy and seeing how his organization's wish-granting changed the lives of others. One wish in particular actually made national headlines – Olive Horrell's wish to "see the future."
After granting more than 1000 wishes across 46 states, Bloom's organization gave him some perspective. He wanted to use his limited time on Earth more wisely, so he explored his options in the professional world.
Finding inspiration through technology
Bloom's next chapter in life would be a pivotal one. After two years of granting wishes to others, it was time to carve his own path to success.
In 2010, after retiring from sports, Bloom worked briefly as a marketer when he realized how inefficient the customer acquisition journey was. It didn't help that there was virtually no software at the time to solve this problem. This inspired Bloom.
Not long after his marketing stint, Bloom used the money saved from his sports career to start Integrate, a software solution unifying demand channels into a powerful SaaS platform. This ensures every lead is globally compliant, accurate, and intelligent before it's passed into marketing and sales systems.
Nearly a decade later, Integrate has raised over $42 million of venture capital from Comcast, Foundry Group, and Liberty Global. Bloom has also been named one of the 30 most influential people in technology under 30 by Forbes. But more importantly, he was able to overcome obstacles of fear, confusion, and self-doubt. This brings up an important lesson in entrepreneurship.
Success is not linear
Jeremy Bloom was a world-class skier and Olympian. He was a speedster on the football field and competed in the NFL. But this still doesn't shield him from obstacles.
Bloom's journey to becoming a leader in tech, as you've read, was not a linear one. He had to fail multiple times, gather himself, and find a greater purpose in life. This is not uncommon amongst today's top entrepreneurs.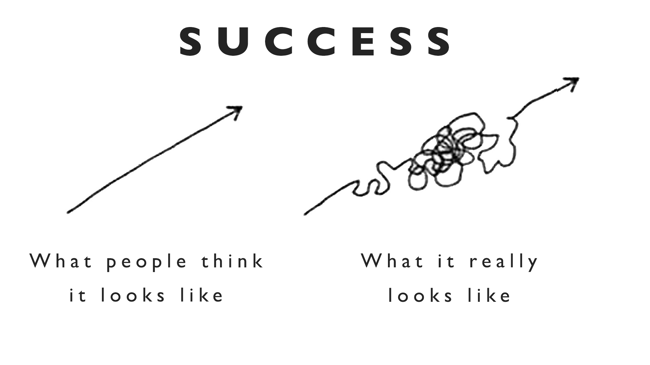 We will all inevitably run into obstacles and unforeseen circumstances in our careers. Many of us will doubt our abilities and competencies. We may even consider calling it quits during the lowest of times. But understanding that success is not a linear path is important. There is no single formula that works for everyone.
Instead, what you can do is focus on what you can control and seize opportunities when they arise. Seek advice from others and ask questions. Step away from work when needed and gain a perspective. Think, and then take action.
Whether you plan on being an entrepreneur or just want to build your career, learning how to overcome obstacles could be one of your most important traits.
Reach your potential
Did you miss Jeremy Bloom's general session at Reach 2019? Don't let it happen again. Join us for Reach 2020 at Chicago's historic Navy Pier. Sign up for instant alerts right now.