Starting a brand new blog on a new subdomain with no link profile, we knew it would be rough for a while.
Still, few things are as frustrating as creating high-quality content that no one sees.
Over time though, we started to build links and establish the Learning Hub as an authority on a range of business topics. First with easy wins and established content marketing methods, and then scaling our strategies for sustainable growth such as linkbait content and inbound strategies to build relationships.
And from June 2018 to June 2019, these strategies grew the G2 Learning Hub from 100 referring domains to 3,500+.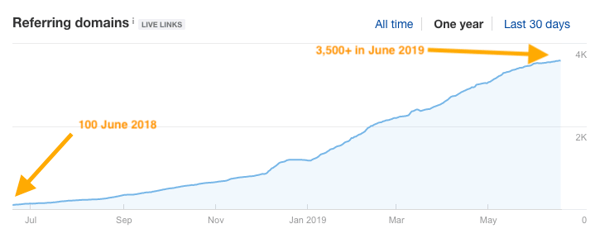 Above: The referring domain growth from June 2018 to June 2019.
How we built 3,500 domains in 1 year
Looking back, there are three defined eras on our way to one million: the early days, scaling our efforts, and, finally, sustained growth.
Stage 1: Strategies for building our first links
In the beginning, a successful week was acquiring a handful of new links through the growth strategies covered below. Very few to no links were coming through organically, as we had no organic search visibility and had yet to establish ourselves as a content-producing brand.
But we had great content, we just needed to get it in front of the right audiences. And in the beginning, we were a five person content marketing team, and I was the lone ranger in charge of driving links.
Taken from a mix of easy wins and well-established industry methods, here are the strategies we implemented to get the ball rolling:
1. Skyscraper and general blogger outreach
This is the go-to method for content marketing and link building. For each new article published, I ran the articles that currently ranked on page one of Google through our SEO tool Ahrefs and exported the websites linking to them.
I also monitored certain keywords around a topic. For example, if the term was "chatbots", I would monitor new content published around related terms, including "chatbots", "customer service", "business trends" and more. I would export new content that met a certain criteria, including word count and domain authority. I then qualified the articles that we identified as a good fit for the new piece of content we were doing outreach for.
Once I had qualified the best targets from the skyscraper method and media monitoring, I utilized Hunter.io to find the authors email, and Buzzstream to conduct my outreach.
This is a manual, time-consuming process...especially for one person. But the results don't lie -- this is a tried and true method that converts.
TIP #1:
When conducting outreach for your content, consider the value your article brings to the person you're emailing. Put yourself in their shoes. Would you add in the article if the roles were reversed? If you wouldn't, rethink your pitch.
2. Brand mentions
With tools like BuzzSumo and Ahrefs, it's easy to track and setup alerts for when your brand is mentioned in articles, but lacks a link. Brand mentions are both an easy win, and convert at a high rate.
3. Resource and roundup pages
As an easy growth hack, we identified resource roundups, article of the week roundups, and best blog roundups in the niches that we had written content on. While this is a one-off campaign, we were able to ensure high conversion rates by identifying roundup and resource pages through Google site queries.
4. HARO
I used the PR tool HARO - or Help a Reporter Out - to find opportunities to get brand mention links to G2's new subdomain. HARO is fantastic, as no qualifying or outreach is needed.
HARO is not only a great strategy for early link building, but we have found ways to scale this method and building not only links to G2, but build our employee's personal brand across the organization.
5. Guest posting
Many content marketers will tell you guest post links don't impact rankings in 2019. They're wrong.
We didn't write an enormous amount of guest posts early on, but we did write some. They helped us build relationships with other high-domain content teams, expand our writer's brand as well as the Learning Hub's reach, and build links with quality anchor text to the content that had high-traffic potential.
TIP #2:
Writing guest articles is a great link building supplement, as you are in control of the link's anchor text (the hyperlinked text.) The anchor text of a link is important, as it gives Google an indication of what the page being linked is about. Having a few links with an exact anchor text match to your target keyword will help your article rank better, faster. Don't go overboard here though, as Google prefers a distribution of anchor text copy, as it shows Google that these links are more organic and natural.
Stage 2: Figuring out how to scale
I won't lie, the early days were tough. I was doing a lot of manual, scrappy things to acquire very few links. It was clear that we needed help to scale our efforts.
1. Choosing an agency, freelancers, temps, interns??
While we looked at outsourcing the help through an agency or freelancer platforms such as Fiverr and UpWork, those methods were both expensive and risky. Let's not even bring up the brand-image aspect of sending emails to other content marketers that are cringe inducing - or as the rest of the world views those emails, spam.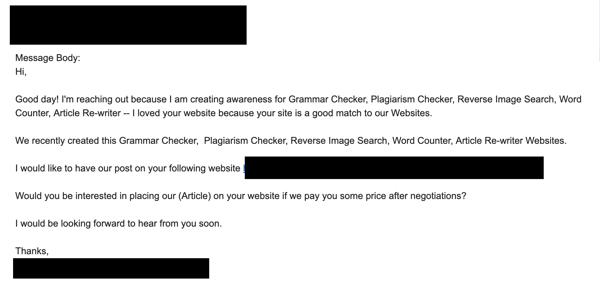 Above: A real-life example of a link-building email I recently received that you definitely should not copy.
We decided to test out a temp service and bring in one person to help scale the efforts. Once they were fully onboarded, and it proved to be successful, we brought in two more.
What did we learn from this? Well, first, link building may seem straightforward, but it's all in the nuances. It's easy to train someone who has never heard of link building how to find content and send emails, but it's an art that takes time to master. Things such as small tweaks in email copy, understanding the right CTA, determining which articles are the best pieces to conduct outreach for.
But once the team was up to full speed, we were able to take our blogger outreach to the next level.
2. Tracking and documentation
To keep us from stepping on one another's toes, in the beginning we sent all outreach emails from my personal email. We soon realized that this wasn't sustainable, as I was spending all day cleaning out my inbox.
But with four people sending outreach emails, it's only a matter of time before the same person starts to get multiple emails from us. Add on the training involved with email responses, I realized it was time we began more thorough tracking and documentation system.
We set up email send logs, black lists, close contact lists, and link trackers for managing the email process. We also refined documentation on how to do some of our most basic outreach tactics, such as FAQs for email responses and email copy templates.
3. Competitor analysis for finding experimental content
As we continued to scale, we looked to competitors who had fleshed-out content marketing teams to see what content of theirs had the most links. This helped us identify easy wins. We noticed trends, such as statistic-based content, in-house research reports, and listicles continued to show up as the most linked-to content.
We had published listicle type articles in the past and had seen some success, but hadn't explored statistics and research-based content on our Learning Hub. We created two statistic roundups as an experiment and published them towards the end of 2018.
Since then, those two articles became our two most linked to pieces of content on our entire Learning Hub. This was important, as we had yet to find a strategy drove evergreen, organic links. It was one of the first times we felt we could really scale G2's link building.


Above: Our two first statistic articles, customer review statistics and video marketing statistics.
4. Continued focus on relationship building
I can't stress the importance of building quality, symbiotic relationships with other content marketers, editors, and teams. It's hard to track and measure the impact of this, but over time you start to see certain brands, publications, and writers who routinely link to your content, even if it doesn't have great organic visibility.
TIP #3:
Maintaining strong relationships is easy when it's 10 people. But as your network beings to grow, it quickly becomes difficult to keep up with. Create a database in Google Sheets to keep track of who you frequently work with, their companies' niche, and any notes on the history between the two of you.
Stage 3: Exponential scaling
Once we successfully scaled our team, we found ourselves in a rut for a short period of time. We had hit a wall: How do you scale a successful link building program even further?
We had brought in a team of 20~ writers, all creating great content. But four people promoting 20+ writers publishing multiple articles a week wasn't working. Our great content wasn't getting the attention and support it deserved. We couldn't continue to bring in more and more backlink-specific team members. We had to find new ways to scale our link efforts.
1. Training an entire team for outreach
Once our new writers were up to speed on writing and felt comfortable producing at the rates we expected, we introduced individual writer outreach.
At first I was extremely hesitant about this. Outreach can be a pain. It's nuanced. It's time-consuming. I had questions about how we would manage 20+ people sending outreach emails. How would we avoid hitting multiple people? How would we train all of these writers?
Luckily, our temps we had brought in when we first started to scale had picked up the art of email outreach and link building quite well. We were able to bring them in as full-time employees and help facilitate their knowledge down to the writers.
We ran an onboarding session for link building, set up send goals, had open office hours for questions, and broke up our writers into three small teams called "pods." Each pod was assigned a link building expert.
In the beginning, it was tough. Writers hated doing outreach (and to be fair, some still do). But over time everyone began to acquire links. When they saw the impact links have on content performance, writers started to create connections with other writers in their space; It started to built each writer's personal brand, and acquiring a link to your own piece of content brings with it a sense of pride.
In the first month of our team doing outreach, we acquired 32 links. In the second month that jumped to 75. This was the most important milestone we had hit as a link building machine, and it made each of our writers more well-rounded content marketers.
Tip 4:
Make it as simple as possible for the person you're emailing to mention your article. A simple way of doing this is to offer to put together a paragraph/section that briefly covers your articles topic with a link to your piece that fits naturally in the flow of the articles you're reaching out to. This saves the person you're reaching out to time, adds value to their article, and allows you to choose an exact anchor text for your link.
2. Evergreen link bait content
I previously mentioned how we used competitor analysis to discover statistic-based articles, and the success we saw with them.
With a staff of 20 writers, we were able to identify dozens of additional statistic-based articles to write and publish. These directly led to the all-important important pillar pages, which stand as the foundation for each topic we cover. In 2019 already, we have published 40+ of this type of content. We have also used the knowledge we learned about data-driven content to discover other types of evergreen content that drive links without outreach (ie. how much do YouTubers make.)
To put this into perspective, our Learning Hub has roughly 3,500 referring domains and over 800 of them are to a statistic roundup on G2. 22% of our referring domains are being driven organically. That's how you scale.
3. Inbound relationship introductions through content network and guest posts
As scaling continues, we looked to other ways to scale older methods we utilized, specifically HARO and guest posting. While we continued to use HARO, we had also built a large number of contacts from previous outreach, HARO responses, guest writing, and more. We decided to create our own internal list of content contributors, managed through HubSpot's marketing platform.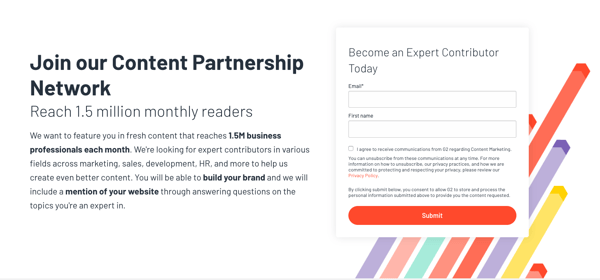 You can join our content partnership network to be alerted every time there is a new opportunity to be quoted in new G2 content.
As we built out our conversion strategy, we created CTAs to support this page.
We also created a brand new landing page to centralize any request to write a guest blog post for G2. That led to an automated email onboarding experience.

Want to reach 1.5 million monthly readers? Apply to write for G2 today.
While the benefits of having free, quality content to supplement our own writers' output is obvious, less obvious is the inbound marketing strategy of other content marketers coming to us. We are giving these writers and brands a platform to reach over 1 million people, they get to link to their content. It's a huge win for them.
At the same time, it allows us to build a relationship with these writers. It gives us a reason to contact them. It gives us their email address so we don't have to hunt it down or reach out on LinkedIn.
These two examples are the peak of symbiotic relationships. Many marketing teams talk about community, as do we. But when other brands consider community, they view that as their readers, their subscriber base. We do this as well, but we also focus attention to the community of content marketers and publishers. If we want to be the go-to business blog, we must build relationships with the rest of the writing ecosystem.
---
Moving forward
Things move fast at G2, as I'm sure they do with all startups. But in one year, we've gone from no content and no links on our Learning Hub to over 1 million organic visitors and 3,500 referring domains. The content marketing team at G2 didn't exist in January 2018, and now we're a team of 30+.
I don't know the next way we will scale our efforts, but I know we will do it. We have built a strong team of well-rounded content marketers that produces amazing content. We will continue to do what works through past experiences, data, and competitor analysis - and we will continue to be a world-class content team.