Journalists don't have time for your pitches.
In fact, most journalists or influencers think that pitches are annoying. That's because they're getting inundated with copy and pasted pitches day in and day out. Not to worry though, because once you nail down how to write an effective pitch, you'll be swimming in replies and accepted pitches.
How do you make a pitch?
Paragraph 1: Create a personalized paragraph tailored directly towards the journalist to whom you're reaching out
Paragraph 2: Cite your research, sources, and your angle on the story, explaining what your reader will get of accepting your pitch
Paragraph 3: Summarize important information with bullet points and end with a clear CTA (call-to-action)
The media landscape is ever-changing, and while learning how to make journalists want to cover your press releases is crucial to the public relations industry, influencers are making media pitches a must-know for PR professionals who want to get their brand earned media.
If you know what you're here for, feel free to jump ahead. Otherwise, let's dive in.
How to write a pitch
The act of writing the pitch is less laborious than the work that comes beforehand.
Before getting started, make a real connection with the journalist or influencer with whom you're reaching out to. Add them on social media and begin interacting with their work.
That way, when your email address graces his or her inbox, there will be more familiarity and trust.
Understanding the purpose of a pitch
A pitch is clear, concise, and personalized email outreach that's sent to a journalist or influencer. There are different types of media within a marketing plan, and pitches fall under the category of earned media, which is the most trusted form of advertising. This is because earned media is it's when people start organically talking about your brand.
As simple as writing an email pitch sounds, 43% of journalists and influencers receive more than 20 pitches a day. For those of you who don't feel like doing the math, that's anywhere from 100-500 pitches per work week.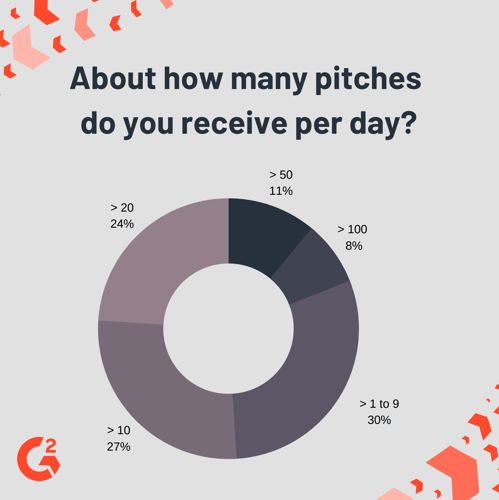 Source: Fractl
With all of these pitches flooding the inboxes of journalists and influencers, you may wonder why PR professionals continue to pitch.
Here's the reason: It's because when a pitch is accepted, your PR value will soar.
The goal of a pitch is to generate media coverage that gains positive attention and boosts brand awareness and revenue. Writing an effective pitch strengthens brands and relationships with the press.
Outlining your pitch
Before getting started on writing your pitch, it's a good idea to identify the professional goal(s) of your pitch.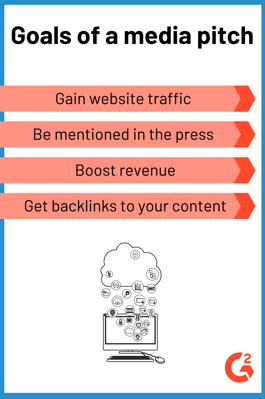 After you've established the goal(s) of your pitch, it's time to begin the process of writing a pitch that won't be mass deleted.
Paragraph 1: Be personalized and concise
Your pitch isn't about you, it's about how you can help the journalist or influencer reach his or her goals. Because you've already connected with your target journalist or influencer on social media, you should begin reading their content. Identify their goals, and how your pitch can help them achieve those goals.
If it seems as though one of their goals is to increase their page views, think about how you could make them be seen as an expert on the topic, or offer them exclusive research that will make their content first to cover a specific topic.
Once you decide on the benefits you can give to the journalist or influencer, cater to his or her interests. If their beat is sports, don't pitch them an article about fashion and style. This is an automatic red flag to the journalist or influencer that you haven't done your research.
Be sure to reference their work, highlight specific points you enjoyed, and prove to them that you can add value to their pieces. Don't lead with a paragraph about yourself; instead, use these tips to write a short and valuable first paragraph.
Paragraph 2: Use original research
First things first, do not include an attachment to a drafted article. The second paragraph is meant as a teaser for the story you're pitching, and proof that the information you're providing is well-researched.
Reference the data you've compiled, and the resources you've used to do so. Fill the gaps in the journalist and influencers' own work, so that they don't have to do the heavy lifting. Figure out why people should care about this topic and explain your point of view.
Paragraph 3: Summarize main points
Since brevity is the key to a successful pitch, summarize the main points in bullets at the end of your pitch. Keep it to 3-4 bullets and get straight to the point. The person receiving your pitch may scroll to the bottom if they're pressed for time, so use this space to tell them exactly what they want to hear.
Conclude with a CTA
Lastly, end with a CTA (call-to-action). Tell the journalist or influencer what to do next. Don't make them do extra work in trying to figure out what you want from them. Ask them to reply by a certain deadline if they would like to collaborate or tell them what you would like the next steps to be. The easier you make their lives, the higher chance you'll have in getting a reply.
How to write the best subject lines
Don't think I forgot about the subject line. The majority of journalists and influencers open a pitch email based on the subject line alone. So, after you've written your pitch, carve out time for crafting the most attention-grabbing and informative subject line they've ever seen.
Source: Fractl
Mass email subject lines will not work — you need to personalize them. Another downfall to watch out for is making the subject line click-baity. They're professional writers too, so they'll steer clear of anything that seems as such.
Instead, include something surprising and interesting in the subject line. Journalists and influencers are always looking to be the next person to break news to their readers, so provide a tidbit of research in your subject line that'll blow them away.
Getting your email opened may be the hardest part of this process, so put your focus on original, groundbreaking news in your subject line and the chances of your pitch being opened will significantly rise.
Get noticed
Breaking through the email clutter is difficult, but if you take the time to craft the perfect pitch that's personalized, concise, informative, and interesting as a whole, journalists and influencers will have a hard time saying no.