Snapchat thrives on the premise that photos and videos can only be viewed for a short time, and then they're gone forever.
But what if you want to save one of your own videos for posterity? Or you want to save another company's Snapchat video to present at your next monthly meeting as an example of how to use Snapchat for business marketing?
Good news: there are several different ways you can save videos on Snapchat.
How to save Snapchat videos (shortcut)
Record your Snapchat video.
Click on the down arrow in the bottom left corner.
Your saved your Snapchat video to your Photos!
If your Snapchat video is already uploaded to your story, go to your Snapchat profile and click the down arrow next to your story to save it.
How to save Snapchat videos
Snapchat makes it very easy for you to save your own videos. Saving other users' videos, however, is a tad more difficult. Doing so defies the privacy Snapchat was built upon so, of course, Snapchat makes you work for it.
I'll cover how to save your personal Snapchat videos first, then dive into how to save other people's Snapchat videos.
How to save your Snapchat videos
There are a variety of different ways to save your own Snapchat videos — and all of them are easy! Let's get into it.
Save the video before you upload
This method is wonderfully simple. Let's say you record a video on Snapchat and you immediately know it's a darn good video. So good, in fact, that you know you'll want to look back at it later on.
1. Record your video
Go ahead and record your video as usual in the Snapchat app.
2. Click the down arrow
You'll notice the down arrow in the bottom left corner. Click it.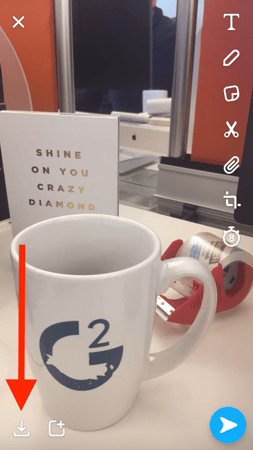 3. Your video is saved in your Photos and Memories!
You saved your video and now it lives in your Photos forever (or until you choose to delete it). You can also view your saved video in Snapchat memories. Access Snapchat memories by clicking on the two rectangles at the bottom of the main Snapchat screen.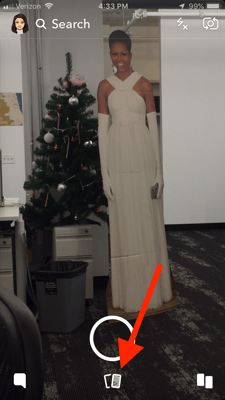 Save the video from your Snapchat story
Maybe you've already uploaded the video to your Snapchat story before realizing it's worth saving. If all your friends are sending you messages about how incredible the content is and you're kicking yourself for not saving it — don't worry. You still can save it, and easily at that!
1. Go to your Snapchat profile
Your Snapchat profile is where you can view your Snapcode, Snapchat score, Snapchat trophies, and Snapchat username. If you realize you don't like your username, there are ways to fix that — here's how to change your Snapchat username.
You access your profile by clicking your bitmoji in the upper left corner.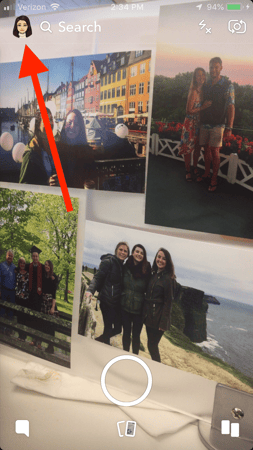 2. Click the down arrow next to your story
You'll notice your story about halfway down the screen. Click on the down arrow next to it. If you have multiple videos saved to your story, you'll have the option of saving them all or saving only one.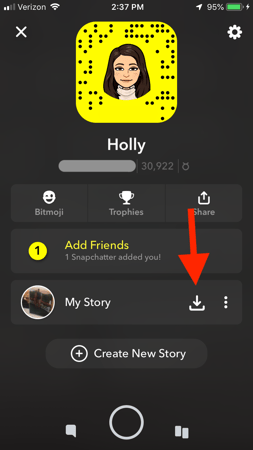 How to save other people's Snapchat videos
Like I mentioned earlier, Snapchat doesn't particularly endorse saving other people's content. It goes against the entire purpose of Snapchat. So the app doesn't provide any handy buttons like it does when saving your own videos.
However, if you really want to save another person's video, whether it's for showcasing it at your friend's future wedding or using it as a business example, there are several different ways to do it.
Save video by using iOS screen recorder
Your iPhone has a built-in screen recorder that can be used to save Snapchat videos. Note: This method will notify the user that you recorded their content. So consider getting permission first or else prepare for a potentially awkward conversation after.
1. In your phone Settings, Select 'Control Center'
You'll see Control Center in the third block of options.
2. Choose 'Customize Controls'
It's the second option within the Control Center.
3. Select the green plus next to 'Screen Recording'
Doing so will add the Screen Recording capability to your Control Center shortcuts.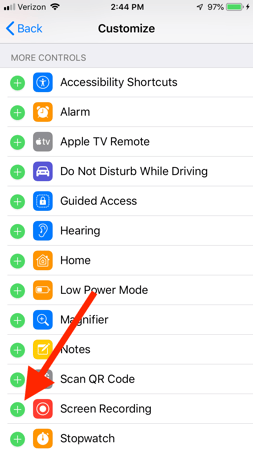 4. Swipe up to access Control Center and select 'Screen Recording'
Exit out of Settings. Swipe up to look at your Control Center. You'll see the Screen Recording option now available. Click on that.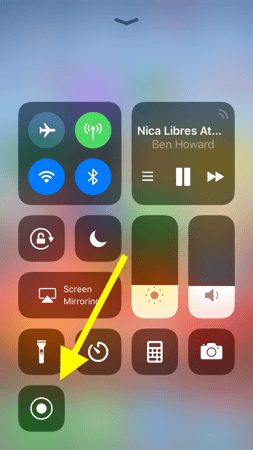 Now open the video you want to record. As you're viewing it, the Screen Recorder will be recording it. When the video is over, swipe up and select Screen Recording again to stop recording.
5. Access the video in your Photos
The video should be saved in your Photos now. It may need some editing because it will include the clicking around you had to do to access the video at the beginning, as well as your Control Center exit. Check out the best video editing software that you can use.
Save video by using QuickTime on a computer
This is a bit of an awkward way to record videos, but it results in high-quality content. If you're interested, here's how to save a Snapchat video through QuickTime:
1. Select 'New Movie Recording' in QuickTime
Make sure your iPhone is connected to your computer, and then open up QuickTime. Once in QuickTime, open up the 'File' drop-down menu and select 'New Movie Recording.'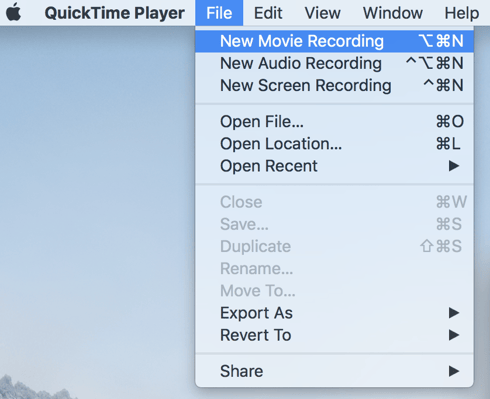 2. Select your iPhone as the recording device
Click on the down arrow next to the red record button and choose your iPhone as the camera. (You guys get a behind-the-scenes peek of what writing this article looks like!)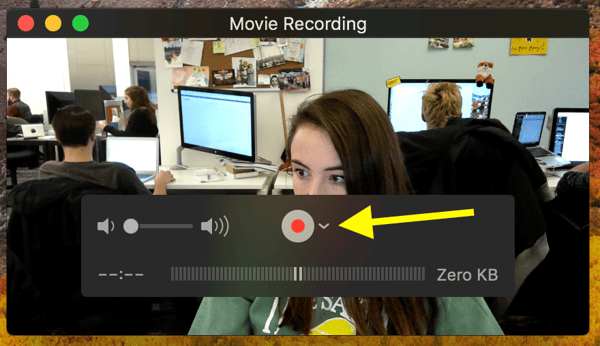 3. Hit record
Go ahead and click that large red button right in the middle of the player.
4. Open the Snapchat video you want to record
On your iPhone, open the Snapchat video and watch it. When it's over, click on the record button in QuickTime again. This will stop the recording. Now you can edit the video within QuickTime itself and save it to either your computer or phone!
Other ways to save a Snapchat video
There are plenty of third-party applications out there that claim they'll help you screen record. I highly recommend doing some research before downloading just any app on your iPhone, though. Some apps can be harmful to your phone, so be very careful in what you select to use. Google is your friend in this situation.
If none of these methods work for you, or you just want to take a shortcut regardless of quality, ask a friend to record the video on their phone while you watch it on yours. The quality of the video will be a bit shoddy, and it will require more editing. But hey, you at least have the gist of the content saved for future use.
TIP: If your video does indeed require more editing, check out your options of video editing software below to enhance the quality and add special effects!
You can now save as many Snapchat videos as you want!
There is no limit to your saving capabilities now. But remember, with great power comes great responsibility. Don't forget that people tend to use Snapchat with the intent that their content will disappear forever. If you start saving everything that's sent to you, you run the risk of losing your Snapchat friend's trust.
Want to become even more of a Snapchat guru? Here's some other Snapchat features you should check out:
If you have a different question about using Snapchat, get your answer from the G2 Community.