YouTube is a powerful social media network for marketers, but it will only reap results if your videos are being watched.
It might seem easy once you've mastered how to upload a video to YouTube. Just sit back and let the YouTube algorithm take it from there, right?
Wrong. Like with anything in marketing (or, honestly, anything in life) you need a strategy.
How to get more views on YouTube
Create quality content that informs or entertains to get more YouTube views
Utilize SEO by including keywords in video descriptions, thumbnails, tags and more
Take advantage of YouTube's built-in tricks, such as cards, playlists and end screens
Become a known topic expert by interacting with your niche community
If you don't plan and strategize, your YouTube channel will remain stagnant, fun for you, your coworkers and your friends to look at but otherwise underutilized. Which is just a shame when you consider that 1 billion hours of YouTube are watched every day.
If you want to become apart of that 1 billion hours, you've come to the right place. Let's get those subscriber numbers up!
How to get more views on YouTube
Your YouTube presence is like a plant. If you don't water and cultivate it, it will wither up until one day you decide to throw it out.
What I'm trying to say is if you want a successful YouTube channel, you can't just create quality content and then do nothing. While quality content is essential to success, doing nothing will result in nothing. Marketing your YouTube channel is a very active endeavor that involves several different tactics. I'll go through each in detail.
Create quality content to get views
Naturally, step number one to getting more views on YouTube is to have content people actually care about. If you don't have the content, it doesn't matter how great your SEO or social media marketing efforts are. So let's go over some tips and tricks to creating the best content possible!
1. YouTube videos should be useful or entertaining
Think about all the YouTube videos you watch regularly and why you watch them. Is it because you laughed so hard you snorted at a political parody? Or is it because you learned how to create that perfect pasta sauce that you kept burning before?
The most successful YouTube videos tend to be how-to's or entertaining — or both! Think about what your audience needs or wants. If you aren't certain, it might be time to create a customer profile. You can even ask your audience point-blank what they'd like to know more about by crowdsourcing on your other established social media networks. By being a dependable source for exactly what people need, you'll gain a loyal following.
2. Be aware of what's popular
In the average month, eight out of ten 18-49 year-olds watch YouTube. If you're marketing on YouTube, chances are your audience fits into that age group. So why not cater to their interests?
I'm not saying you need to make a Game of Thrones spoof about your business (although, if you did, I would watch). All I'm saying is try to keep up with the latest trends and, if they can somehow be incorporated in your content, do so. It might make your video stand out next to the 400 hours of videos uploaded every minute. Sometimes, it will feel like an uphill battle.
On top of this, watch what videos are doing well in your niche community. How are other YouTubers successfully covering the content? If you see a general strategy that seems to work, imitate it (with your own unique spin, of course). This will help your video appear in the "Up next" sidebar after viewers watch that other successful video.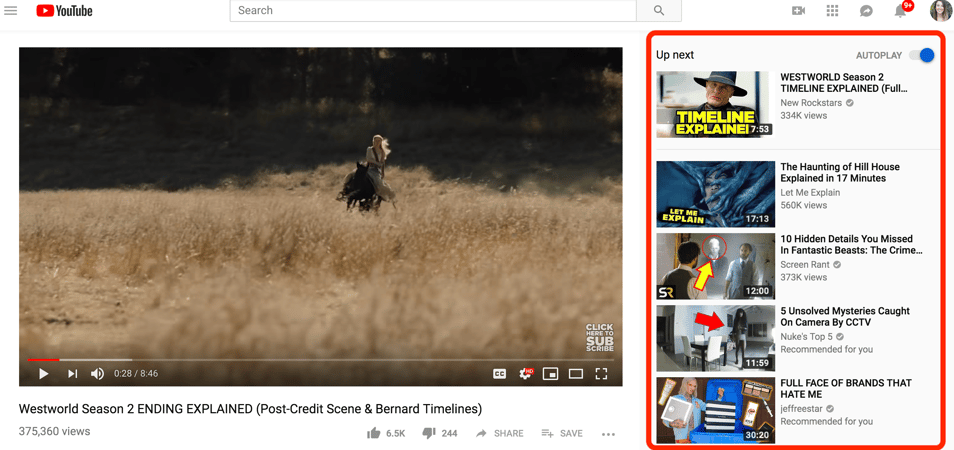 3. Guest YouTubers
If you notice a YouTuber in your genre who is absolutely killing it with a huge following, interact with them. Create a relationship by commenting on their videos and linking to their content in your own descriptions. As you build this connection, maybe they'd be open to making a guest appearance in one of your YouTube videos. This would drive that YouTuber's subscribers to check out that specific video, and if they like that content, then they check out your channel and — bam! — they subscribe.
Utilize search engine optimization on YouTube
If you're in marketing, chances are you're familiar with search engine optimization, or SEO. If you aren't, SEO is how Google (and thus YouTube) decides which articles and videos to show first for each specific search. Of course, the closer to the top your content appears, the more likely it will be clicked on. Here are ways to get your YouTube videos to appear in relevant searches.
1. Optimize your YouTube channel
It's easy to learn how to make a YouTube channel, but so much more goes into it than the simple basics. You want to optimize it so people know exactly what to expect when they get to your channel. Better yet, Youtube knows what you stand for and can recommend it to people searching relevant topics.
Do your keyword research and then write a quality channel description that is keyword heavy. You don't want Google or viewers to have any doubts about what your content includes.
This also means knowing what your brand is and incorporating it into all all aspects of your YouTube channel page. The colors, tone and imagery should be consistent. Link to your website and other social media channels to build legitimacy. Take the legitimacy another step further and learn how to get verified on YouTube.
2. Create custom thumbnails
Did you know, 90 percent of the best-performing content on YouTube has custom thumbnails? Coincidence? I think not.
Thumbnails are the very first thing a potential viewer sees. If it's not engaging or intriguing or — for lack of a better word — nice to look at, people will probably move on. Again, competition is fierce out there. You have to put your best image forward when it comes to thumbnails.
YouTube will offer auto-generated images for you to use. Don't fall prey to the ease of that.
Your custom thumbnail should be a quality image with an easy-to-read font or symbols. Facial closeups also seem to work best, if applicable. Make sure the image matches your video title and description! And don't forget to use keywords in your file name.

3. Include closed captions and tags
Closed captions are subtitles. These are great to include because it makes your video more accessible to the wider YouTube audience, including viewers with hearing impairments or international viewers. Jury is still out on whether it has any direct effect on SEO, but it certainly doesn't hurt.
Tags are another way to drive traffic to your YouTube video. You'll notice the tags section as you upload a video. You can literally insert the keywords you want your video to be associated with in that field. Don't go overboard here; stay specific and relevant.
Take advantage of YouTube's platform
YouTube has some tricks built-in to its own platform that will help YouTubers succeed. After all, unhappy YouTubers mean less people will use the site, which is no good for YouTube. Thus, you have these strategies designed specifically by YouTube to help bring viewers in.
1. Create a playlist
A YouTube playlist is a compilation of videos that continuously plays. If you've never tried creating one before, here's how to make a playlist on YouTube.
The thought process behind this one is that people are more likely to keep watching something in front of them if it requires no effort on their part. How many times have you unintentionally watched four extra episodes of The Office simply because it started playing before you could stop it?
The same is true for a YouTube playlist. The viewer does not have to hit play in order to watch another video — the video just starts playing for them. And chances are if they like what they've already seen, they're going to keep watching.
Make sure the videos you're stringing together are related and flow well. You can create multiple playlists for different kinds of content, so don't feel like you have to squeeze it all into one. Make the experience enjoyable for your viewer.
2. Place YouTube cards throughout your video
Cards are the little bubbles that appear over a video as it is playing. Typically it's a call to action, asking viewers to subscribe or watch a related video.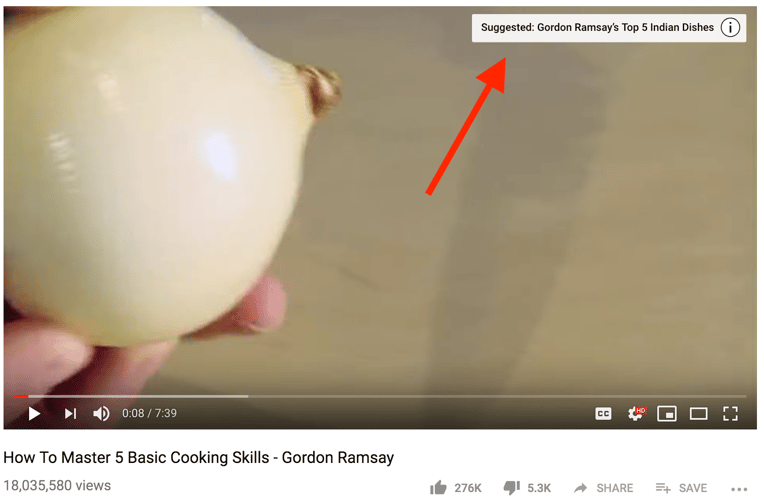 You can strategically place these cards by looking at your behavior analytics behind the scenes. That data will tell you how long people typically spend watching your video. Make sure your card appears in your video before there's a mass exodus in watch time.
Watch time is important to know as well because that's one factor YouTube takes into account when deciding what appears on the suggested sidebar, the home page, in searches, etc. So keep an eye on that data set!
3. Add an end screen
You guessed it, end screens are what appear after the video is over. You should take advantage of this time with the viewer as they're trying to decide what to do next. Your end screen should have an encouragement to subscribe, as well as enticing thumbnails linking to your other content.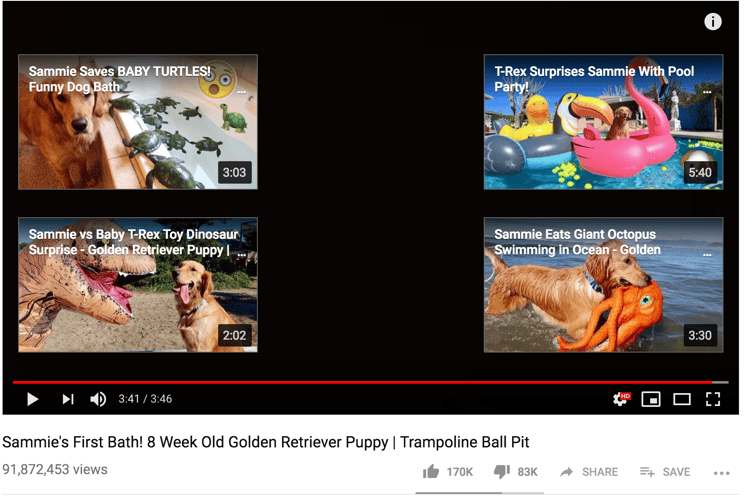 Build a community
As I've mentioned earlier in this article, YouTube has a crazy number of active users and contributors. It's like the wild-wild-West of video content. It can be hard and lonely going it alone, but if you band together with your niche community, things can be easier and you can leverage the community to promote your channel.
1. Be active on YouTube
It's not called a social media network for nothing — you have to be social in order to thrive. This means watching other people's videos, especially in your area of expertise, and commenting on them. Give them constructive feedback, positive encouragement and, when applicable, fill a hole in their knowledge by linking to one of your own videos. This will not only build a positive relationship with that YouTuber (see the guest YouTuber section) but it will also show the community of viewers that you know what you're talking about. People will take note when you're being as helpful as possible and it will increase your subscriber base.
2. Share your YouTube videos proudly
Chances are you already have a network built on your other social media accounts. Start sharing your YouTube videos on those networks to raise awareness that you do, in fact, have a YouTube. Maybe some of your Twitter followers also have YouTube accounts and will become your latest subscribers. You never know until you start sharing!
Another way to get your YouTube video views is by embedding it on your own website and including a subscribe option. You can also share relevant videos in community hubs like Reddit or in presentations on Powerpoint. (Learn how to embed a Youtube video in Powerpoint here.)
3. Build excitement for your channel
One way to get noticed is by offering a contest or promotion through your channel. Advertise it on all your social media networks. Post about it in other people's (related) videos. Include the link to the contest in your channel (or a video) description so people have to go and see your content in order to participate.
You're ready to get those views!
Hopefully you now feel well-equipped to make some changes to your YouTube strategy and drive traffic to your channel. Just remember, create quality content first and foremost. Then focus on keywords, video extras and nurturing a community. You got this!
Once you have built up a subscriber base, you can start thinking about making money off of YouTube. See how much do YouTubers make to learn how you can make money off of your success, too.