There's much more to Instagram than simply uploading quality photos.
Of course, that is an integral part — knowing the basics of how to post to Instagram. But if you want to see more engagement with your photos or your business' profile, you can't be passive. There are tactics you can embed in your Instagram marketing strategy that will get you tangible results.
How to get more likes on Instagram
Share quality content: on-brand, catchy captions, discounts and promotions
Engage with others: post photos of customers or users, follow more people, like your followers' posts
Be findable: use hashtags, location tags, become featured on the Explore tab
Offer a contest for followers
Let's go over these four main themes in detail so you can get on track for more likes and consequently a stronger Instagram presence. Who knows, maybe you'll give the insta-famous egg (that toppled Kylie Jenner for the most-likes throne) a run for its money!
How to get more likes on Instagram
Wondering why you should care about likes?
Likes are when an Instagram user double-taps or clicks the heart icon on your post. It doesn't necessarily have to be a follower of yours (unless you have a private account), but can be anyone that has come across your post and appreciates it. The more likes your content has, the more credible your account appears, and the more likely it will reach more eyes.
Now that you know why accumulating Instagram likes is important, let's get into the how. I've gathered a comprehensive list of tips and tricks for getting more engagement and likes on your account, whether it's an Instagram business profile or your own personal account. Some of these are easier than others, so choose what works best for your and your business.
Share quality content
As I said above, sharing quality content is a must. While that starts with photos, it doesn't end there. Let's go over everything involved in producing excellent Instagram content.
1. Photos and videos
Followers will feel frustrated and gypped, and may even choose to unfollow you, if they're constantly presented with low quality images. If you're having trouble with your photos being grainy or cropped strangely, here's how to get the perfect Instagram photo size.
2. Stick to a brand color scheme
When a follower goes to your Instagram profile page, they should not see photos that look drastically different from each other with varying filters, colors and content. That woud be like listening to a disjointed concert with untuned instruments, but for your eyes. If you want a pleasant and memorable experience for any follower or visitor to your page, make your profile seamless from post to post.
Choose an Instagram filter that best matches your company's brand colors, your brand's personality and the feelings you want to evoke. If you're an energetic tech start-up, you may want more vibrant, eye-catching filters with bold colors. If you provide outdoorsy experiences or services, perhaps you'll go with more earthy filters filled with browns and greens.
One of my favorite bloggers, @theeverygirl, keep a neutral, clean color scheme in all of her posts. Check out how beautiful this Instagram looks: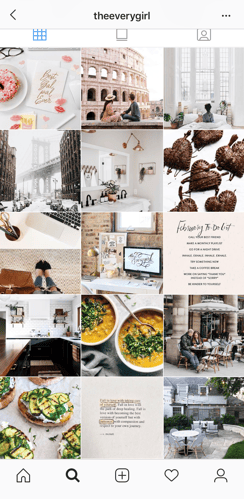 By looking at this page, you get a sense for her tastes and preferences right off the bat.
3. Catchy captions
In the age of memes, everyone is looking for a quick laugh or smirk. This is your chance to let your brand personality shine, so have some fun with it! Appeal to your customer base by using pop culture references, industry slang or a sassy tone.
Some tips:
Less is more. While there is no character limit with Instagram, I would argue short and sweet is more eye-catching and memorable than a paragraph.
Mention followers. If the post follows-up on dialogue you've had with other followers, or was inspired by a follower, feel free to tag them in the caption. This will ensure they get a notification about the post.
Ask followers to tag their friends. This can be as simple as "Tag someone who could use this product or service!"
Start off with a question. Questions add intrigue and may catch the viewer's attention.
A great caption might make someone on the cusp of liking your picture choose to go all the way and double-tap.
For example, Wendy's, notorious for having a big personality on Twitter, has fun with its Instagram captions as well.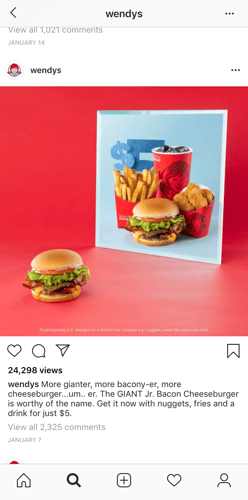 4. Promote discounts and opportunities
One of my friends just got hired for a job that he heard about on Instagram. The company posted the opportunity on Instagram first to try out the applicant pool that was already actively engaged with and following the brand.
In this case, a Chicago architecture firm announced it was looking for candidates on its Instagram.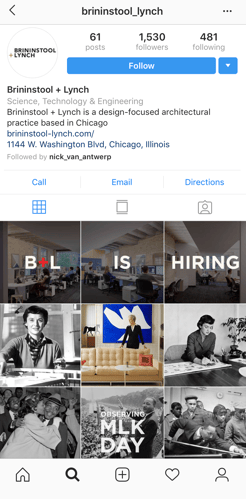 This is one example of using Instagram to reward loyal followers. Other ways you can do this are by sharing excellent discounts or opportunities that can't be found anywhere else. This not only makes current followers very happy, but will also entice others to become followers and actively engage with your content.
5. Time it out
You know the saying timing is everything. It rings true for your Instagram strategy as well. You should schedule out when to post your content so it is consistent. You want to be dependable, not sporadic, in your posts. You should also be careful with the timing of your posts. Know when your audience is most active on the social media network so you can post then. If you're unsure, test out a few different times to gauge engagement. There's no one time that works best for everyone — it all depends on who you are trying to reach.
Ready to take your Instagram to the next level?
Download The Beginner's Guide to Instagram and get started ?
Actively engage with the Instagram community
Being passive only gets you so far in any endeavor, Instagram marketing included. You need to get your name and profile out there, and in order to do that, you need to engage. Here are some sure-fire tactics you should include in your strategy.
1. Follow more people
Ever been interested in an account only to notice they follow three people? It lowers credibility when you follow very few people. I recommend making it a habit to follow a few new accounts every day. Chances are, the person you chose to follow will follow you back, thus building a network of credible Instagrammers in your industry.
Plus, check out these tips on how to get more followers on Instagram.
Curious as to how to find accounts worth following? Check out your Explore tab. Instagram has curated posts it thinks you would enjoy based on your own content and search queries. You should be able to discover viable accounts there!
2. Show your followers some love
Dedicate time to interacting with your followers. Like their posts, comment on them, mention them in your Instagram story. These friendly encounters will only encourage them to do the same with your content. Plus, your account appears like a credible source and the followers of the account you're interacting with may be interested in giving you a follow and/or liking your posts.
3. Feature photos of customers or users
Another way to create immediate excitement around your Instagram account is by sharing photos or videos of your customer base. Not only does it add a human, "we care" element to your brand, but it will also get the featured customer talking. Maybe they will share it in the story, tag friends in the comments so they see it, or even repost it. Their friends will now have eyes on your account when they may not have before.
Plus, it might incite more engagement from your customer base so they can have the opportunity to be featured as well. It's a win-win for everyone!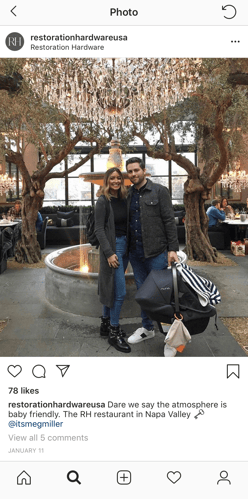 4. Partner with an influencer
If you're scrolling through your newsfeed and see someone you recognize — especially a celebrity you closely follow — you're going to pause and take a look, right? That same instinct to see what the famous are up to can be used in the case of your Instagram business profile.
While it may not be in the budget to ask Ryan Reynolds to appear in an Instagram photo using your product (unfortunately), a more attainable strategy could be reaching out to respected industry leaders that most of your followers will recognize. This will have people who scroll quickly doing a double-take, and more than likely hitting the Like button.
Tip: If you want to pursue working with an influencer, check out how to use influencer marketing to your advantage — and how to identify influencers in the first place.
Be findable
I highly recommend you do not put your Instagram profile on private, especially if it is for a business or brand. This makes you very difficult to find, as anyone who tries to view your profile won't be able to see posts. They'll have to be very intrigued by your profile picture and description to hit the Follow button. On top of this, you will not appear in the Explore tab or any of the other public spaces on Instagram, such as the Activity feed. This is bad news if you want more engagement and likes.
If your profile is public, let's discuss how you can become more findable.
1. Employ hashtags
Hashtags are your friend. But using too many of them, or using low-quality ones, can work against you. Instagram allows up to 30 hashtags a post, but that is verging on overkill. Here's the secret sauce to using hashtags: use up to 3 relevant ones for your audience or industry in your caption. The others, if there are more, should go in the comments where they are less visible immediately but will still result in traffic.
Hashtags can make your posts findable to a wider audience and, when used strategically, are very effective. Be careful to avoid common hashtags, as followers will see right through your intentions. For example, "#like4like" makes you look like you're trying a little too hard.
Here's an example from @SullyWithAStick. Notice looking at the picture, you are not overwhelmed by hashtags. In fact, there are none in the caption itself!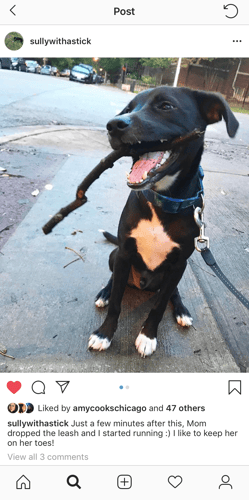 But then when you open the comments, you'll see popular dog hashtags there. This ensures the post will appear when people search for those hashtags.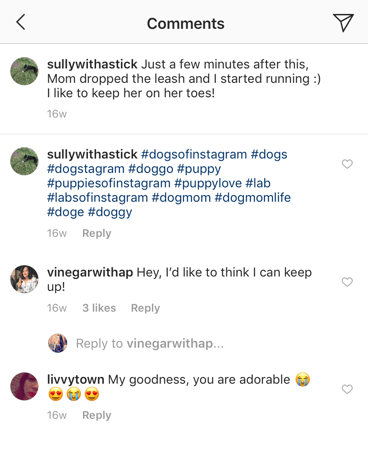 Want to know more about hashtag strategy? Check out Instagram hashtag strategy tips from the pros.
2. Use location tags
Location tags should also be used to your advantage. If your aim is to reach a local audience, this is a must. Users who like to see what's going on in their city or neighborhood will search through Instagram via location tags. You want to pop up when they do so. To ensure you're featured, include that location tag in all of your posts.
Here's what it looks like when people search by location!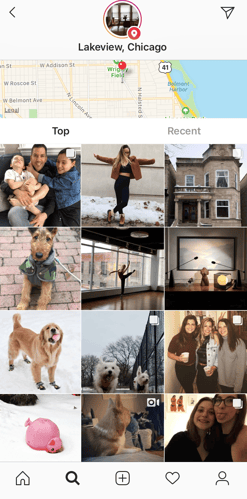 3. Become featured on the Explore tab
Instagram users hungry for new content will lean on the Explore tab to show them what they're interested in. Being featured on this will undoubtedly boost your engagement and likes.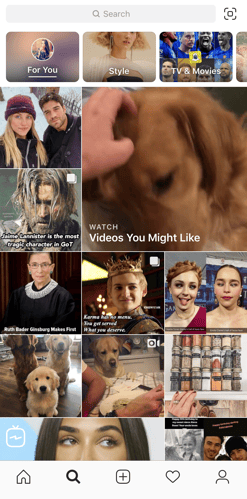 How do you get on the coveted Explore tab? Instagram uses an algorithm that makes Explore unique and personalized for each user. It curates the posts based on the content the user engages with, the hashtags they search for and the content the user posts to their own account.
In order to become featured, you need to know your audience. Know their interests, likes and needs. Use that in your hashtag strategy and content creation strategy, and you'll start appearing in Explore.
Tip: Not sure how to go about getting to know your audience better? Try creating a customer profile.
Offer contests
Contests are an easy way to generate excitement and bring attention to your posts. There are two main kinds of contests:
1. Like-to-enter Instagram contests
This contest means exactly what it suggests: anyone who likes the post in question is entered to win. Offer a promotion, gift or service that cannot be found anywhere else as the prize. Knowledge of this will travel by word-of-mouth and you'll be racking in the likes on that specific post. You may also gain more followers who are eager to keep an eye out for any similar contests.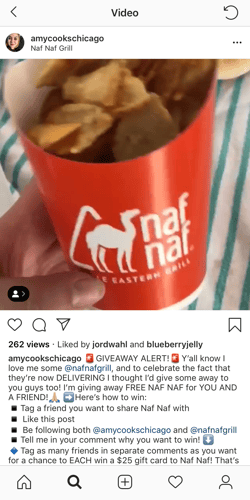 This opportunity involved liking, tagging and commenting on the post. Like-to-enter contests that only involve liking are rare, but could be useful to new Instagram accounts. You don't want to ask too much of your followers right off the bat.
2. Tag-to-enter Instagram contests
Similar to like-to-enter, tag-to-enter contests simply encourage users to tag a certain amount of friends in order to be entered. Personally, I like this route a little more: it actively makes your followers' friends aware of the post, and will likely result in growing your follower base faster than the like-to-enter contest. The larger your follower base, the more likes you'll have in the long-term.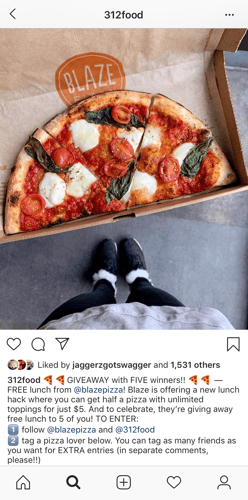 Create likeable content
Set your Instagram account up for success by employing these strategies to get more engagement on your posts than ever before. As you share quality content, you'll see your follower count increase, too, which will only result in more likes down the road.
For inspiration, let's all take a moment to admire the most-liked post on Instagram:

(Disclaimer: I don't recommend your strategy include posting an egg.)
Go out there, have some fun, and get some likes!
Do you have an opinion on Instagram as a social networking tool? Share your honest thoughts by leaving a review on G2.