The world of e-commerce is exciting, full of opportunities, and one of the best ways to be an entrepreneur in today's digital age.
With so many positives, it's hard to say "no" to something that could completely eliminate your dreaded 9 to 5.
But just like any small business venture, it doesn't happen overnight. One of the most common struggles is finding something to sell. Not just anything – something truly unique, high-quality, and fast to ship.
These products aren't easily found at your local shopping mall, and are usually unique to a certain niche. Whether it's new moms or a TV show fanatic, finding these products must resonate with their lifestyle and inspire an impulse to purchase.
We decided to create a comprehensive guide that you can keep in your back pocket to always find winning products. Keep in mind, this is not a once and for all deal, you need to stay competitive by always researching and adding new products to your store.
How to find the best dropshipping products
First of all, what is dropshipping? Dropshipping is a business model that removes the inventory aspect of your e-commerce business. It works in three simple steps:
A customer orders a product from your store.
The order is then directly sent to your supplier.
The supplier then fulfills and delivers the product to your customer.
You will pay the supplier the wholesale price, and keep the profit from the retail price the customer already paid. A great way to make a profit!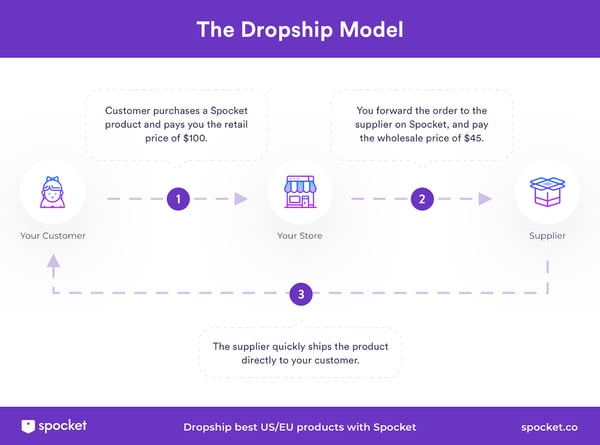 So why is finding dropshipping products so important? The truth is, the world of e-commerce is competitive, and it takes a lot of work to take a piece of that pie, and get some traffic and sales to your store. Even with an incredible website and effective marketing, it will all be in vain if the customer doesn't like your product selection or is unhappy with their purchase.
Is it even legal to sell products that aren't yours?
Absolutely. Wholesale suppliers are people who love the process of creating and making these products. Not selling them. In their eyes, when you dropship their products, you become their own personal sales team. They simply focus on doing what they like to do, and you do the marketing of it. Sounds like a winning dynamic.
1. Learn about what's trending online – even if the competition is stiff
The competition in e-commerce is tough. But that doesn't mean you can't compete. With the right attitude, you can discover a niche that is underserved, a winning product that sells, or simply a business model that keeps your customers happy.
Keep an eye on competition
The first thing you need to do is get into the habit of keeping an eye on popular e-commerce websites like Amazon, eBay, or Etsy. There, you can find what people are looking for and purchasing. It may seem like a no brainer, but it's important to keep tabs on trending products on these platforms.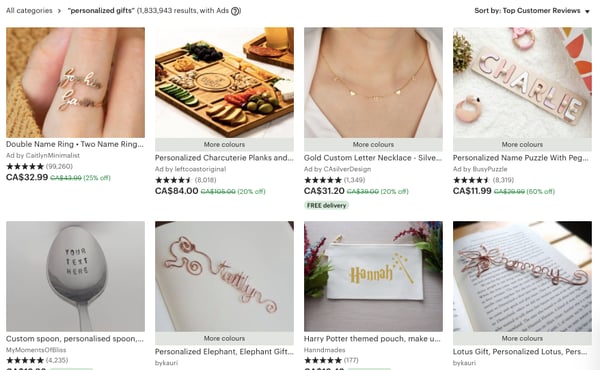 Filter by "top customer reviews" and start your search from there. Once you've identified some potential winning products, you need to identify whether they're fads or evergreen products that you can count on again and again.
Let's use the keyword "dog collars" as an example. Type this into Google trends as well as Google keyword planner to get your answers.
"Dog collars" in Google trends: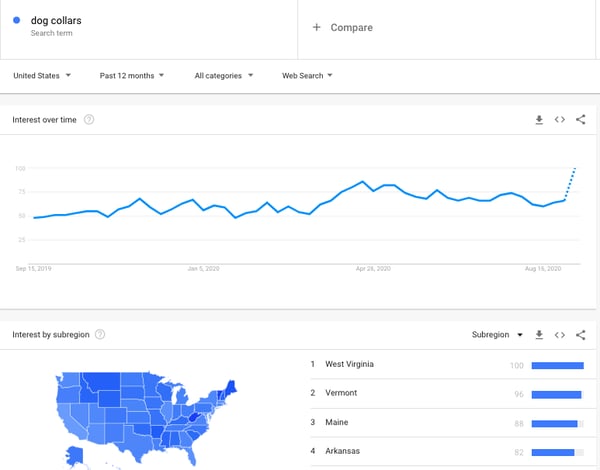 What you're looking for is a steady search for this term, and potentially an increase over time. You should stay away from products that have a downward trend on Google trends. This means that they're a fad and won't be profitable in the future.
Also, it gives you potential target areas. It looks like West Virginia and Vermont have a promising target market.
And now, in Google keyword planner: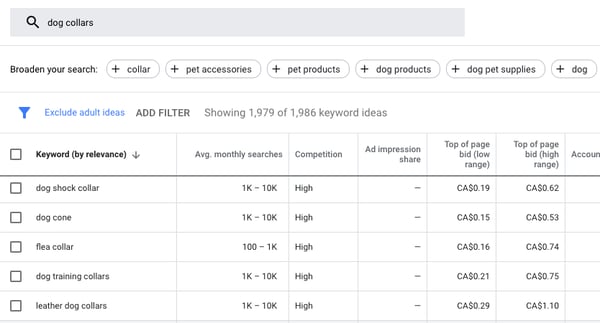 This keyword is essentially a gate into other keywords that people you are targeting look for. Why not also include, shock collars, flea collars and leather collars? These are all highly searched terms that people in your niche are looking for.
Many dropshippers and e-commerce business owners are faced with frustration and lack of time to do proper research for new and relevant products. Although It's time consuming and hard, it is absolutely critical to always have relevant and new products to keep up with consumer trends. Selling the same old products forever isn't going to keep your customers intrigued for long.
Use product research platforms
The product research aspect of dropshipping is so important, that entire platforms were built on it. Product discovery platforms as well as niche scrapers use data from sales, customer reviews and the momentum of the product's growth to present you with incredible opportunities.
Some of them are free, while others charge a monthly subscription fee. It's up to you to try it out and see if they're worth the time saved.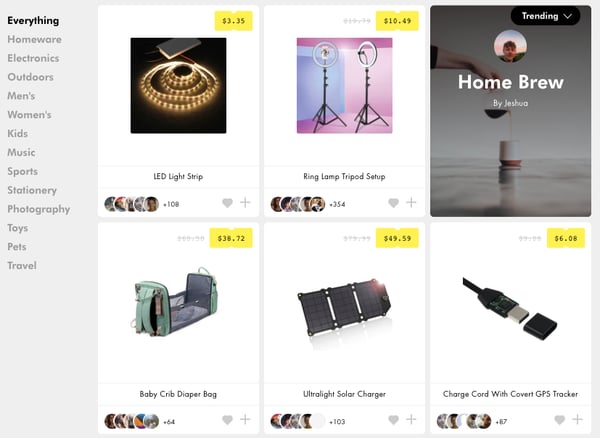 Source: Thieve.co
Use Pinterest Trends
A free to use and incredible resource is Pinterest Trends. This tool lets you see what people are starting to look for, and what they care about. Use this as a great resource to connect with people, and start creating boards of your products in a way that appeals to trends. It's free, and it's worth it.
Overall, the trends are seasonal and give you tons of ideas for collections or sales. e-commerce trends like green consumerism and social shopping are now in full blown use, so make sure you appeal to everyone by having a "Pinterest Store"and a store set up on all social media platforms.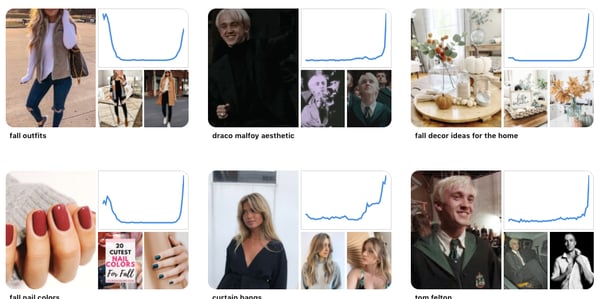 Source: Pinterest
2. Discover less popular products that serve a specific niche
Targeting large amounts of people is usually appealing, but realistically, you'll only manage to get a few sales from targeting a large group. In effect, by targeting everyone, you end up targeting no one.
If you focus on a small underserved niche, you'll find that there are some devoted and passionate people there, willing to make a purchase. From avid lovers of astrology and enamel pin collectors, you can find yourself becoming a talked about store in these communities.
For example, take a look at this custom wood engraved astrology chart: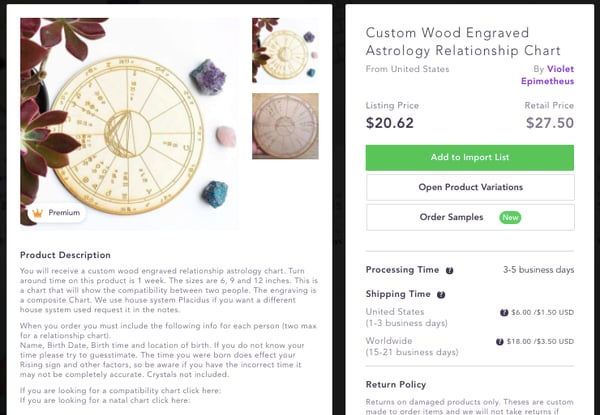 People who love astrology and the metaphysical would be thrilled to have something on their wall that showed how they and their partner's stars were aligned the days they were born. It's unique, it's beautiful, and it appeals to this niche market. A perfect gift or decor item.
Another example would be the loyal niche of The Office lovers that would adore a pillow like the one below as either a gift or home/office decor: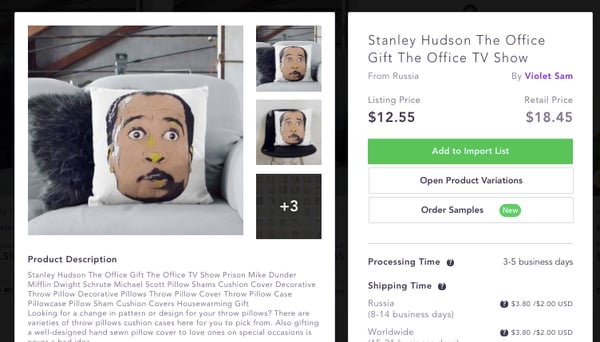 People are devoted to the things that make them laugh, and having quirky items that remind them of inside jokes will always be winners. It's a small market, but it's a devoted one.
Find underserved niches
Finding these underserved niches is hard. However, you can find them by simply listening to what people have to say. Find best selling products on Etsy on Amazon, and read the reviews. The good and the bad. Get a feel for some pain points as well as powerful positives.
You can discover these niches by being an active member of communities on Reddit, Quora and Facebook. You can even ask questions that help you uncover the longevity of certain niches or products. They're free, and honestly, they're incredible tools to help you uncover needs in your niche.
3. Find products that solve a problem or pain point for customers
This begins with discovering the pain points customers in your target market are facing. Bounding off of our previous point, use communities on online platforms or forums to find out that these pain points can be.
These can depend on every niche, but as an example for the Babies and Children niche, potty training and having safe and easy tools needed to ease the transition are critical.
Example: a potty training tool that's safe, easy to store, and easy to clean.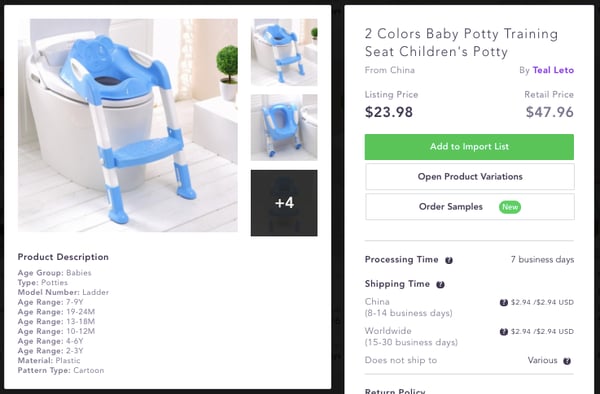 Source: Spocket
Choose products that solve a problem people are facing, and use the trends and forums to discover what these may be. Use popular forums to ask people for their opinion! Why not ask mom's what their greatest challenge or pet peeve is?
Another example would be the aches and pains of working remotely. Since everyone has had to experience (and continues to experience) working remotely, why not sell items that make remote work fun, easy and comfortable?
Check out this home office hammock for your feet: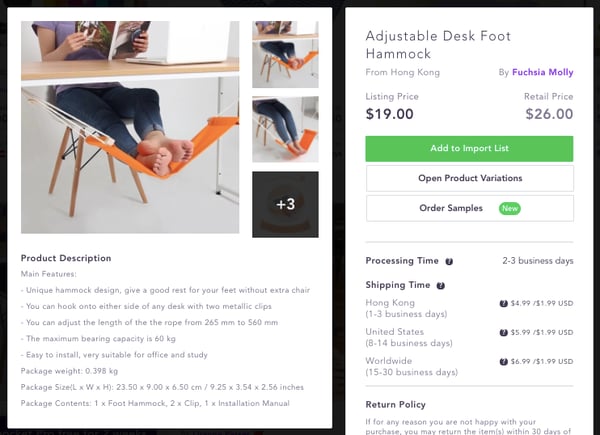 Source: Spocket
These would all be variable to your niche, but keep asking yourself how you can solve a problem with your products.
4. Go after products that are scarce in quantity and availability
In dropshipping, this is the illusion of scarcity. Dropship products that you think your customers will buy instinctively. This means products that are rare, not common, and offer a unique value proposition that your visitors can't resist. Take a look at this custom moon ring: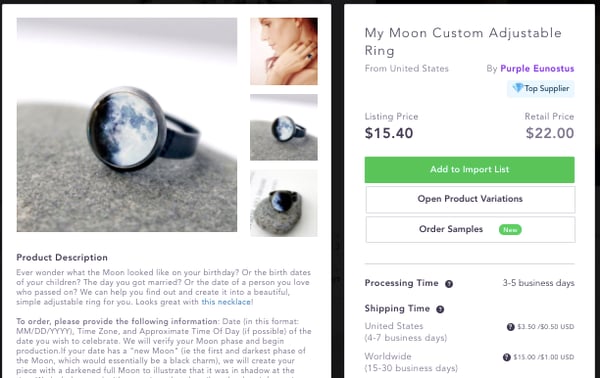 Source: Spocket
An incredible gift idea and irresistible to the metaphysical communities. Throw in a limited quantity banner, and you've got yourself some instant and fast sales.
5. Browse online communities and forums to get the 'inside scoop'
This isn't always as simple as it seems. You need to build a rapport with these communities and earn your stripes as a contributing member. Discovering what people want is simple after that: Just ask them.
The power of Reddit, Quora, Slack communities, and any forum on a large platform is rich in information that you can leverage to create competitive advantage. Not only can you use these communities to find ideas, you can also target these people and introduce them to your website or blog and effortlessly increase traffic and leads.
Build a profile on Reddit and Quora and become an integral contributor, so people will answer your questions, and give you suggestions when you need them. Make sure you're always transparent about what your intentions are, you don't want to get called out and blocked for advertising.
As an example, take a woman who loves hiking and appreciates a good pair of leggings. Here's what Reddit says about this specific type of person: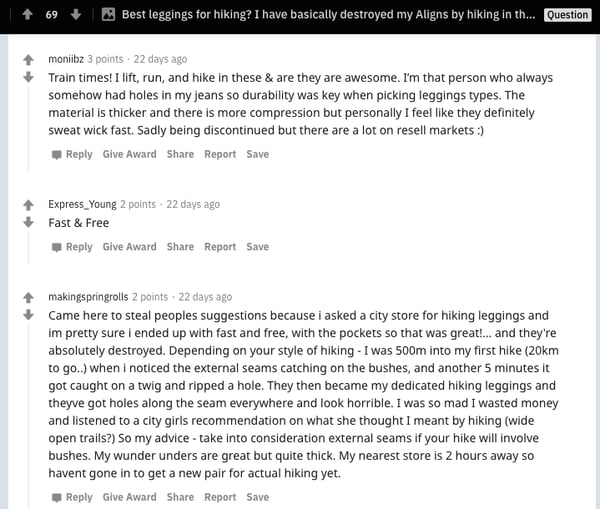 Source: Reddit
Now you have an idea of what people are looking for, as well as their pain points. A free and easy way to get incredible insight into your market.
What type of dropshipping products sell the most?
You need to remember that keeping up to date with best selling dropshipping products is consistent effort and hard work. It doesn't happen overnight, but the advantages give you the upper hand in your market.
The dropshipping products that sell the most are impulse products and products that solve a need.
Impulse purchases are important because you don't want your visitor to look elsewhere for that product and realize they can find it in multiple stores. You can do this with incredible one time offers, and timers on sales. With dropshipping, your main priority is to get them to make a purchase shortly after landing on your page. You need products that are instant winners, and that your visitors don't have to think about our research.
Products that solve a need are pretty self explanatory. But you need to create a job description that matches your niche's lifestyle and paints a story as to how this product is useful, and why they need it.
Check out this mommy backpack: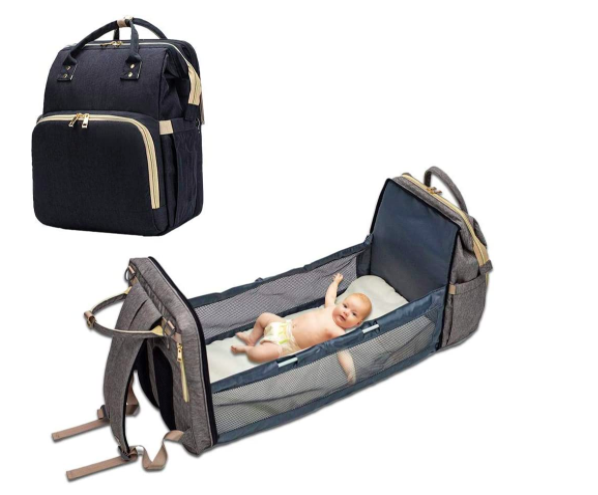 Source: Amazon
A perfect product for mom's on the go, but what about marketing this to new pet owners? Or the owners of small dogs? With the right storytelling disposition, you can sell this to double the number of people, and reel in a massive profit.
Products with repeat purchase potential
One of the keys to a successful dropshipping business is returning customers, and products that make it easier for that to happen. This is mainly due to the fact that 41% or your online store's revenue will be generated from 8% of your visitors. Shocking right?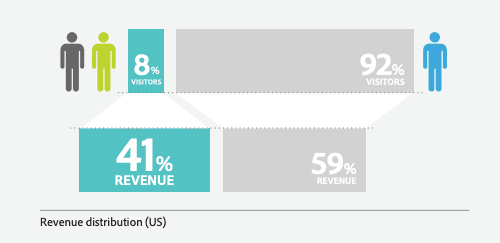 Source: smile.io
That stat may be shocking, but it's pretty logical. If a customer had a good experience with you before, they'll continue to shop from you again and again. Products that have high potential for repurchase are either products that run out, or products that add incredible value to your customers life.
The world is more conscious of nontoxic ingredients and healthy products than ever before. Mix that in with the undying need for good soap, and you have yourself a product that will always be re-purchased again and again.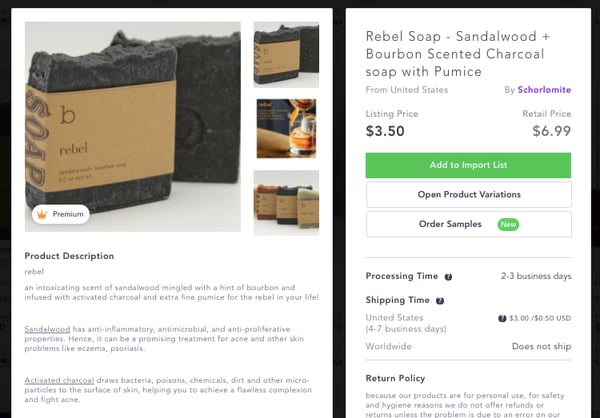 Source: Spocket
Another product category that has repurchasing power is the baby and child niche. Eventually, our target market reaches a stage where many friends and family members having babies. If you offer high quality products and support, the products you sell will be recommended again and again, resulting in repeat purchases of pain solving products.
Products for business and education purposes
Business and Learning institutions will most likely shift towards being online and remote. This means, people will be spending more time conducting business and classes online.
This can be leveraged to meet the demand of providing people with things that makes this transition easier. Take advantage of these trends and look into making people's lives easier, and solving their "pain points":
For example, this portable laptop stand: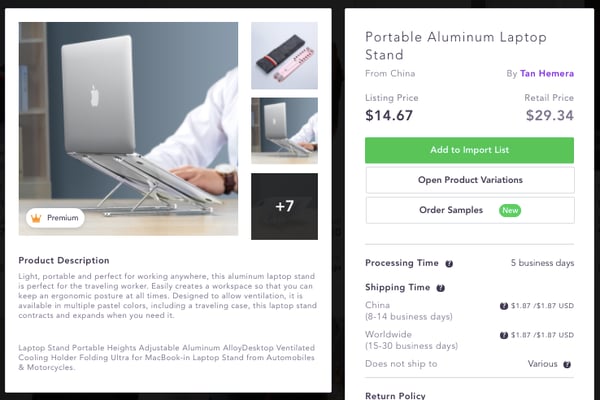 Easily turn a laptop into a whole office setup with a keyboard and a mouse. They easily fit in a purse or a bag and make life that much easier for your posture and work efficiency.
Handmade business card holder
People will always love novelty handmade items. They're unique, and they usually make the little things in life more pleasing to do. This is perfect gift idea, or simply a great way to store business cards in an aesthetically pleasing holder.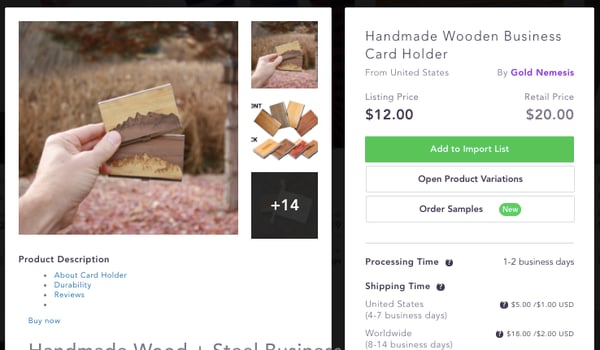 Blue light glasses
This one is a must for the people who stare at computer screens all day. These days, it's most of us. Having these in your store is the perfect upsell and a great way to get your revenue rising.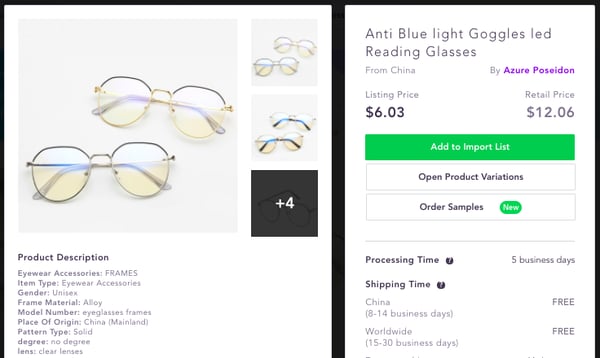 Products for niche hobbyists
People love their hobbies. From fishing to camping, they're always on the lookout for how they can get to the next level. Use your expertise in a specific hobby to create a store that provides new and interesting products for your niche hobbyists.
However, you have to develop yourself as an authority in the field before you can start making sales. Make sure that your product descriptions are on point, and that you start up a blog or newsletter about your niche. This way, you're the expert in the field, and can trust your judgement about certain products.
Make sure you get involved in the online communities for these niches, and are a regular contributor and reader of what's going on in that niche.
Here are some hobbies with a profitable niche:
Camping and hiking lovers
Sports lovers (scuba diving, biking, soccer, etc.)
Travel lovers
Video game lovers
Knitters or crocheters
5 tips for ensuring your dropshipping products will sell
The internet is an attention game. You need to pick products that have amazing photography and test the product out for yourself before going forward with it. On top of that, you need to make sure that your descriptions are impeccable and resonate with your audience. The following tips are pivotal to choosing and selling products that have a high potential to sell.
Create riveting SEO descriptions that customers can connect with
So, what exactly are SEO product descriptions? They're the story that accompanies the product. They show specifics on what it's made of, how to use it, and how it's relevant to your life. You've probably read tons of them, and not realized the profound impact they have on converting you into a sale.
Take a look at these candles: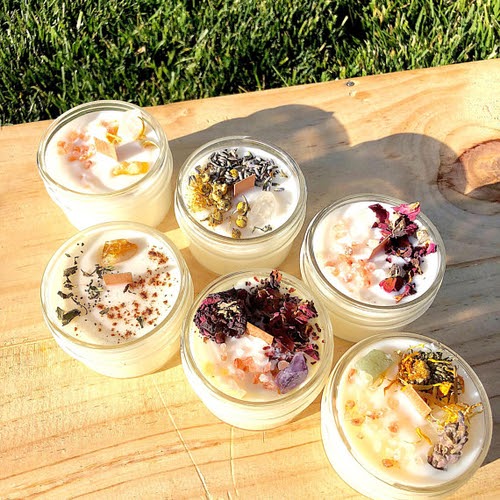 Source: Spocket
And now look at them again with this description: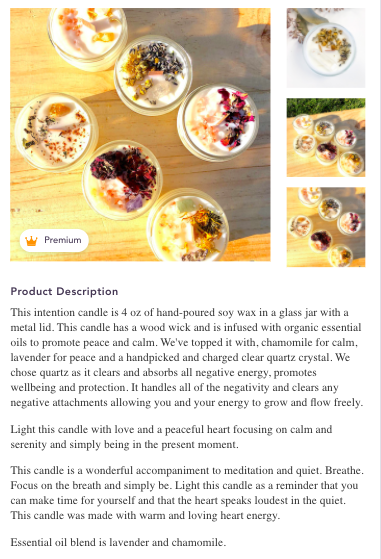 Source: Spocket
It's a good description example because it makes you not only want to buy the candle, but create a peaceful and calm environment for your home.
Your goal when writing a description is to include all of the keywords that pertain to your audience, and then write a story that resonates with them. If you notice at the end, there's an upselling tactic that reminds you of other selections you can buy from. A great way to get those sales rolling!
Have ample knowledge about the product(s) you're selling
Become an expert of your niche. This takes time, but it is absolutely critical to maintaining a competitive advantage. Choosing a niche you're already passionate of is a great way to make the process easier.
Then, you'll have an eye for winning products that you, yourself wouldn't hesitate to buy. Be an expert in the products you sell as well. How can you sell your product to multiple people with different lives and problems?
Get creative with the uses of your product, and like the multiuse mom bag example above, you can find different segments to sell the product to.
Find an appropriate markup cost and price point for consumers
To start, choose products that allow you to have a healthy profit margin, with a 30% profit as a rule of thumb. But keep in mind that you want a reasonable price, and you want to factor in shipping costs. Almost half of abandoned carts are due to the hidden costs of shipping, so make sure you don't surprise your customers at the very end. You worked too hard for that sale to lose your lead at the last step.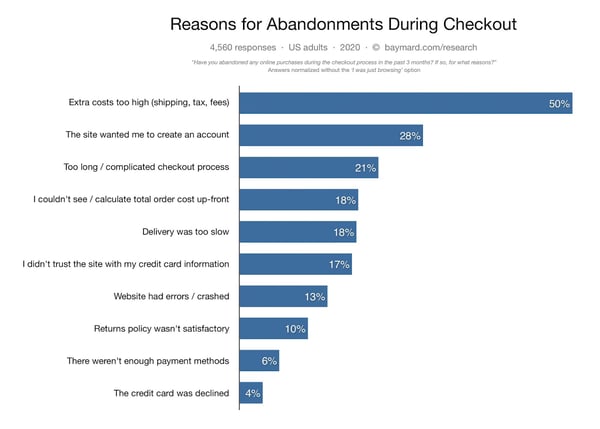 Source: Baymard Institute
Implement free shipping by adding in the average cost of shipping in the US to your products. You can also create a threshold for free shipping, such as: "Purchase $50 or more for free shipping" to ensure that you're not only upselling but also not surprising your customers with hidden costs.
Keep in mind that you need to keep tabs on the prices and sales of your competitors. Keep a spreadsheet for your competitors and make notes on their sales and collections. Stay competitive and stay aware of techniques that work, and ones that dont.
Include add-on offers that people can tack on to their primary purchase
Upselling is critical to a healthy revenue stream. Make sure you have tons of accessories, little knick-knacks, or inexpensive add-ons that customers can use to meet the free shipping criteria.
Use a website layout that supports recommendations and upsell options. Having a recommendation on the footer or sidebar is incredibly useful for someone looking to add an extra $20 to get free shipping and some cool new stuff.
For a women's fashion store, upsell accessories such as scarves, hats, jewelry, or basics in order to increase sales and build a healthy rapport with your customers on your offerings.
Offer excellent customer service once a transaction is made
E-commerce stores spend 80% of their marketing spend on acquiring new leads and customers. So it's in your best interest to make sure they're happy, satisfied and fully taken care of.
Build a mailing list for every segment, and make sure you note their purchases. This way, you can personalize your emails to them, and have a larger impact in what they might be interested in.
Email every customer with a thank you card, and let them know you're not only grateful, but that they'll be taken care of no matter what. Once you've built a mailing list, it's time to create a newsletter that pertains to each segment.
For example, if someone purchased baby clothes for a newborn, why not offer them a discount on 6-month-old clothing a few months later? Another example would be women's fashion. If a customer purchases a summer dress, why not email them suggestions in the fall for cute sweater dresses? Once you have their email address, it's time to build email campaigns that work in your favour.
Conclusion
From researching social media to creating criteria for winning products, you can now use this guide to lead you to a profitable dropshipping business. Keeping your product selection fresh and always staying in tune with winning products is hard, but that's what distinguishes you from the competition and the online stores that fail.
Now you're ready to take on a new challenge and build an enviable product selection that not only lets you quit your 9 to 5, but thrive for years to come. Get started today with the right dropshipping software to make your money-making dreams come true!