When building your professional brand, enhancing your LinkedIn profile is a great place to start.
Not only can you apply for jobs, but LinkedIn also makes it easy to add your resume to your profile and post an article that grabs the attention of your connections. And who knew that you could activate LinkedIn Private Mode to browse a profile totally incognito.
Part of building your professional brand is making sure that your list of skills is accurate and that each skill applies in some way to your past and present job descriptions, which will showcase your abilities.
These skills can be endorsed by your first-degree connections, which contributes to the overall strength of your profile. A great way to get endorsements is to endorse others, especially those who have seen your skills firsthand. Endorsing the skills of your connections is easy, but if you aren't sure how to do so, just keep reading.
How to endorse someone on LinkedIn:
Enter in a connection's name into the search bar

Scroll to Skills & Endorsements on their profile

Click the blue plus (+) sign to endorse a skill
How do I endorse someone on LinkedIn?
LinkedIn introduced the ability to add and endorse professional skills in 2012. Users can add up to 50 skills to their profile, and since its debut, there have been over 10 billion endorsements.
Endorsements on LinkedIn are simply expertise that a peer knows you have. As an example, if you have worked with a first-degree connection in Public Relations, you can endorse any skills they have listed that have to do with PR.
When you endorse someone on LinkedIn, you are recognizing the professional abilities you have seen them demonstrate, as you also maintain a strong relationship with that connection by helping them to build their professional brand.
Go to the Search bar and type in a connection's name
To endorse someone on LinkedIn, type their name into the search bar. Click your connection's name from the drop-down list of choices.

Option One: Scroll to Skills & Endorsements
Once on their profile, you will find their list of Skills & Endorsements towards the middle. Each skill is listed by a blue plus sign. Clicking to endorse a certain skill turns this into a grey checkmark.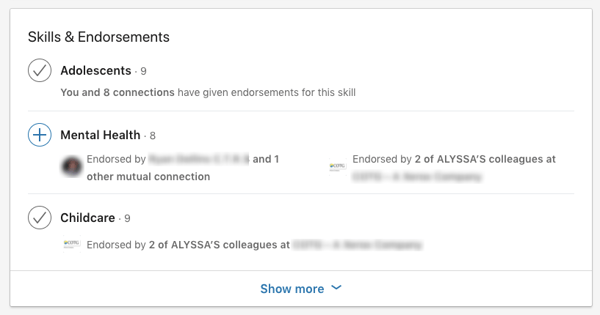 After you endorse a connection's skill, they are sent an email notifying them of your endorsement. They are given the option of responding to thank you for doing so.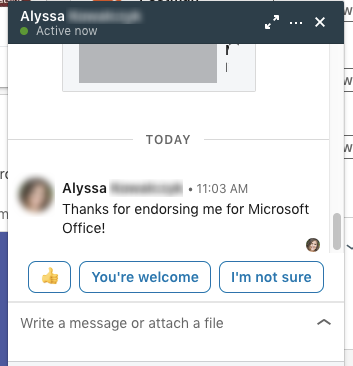 Option Two: Endorse the shared Skill
If you have any shared skills with your connection, these will be listed towards the top of their profile.

Just like above, when you choose to endorse the shared skill, LinkedIn will email your connection letting them know of their new endorsement.

Help a connection out
The next time you are browsing the LinkedIn profile of an old co-worker, it may be in your best interest to endorse some of their skills. And, if they're feeling friendly, maybe they'll endorse one of yours!
Related: Are you a LinkedIn Premium user? Let your peers know your thoughts about this social media platform!
Want to learn more about advancing your professional brand? Check out our other LinkedIn articles: