If you're publishing content online, a detailed understanding of how to perform keyword research and how to target specific keywords is essential.
It's a basic component of SEO. In fact, SEMRush's database alone estimates the use of 18.8 billion keywords across 717 million domains. If you're not targeting the right keywords with real search volume, you're not going to get any visitors to your site.
It's that simple.
Looking for highly targeted or profitable keywords is a bit like panning for gold. There are billions of keywords to sift through to find the ones you want, so how do you find keywords that will bring traffic to your site?
The easiest way is by using SEO tools for keyword research. There are various tools on the market designed to crunch all the data behind the billions of keywords people type into search engines every day.
Here's a look at what keyword research is, why it's vitally important to any digital marketing and organic growth strategies, and some of the best keyword research tools on the market.
Why are keywords important for SEO?
Keywords are the driving force behind SEO. The primary role of a search engine like Google is to return the most relevant results based on the keywords someone types in. That's how they determine what the searcher's intent is.
Keywords play a huge role in which pages the search engine shows a user. If you're searching for "keyword tools," you can be sure all the pages in the search results are going to be about keyword tools.
Now, keywords are only part of the puzzle. Google has a complex algorithm that uses hundreds of ranking factors and calculations to serve up a select few web pages from the billions of pages in its index. But keywords are one of the most important SEO factors. You compromise your other efforts when you fail to use the right keywords.
What is keyword research?
In a nutshell, keyword research is the process of finding keywords or search queries that people are typing into search engines to find the answers, information, or solutions to their problems.
By finding keywords that are relevant to your business, you can then target those keywords in your content and provide the answer. Proper keyword research involves finding low competition keywords with high search volume. It's also a way to find search terms and topics you would otherwise never have even considered.
Long-tail vs. short-tail keywords
When you start learning about keywords, you'll hear the terms "long-tail" and "short-tail." The definition for each of these terms is as follows:
Short-tail keywords: As the name suggests, these are short keywords. Generally speaking, they'll be 2-3 words long.
Examples of short-tail keywords are:
Short-tail keywords
Organic SEO
Keyword research
Short-tail keywords typically have high search volume, but as you can see from the examples, they're not highly specific or targeted. That means if you can rank well for terms like these, you'll get a lot of traffic. It may not be traffic that converts well, however, as it's hard to answer a specific question or query with a few words.
Long-tail keywords are keyword phrases that span any length longer than 3 keywords.
Examples of long-tail keywords are:
How do I find good long-tail keywords?
Is organic SEO better than PPC for long-term traffic?
How do I do keyword research for an e-commerce site?
Comparing these keywords to the short-tail examples above, by adding more words, you're able to ask a more specific question. Typically, the longer the keyword, the less search volume. However, if you can rank well for long-tail keywords there is a lot of potential to convert the traffic.
When deciding which type of keyword is best for you, the answer is almost always going to be long-tail keywords. They are typically more specific in nature. There are also fewer long-tail keywords to find, and most will be less competitive than short-tail phrases.
5 SEO keyword research best practices
In SEO terms, keywords are the phrases and terms people type into search engines when searching for something, such as an answer, product, or service.
Choosing the right keywords is one of the most important aspects of any SEO strategy. Without targeting the right keywords to start with, you're likely wasting your time doing anything else from that point onwards.
Ideally, you want to find low competition keywords with high search volume. While extremely low competition/high volume keywords are like unicorns, by understanding the fundamentals of keyword research and adhering to best practices, you'll find profitable keywords that rank.
Here are some of the most important SEO keyword research best practices to help you find the right terms.
1. Discover what your niche is searching for
Relevancy is everything when brainstorming keywords. You need to know what your niche is, and identify what your target customers are searching for.
For example, if you're an ecommerce business selling furniture, you're going to look for keywords related to the furniture industry. You can then dig a level deeper to find e-commerce SEO keywords related to your individual products. This may mean targeting types of furniture, such as a style of chair or table. Or it might make more sense to target brand or product keywords.
2. Lean on brand and product terms as keywords
There are lots of different types of keywords, but broadly speaking, you can group keywords into two general categories:
Informational keywords such as "how-to" or "which [x] is best for" posts, and
Buyer intent keywords such as branded or product terms, or "best" keywords
If you have an e-commerce business or want to target commercial keywords, focus on buyer intent keywords. Leaning on branded or product terms is a great way to find a lot of keywords with established search volume.
When people are looking to buy online, they will often type in the brand or product name that they're interested in. Some examples of branded search queries would be:
[Brand name] reviews
Best [brand name] tables
[Brand name] alternatives
[Brand name] tables under $500
3. Create a list of SEO-worthy topics you can pull keywords from
You have to be organized when doing keyword research. Otherwise, you'll keep going off in different directions and lack topical relevance.
The starting point for any site is to come up with five to 10 topics or categories to group keywords under. Most sites use the categories they already have on their site. You can pick something more relevant to you, such as different brands or types of products.
For a furniture site, for example, you might start with the following topics:
Dining furniture
Kitchen furniture
Bedroom furniture
Garden furniture
4. Research your topics, then research related terms
The next step is to start looking for relevant keywords for each of your topics/categories. The two main ways you can do this are using keyword research tools and typing keywords into Google and using the autofill feature and related search terms.
If you're brainstorming by typing your terms directly into Google, just by typing in "best dining room chairs," you see the following long-tail keywords under the People also ask section:

Additionally, just by adding a space after the last word I saw all of these auto-suggested keywords: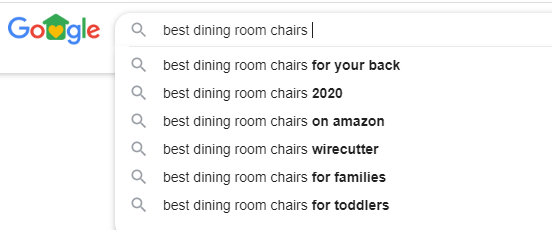 That's 10 more keywords to look into just by typing in one seed keyword! You can then add these to the list of keywords you're running through your keyword tool to find out how competitive they are. Some keyword tools will generate these terms for you.
However you go about finding keywords, the two key metrics you're looking for are the monthly search volume, and how competitive they are. You can find the search volume by using a keyword research tool or using Google's Keyword Planner.
To determine how competitive a keyword is, again, you can use a keyword research tool that will typically have its own scores. Or, you can manually look at the search results for that keyword and make your own judgment (we don't recommend this method).
When you have a list of keywords within each category that are relevant to your business, you're all set to start producing quality content that'll match up with search intent and provide value to the user through your content.
5. See how your competitors rank for the keywords you're targeting
The final step is to take a look why and how your competitors are ranking for the keywords you're targeting. Don't forget, Google is an algorithm. A complex one, but just an algorithm all the same.
The sites ranking in the top 10 are there for a reason, and it usually comes down to one of two things:
The content and how it's structured
The number of links pointing to the page
As a general rule of thumb, here is how you can try to beat the algorithm in each of these areas.
Content
Search intent is an important ranking factor for Google. The type of content you produce should be similar to that of the pages already ranking. This means if all the results are e-commerce pages, you'll need an e-commerce page. If they're listicles, you'll need to produce a listicle.
Next, you need to go that extra mile beyond what they did. Find a way you can produce a bigger, better, more in-depth, more up-to-date article. If you want to go a level deeper, you can look for a trend in how many times your target keyword appears in the top-ranking pages. If they all use it three times, for example, that's the sweet spot to ensure you don't over or under-optimize.
Links
Links from other sites are a powerful ranking factor. No two links are equal, so it's hard to judge how many you need. As a general guideline, however, you should aim to promote your article to attract at least as many links as your competitors have.
7 keyword research tools to help you find the right keywords
As we mentioned before, using a keyword tool to help you find the right keywords is extremely valuable. Using a keyword tool is more efficient, and it ensures that you're targeting the best terms. Some keyword tools are an investment, while others cost nothing. Here are seven keyword research tools on the market today.
GrowthBar
GrowthBar is a Chrome extension, not software or an application like most of the other keyword tools on this list.

The benefit to this is that you get all the information you need; keyword difficulty, monthly volume, backlinks analysis, and suggested keywords, all within the search results page. While it won't populate large amounts of data or be suitable to manage multiple campaigns for clients, it's a great lightweight solution for an individual doing keyword research.
Pros:
It's a lightweight Chrome extension and provides all the data within your search results page
Provides a keyword difficulty metric to help you determine if you should target a keyword
A great resource to find related and long tail keywords
Cons:
Doesn't have the depth of reporting features other larger SEO software tools do
Ahrefs Keyword Explorer
Ahrefs is a powerful SEO toolkit that will perform keyword research and a lot more.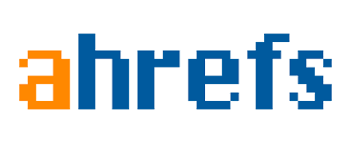 The key features of this SEO tool are:
Keyword research
Competitor analysis
Rank tracking
Backlink research
Content research
You'll never run out of keyword ideas with an Ahrefs subscription. It has an intuitive and easy to use interface, so it's easy for beginners and experienced SEOs alike. It's a popular choice within agencies, as it makes it easy to track any number of keywords and perform detailed competitor analysis.
Pros:
They boast the largest and most comprehensive database to pull data from
24/7 support on hand if you run into any problems
Easy to use interface and a wide range of reporting options
Cons:
It's one of the most expensive tools on the market
An agency would better utilize the details and complex range of tools than a single user would
Moz keyword explorer
Moz is one of the longest and most well-established SEO software providers in the space dating back to 2004.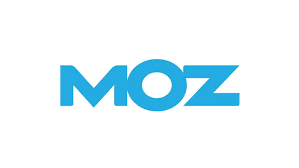 With a Moz Pro subscription, you get access to their:
Keyword research tool
Competitor analysis tool
Detailed reporting features
Backlink analysis
Rank tracking software
They also offer a free Chrome extension that displays some keyword information and competitor analysis data within the search results page.
Pros:
One of the easiest tools on the market to use
It has a wide range of tools if you want to expand outside of just keyword research
Their difficulty metrics are clear and easy to understand
Cons:
If you're just after a keyword research tool, then there are more straightforward, less expensive options
Google Search Console
The Google Search Console is a free resource provided by Google to give you insights into how your site is performing.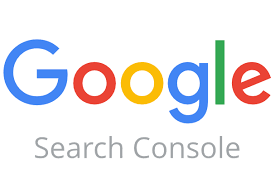 Most of the insights are going to be in retrospect when used as a keyword research tool. This is because you can look at all the keywords your existing articles are appearing in the Google search results for, not branch out into other topics.
You'll likely spot some long-tail keywords you can better optimize your content for, or write up a new article for those keywords. It's a great way to find real data from Google themselves, but you won't find many brand-new keywords or have any difficulty metrics to work with.
Pros:
Accurate keyword data straight from Google
Free to use
Provides insights into other areas of how your articles are performing
Cons:
Doesn't give any keyword difficulty metrics
Google Ads Keyword Planner
The Google Ads Keyword Planner is where a lot of the keyword tools pull their seed data. Google provides the estimated monthly search volume for keywords within their planner so advertisers can use this data to bid on keywords.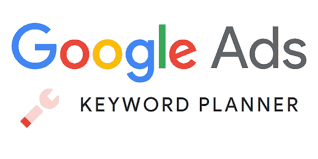 The Keyword Planner is an excellent tool for finding keywords and checking the search traffic, but it doesn't give any kind of difficulty metric - that's where other tools really prove their worth.
Pros:
Free and easy to use way to find lots of potential keywords
Shows you an accurate estimated monthly search volume
Cons:
No difficulty metrics to help determine if you can rank for the keywords
Keywords Everywhere
Keywords Everywhere is a simple Chrome extension that adds the following metrics next to keywords in the search results.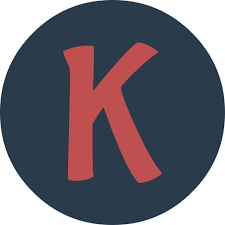 With Keywords Everywhere, you can track:
Monthly search volume
Cost per click
AdWords competition
It also populates a "People also search for" field on the right sidebar in the search results with some additional related keywords. This can help you discover your audience search intent. It's one of the fastest and easiest ways to see the search volume for keywords while browsing the web, but it does lack difficulty metrics.
Pros:
Available as a Chrome or Firefox extension
Nothing for you to do, all the monthly volume and CPC data automatically populates
Cons:
No difficulty metrics or SERP analysis
Keywordtool.io
Keywordtool.io has some exciting functionality other tools do not offer, such as enabling you to do keyword research for YouTube, Bing, Amazon, eBay, Instagram, and Twitter.

Google may dominate the majority of organic searches online, but there are several other search engines, and you might be missing out on traffic and sales by ignoring them. It has a simple browser interface. You just type in the keywords you're interested in, and the tool populates hundreds of related keywords with keyword difficulty, search volume, and trend metrics.
Pros:
A great tool for generating a list of long tail keywords
You can perform keyword research outside of Google. The tool supports eBay, Bing, Amazon, and more
Cons:
It's lacking some of the reporting functionality other tools have
Conclusion
That's a brief look at seven of the best keyword research tools on the market. Each offers something different depending on how deep and detailed you want to take your keyword research.
For a free option to carry out basic keyword research, you can start out with Google Search Console and Keyword Planner. When you're ready to start analyzing the search results and evaluating keyword difficulty, Growth Bar offers the widest range of keyword research tools with an affordable price tag. For detailed expert analysis, Ahrefs provides the most complete SEO toolkit but comes with the highest price tag.
Now that you know all about keyword research best practices, learn how to avoid keyword stuffing.