Let's face it: We all have times we want to hit reset.
There are plenty of things that cause that facepalm feeling. It could be the text you sent to the wrong person, that thing you said not realizing who was behind you, or the email you accidentally sent your boss.
Whatever it is, sometimes life needs a delete button.
While it isn't possible in real life, thankfully, deletion is possible when it comes to YouTube playlists.
How to delete playlists on YouTube
First comes knowing how to make a YouTube channel. Then, after you uploaded your videos, it's time to learn how to make a playlist on YouTube.
After some playlist exploration and experimentation, you may realize that your list of "weird food combinations people love" doesn't quite suit your channel after all.
When this happens, follow these simple steps:
How to delete playlists on YouTube
Go to your YouTube channel homepage
Click on the tab for "playlists"
Click on the playlist you would like to delete
The first video will start playing; click on the playlist name
A list of all videos in your playlist will appear on the right side of your screen
Click on the playlist title
Click on the "edit" button (located right of your profile picture)
Click on the three vertical dots in the upper-right corner
Select "delete playlist"
Confirm deletion by clicking the "Yes, delete it" button.
If you're looking at those steps and thinking, "Okay Kristen, easier said than done," let me do more than tell you the process; I'll show you!
How to delete a playlist on YouTube: Step-by-step picture instructions
It's hard to paint a picture with words alone. So, without further ado, let's take a deeper look at the process of how to delete a playlist on YouTube.
Go to your YouTube channel homepage
Click on your YouTube channel profile picture. On the drop-down menu that appears, choose "my channel."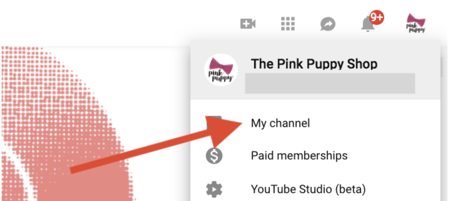 View all of your YouTube playlists
You'll find a number of tabs under your YouTube channel name and icon. Click on the "playlists" tab, located third from the left, to view all of your YouTube channel playlists.

Once you do so, all of your playlists will appear.
Select the playlist to delete
Click on the name of the playlist you would like to delete from your YouTube channel.


(Note: For the purposes of this tutorial, I am deleting the playlist "Reptiles need love too." I do indeed believe reptiles also need love, but in this hypothetical situation, reptiles don't align with a channel designed for dog lovers.)
Click on the YouTube playlist name
Once you click the YouTube playlist to delete, it will open in a new page and immediately begin playing.
On the right side of your screen, you'll see a list displaying all videos within your playlist. Click on the name of your playlist, found at the top of this list.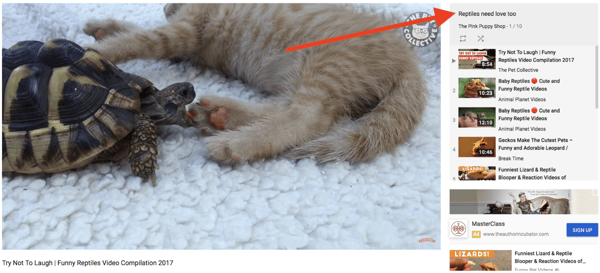 Select the playlist's edit button
Select the "edit" button. You'll find it to the right of your YouTube channel icon.


While it looks like you're editing the entire channel, I promise this edit button only applies to the playlist you are going to delete!
Click the icon for more YouTube playlist settings
Now it's time to go to your YouTube playlist's settings. To do so, click on the three vertical dots, found in the upper-right corner on your screen.

Delete your playlist on YouTube
Once you click those three buttons, a drop-down menu will appear. Click on (you guessed it!) the option to "Delete playlist."


Once you delete a playlist it's gone forever; if there's a chance you might want to access the playlist again, you can change the settings to private.
Confirm deletion of your YouTube playlist
Just in case you clicked the "Delete playlist" button by mistake, YouTube will give you the opportunity to cancel the playlist deletion before it happens.
Considering you're reading a step-by-step guide on how to delete a playlist, you can go ahead and click the button that says "Yes, delete it."
And, just like that, you have deleted your playlist!
This is confirmed by the next screen that appears; you'll see a list of all of your playlists. And, in my case, there are no more reptiles in site:
---
How to delete a YouTube playlist
If you're a YouTube creator, playlists provide you with the opportunity to organize your own content and give your channel a professional look. Plus, you can curate the content by saving videos created by other YouTubers.
As you experiment with your YouTube channel design, you will find which playlists resonate with your audience. When you haven't quite hit the mark, deleting (or just changing up!) your YouTube playlists only takes a few minutes.
And, if you are a YouTube viewer with changing tastes, you can reap the same benefits.
Sure, you can't go back and change your hair from your high school senior picture. But at least you aren't forever tied to the YouTube playlists you created as a teen!
---
Ready for more YouTube tips and tricks? Check out how to enable YouTube dark mode, or download free templates with the perfect YouTube banner size and YouTube thumbnail size.
Do you know how other businesses are building their brand with YouTube? Read reviews and find out!