Webinars are wonderful. When done properly, that is.
A webinar is a tool that works to educate, engage, and build demand, especially in B2B marketing.

However, because webinars provide so many benefits for businesses and consumers, like so many other marketing tactics, they can be overdone.
And, when a tactic is overdone, it is often not done well. That doesn't mean you should stop hosting webinars, though.
If you're ready to start or build on your webinar strategy, by all means, go for it! To help ensure your webinar is a success, this article will walk you through every step of the process. It's not just me here to guide you through the webinar process. You'll learn from leading industry experts who have been on both sides of the microphone.
Spoiler alert from author, keynote speaker, and influencer Jay Acunzo, "Don't create a webinar, put on a show."
First, let's take a look at the steps you'll need to take when you decide you want to do a webinar.
How to create the perfect webinar for 2019
Create your webinar topic
Secure speakers
Find the best webinar software
Create a webinar landing page
Promote your webinar
Create your webinar slides and content
Host the live webinar
Follow up with all webinar registrants
Add the webinar to your YouTube channel and/or website
If you want to run a webinar that is successful (as in, one that has attendees!), you need to execute each of those steps with care and strategy.
Looking for a deep dive into a specific step? Click on any of these links and jump ahead to the section you need:
My huge thanks to the experts who contributed to this article. Even if you are a webinar pro, thanks to their insights, you'll find ways to rejuvenate and elevate your webinar execution.
How to create a webinar
When creating a webinar, there are three essential elements to decide:
Your webinar goals – what do you want to achieve for the business?
Your webinar purpose – what will the audience get out of it?
Your webinar theme
These are the elements that will build the entire foundation your webinar strategy stands on. Take the time and consideration to build a foundation that lasts; you don't want to find your newest business strategy crumbling into pieces!
1. Determine the business goals for your webinar
When beginning a webinar strategy, the first thing to ask yourself is why.
If the answer to that question is, "Because my boss told me so," this first step of determining your goals is especially critical.
Don't do a webinar because it's, "the thing to do." Just like a live event, webinars have an event planning cycle that includes pre and post event processes.
Think about what you want to achieve with your webinar. Are you trying to get new customers or ensure you keep the ones you have?
Ultimately, the goal of a webinar will be to affect your company's bottom line. This revenue could be sourced through customer renewals or new customers.
For those in B2B marketing with long sales-cycles, it can be tricky to track how your webinars affect the bottom line.
To measure business success, potential goals you may set include:
Leads, including marketing qualified leads (MQLs)
Number of people who acted on a free offer to webinar attendees
Pipeline created as a result of your webinar
Number of attendees who assigned up for your newsletter or next webinar
Sales meetings booked as a result of your webinar
Once you decide how you are going to measure success, make sure you actually do it! We'll get to that towards the end of this article, when we discuss measuring webinar success.
2. Webinar purpose: What's in it for the audience?
I've lost count of how many webinar invites I get every week. (Literally, I just tried to count it out for you. I got tired of sifting through emails after I found 11 in one week.)
If you want attendees at your webinar, what are you giving them in return for their time?
Time is something everyone in business has in common: We all want more of it! If your webinar is 45 minutes, you'd better make sure your value proposition is worth the time attendees are giving up. Otherwise, good luck getting them to come back again!
Think of the webinar's purpose as your mission statement. Focus on the niche benefit you can provide that no one else has. Once you create that mission statement, make sure you share it on webinar landing pages and other promotional areas.
The same way you measure business goals, you can also measure how well your webinar content is resonating with your audience.
Metrics to look at include:
How many registrants do you have?
How many who registered attended the live event?
How often is your webinar watched on-demand?
Is the number of registrants going up over time?
How many people are repeat attendees to your webinar?
What is the drop-off rate? (Do people keep watching the entire webinar or do they close that window halfway through?)
How much are people interacting with your webinar? (Are they asking questions and participating in polls? Is it being shared on social media?)
What feedback are you getting in your post-event survey?
If you're looking for an example of a webinar's purpose, I have a great one.
Here, Berkeley Combs, Brand Marketing Strategist and webinar host at PowerPost, shares the mission that guides the webinars at her company:
"When we created and established the "Brand Publishing Masterclass" series, it was with the sole intention to produce interactive workshops that allow audiences to walk away knowing they learned something valuable with provided materials to apply it themselves."
Notice those words, "It was with the sole intention." Don't try to reach everyone. As the saying goes, "You can't please all of the people all of the time."
If the purpose of your webinar is too generic, the content will be too. (Result: No one will care.)
Once you know the exact benefit you will give webinar attendees, it's time to develop the theme.
3. Choosing your webinar theme and topic
If you're creating a webinar, this section is a must-read. Jay Acunzo, founder of Unthinkable Media and author of "Break the Wheel: Question Best Practices, Hone Your Intuition, and Do Your Best Work," is an influencer known and loved in the marketing industry.
I asked Jay how he chose the theme for the webinar he hosts, "The BIG Simple," and he provided a bounty of information you can take away and implement yourself:
"We chose our webinar theme by talking to the audience. We're making things to serve others, yet most of us never actually talk to those 'others.'
Sure, we look at reports, scan a social feed or 12, and download the latest piece on where the industry is heading, but far more powerful when crafting an experience is to get coffee, schedule a phone call, or attend an event.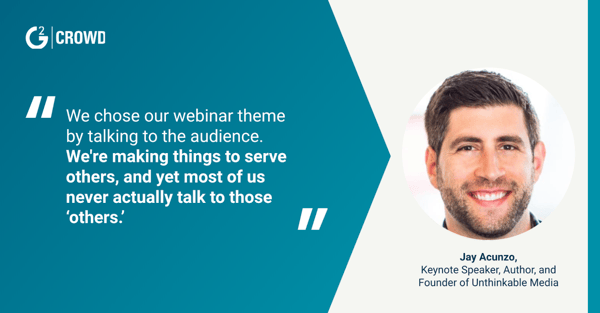 Do everything in your power to TALK to customers.Our series, called "The BIG Simple," contains a strong angle on a common topic: content marketing. We feature newer 'big ideas' that make our strategy planning surprisingly simple.
That show concept originated from talking to content marketers all year long.
What's hard? What's painful? Where do we often trip up? We put tactics over strategy. We don't have a plan. Great! There's the angle. Now each episode of the webinar filters through that concept."
How to do a webinar: Finding the best time, date, and format
In this section, we'll look at the elements you must have in place to actually execute your webinar and get those registrations rolling in.
To plan an event, including a webinar, you need to work backwards. You want attendees. So, you'll need to promote your webinar and create a landing page allowing people to register on.
Before you can create that landing page, you need to have all of the event details secured to put on that landing page. The basic details you need in place to promote your webinar are:
The date and time
Your webinar format
Webinar software and technical requirements
A webinar speaker
Choosing your webinar date and time
Determining the date and time for your webinar requires strategy. Webinar platform ON24 conducted a study of 19,640 webinars throughout 2017, resulting in the 2018 Webinar Benchmarks Report.
According to the report, Tuesday through Thursday are your top days to get attendees, with 24%, 28%, and 27% respectively.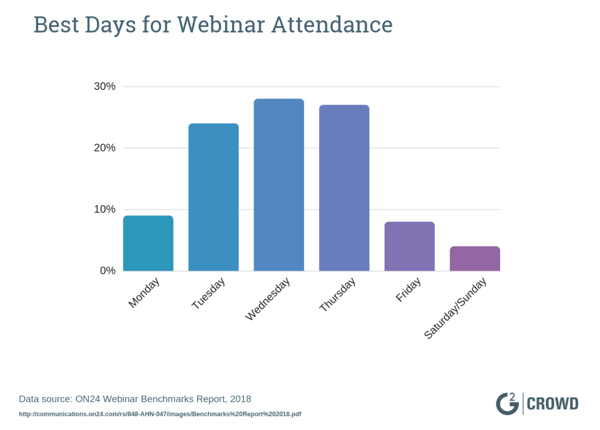 The report also looked at the best time of day to host your webinar.
While it isn't shocking to see that 6 a.m. is not the ideal time, it's worth noting that mid morning hours are best, with the highest attendance rate at 11 a.m..

While this data is helpful, remember to think about your specific audience. Consider reaching out to some clients and asking them when they are most likely to attend; not every target market fits into a cookie cutter mold of statistics.
When it comes to webinars, you have to think about time zones. Even in the continental United States, time zones can differ up to three hours.
And, if you want to reach prospects and customers from Los Angeles to London, you have a difference of eight hours to tackle. There's no way everyone can attend at 11 a.m. on a Wednesday.
Here is a map showing the world's time zones. If you click on the link in the image source, you'll also find an interactive version of the map. Use this to help guide you as you determine what time and date will best suit your audience.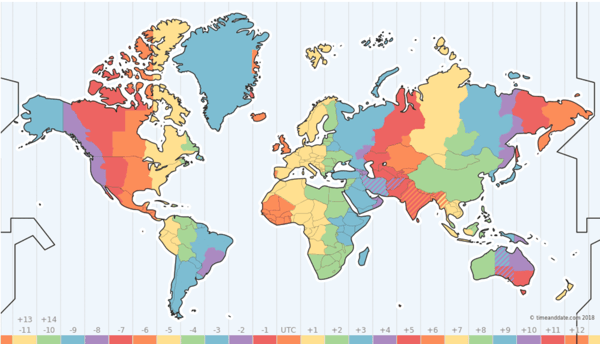 Image source: TimeAndDate.com
If it's hard to conduct your webinar within an hour that suits business hours across countries, you have two options:
Use analytics and choose a specific market to focus on. Perhaps 80 percent of your audience is in one country; if so, focus there. If the goal is to support sales in a new region, then conduct your webinar in a time that suits those prospects, even if it means less overall attendees. (This is why we started with knowing your webinar goal!)
Conduct multiple webinars. If your speaker is up for it, consider conducting two webinars. The engagement on a live webinar makes it worth it. If your speaker can only commit to one time zone, you might be able to find two speakers well-versed in the same topic who are both willing to share their expertise.
Whenever you want to reach an international audience, remember to check for holidays. For example, as any Canadian will tell you, Thanksgiving is not a November holiday, it's in October.
Don't risk all of your webinar preparation going to waste by hosting it on a date your audience is out of the office.
How to create your webinar format
Once you know the time and date for your webinar, it's time to think about the format.
Think about the webinar length – how much time are you asking your attendees to give you? Is your webinar a one-time event or an ongoing series you want to build interest for?
In addition, your format will have an impact on the visuals you share. Do you want to show your speakers on-screen or just have slides with the speaker voices?
Some possibilities to consider for your format include:
Introducing your speaker, a speaker presentation with slides, Q&A at the end
Introducing your speaker and Q&A throughout the presentation
An ongoing information discussion between the host and speaker(s)
Ongoing informal Q&A, the speaker may have specific talking points ready, but there are no slides
An ongoing series versus a one-off presentation
If you're not sure what will resonate with your audience, try watching some webinars on demand and see what you like. Think about what keeps your attention; digital events have a much bigger challenge in keeping remote attendees engaged.
Berkeley (who, as previously mentioned, has extensive experience with webinars) and her team experimented with several webinar formats and shares what works for their PowerPost audience:
"One of the webinar structures we've found to be an audience favorite is having 30-to-40 minutes of open discussion with questions between the presenters and the audience.
We always encourage and motivate our attendees to attend our webinars and come prepared with any and all questions or comments.Live discussions, especially the ones with real questions from real brands about real problems, is how you create the most impactful experiences.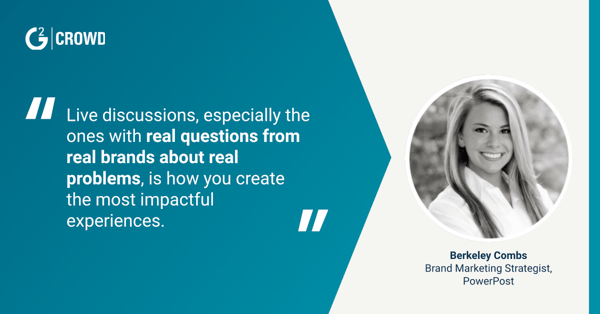 You have to take advantage of the real-time you're spending with the audience and get the conversation started. Once the conversation gets rolling, it's remarkable what everyone can take away from the experience — it becomes a true learning environment."
How long should a webinar be?
One factor in determining your webinar length is how much quality content you have. If you don't have enough content to fill 60 minutes, then don't run a 60-minute webinar.
It's much better to keep your webinar short and full of great information. (In fact, your attendees will appreciate it!) Make every second count, because a second is all it takes for viewers to close that webinar window on their computer screens.
According to the ON24 report mentioned above, the 2018 Webinar Benchmark Report, the average viewing time for webinars in 2014 to 2018 was 56 minutes.
However, that may not be what audiences actually want. (Something marketers have a bad habit of doing!) According to BigMarker, the majority of attendees actually favor a webinar length of 30-to-45 minutes.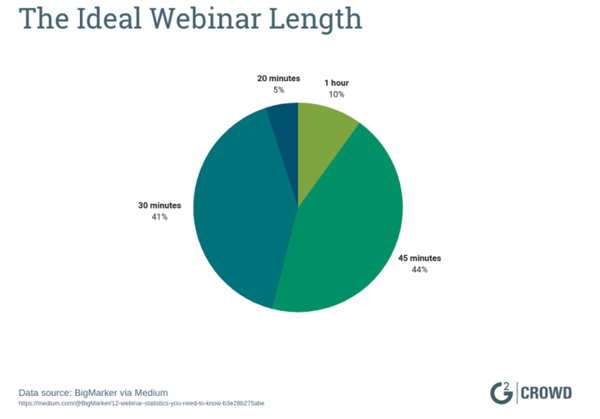 Even if the average webinar is close to 60 minutes, don't feel compelled to run your webinar that long. Based on the BigMarker data, keeping it to 30-to-45 minutes could help you get more attendees.
Don't believe me? Listen to what the expert marketers on Twitter have to say: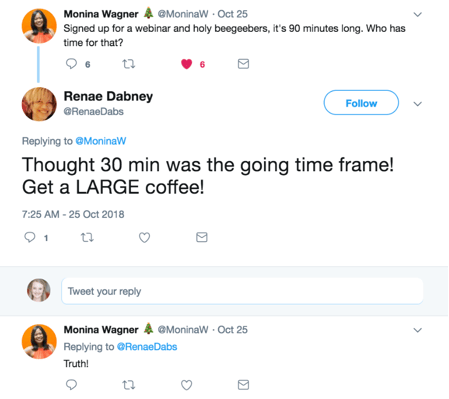 In other words, if you're thinking of creating a webinar that's 90 minutes long, don't. It's hard to pay attention for that long during an in-person event. Either cut down the content or break it into a two-part series.
In the same way, think about your audience. Those at the VP and c-suite levels are extremely short on time and more likely to attend a shorter event.
Webinar platforms: How to find the best webinar software
Finding the best webinar software can make or break you.
There are plenty of platforms to choose from; if you're just getting started with webinars, you'll be happy to know there is free webinar software for you to try out.
When researching webinar platforms, there are several aspects that will affect which software is best for your needs. Consider the following points:
How much budget do you have to spend?
Do you need to integrate webinar attendee data with your database or CRM software?
How tech-savvy are you? Do you want more features or easy-to-use?
Can you get a free trial before a paid subscription?
Does the webinar software have the ability to record the event?
Can people watch the webinar on-demand after the event?
How much can you customize the registration forms?
What kind of branding can you put on your webinar?
Are there interactive features, such as Q&A, polls, and live chats?
Does the platform provide post-event analytics and attendee reports?
Are there any social media integrations?
In this screenshot from a Content Marketing Institute webinar, you can see some of those platform features in action.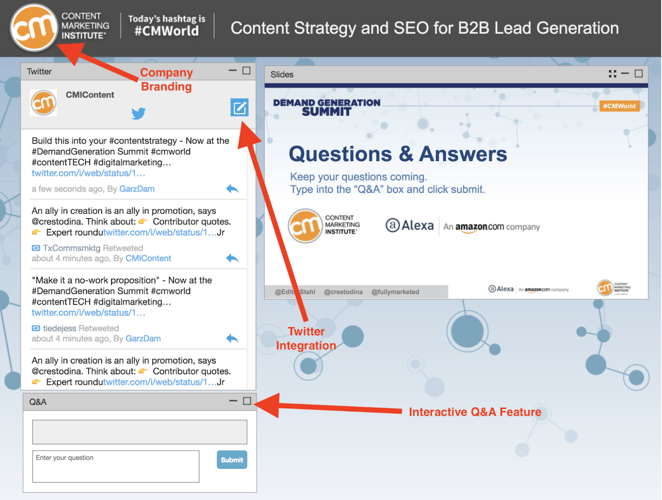 It can take time to learn a new platform. Before you invest your time (and money!), read webinar software reviews written by other professionals like yourself.
Click on the button below and you'll find webinar software providers that are highly ranked according to users. Then, click on any webinar provider to view user reviews or choose webinar platforms to compare.
If you're new to webinar software, here's a list of the easiest to use webinar software according to G2 Crowd user reviews as of Jan. 1, 2019:
Livestorm
ON24
GoToWebinar
BlueJeans
RingCentral Meetings
ClickMeeting
Adobe Connect
BrightTALK
Regardless of your webinar platform, there a few technical requirements you'll need in place. We'll take a look at those now.
Technical requirements for a webinar
You may be asking yourself, "What equipment do I need to run a webinar?"
The answer is: not much more than you already have. In fact, once you choose your webinar software, you might already have everything you need.
Use this as your checklist for everything you need to conduct a successful webinar.
The basic webinar tools and equipment requirements include:
A device to connect with the internet: A laptop or desktop are best. Although, you can also use a tablet.
Audio input: Your device should have a built-in microphone or the ability to plug in a headset.
Webcam: If you want to broadcast video of yourself.
Software: The webinar platform you choose based on the points mentioned above.
Speakers: You'll need to hear your webinar speaker. Use headphones to give your attendees the best sound experience.
Internet connection: If you have spotty WiFi, use an ethernet cord to ensure the connection doesn't get dropped.
A power cord: This isn't required, but even with a full battery, it's better to be safe than sorry and plug in your computer. (More about this in a moment!)
Webinar pro tips: Avoiding technical difficulties
Josh Baez is a Marketing Consultant at Heinz Marketing, a company I've had the pleasure of working and executing webinars with.
Having worked with many clients throughout the country on webinars, Josh is experienced on ensuring no technicalities get in the way of your webinar success.
Here are Josh's top two tips to make sure you don't run into any issues, along with one from Jay Acunzo:
Tip No. 1 from Josh: Always remember to hit record!
Once the webinar is over, there's no re-do button. You can't send registrants a link for on-demand viewing if there's no webinar for them to view (even if you promised you would).
Tip No. 2 from Josh: Ask presenters to log in early
Have the presenters of the webinar online and dialed-in to the platform at least 30 minutes prior to the start time. That way, if anything goes wrong, it can be addressed without bleeding into your presentation time.
Tip No. 3 from Jay: Webinars are events
Treat the webinar like you'd treat a live event in front of a ton of people. Audio quality matters. Slide design and flow matters. The talk track fitting the slides (so you don't hover too long on yet another stock photo of a white guy smiling while pointing at a laptop) —-- THAT matters.
Bonus! Tip No 4: Have your computer powered and ready
This tip comes from the first webinar I spoke at. Having practiced my presentation ahead of time (as all good speakers do), my computer was low on power. I knew the room I'd be speaking from and that there was a power outlet right next to me, so I assumed I would be fine.
(This is another bonus tip: Never assume anything!!)
For some reason, even when plugged in, the power refused to work. I was running low on battery and could not get my charger to work in that room.
After a momentary panic, a co-worker came and helped me find my solution. I made the webinar on time, but missed part of that pre-event window Josh recommends, which left me feeling more flustered than I would have liked.
Everything went smoothly, but learn from my mistake: Have your computer charged and have a power cord with you. You don't want a power glitch to cut off your webinar feed halfway through the event!
How to a find a speaker for your webinar: Influencers who delight and engage
This last piece of the webinar puzzle is one of the most important.
In order to get attendees, you need great content. And how do you get great content? With great speakers.
Nine times out of 10, a great speaker is also an influencer. Having an influencer speak has two major benefits:
Having a recognizable name increases your credibility and registrations, and
Influencers can expose your webinar to their audience, giving you more brand awareness.
Andy Crestodina is a marketer who knows a thing or two about being an influencer as the founder, Chief Marketing Officer, and Co-Founder of Orbit Media Studios, Inc.
Named a Top 10 Online Marketing Expert by Forbes and a Top 50 Marketing Influencer by Entrepreneur (among plenty of other accolades!), you can bet that Andy has been approached to do more than one webinar.
So, what makes influencers like Andy say yes to your request? Here are his top tips on how to get a great webinar speaker:
The bigger names and "professional influencers" will usually ask how big the audience is and then say yes to most opportunities. Here are a few ways to entice them:
"We've had some great guests in the past, including (insert names of people they know)."
"We'll be promoting this to our list of X subscribers."
"We'll be doing some paid social media to promote the webinar."
"Our webinars get as many as X registrants."
"We'll write a summary on our site afterward with a video and transcript/excerpts. This will be promoted to our audience."
"We will share the list of registrants and their email addresses with you."
If they decline, just move on to someone else. There are a ton of people out there who want to be interviewed."
Pay attention to that last point: If you ask a speaker, and they say no, don't let yourself get discouraged! Your webinar strategy will continue gaining traction, and, who knows, someone who started out as a no may come back to you down the road!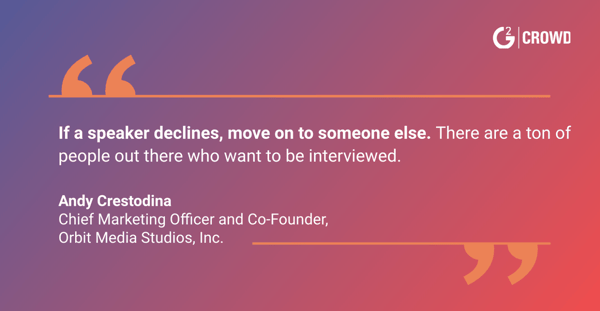 In addition to Andy's tips, remember to do your research on the speaker and personalize your request. It should be clear that you have specifically chosen and value this person.
It's the same thing as writing a cover letter: Never do a blanket copy and paste approach.
One final note about webinar speakers: No one wants to watch a webinar that is nothing more than a sales pitch. If someone approaches you about speaking at your webinar, ask to see any other webinars or events they have spoken at.
Do your research. Make sure that the speaker's goal is to help the audience, not make sales.
How to promote a webinar: Landing pages, email, and social media
Now that you have your logistics in place, it's time to spread the word and start getting attendees.
If you're a marketer, you know that you have plenty of channels to choose from.
Webinar platform GoToWebinar analyzed 350,890 webinars hosted by over 16,000 of their customers and found the top channels for webinar promotion to be the company website, followed closely by email, partnerships, and social media.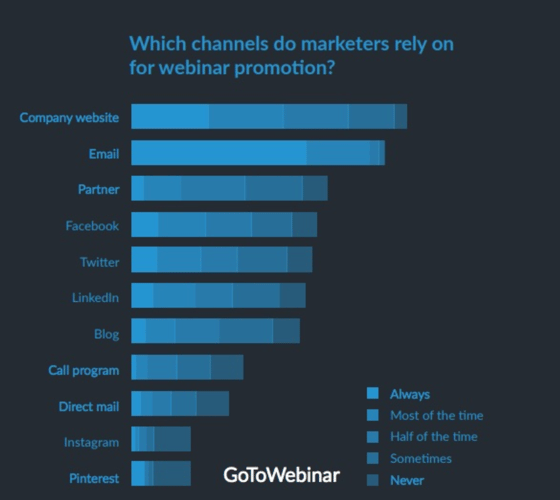 Image source: MarketingProfs
To promote your webinar with partners, you'll need to collaborate with others on your webinar. This could happen when you are co-hosting a webinar, another company is sponsoring the event, or through your webinar speaker.
Create your webinar landing page
Before you can begin promoting your webinar on multiple channels, the first step is to create a landing page.
The elements on your landing page include:
The date and time
The webinar length
What attendees will learn
Speaker information
A button or form to register
Here, you can see how MarketingProfs puts all of the key details in one easy-to-read spot, as noted in the red box: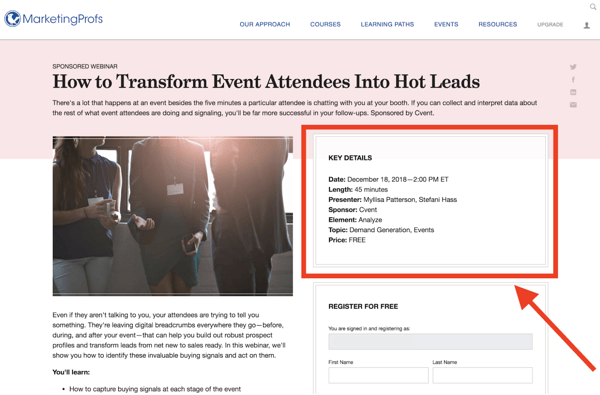 Here is another example by the Content Marketing Institute; the company shares its webinar details in a clearly defined overview section.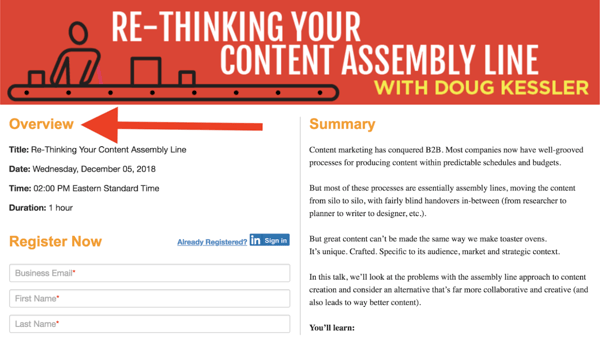 Your webinar lead form
Think carefully about the registration details you ask for. The information entered here will determine whether or not the attendee is a lead worth passing on to your sales team.
The more information you have, the better. But at the same time, you don't want to make your form too detailed. Someone who is on the fence may decide not to register.
In addition, if you make a field required and people don't want to share that personal information, you risk gathering inaccurate data. Your registrants often know those details are going to be sent to a sales representative. If they don't want to take sales calls, what's to stop them from making up a fake phone number?
It's better to build trust; ask for essential information first. Then, when an individual knows your product and brand, they're more likely to give a real phone number and take that phone call.
With your webinar software, create an automatic registration confirmation email. Immediately after they register, your attendees should receive an email that contains a link to view the webinar.
Remember to also send a reminder email one-to-two days before the event.
How to promote your webinar with email
If you want to get attendees, you better have your email marketing strategy ready. As shown in the GoToWebinar image above, email is the second most popular form of webinar promotion.
The report cites 45 percent of marketers using email in their webinar promotion, and 73 percent of registrations for GoToWebinar's own events coming from email.
The information on your webinar email is similar to that of the landing page. Here, you can see an example of an email promoting the webinar Jay hosts in partnership with DivvyHQ: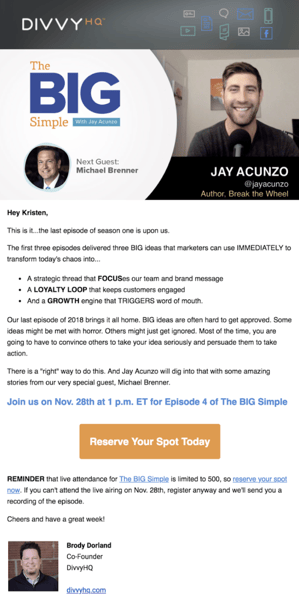 Note in this email:
It's immediately clear who the speakers are
What attendees will learn is highlighted by bullet points
The date and time have a CTA: "Join us"
The big bright button to register can't be missed
Wondering when to email your database? If at all possible, start early; the image below displays 15 percent of people registering three-to-four weeks before the event date.
Make sure you plan time for promotion in the week leading up to the event; those "reminder to register" emails are crucial. According to the GoToWebinar, 69 percent of webinar registrations occur one week prior to the event, with 33 percent occurring on the event day itself.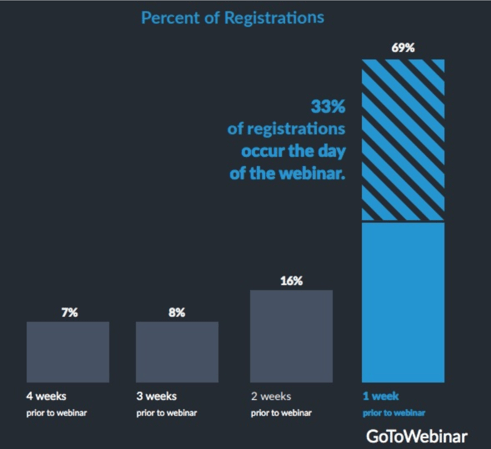 Image source: GoToWebinar
This isn't typical of in-person events, where people need to budget time for traveling to and from the office, but it's a big advantage if you're running short on event lead time for your webinar!
Promote your event on social media
Email reaches your existing audience. Use social media as another touchpoint: It will be a reminder to those who already receive your email and increase event awareness for those not in your database.
When executing B2B marketing, spend the majority of your time focussing on Twitter and LinkedIn. If your audience is B2C, don't forget Facebook.
Whichever platform you choose, experiment with your promotional copy and CTA. Include images. If you don't have any on hand, take a few minutes using free graphic design software to create one.
If you have budget to spare, consider making some promoted ads on your social media platform of choice.
Because a webinar is an event, this article will show more ways (13 total!) to promote your event.
How to host a webinar: Preparing you, your speakers, and your content
Now that you've done all the preparation and promotion of your webinar, those registrations should be rolling in. It's time to make sure you've got everything ready for the presentation day itself.
Preparing you and your webinar speakers for success
Although digital, webinars are still a form of public speaking. Even if there is no video and only slides, you, as the host, and your speaker need to speak with confidence and clarity.
This requires preparation on your part. For your webinar to be successful, your speaker needs to be successful: It's your job to help them achieve that.
Collaborating with webinar speakers pre-event
Having spoken at numerous webinars himself, Andy Crestodina of Orbit Media knows what it takes to give a smooth and engaging webinar.
In order to best collaborate with your speaker, he recommends a pre-event phone call:
"The goal of the host is to get the speaker to provide the most interesting, useful, and passionate answers. So, do a prep call in advance and find out what to focus on during the show.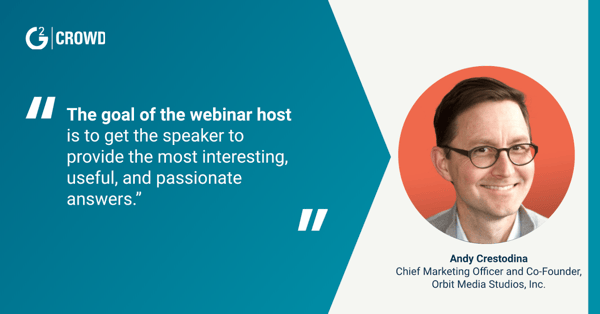 Ask your speakers:
What is the best question I can ask you?
What are you most excited to talk about?
Which of your topics will give the listener the most value?
What's the best advice you can offer?
What is your most contrarian view?
During the webinar, you want to throw them a nice pitch right down the middle so they can hit it out of the park.
Preparing webinar slides and content
Once you've discussed the content with your speakers, it's time to create your slides. Have a conversation with them and see who will be responsible for their creation.
Sometimes, webinar speakers are asked to create the slides. If this is the case, make sure you get the slides from them with plenty of time. Set a deadline and tell them three days before the deadline. (This is for your benefit and theirs, I promise!)
Make sure you share your slides with all speakers and plenty of prep time; there's a good chance (at least!) one person will want changes before the big day. When creating webinar slides in the past, I found myself doing several rounds of edits while I practiced. (More about that in a moment!).
If you don't have a template for your slides, make sure you give yourself plenty of time for graphic design. Remember to keep it clean and simple with fonts that are easy to read. (You don't want slides that are too cluttered!)
Wondering what information to put on the slides? Well, for starters, don't put the entire word-for-word presentation. Instead, use bullet points to give a summary of key talking points.
Here is an example from a webinar by MarketMuse: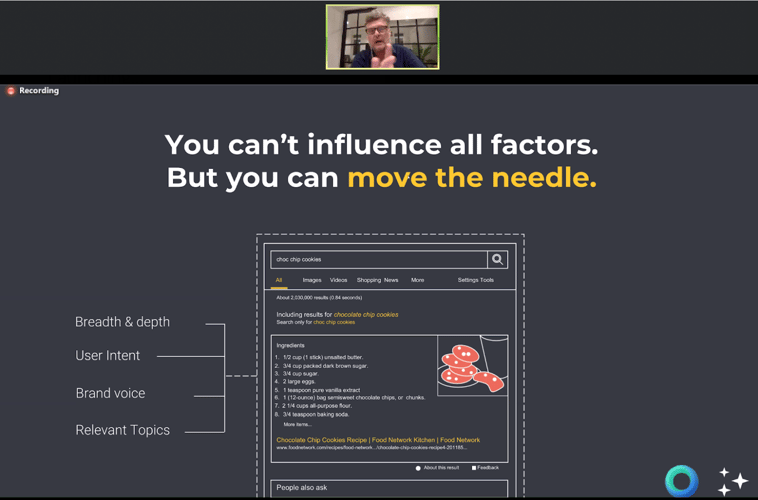 Content like this, such as a diagram, is great for slides. If it's hard to explain, put it on your webinar slides. Attendees who are more visual (like me) will thank you. Pictures, examples, and embedded videos are also great for slides, as well as statistics.
Don't forget to include your branding on the slides. Keep your logo consistent in the same position on every slide, like Market Muse has done above. Do you have any sponsors or partners for your webinar? Include their logos as well.
Personal preparation to host a webinar: A lesson in confidence
When hosting a webinar, you want to be calm, confident, and poised.
In addition to marketing, I'm an actor, and being nervous before going on-camera is something I've experienced plenty of times. Here are a few of my tricks to get your body and mind ready to go:
Do some tongue twisters before the event
Find a private place and stretch; it will get the tension out of your body, and this will show on camera.
Do a quick breathing exercise or a few moments of meditation
Practice! It's not just speakers who need to practice. Make sure you do your part and practice any introductions or other planned elements as well.
Research your speaker and the topic, then trust yourself: You know this content!
For more tips on getting your confidence high before you host your webinar, consider these insights from Jay Acunzo.
In addition to being an author and keynote speaker, Jay is the host and executive producer of the podcast series Unthinkable Media. With attendees to Jay's sessions calling his presentation "Best session I've seen in 25 years," these are insights you can take to heart:
"I have a few unfair advantages that I try to deploy: I'm a public speaker and docuseries host professionally. So, I've had tons of practice as a person who guides others through content and experiences and makes them want to keep watching or listening.
But that phrase, "unfair advantage," applies to everyone. The real question is whether you've stopped to consider what yours might be. Are you funny? Use it. A storyteller? Tell one! An inquisitive interviewer? Make sure you emphasize that skill with your guest."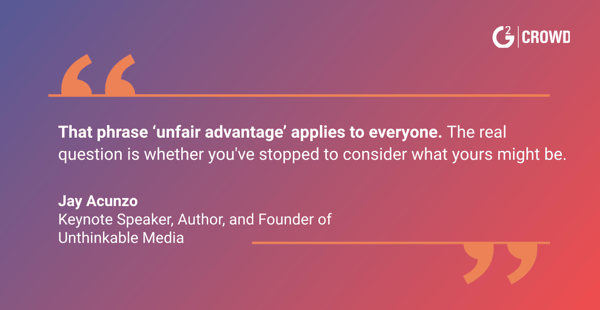 "Bottom line: There are hosts and moderators who serve as spoken word bulletin boards, rushing through housekeeping as if they HATE being there, which makes others feel the same way. But then there are hosts who understand the entire point of people starting a webinar is to FINISH the webinar.
If your goal is, "get them to the end," you'll put more love into what you say upfront, providing more care to the production value and more effort – considering how the audience feels during what have become really boring presentations in most industries.Do something worth their time, because if you don't, it's not worth yours either."
One final thought on preparing to host a webinar:
Should you use a webinar script?
Just like live events, some speakers choose to have a script they can use throughout the presentation. Others feel a script will keep them from being in-the-moment; they don't want to seem over-rehearsed or dry in their delivery.
It's clear there are benefits to both sides. So, what do the experts do?
Jay shares his preference here:
"The webinar series I currently host, "The BIG Simple," with DivvyHQ is crafted to be something entirely original, like no webinar anyone has ever attended before. As a result, some parts are scripted while others are freeform.
We put people on-camera, not behind slides, and we use more storytelling to start than droning housekeeping (which we put at the end and shorten). Look, as marketers, we want people to care about our webinars, our messages, our brands, and our products and services.
But in our webinars, we're doing everything in our power to make people NOT care. The boring stuff is the FIRST thing they hear. It should be the most enticing or intriguing. There's no story, too much theory, not enough examples, plenty of slides but no true entertainment value to them. The very best we seem to hope for is that we cram a textbook down somebody's ears: It's smart, but dry.
This isn't hard: Want their attention, trust, and love? Don't create a webinar. Put on a show."
That's a webinar mantra if I ever heard one!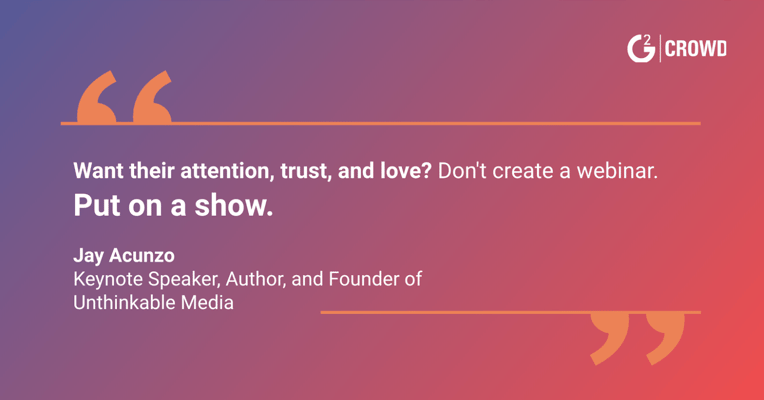 Regardless of if or how much you decide to use a script, there's one thing I can't stress enough: Practice!
One of webinars' biggest benefits? They can be watch on-demand, meaning that those words you say will be out there for quite some time.
After the webinar: Post-event processes and measuring success
Like any event, a webinar's work is not done when the event finishes.
Remember those goals we discussed in the beginning? Now's the time to track engagement and measure your success.
Webinar campaign tracking
One of the most critical steps is updating your customer relationship management (CRM) – or database – after the event.
How much time this takes will depend on the integration between your webinar software and CRM. Whether part of this process is automatic or you have to manually enter each attendee, it's crucial to be accurate.
You want a record of those who attended, as well as those who registered and didn't attend. Then, make sure you have correctly tagged all webinar leads with the event. If your webinar results in a closed deal, you should be able to prove it!
When you enter any new contacts into your system, make sure to check for duplicates – remembering that individuals may have changed companies.
Next, it's time to make your webinar available after the event. Upload the recording and change the language of your landing page as necessary. It's no longer an upcoming event to register for; it's now a past event to watch on-demand.
Within 24 hours after your webinar, send a post-event email. We live in the age of personalization: Make sure to send one email to those who were able to attend, thanking them for joining, and another to those who registered and could not attend. Then, provide them with a link to view the event on-demand.
Below is an example I received following an episode of, "The BIG Simple."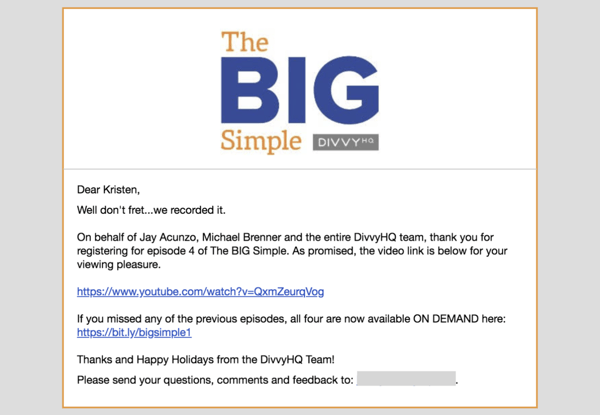 I love how the copy is friendly, appreciative, and conversational, while still being succinct.
In your post-event email, invite attendees to take the next step – whether that's registering for a demo, meeting with a sales rep, or simply downloading a piece of free content. Keep your sales team members in the loop so they can follow up with post-event leads.
Ongoing post-webinar processes
There are three parts of the post-webinar process that are ongoing: promotion, measurement, and content creation.
1. Promoting your on-demand webinar
As long as the content remains accurate and relevant, you can keep promoting it. While I wouldn't recommend sending an email for an on-demand event, work it into your regular social media marketing schedule.
Here's an example of a tweet promoting an on-demand webinar: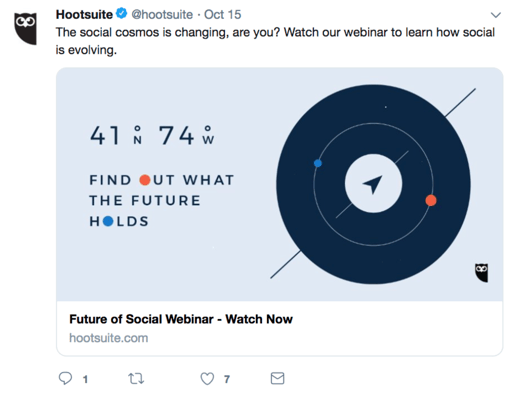 This is an excellent example for a clear CTA: "Watch Now."
2. Continual measurement
You've entered your registrants into your CRM and tagged them with your event. Don't forget to go back and measure any sales qualified leads (SQLs), conversions, and increased pipeline that resulted from the webinar.
Schedule a regular time to ensure that all on-demand viewings are also updated within your system.
When you do this measurement on a regular basis, you can track which webinar content has the best conversion rate and make adjustments to your webinar strategy as needed.
3. Creating additional content
You've probably figured it out by now that webinars, like all events, are a lot of work. With everything you put into it, why not maximize your effort?
Here, Josh Baez of Heinz Marketing gives you next steps to build on your webinar success:
While the number of attendees and registered leads generated by your webinar are two measures you can immediately see the results of, it's important to remember that a webinar also possesses extensive value beyond its initial presentation.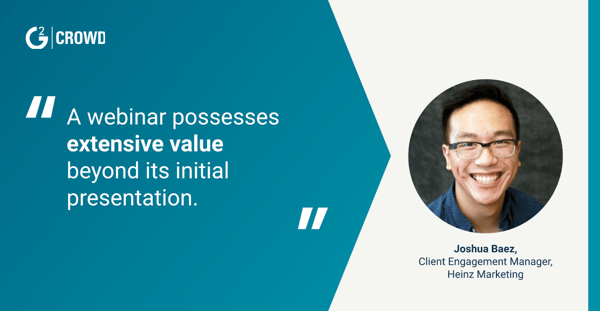 It's easy to turn a single webinar into a handful of other assets, like on-demand recordings, transcripts, blog posts, and messaging resources.
You can even break-up content from the presentation and repurpose the content into other formats in your content marketing strategy. You could turn a series of slides into a guide, checklist, tip sheet, or – if you're feeling extra creative – even an infographic.
The best measure of success for a webinar isn't just in its immediate impact – webinars have a much longer lifespan than that. Don't sell yourself short and move directly on to the next webinar as soon as one ends. Instead, spend some time and see what else you can create from your presentation.
In all of your webinar follow-up materials, include a link to watch the event on-demand. This will ensure you are gathering prospect details and continuing to build more leads.
---
Final tips to execute the perfect webinar
We've covered everything you need to know to execute your webinar. It's a lot, I know!
Here are some of the key points we covered:
Start with your webinar goals
Put your audience and the content first (No pushing your product)
No one wants to attend a 90-minute webinar; efficiency is appreciated
Strategize the time and date, while considering time zones
Preparation is key: Test equipment, prep your content, and practice yourself
Help the presenter be successful: Collaborate before the event
Treat attendees like a live audience
Choose the right speaker, then make a strategic and well-researched request
Promote early and often, emphasizing the week leading up to your webinar
Take the time to track your campaign success
Maximize your efforts: Create additional content and promote the on-demand event
Now that you're prepared for success, get ready for a very happy boss!
---
Then, learn how to integrate your webinars into your marketing strategy as a whole: