LinkedIn is every working person's go-to site for connecting with former and current colleagues, peers from high school and college, or industry professionals from outside organizations.
With the popularization and normalization of social media in workplace settings, LinkedIn acts as an in-between for individuals to connect based on past or future opportunities. LinkedIn functions as a work-centric networking tool as well as a way to socialize by means of private messaging, posting photos and videos, writing status updates, commenting on posts, and "liking" things your connections share.
With adoptions from favored social media sites like Facebook, LinkedIn has fused aspects from social media platforms with business-based content. This has helped it to evolve with the ever-changing atmosphere of social networking.
The social media-esque vibe LinkedIn projects means the negative aspects of social media websites are of concern as well. One of the main concerns many people have is the frequency with which strangers attempt to connect with them on LinkedIn despite having no mutual connections nor any prior engagement.
Often, these "people" are spambots or scammers whose true intentions may be less than pure (think: selling a product or trying to get personal/company information from you) rather than trying to connect professionally. So this begs the question: how can we get rid of them?
The answer is simple: you can block them!
How to block someone on LinkedIn:
Visit their page
Click "More" from the drop-down menu (underneath their picture)
Select "Report/Block"
Confirm your choice
How to block someone on LinkedIn
Admitting you want to block someone on LinkedIn might sound a bit harsh, but the whole concept of blocking on social media is a way to retain your privacy in an online, social-professional setting.
Whether it's to maintain a personal privacy preference or to prevent a former coworker from asking you if your new job is hiring, blocking on LinkedIn is a beneficial tool all business professionals can take advantage of.
Why to block someone on LinkedIn
Blocking someone on LinkedIn might seem like an extreme step, especially for those who never delete or block anyone from any form of social media. However, doing so can leave you with peace of mind. Blocking strangers ensures your online connections are people you feel will provide a mutually beneficial, professional relationship.
You might wonder what a "mutually beneficial professional relationship" is, so let's think of it this way: if you have someone on your connections who you never interact with, who never likes and comments on your posts, or who views your page but never engages with you, they might be scoping you out for a purpose that benefits them, but not you. In that sense, the professional relationship is no longer mutually beneficial. Thus, you may feel compelled to not only delete, but block them from seeing your professional background on LinkedIn.
For more detailed, step-by-step information on how to block someone on LinkedIn (with pictures of the process), keep reading!
Step 1: Visit their page
In order to block someone, you'll have to visit their LinkedIn profile, but don't let that deter you. Yes, people can see when you view their page, but after you've blocked them, they can't see or interact with your page at all – meaning they'll never know you were there!
Step 2: Click "More" from the drop-down menu (underneath their picture)
Once you're on the person who you intend to block's page, you will immediately click the "More" button, which then turns into a dropdown menu with multiple options: Share Profile, Save to PDF, Give Kudos, Request a Recommendation, Recommend, Unfollow, Remove Connection, Report/Block. The latter three options – though similar in nature – do not perform the same function, so the one you'll want to choose is Report/Block.
Step 3: Choose "Report/Block"
After you click on "Report/Block," LinkedIn will ask you which of the following selections you're trying to make: Block [person's name], Report this profile, or Report the image. If you're feeling compelled to block a user due to their profile being fake or scammy, you may want to choose "Report this profile" before blocking the person.
However, if you simply want to block somebody you no longer wish to be connected with, you'll select the first option in the drop-down menu.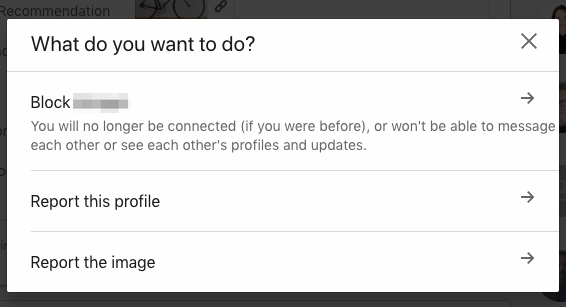 Step 4: Confirm your choice
To ensure that you're absolutely positive about wanting to block the person in question, LinkedIn will prompt you one final time to confirm that the selection you've made is certain. Your final step is simple: hit the blue "Block" button and the person's profile automatically disappears from your page, your search index, and your connections list.
So there you have it! Isn't blocking people on LinkedIn easy?
Because it was so straightforward, I figured some of you might also wonder how to double-check that your "block" actually went through! Let's take a minute to find out how to check that information as well.
Double-checking that the person is actually blocked
If you're anything like me, you probably like double- and triple-checking things to confirm what you already know to be true. To expedite this process, there's a simple way to check your blocked users list on LinkedIn.
Step 1: Go back to your home page + click "Me"
Assuming you're still logged in to your profile, on your homepage feed (where everyone's content populates) in the upper right-hand corner is a small drop-down bar that has a picture of you (the user) with the word "Me." You will hover over the drop down and click directly on your picture.
Step 2: Find Settings & Privacy
Once there, in the drop-down menu are three subheadings: Account, Need Help?, and Manage. You'll want to go to Account > Settings & Privacy and click on it once to open the privacy settings page.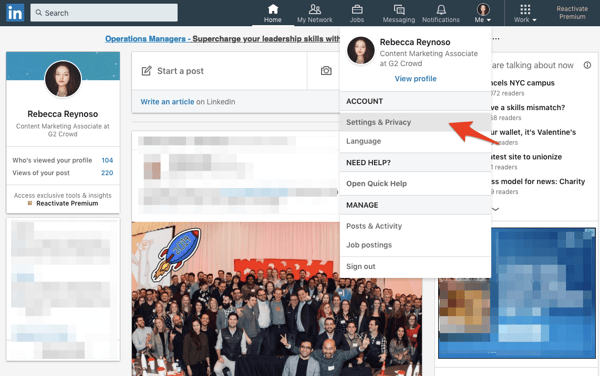 Clicking on Settings & Privacy is going to take you to an exhaustive list of privacy settings you might not care to see, but LinkedIn tries to make things easier by having a list of common privacy concerns on the left side of the page, including blocking and hiding users.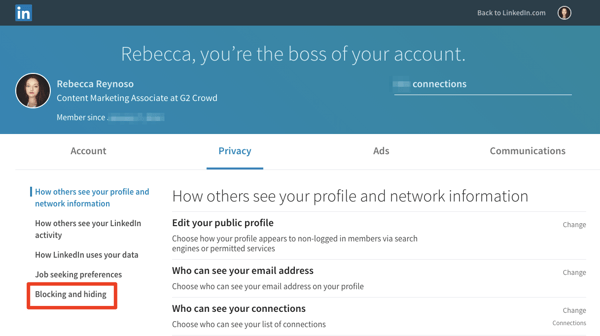 Step 3: Go to the "Blocking and hiding" header
To make things easier, LinkedIn has jump links so you can click on any of the side options and automatically be shifted down to its respective header. You, of course, will want to click on "Blocking and hiding."
Underneath this header, you can see three categories: Followers, Blocking, and Unfollowed. What's great about this feature is that you can check on who you've previously hidden or blocked and make a decision to reverse that choice or leave it as-is. For your case, you just want to double-check that the user in question is actually blocked from accessing your content.

Step 4: Open "Blocking" to view your blocked users list
The final step is clicking open the "Blocking" option so you can view your list of previously (or newly) blocked users. The list informs you how many people you've blocked and how long ago you blocked them (including within the last few seconds!).

At this juncture, you have the option to either do nothing or unblock someone if you've since had a change of heart. But be warned – should you choose to unblock someone, you cannot re-block them again for a full 48 hours.

Peace of mind with one less connection
There you go! Now you're an expert on how to block someone on LinkedIn as well as how to unblock them if you change your mind.
Want to delete your LinkedIn account altogether to save some trouble?
If you prefer the blocking method, check out how to block someone on other social media platforms as well!