As a profession, real estate can bring countless growth opportunities for those willing to work hard and learn the ropes of the business.
If you have a passion for building relationships, strong communication skills and a general curiosity for the world of real estate, then this career path could be the right fit for you. But similar to any other job, becoming an agent does have its challenges. Although most states don't require you to have a college degree in order to earn your license, you will still need a considerable amount of education and training before you can represent clients on your own.
If you're up for the challenge – keep reading.
5 steps to becoming a real estate agent
Meet your state's minimum requirements
Enroll in a real estate license school
Complete required coursework
Pass the licensing exam
Find a broker or brokerage firm
In this article, we'll cover the main steps you need to take in order to become a real estate agent. Let's get started.
Steps to becoming a real estate agent
It doesn't matter if you're fresh out of school or have 10 years of experience under your belt, anyone can become a real estate agent regardless of their background or experience level. Tenacity, people skills, and hard work will get you much farther in the real estate world than a lengthy resume.
People hire agents to help them navigate the complicated and often lengthy process of buying and selling property. This requires agents to have expert knowledge on housing regulations and be well-versed in the legality of the mortgage lending process. But as you can guess, becoming a subject matter expert doesn't happen overnight. Education will take up most of your time as you start on the path to becoming a fully licensed agent.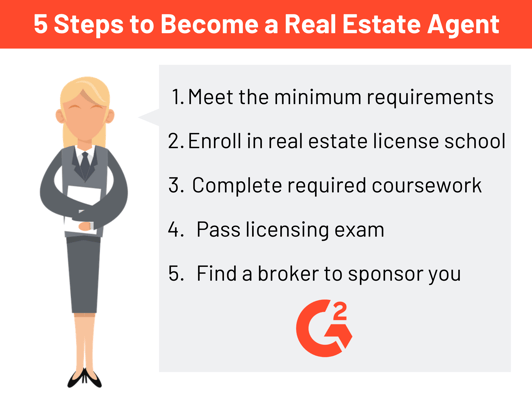 Below, we've laid out the five main steps you'll need to take to kickstart your career.
Note: Although the following steps will generally apply to most people, always be sure to double check the unique licensing requirements for the state you live and plan to work in.
Step 1: Familiarize yourself with the minimum requirements for your state
You've finally decided to take the plunge and get your real estate license, but what now? In the U.S., real estate agents are required to have a state-issued license in order to represent clients to buy and sell property and be compensated for it.
Before formally kicking off the learning process, the first step is to check with your state to see what the minimum requirements are in order to earn a license. Most states require at least a high school diploma (or equivalent G.E.D.) and usually have a minimum age requirement. From there, you'll want to identify exactly how many hours of coursework you'll need to complete before applying to take a final licensing exam so you can lay out your school schedule over the next several weeks.
Step 2: Enroll in a real estate license school
Now that you know you meet your state's minimum requirements, it's time to start learning! You'll have the option of enrolling in an in-person or online real estate license school. Online programs have become increasingly popular in recent years since it allows students the flexibility to learn at your own pace and in the comfort of your preferred study space.
Real estate school programs are equipped to provide you with all the resources you'll need to pass your exam. Pricing will vary drastically from one school to the next, so it's important to find a program that fits your needs and budget.
Step 3: Complete required coursework
Once you're enrolled in a real estate license school, you can start working on chipping away at your required coursework. As mentioned previously, the amount of hours you need to take will vary based on your state. Most states require somewhere between 90 and 120 total hours of completed coursework. Included in your learning schedule will be exams that test you on your knowledge after each course is completed to prepare you for the state licensing exam.
You can expect most of the classes to cover the fundamentals of real estate. This includes topics such as types of real property, escrow procedure, non-discrimination and ethics. You'll also be taught the laws and regulations that pertain to your specific state. Clients hire agents for their expertise in navigating the real estate sales process and will rely on you to know the legal aspects of the business in order to help them negotiate and close the sale as smoothly as possible.
Step 4: Pass the licensing exam
After completing all the necessary coursework, it's time to take the official state licensing exam. Your school will likely send you a final confirmation that you've completed the program. From there, you'll just need to register online for the exam, which will be administered by the state you live in. You'll be allowed to pick a nearby testing center and a date that works best with your schedule. The fee for taking the test can range anywhere between $50 to $100.
Be sure to check with your state in order to determine what materials you'll need to bring to the testing center. You can expect to take anywhere from 3 to 5 hours to complete the exam.
Step 5: Find a broker to work under
Passed your exam? Congrats! You've officially earned your license. There's only one last thing you'll need to do before you're officially a real estate agent.
The final step is to find a licensed broker or brokerage firm to sponsor you. Some states require that you pass this step prior to taking your licensing exam. If that's not the case in your state, you'll need to do this after you pass the test.
As a reminder, there's a big difference between a real estate agent vs broker. Agents aren't able to operate independently and are required to work under a broker that has earned their broker's license through further education. As a new agent, you'll want to find a brokerage that offers mentorship and guidance. Other factors to take into consideration are company culture, reputation in the market, and commission structure. Every firm will have its own pros and cons and while the search for the right fit may seem daunting, it will pay off once you've found a good match.
Let's get selling
The road to becoming a real estate agent isn't always easy, but the end result is a career that can be both long and rewarding. If you have a genuine passion for the real estate business and think this could be a good career move, then go for it! Now that you know what it takes, it's up to you to take the plunge.
Now that you know what it takes to become a real estate agent, learn how real estate commission structure works. It might not be all about the money, but it is important to know how you'll be making a living.