"Everyone wants to live on top of the mountain, but all the happiness and growth occurs while you're climbing it," said the late television writer Andy Rooney. What a fitting quote for aspiring CEOs.
The Chief Executive Officer, commonly referred to as the CEO, is the highest-ranking position on the corporate ladder; the top of the mountain.
A CEO is regarded as the most important decision-maker in any company. They oversee all major business operations, allocate resources, communicate updates to the board, and are integral to company culture.
In a recent study by Korn Ferry Institute, 67 percent of respondents said they aspire to be CEOs, with half of the respondents seeing it as their next career move. However, achieving the level of CEO doesn't happen overnight, and for many, the path to becoming a CEO isn't a linear one.
So, how does one become the head of C-Suite?
What does it take to be a CEO?
Visualize yourself as a leader
Obtain a college education
Take initiative and seize opportunities
Have confidence in your decisions
Learn how to lead
How to become a CEO
If you're reading this article, then you may be familiar with the research on Fortune 100 CEOs and CEOs from historic companies. Many of them have advanced degrees, come from technical backgrounds, went to prestigious universities, and worked at global consulting firms.
That being said, not everyone plans on being the next CEO of Apple or Google, nor can many be afforded these opportunities. So, let's start with the notion that the path to success for future CEOs could look very different.
I asked five CEOs from different backgrounds, industries, and company sizes for their best advice for aspiring CEOs. Here's what they said.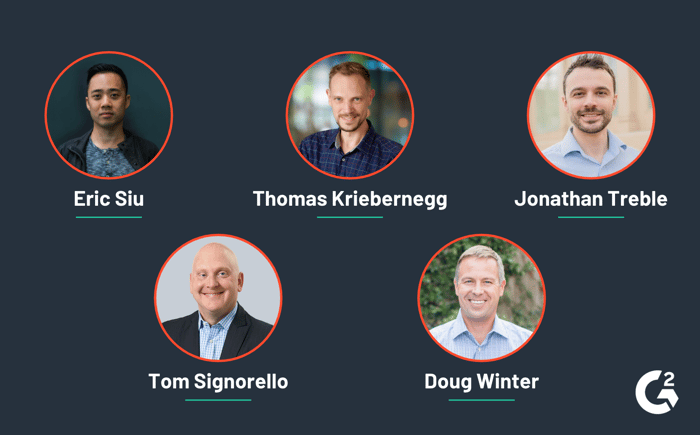 Visualize yourself as a leader
Whether you're leading 10 or 10,000 employees, it takes a special breed of person to become a CEO, and it all starts with having an entrepreneurial drive.
Jonathan Treble, Founder & CEO of a wireless printing kiosk service called PrintWithMe, started his own business in high school and always had a vision to become a leader. He said his competitive nature fueled the drive to start his own business. Visualizing success ahead of time is actually scientifically proven to increase chances of succeeding, and it's common amongst CEOs and business leaders to use visualization techniques.
Thomas Kriebernegg, CEO of an app store optimization tool called AppRadar, realized his leadership skills early on.
"When I hit the age of 14, it was clear to me that I want to run my own business in the future," he said. "The reason was quite simple. Back then, I already figured out that I was driven by making ideas real and building teams to achieve bigger goals together."
Doug Winter, CEO of a global sales enablement software called Seismic, also remembers being inspired at a young age.
"As a kid, my dad was a major inspiration," he said. "Seeing how much joy it brought him to run his own construction company made me want to be an entrepreneur."
All of the CEOs interviewed for this article, in some way, expressed their knack for leadership well before becoming the head of C-Suite. So, if you see yourself as a leader and have an entrepreneurial spirit, you're on the right track.
Obtain a college education
Even if you plan on starting your own company, obtaining a college education is an important factor for becoming a CEO. Nearly all CEOs in a LinkedIn study received at least a Bachelor's degree, with 33 percent obtaining a Master's degree. Universities are a great way to expand your knowledge but are even better for networking with like-minded individuals and sharing ideas. This won't change with time.
You may even elect to get a post-grad education to hone your leadership skills. That's what Winter did at the age of 23 after leading a team of 50 people at a nuclear power plant in South Carolina.
"I always knew I wanted to start my own company," he said. "So, I eventually went back to business school into MIT's Leaders for Global Operations program."
While in school, you'll need to think about a career path that translates well into business. Roles in business development, sales, engineering, and finance are common amongst today's CEOs, but this isn't a rule-of-thumb.
Tom Signorello, CEO of a data protection and recovery software called Arcserve, says "Rising to the top of an organization is a series of strategic steps forged by background and circumstance. For example, Katharine Graham of The Washington Post Company had no prior business experience before becoming CEO. And there are plenty of others who have either dropped out of college or hold doctorates in non-business fields."
Signorello began his career in finance but admitted he had to backpedal to diversify his experience and round out his hard and soft skills. Strengthening these skills is actually common amongst CEO candidates. As a matter of fact, here's how our five CEOs scored the importance of both skill categories for aspiring CEOs.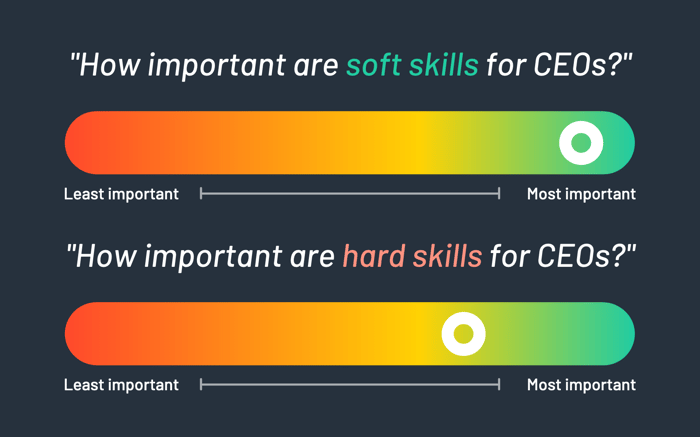 Hard skills like finance, legal, and technological competency show that a candidate has a deep understanding of how a business operates. Soft skills like communication, empathy, and collaboration show that a candidate has a deep understanding of people management. Both are needed to run a business.
Related Content: Read why Eric Yuan, CEO of Zoom, believes empathy is one of the most important qualities to have as a leader.
Take initiative and seize opportunities
You won't read about many CEOs that sat back and let success come to them. Instead, working hard, taking initiative, and seizing opportunities are some of the fastest ways to get recognized and climb the company ladder.
What's Signorello's advice for taking initiative?
"Say yes to the roles and responsibilities that others run from due to workload, travel commitments, hard assignments, or tough customers," he said. "Becoming a CEO takes a level of sacrifice, particularly in the process of getting the experience required to be successful in this position. So always say yes, because you learn from each experience, whether good or bad."
Eric Siu, Founder & CEO of a digital marketing agency called Single Grain, explained how resilience led to a unique opportunity for him to take the next step in his career.
"I started out on marketing teams and eventually led a marketing team at a startup that was failing. I learned to turn that company around with great marketing (we already had a great product and great people).

I joined my ad agency, Single Grain, as Chief Operating Officer to do another turnaround, but this time it was different (the product was no longer effective and we had the wrong people aboard).

Eventually, the problems grew so large, that the other partners decided it was time to quit – but I stayed. That's how I took over and became CEO."
While opportunities like Siu's aren't guaranteed, working hard and taking initiative in tough spots allows for more of them to come your way. Be sure to capitalize on them when they do.
Have confidence in your decisions
A CEO's decisions impact a company and all of its employees, which is why having confidence in your decision-making skills is one of the most important qualities of any CEO candidate.
"The most immediate challenge [for me] was getting acclimated to serving as the final authority; not having another peer within the organization or manager to consult with for guidance or approvals," said Signorello. "It can be a lonely role in that respect. And, when you realize the buck stops with you, it's critical to make sure you have an excellent leadership team in place that you can trust to get the job done."
That being said, decisions don't always have to be made alone, and CEOs may consult with other leaders in the business before giving the final word.
Be willing to make tough decisions
Business is a game of ups and downs, and during the down moments, tough decisions may have to be made. Part of becoming a CEO is not shying away from these moments, embracing them, and learning from them.
"Our primary revenue driver was no longer effective, so we had to pivot the business and lay off people," said Siu. "A year later, the pivot didn't work and we started to lose the confidence of employees. Eventually, we were able to pull through by making another pivot and the business has scaled ever since."
CEOs are humans, too, and misfires will happen. Being able to make the right adjustments from these decisions can save a business and your job.
Learn how to lead
A CEO's job can be boiled down to one task: Being a leader. Regardless of your background leading up to a CEO role, if you can't learn to lead, then you won't make it far at the C-Suite level.
Winter said his most immediate challenge after becoming a CEO was learning to step back, lead, and uplift his teams.
"When we started growing quickly and adding specialized experts to the team to take over different aspects of the business, it was a challenge to give up control," he said. "But, ultimately, they were better suited for these roles than I was and it allowed me to focus on other areas of the business."
Treble of PrintWithMe also recognized the challenge of stepping back and allowing your employees to take the reins.
"Prior to starting my company, I was an effective product manager at several startups, building popular applications," he said. "I was rewarded for my technical acuity, but when I became CEO, I didn't have time to do actual individual work. I needed to learn how to lead people to do great work."
Becoming a CEO doesn't happen overnight
Whether you're starting your own company or moving up from within, the path to becoming a CEO is a constant grind. But for a select few, the pay-off of leading an organization to success makes the journey worth it.
Take this article anywhere you go. Download our TLDR infographic summarizing the top advice from our five CEOs.