Real estate agents are more than just good salespeople.
They also have to be strong marketers, savvy negotiators, and possess expert knowledge of a market that is constantly changing. In the ultra-competitive real estate industry, it's going to take a lot for an agent to stand out above the rest.
So, what does it really take to be successful? What should you know if you're just starting out? For this article, we asked ten real estate professionals to weigh on what it takes to see success in the real estate business.
Tips for success as a real estate agent
When you're just starting out as a real estate agent, the thought of building up an entire career and client base from scratch can seem daunting. For advice, we turned to ten real estate professionals who have already built prosperous careers in the field to share their best tips for success.
Here's what they had to say:
1. Build your local and online presence
"My biggest advice is to build a presence both online and in your local community. Agents should attend events, maintain connections with past clients, and maybe even seek out other local realtors for their expertise and mentorship. Additionally, younger buyers are increasingly turning to the internet to research agents - Yelp, Google, and other sites play a big role in obtaining new leads."
- Luke Babich, licensed Realtor and CSO at Clever
2. Focus on continued education
"Real estate agents who want to set themselves up for success need to invest both their time and money into furthering their education. Just because an agent has passed a real estate license exam and hung a shingle at a local brokerage does not mean they are ready or able to effectively meet the needs of home buyers and sellers. Seeking out specialized and advanced training will not only sharpen their skills and knowledge base but also boost their confidence. With continued education, they'll be able to attract clients and then surpass their expectations."
- Jo Ann Bauer, Realtor at Coldwell Banker Residential Brokerage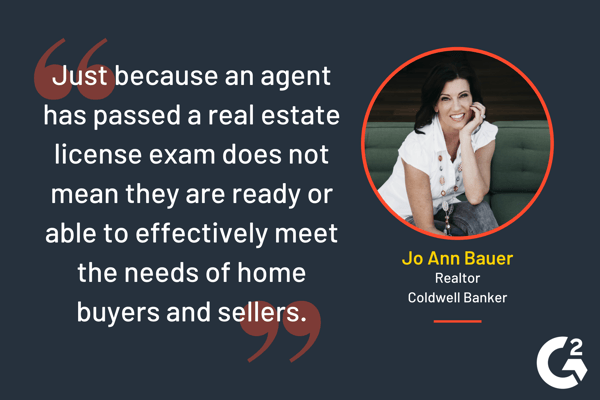 3. Keep in touch
"Stay in touch with everyone. It's very easy to forget about the person that's only looking to buy in six months, but a simple calendar reminder will allow you to keep track of everyone. It's also very easy to keep investing marketing dollars in new leads, but the best return you will get is on your past clients. Agents routinely spend much, much more on long-shot marketing channels when spending that money on a client appreciation event or sending a previous client a little gift would be much more effective."
- James McGrath, licensed broker and Co-Founder at Yoreevo
4. Maintain a track record of success
"Building a track record of success is the time-tested secret to finding new clients. The fact is that when you consistently deliver sales, your reputation and record will always bring in clients. As a local realtor servicing a particular residential niche within my local market, my marketing message developed to reflect my real connection with the community. I really am about making the neighborhood better. I market myself as an authentic champion for not only individual buyers and sellers but also the overall community I serve."
- Brian Ma, Broker at Flushing Realty Group
5. Specialize in one thing
"Many agents are generalists. Some even do both commercial and residential real estate. While some people feel as though focusing on one thing is limiting, I would argue that it will benefit your clients by providing them with superior service. Specializing in one thing sharpens your skills and helps you to become an expert in a specific area. This will result in more referrals to you and likely will lead to increased production. Refer all business that is not in your specialization to others – this will result in referral fees and stronger relationships with other brokers."
- John Crossman, CEO at Crossman & Company
6. Create a personal brand online
"My first tip is to create a custom, branded website. When clients Google you, what's the first thing they see? Make sure it's a professional, sharp website that highlights your story, active listings, testimonials, social media contacts, and more. Your website may be the first impression a potential client gets of you, so you want to make sure it's a good one. My second tip is to use social media to further build your brand. Social media is a great tool you can use to provide value to your client base. Give them a glimpse of who you are, what you represent, and the local area you specialize in."
- Melissa Okabe, Real Estate Agent at Alta Properties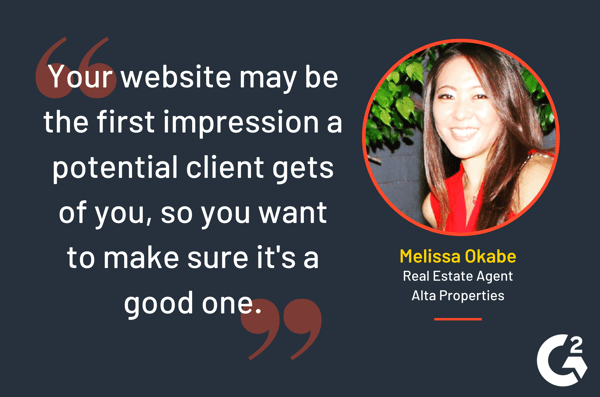 7. Value your client relationships more than the sale
"My tip is to put a human connection with your clients above the sale. If you can build trust and confidence with your clients that breaks down the barrier of agent-to-customer, you will go a lot farther. It should never just be about the immediate sale, but your reputation and the potential future referrals you can get from a client, even if they don't end up making that purchase."
- Jennifer Harder, CEO at Jennifer Harder Mortgage Brokers
8. Create meaningful content
"I constantly create helpful content (articles, emails, podcasts, etc.) for people in the real estate industry. I find the more I help people, the more they want to work with me. Creating informative content adds credibility to an agent and their knowledge about the industry. Once I get content published, I always aim to email my network of contacts, post about it on social media, or communicate in some fashion to as many people as possible. This strategy establishes further credibility and helps me stay "top of mind" with people. This is extremely important because you never know when a person may have the need for your services, and if your brand is consistently in front of them, it's much more likely that they'll want to work with you."
- Mark Cianciulli, Agent & Co-Founder at The CREM Group
9. Leverage your personal network
"Success as a real estate agent all comes down to the agent themselves. If you're looking for new clients, there is no better place to start than by asking your friends, family, past associates and your sphere of influence for business. These are the people who trust you and know your personality. They will hopefully want to support you and work with you in their real estate endeavors. If you don't get business right away, do not get discouraged! I have seen some top agents take 1-2 years to really get their feet wet and get the ball rolling on their business. Make a business plan, stay accountable, and stick to it."
- Jennifer Okhovat, Realtor at Compass
10. Go the extra mile to be an expert in your craft
"When you're first starting out, you'll need to devote 50-60 hours a week to learn the inventory, get a feeling of the different market areas and their unique aspects, and build a database from friends, social groups, schools, and the people you meet elsewhere. To stay on top of trends, my suggestion is to listen to podcasts, watch videos, go to free or low-cost training seminars to learn as much as you can as fast as you can about the business. From there, you'll learn to create your own approach that best fits your style and energy."
- Michael Edlen, Real Estate Agent at Coldwell Banker
Take this advice and run with it
It's no secret that success doesn't happen overnight. It's going to take time and a lot of hard work to build a career in real estate. Take this advice from the people who have already done their time in the business and mold it to fit your career plan. Soon enough, you'll be the one helping other entry-level agents follow in your footsteps.
Want to add to the discussion? Join G2's network of expert contributors to share your knowledge with more than 1.5 million monthly readers.