Hospitality manifests across America.
A glass of ice-cold sweet tea in the south, a warm cookie in the midwest, or a slap on the back in New York City mean the same thing, but when it comes to hospitality as a profession, you need the proper skills to make a career out of it.
If you want to work in hospitality at a managerial level, it's a good idea to start by obtaining a hospitality management degree. Before you do that, take a load off, make yourself at home, and brush up on the facts about the field.
What is hospitality management?
Hospitality management is the business of keeping visitors and guests happy, constantly working to make sure needs are met. Hospitality managers can work in hotels, restaurants, on cruise ships, and even amusement parks–all while making sure that both the front and back end of operations are running smoothly.
What kind of jobs can you get with a hospitality management degree?
Hotel manager
Restaurant manager
Casino manager
Building manager
Executive chef
Travel manager
In addition to these jobs, hospitality management degrees offer versatility to their holders. Depending on your experience, hospitality managers can branch out into tour management, transportation, or human resources.
Hospitality management skills
Hospitality management is a two-part term, and the profession itself can be thought of as having two sides: (drumroll, please) hospitality and management.
Hospitality managers obviously have to be "hospitable," that is, welcoming toward strangers. Customer service skills are important for this side of the job, especially empathy, attentiveness, and time management. You need to be able to understand and arrange for other peoples' needs.
On the management side, hospitality managers are more like businesspeople. They must hone their project management skills like communication, organization, and especially cost management. When you work in a luxury sector, making sure costs don't get out of control is very important!
Hospitality management jobs
The actual tasks that you'll have to do on the job as a hospitality manager widely vary. You wouldn't trust a travel agent to shuck your oysters, would you? For the sake of specificity, let's take a look at some of the day-to-day tasks that people with hospitality management degrees do in their various roles.
Hotel manager
Hotel managers are in charge of seeing through all hotel operations. This includes managing the staff and overseeing marketing, guest accommodations, customer relations, and finances. This role takes a lot of organization, and you have to have the ability to delegate tasks.
Restaurant manager
Restaurant managers, much like hotel managers, oversee restaurant operations. This can include ordering materials, bookkeeping, editing menus, and programming the restaurant POS to match.
Travel manager
Travel managers work for travel agencies where they organize trips for customers, or for businesses where they help facilitate business travel. This type of role requires close attention to detail and organization skills. You need to be able to make sure both budget and logistical needs are met so clients can travel with ease.
Tip: Want to brush up on relevant travel info to kickstart your career? Read up on the latest business travel trends for 2019.
Hospitality management salary
Because of the various jobs available to hospitality managers, they make a wide range of salaries. The average salary for someone who holds a bachelor's degree in hospitality management is $49k; however, an experienced degree-holding casino manager can earn upwards of $190k. See the graphic below for a breakdown of hospitality management salaries.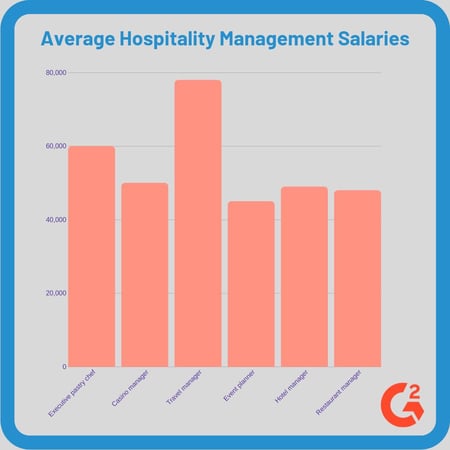 Data courtesy of business-management-degree.net
If you're serious about entering the field of hospitality management but unsure if the salary is good enough compensation, consider that in many hospitality roles, you get perks like free hotel stays, food, drink, and more. As the facilitators of luxury and relaxation, hospitality managers have to know how to experience it themselves.
More than hospitality
Hospitality managers are there to facilitate joy. It's a luxury industry and you need to be good at helping people relax, let loose, and have a good time. Whether you're a foodie with an eye for marketing, a whiskey connoisseur with a knack for bookkeeping, or a travel nut with excellent communication skills, there's a career in hospitality management for you.