As society changes, the buyer's journey changes, and salespeople's' needs evolve.
A few years ago, just breaking through to consumers flooded with sales messaging and unlimited options and information was the top priority for salespeople. Demand was high for more capable engagement, more flexible communications, and easier organization for prospecting and lead generation.
This is where sales engagement platforms came in. Sales engagement platforms sped up the process of mass outreach, helped organizations to standardize and modernize their sales development, and allowed salespeople to get a handle on their connections with leads and prospects.
Many people thought that sales engagement would provide broad powers throughout the sales cycle, and while this failed to materialize, the software did effectively widen the top of the funnel for many organizations. Sales engagement has carved its niche and is in the process of becoming an industry mainstay, but it isn't the end-all, be-all of sales tech that some had hoped for.
Now, with the buyer's journey changing drastically and internal organization in flux, demand is rising for a solution to provide real-time assistance throughout the deal cycle. Something to centralize and augment sales processes and give sales leaders and teams new capabilities for responding to consumers faster and more effectively. The market has evolved and challenges have changed. Guided selling is the solution currently growing to meet these needs.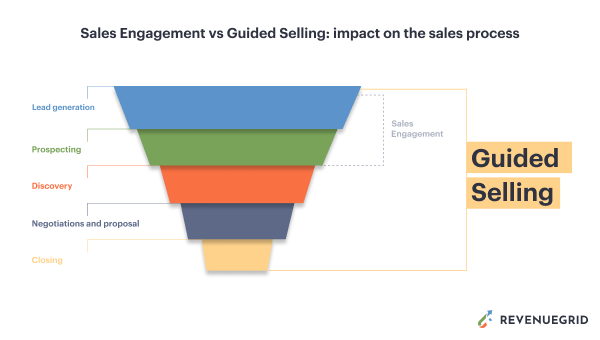 What is guided selling?
So what is guided selling? As with all nascent technologies, the definition is slightly amorphous, as different organizations apply the label to their offerings and bend it to their will. There are important core concepts. At its most basic definition, the meaning is in the name.
Guided selling
Guided selling is software that guides revenue teams through the sales cycle, offering greater visibility, consistency, speed, and fewer mistakes.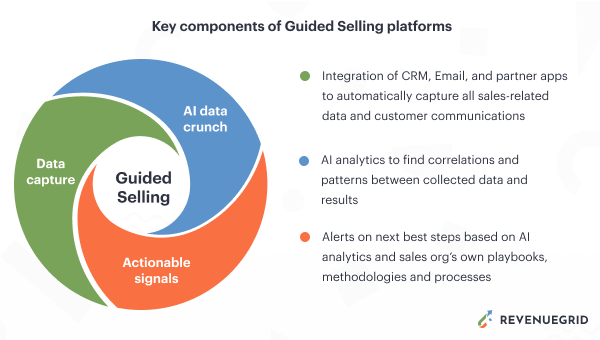 To dig a bit deeper, guided selling is a smart system that reacts to each deal dynamically, to provide your sales reps and leaders with the information and guidance they need on-demand. This means that your reps always know what to do next, are permanently up to date with changes to their opportunities and accounts, and always have the materials and techniques close at hand to move their deals forward as effectively and efficiently as possible.
Sales managers have the visibility they need into team activity and deal health, and reliable predictions about what will close and what won't. Sales ops have a nerve center for sales strategy, offering the ability to test reliably, pivot, adapt, and scale.
Guided selling could be considered active sales enablement, highly-focused on real deals in real-time. Where sales enablement is about putting a framework in place for sales to do their best work, guided selling offers your sales reps and leaders deal-specific insights as they work.
Top challenges B2B sellers are facing
B2B sales are undergoing a rapid evolution. External factors are forcing organizations to get more from less, while internal challenges continue to stack up.
External pressures
With sales cycles lengthening, buyer teams growing, and corporate purchasing power growing more tightly guarded, sales teams are looking to maximize their odds with each of their deals. Avoiding missteps and pressing every advantage are top priorities.
Sales organizations are under pressure to get more revenue from the same or reduced spend. This comes down to either selling faster or devoting more of sellers' time to selling.
More sales teams are going remote, which can make it even more difficult to keep pipeline review meetings from devolving into interrogations. Sales managers have even less to go on when it comes to understanding where the pipeline stands. Compounding this problem is that a new generation of self-determined team members are especially averse to this type of micromanagement. New work conditions and new types of salespeople call for new management styles.
Internal challenges
Internal, organizational complexity is exacerbated by external changes. Quick changes in the market have often resulted in conflicting efforts within the sales organization as different roles react. Take, for example, sales operations developing new plays and strategies in response to new buyer needs.
Reps, however, push back against any new limits on their flexibility which they see as more necessary than ever. Sales organizations need a solution that can help align the activity and direction of different roles on the team to get everyone pulling together and avoid wasted effort.
The profit margins on salespeople are growing narrower. Reps currently stay at a company for an average of 18 months, while ramp time takes three to six months. That means reps are training for a significant part of their tenure. Even after official ramp time, nearly half of reps take longer than 10 months to become proficient enough to positively contribute to company revenue goals. Sales organizations urgently need a modern solution for onboarding and guiding new team members.
Managers have more on their plates than ever. Their attention is split between discrete tools, cumbersome reporting, chasing down verbal updates and information, and everything that their team needs which reps don't accomplish themselves. Upper management and the data agree: sales management is spending too much time on low-ROI activities and too little on the external-facing activities that generate revenue.
Proactive sales leaders are looking forward, searching for ways to turn their new situation into competitive advantage, to go beyond surviving the times and actually find a way to thrive in a new reality. Shocks to the system will become the norm as time goes on, and simply reacting, hoping for a "return to normal" is a losing strategy.
How guided selling addresses current challenges
Guided selling is designed to give your sales teams every possible advantage in closing their pipeline. That means increasing visibility, guidance, and controllability throughout the sales environment.
A new level of visibility
Guided selling offers easy visibility deep into the reality of the sales pipeline and team and account behavior. The platform brings needed information right to where your salespeople are working and offers extra layers of insight to collected data.
Visibility for sales managers
With guided selling, your sales managers can see at a glance what's going on with their pipeline: which deals are moving fast, which ones are at risk, and which ones are stuck. This foundational level of pipeline visibility makes it easy for managers to step in where they're needed in time, to help get deals at risk back on track and push stalled deals forward. Always knowing the status of deals gives them a more natural feel for where things are moving, which leads to more accurate forecasts and less overpromising.
Likewise, managers can readily view team and rep activity. Analytics for where team members are spending their time makes it possible to check what's working best to generate revenue. Coaching also becomes more straightforward, since managers can see who needs help and with what.
This new level of visibility reduces the communications burden for sales teams. Instead of waiting for verbal reports in pipeline meetings, managers stay up to date on the status of their reps' opportunities right from the dashboard they use every day. All supporting data points are only a click away: sales team activity and communication history, responses from the account, and planned next steps. Pipeline review meetings lose their confrontational nature, since all parties are already informed.
Visibility for sales representatives
Reps get better visibility of their deals, with dashboards that keep progress on each opportunity front and center. The platform also analyzes data alongside the rep to offer deeper insights and uncover connections they wouldn't otherwise have access to. Examples include relationship intelligence to find out who from your organization has connections inside of lead's and prospect's organizations, and conversational intelligence to take extra insights from meetings and calls.
The guided selling platform also serves as a notification hub for tools in your reps' tech stack. Instead of switching between various tools, which leads to lost focus and forgotten activities, your reps receive notifications about all important occurrences in their feed, whether it's about signed (or unsigned) agreements, messages that need to be replied to, or payments that have been made.
Real-time guidance
As the name implies, real-time guidance is the heart of guided selling. The platform distills your selling process, information from linked apps, and AI suggestions into a series of guiding messages and notifications so that sales teams can move deals to closed/won as quickly and certainly as possible.
Reps get notifications in their feed reminding them about next steps and alerting them to any important changes to opportunities. Sales managers and leaders get notifications about any important events or changes that they need to be informed about, for example, warnings about deals at risk, alerts about close dates being moved, and notifications about new opportunities. They can be sure that reps are following the procedures and playbooks that they have put in place and receive feedback from the system about where things are going off the rails.
In-time notifications mean that sales teams don't waste a single minute that deals could be moving forward. This only gets more important as time goes on. Modern buyers expect fast, complete, personalized attention to their needs. For example, studies repeatedly show that fast responses to inquiries from leads massively improve conversion rates.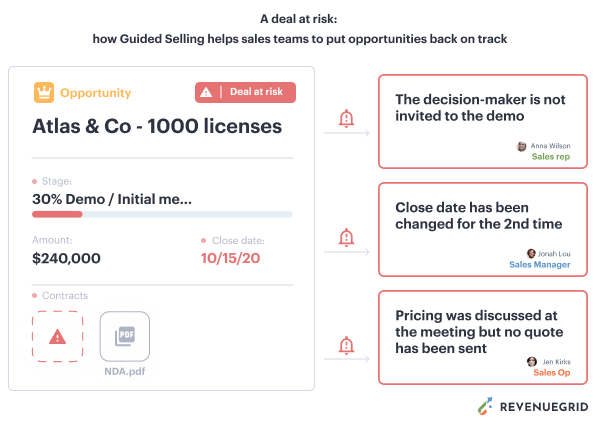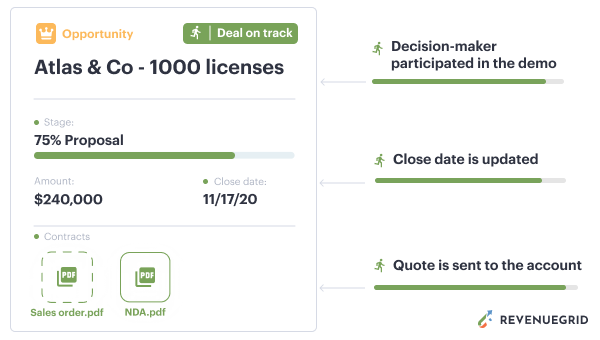 Unprecedented control of sales processes
One of the most powerful benefits of guided selling is the amount of control it gives you over your sales processes. Simple processes are even automated to save more time for your sellers to sell. Things like CRM data collection and entry, sending mass outreach, and calendar scheduling are all expedited by the platform.
Accessing the bits and pieces of your sales playbook and strategy is more direct with guided selling since everything is centralized. In the process of implementing and fine-tuning guided selling, your organization turns formal or informal plays and playbooks into notifications and automations.
Do you expect your reps to send a follow-up within 24 hours of a meeting? Even if it isn't written down anywhere, that's one of the best practices that make up your strategy. Bringing all of these best practices, rules, and plays together has a number of benefits.
Training reps becomes faster and easier
Studies show that reps forget a staggering 80% of sales training from sales kickoffs within three months. The only way to improve long-term assimilation of training is with repetition. Notifications show in-time reminders about when and how to execute different techniques and plays, reinforcing training. This applies to ramping new hires and to providing ongoing training to established team members. Notifications cannot replace quality training, but they can increase the impact and ROI of the training you provide.
Testing methods and materials is more reliable
Without a reliable way to test the effectiveness of new techniques, it's easy for bias to creep into results. With notifications, sales operations can be sure that the processes being tested are actually executed and done so correctly. Results of tests are reliable since the data is collected automatically by the system, instead of by word of mouth.
Adapting to new situations goes quicker
Testing is key to adapting to new scenarios. Trying out new communications channels, a new target audience, new regions, all of these things require reliable testing. When a new direction is chosen, having centralized access to sales processes makes pivots faster.
According to McKinsey, market leaders that take advantage of sales enablement technology like guided selling platforms to continuously test and improve their sales processes drive significantly more revenue than their competitors. This should come as no surprise. While competitors rely on the strongest opinion in the room, "the way things have always been done" or flimsy informal testing, these companies are focusing on using hard data and unbiased methods to find out what sells more.
How does guided selling work?
Guided selling starts with a broad base of sales data, analyzes it, and uses it to provide information and guidance to your sales team.
Automated data capture
Providing a clear picture of sales activity requires complete, unified sales data. To save your sellers time, guided selling platforms automatically gather the emails, meetings, messages, and calls that compose a sales relationship or opportunity from your sales teams' communication channels and other events from across the sales tech stack.
Data analysis
Guided selling platforms analyze the collected data to provide insight. This analysis is what makes it possible for the platform to show your managers the real health of each deal in the pipeline, the buyer and seller teams' activity up to date, and what should happen next. AI analysis of your organization's historical sales data allows the platform to understand what moves your deals forward most effectively and provide real-time suggestions to reps and insights to managers about their teams' most effective activities.
Enhanced sales cycles
Without an adequate user experience, information, analytics, and suggestions are useless. How do guided selling platforms actually package and deliver improvements to your sales team?
Automation: the custom connections that turn your sales tools into an ecosystem.
Reminders are automatically set up for all parties when a prospect agrees to a meeting.
Meeting recordings and transcriptions are automatically saved for conversational analysis.
Webinar attendees are automatically saved as leads in the proper places in your CRM.
Notifications: the messages that provide the actual guidance for sales teams. The exact content of the notifications is formed by sales leaders to represent the needs of the sales org, with assistance from AI analysis of what works best, and can include directions or simple alerts.
The platform recommends that your rep send specific marketing materials to a prospect when a keyword is mentioned during a meeting.
Sales managers receive an alert when opportunities above a certain size are created or when committed pipeline drops below a certain amount.
The owner of an opportunity is reminded to reach out if the account hasn't responded for a specified time period.
Dashboards: the home base for members of the sales team. This is where your salespeople check up on where their deals stand and what to do next, and find information that can help them move deals forward.
The pipeline dashboard is where managers can see the health of each deal at a glance, and dig into all of the supporting data.
Team members receive all of their notifications on a single feed, often mirrored by mobile push notifications.
Analytics dashboards show charts for team and opportunity behavior of every kind, plus relationship maps, and more.
It's important to point out that guided selling is not a one-size-fits-all software solution that you have to hope will fit your workflow. Using your organization's historical sales data means that the suggestions the platform provides are tuned to your unique situation. But the majority of guidance is based directly on your playbooks and processes.
Each company is different and each product needs to be sold differently. Effective guided selling takes advantage of what your sales organization already knows, but implements it more consistently and makes it easily scalable and trainable.
Guided selling: the future of sales
Guided selling is the next step in the evolution of sales, empowering reps and managers to spend more time selling and managing with broader capabilities, and allowing sales organizations to get a real handle on every aspect of their sales strategy.
Early adopters are already reaping the benefits of guided selling, generating revenue more reliably, and adapting faster than their peers. The incremental improvements that guided selling provides allows healthy sales organizations to accelerate ahead of their competitors, just as early adopters of sales engagement were able to grow their pipelines faster than their late-adopting peers.
As the sales landscape continues to change and shocks to the system become the norm, these added capabilities will become the standard for competitive organizations.