Underperforming customer service is the demise of all businesses.
One bad customer service experience can turn someone off from a product or brand for life. On the other hand, delivering consistent and great customer service can transform someone into a brand evangelist.
Businesses rely on word of mouth marketing to get the word out about their product or service. In the past ten years, US consumers have begun trusting the opinions of their friends and family over brands and businesses. HubSpot reported that 90% of people trust suggestions from family and friends. The one foolproof way to capture the trust of the masses is to make sure your team is providing great customer service.
What is great customer service?
Great customer service varies from company to company, but the main recurring characteristics of great customer service can include:
Resolving the problem quickly
Accepting and responding to all customer feedback (positive or negative)
An open and friendly team
The motivation to foster a strong relationship with the customers
Companies can cut prices and send out discount codes all they want, but the true way to get customers to fall in love with your brand, suggest it to their friends, and come back is to deliver great customer service.
What does 'great customer service' really mean?
Great customer service is more than just answering questions. It's about talking to your customers, finding the quickest way to solve their problem, and sending them away satisfied. It's the make or break of a good business.
You can produce and sell an amazing product, but if your customer service team is unwilling to help, unreliable, cold, and hard to work with, people will know and you'll be known for it. Customers talk and the power of first impressions is real. Let's talk about some tactics you can use to give your customers the best experience possible.
What it takes to deliver excellent customer service
There are endless ways to deliver great customer service, but for the sake of brevity, we've identified seven key characteristics you can use starting today.
1. Look past the phone and log onto social media
Although the stereotypical customer service representative is depicted as someone sitting in a call center wearing a headset and answering phones all day, technology has been changing what customer service looks like.
Social media is everywhere and you better believe that your customers are online. While there are still customers that use traditional options like phone lines and email, more and more consumers exist on social media. Giving them the opportunity to reach you online can help you help them more efficiently and quicker than in the past.
There's a myriad of avenues that your customer can use to contact you: social media, messenger apps like Facebook Messenger or WhatsApp, and SMS texting are just a few. Think about where your customers live, who they are, and what their habits are. This can provide you with insight into where you can meet them and how you can best help them.
The best way to understand your audience is to study them. Check out the top social media monitoring tools and take one for a test drive today:
2. Know your product
One of the most important customer service skills your team should possess is knowledge of the product or service they are selling. Your team should have faith in the product they are selling, and most importantly know how it works, how much it costs, how the product can benefit the customer, and are able to perform a demo for them.
The role of the customer service team is to help the customer understand what they're getting from the product and troubleshoot if they are having any issues.
3. Patience and empathy
The way you treat your customers reflects the way people see your brand. The easiest way to start forming an honest and open bond with the customer is to meet them with a friendly smile or greeting, laying the foundation for a good relationship. Whether you work in a retail store or online, a relaxed and patient attitude can make the difference between an ok customer service experience and one they'll remember the next time they purchase your product. Work these values into your customer service philosophy.
4. Efficiency
In a busy world, if someone is looking for help, they're looking to have their problem solved quickly. The same goes for your customers. Putting yourself in their shoes can help you motivate yourself to provide them with the quickest and easiest answer. Give them the solution they are looking for and they'll be sure to recommend your product to their friends and family.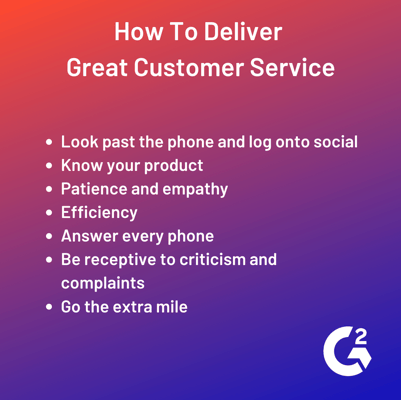 5. Answer every phone
If your customers call you and get the answering machine, it paints your brand in a negative light. As mentioned above, people want answers and they won't be able to get them if you don't pick up. The most important part of working in customer service is to be there for the customer.
Customer service can be tiring and you may think that missing a couple of calls is okay. Think again. Everyone has a different schedule. Someone with a full-time job may not be able to call you during business hours.
This is where automated customer service can save you. Implementing chatbots after your team is off the clock can assure that you don't miss any customer calls and get them the help they need at any hour.
6. Be receptive to criticism and complaints
Working in customer service takes a level of strength that not everyone possesses. Customers can be rude, sometimes ruthless and you're expected to be friendly no matter what. It can be tiring but when someone is expressing their frustration, (even if it comes off rude) the ability to take criticism and handle complaints is essential to improving your customer service.
Having the ability to hear a complaint and work to solve the issue is at the core of a great customer service representative. Dealing with criticism in a constructive and productive way can lead to the opportunity to please your customers, and in turn, put your company up there with the customer service greats.
7. Go the extra mile
Doing something that goes the extra mile is yet another tactic to strengthen the brand/customer relationship. For example, if you're working in a retail location, show the customer where the product is instead of telling them it's in aisle nine. Make sure all their questions have been answered before walking away.
If you work on social media or over the phone, send them a coupon or discount code for their next purchase. People love free things and if you deliver great customer service and throw in something extra, they'll remember and come back to purchase again.
Related: Read up on the most common way customer service teams measure success: the net promoter score.
Make it great
If you can implement all seven of these tactics into your customer service, your company will be sure to see the growth of a loyal and happy customer base. It may take time to perfect the way your team deals with issues, complaints, and even a PR crisis, but remember, the best way to attract new customers is to be the best at serving them.
Wanna learn more about customer service? Take a look at some of the best social media customer service examples or check out 14 customer service jobs and what you need to land them.