Video editing is no longer limited to filmmaking.
In today's social media and influencer marketing era, video editing skills are a must. Turning raw video footage into art takes time, effort, and the right tools. So what better way to polish your skills than practicing with free video editing software?
Be it for advertising purposes or personal projects, finding the right video editing tool makes all the difference. The best part is that free no longer means depriving yourself of premium features. Many software solutions come with free trials, giving you full access to test their functionality.
What is the best free video editing software in 2023?
Camtasia
Synthesia
Renderforest
Adobe Creative Cloud Express
Animaker
Simplified
Descript
InVideo
Storyblocks
Vyond
Animoto
Typito
Colossyan Creator
Wave.video
Wistia
Moovly
* These are the leading free video editing software solutions at G2 as of April 2023.
Video content is integral to any business-to-customer (B2C) and business-to-business (B2B) marketing strategy. Fortunately for marketers worldwide, video-making software makes it easy for users to digitally edit video and audio files to create promotional materials, educational guides, and feature-length films, to name a few.
Ready to find the perfect video editing software for free? Let's dive deep into this list.
Best free video editing software
With video editing software, users can create or modify video files by editing audio, performing color correction, and removing unwanted objects. These tools are often clubbed with video effects software to add custom visual effects and intricate details to your project.
Whether you're a freelancer or a full-time YouTuber, using video editing software for free will allow you to bring your vision to life by exploring your needs and sticking to a budget.
The list below contains real user reviews. To be included on this list, a solution must have the following features:
Allow users to upload video files
Provide tools for clipping, arranging, and manipulating videos
Save and export completed files into one or more file types
* This data was collected from G2 in April 2023. Some reviews may be edited for clarity. This list includes software options that are either free or have a free trial.
1. Camtasia
Camtasia is an all-in-one video editing software for creating videos that connect with your audience. It offers an intuitive interface with drag-and-drop features that convert raw video clips into professional videos.
New users get a 30-day free trial by downloading Camtasia for either Windows or macOS (it doesn't support Linux). The trial version includes a watermark image on produced videos.
What users like best:
"Camtasia is the best and only tool for capturing, editing, and compositing two video sources (screen and camera) and two audio sources (screen audio and microphone), with unique effects like freezing and animating each visual element and normalizing the audio! I have produced hundreds of video courses with Camtasia for over ten years and will continue to do so for the next ten! It's my weekly tool for my work as a video-based teaching professor."
- Camtasia Review, Martin G.
What users dislike:
"Recently, I have experienced several crashes with Camtasia; this seems to happen when creating more significant, complex projects or screen recording and adjusting the settings. There are effects you can do with audio. Still, I feel this is more limited than the number of effects you can do on video tracks."
- Camtasia Review, Adam K.
2. Synthesia
Synthesia is the first artificial intelligence (AI) video creation platform that supports browsers. AI videos have taken over training, sales, and support content for global businesses of every size. With Synthesia, you can create AI videos with avatars and custom templates in over 120 languages.
While there isn't a free version available, users can create their first video on Synthesia for free. You can use quick and actionable tutorials to learn the basic editing features.
What users like best:
"Synthesia is very intuitive to use. The learning curve is very short, and you can achieve great results in no time. Also, the possibilities of combining all types of avatars with all types of voices are really amazing. I use it for short standups for medical presentations. It works. I have no complaints so far about the quality of the avatars or the voices used. So keep up the good work!"
- Synthesia Review, Peter V.
What users dislike:
"Working with multiple text boxes per scene can be a little clunky and confusing, as it becomes increasingly difficult to select the correct text box to edit if it overlaps with other text boxes. The only other thing that can be aggravating is the inability to view all ten scenes along the side of the screen. The last three slides are covered by a message box indicating "Max of 10 scenes reached."
-Synthesia Review, Mark P.
3. Renderforest
Renderforest combines all design tools into one platform to create professional quality videos, animations, and resize graphics. With advanced features like color corrections, transitions, and special effects, Renderforest is one of the best free video editing software for all uses.
Start with your free account by signing up on the official website. You can design videos, branding content, presentations, and other website graphics for free.
What users like best:
"Renderforest immediately impressed me with its well-designed and intuitive user interface. It's excellent for making slideshows, posters, and creative website typography. I've produced a variety of collaborative tools, including brochures and images. The artwork is superb, with lots of attention to detail and professional quality."
- Renderforest Review, Julieta B.
What users dislike:
"Renderforest should work on rendering and uploading the videos faster. Also, having more template options is important; there are not enough at the moment. The system of making logos and making web pages feels old."
- Renderforest Review, Axel Antonio L.
4. Adobe Creative Cloud Express
Adobe Creative Cloud Express (formerly Adobe Spark) supports everything from professional videos and animations to social media posts and logos. Add unique design elements and choose from templates, presets, and fonts that match your brand. It's a cross-platform software supporting website and mobile (iOS/Android) interfaces.
This free video editor is perfect for beginners, with core features for all varieties of video content. You can also get a free trial for 30 days to test out the premium features from paid plans.
What users like best:
"I like its comprehensive tools, seamless device integration, and collaboration features. The user-friendly interface and diverse offerings make it perfect for graphic designers and video editors. Collaboration tools enable easy peer interaction, while the extensive toolset accommodates all skill levels."
- Adobe Creative Cloud Express Review, António P.
What users dislike:
"My biggest annoyance is the dialogue box that pops up when placing a smart vector object from Illustrator to Photoshop. It often comes with the option checked to add it to libraries, leading to an accumulation of unnecessary graphics. I wish there were an option to only add it to the libraries if intentionally chosen. Many inexperienced designers are unaware of this issue, resulting in the need to clean up the libraries regularly."
- Adobe Creative Cloud Express Review, Ravi B.
5. Animaker
Animaker has made animating videos easier than ever! With over 100 million stock assets, you can build animated characters, record voiceovers with auto lip sync, and collaborate with other users. Video editing tools like text-to-speech and subtitles have enhanced the video-making process.
The forever free plan gives you access to a lot of assets and premium features like three downloads per month with up to a 2GB upload limit.
What users like best:
"Animaker is such a fun and easy application to use. For my company, it's perfect and helps me express what I'm selling to my customers in a fun and exciting way. I like that the customer service is quick to answer questions. I find it incredible that they show you links on how to fix your problem."
- Animaker Review, Tanya B.
What users dislike:
"Animaker has caused me problems. It takes time to adjust to the clumsy UI. Some pre-made templates looked bad and needed a lot of tweaking. Compared to other video-making software, the templates, effects, and other capabilities were limited. Finally, the Pro bundle appeared expensive for its features."
- Animaker Review, Pritam M.
6. Simplified
Simplified is the only tool you need to create, edit, transcribe, and remix your videos. Design, collaborate, add subtitles with translations, and publish to social channels on the same platform. With this tool, you can use premium stock videos, royalty-free music, and AI copywriting to make your content stand out.
This user-friendly online video editor offers a free forever plan for quick video designs and editing. Beginners can check out the tutorials available on the official website to make the best use of their free plan.
What users like best:
"I have just started experimenting with Simplified, but so far, this seems like an incredibly useful tool that combines many functions I would need in one place. I like that you can have a brand kit with templates. Even the free version is incredibly robust! So far (two weeks in), Simplified has done well with social media content creation and hashtag suggestions."
- Simplified Review, Mary S.
What users dislike:
"Still need to get better at some of the prompts. Wish there was a guide or format to help with that. Some of the writing can come out robotic and still need a lot of editing. But the more specific you can get, and the more you ask it to do, it seems to come out better. Would like to expedite the learning curve with some commonly used templates or utilize this style of prompts to maximize effectiveness."
- Simplified Review, James G.
7. Descript
Descript reinvents how you create videos by providing a comprehensive software solution for all creative needs. It combines the functionality of documents and slides into an interactive and intuitive interface for video editing.
Enjoy the transitions, overlays, color grading, and a premium stock library to give your projects a life of their own. Use the forever free plan of Descript to edit unlimited projects for unlimited uses.
What users like best:
"The ability to work with text editing is the absolute best for audio editing. Just looking at waveforms for hours makes me go cross-eyed. But the audiograms, removal of filler words, and the latest studio sound have all drastically improved the quality of my non-profit podcast and made it a professional quality, as a result of which my listenership has gone up.
- Descript Review, Sean S.
What users dislike:
"I'm really struggling with how to fine-tune edit the AI transcription. Even after submitting corrected transcripts from another third-party software that white gloves it, sometimes the alignment between word and audio just can't be fixed. It has been really frustrating, especially when working with English speakers with accents or creating those audiograms with word animation."
- Descript Review, Kyle Marian V.
8. InVideo
InVideo is one of the fastest and easiest video editing programs, with thousands of ready-made templates. The templates are easy to customize and cater to a variety of genres and video formats. Simplify your workflow with single-click shortcuts, time-saving AI tools, and collaboration.
Set up your brand for success with the free version of InVideo that offers advanced video editing features for professional needs.
What users like best:
"InVideo is a highly effective program to promote image and video editing. It has reliable support that allows you to replace any problem with a solution. It's a very effective program to promote graphic design skills. It helps me create advertisements using this successful program; entirely smooth and reliable and supports multiple working options."
- InVideo Review, Kian S.
What users dislike:
"Although InVideo is a valuable and effective tool for creating videos, it also has some limitations. Among these, the template library is limited in terms of customization; this makes it sometimes difficult to make a template fit precisely to the brand's needs or image."
- InVideo Review, Deniece S.
9. Storyblocks
Storyblocks lets you create videos that engage by providing a demand-driven library curated from contributors around the world. It also offers a plugin for Adobe Premiere Pro that enables frictionless content sourcing and video editing experiences for creators and businesses alike.
Storyblocks offers a free plan for Maker, their online video editing app. It brings customizable templates for video content and is fully integrated with Storyblock's library.
What users like best:
"The main thing I love about this service is its reoccurring subscription model with unlimited downloads. Most stock video (and audio) sites limit how many clips you can download monthly or charge you after you've already paid a membership fee. Storyblocks has a lot of the same footage as other services, a decent audio and SFX library, and is unlimited. Totally worth it."
- Storyblocks Review, Caleb F.
What users dislike:
"Sometimes it's not abundantly clear which file types are available to download. For our purposes, non-account holders will often view the library and notify the account holders which footage they require, and when the account holder goes to the page, the format we require isn't available. It'd be helpful to have the file types listed somewhere."
- Storyblocks Review, Nick P.
10. Vyond
Vyond is an AI-powered video editing software built for professionals of all skill levels across industries. Whether you're filming small-scale video projects against a green screen or making full-fledged films with professional moviemakers, Vyond's pre-built scene and video templates will suffice your needs.
New users can sign up for a free two-week trial on any Android or Apple device (Mac, iPhone, and iPad) to decide which plan best suits their needs. It's important to note that videos with no watermark require paid plans.
What users like best:
"The three things that make Vyond most useful for me are its variety of templates to pick from, its text-to-voice feature (that recently got a major upgrade) so reviewers can finalize the script before having talent record, and the ability to change colors in scenes to match your branding quickly."
- Vyond Review, Robbie C.
What users dislike:
"The copy and paste function is a little awkward; being able to copy but not paste with mouse clicks is somewhat confusing. Also, I have encountered occasional crashes and dropouts and have been told by the system that I can't edit a project as it's already open elsewhere, or there is a similar issue, which leads to me having to make multiple copies of a project to be able to continue working on it."
- Vyond Review, Giovanni C.
11. Animoto
Animoto is a free video maker that is a must for your editing process. It supports all file formats and produces high-quality video clips with easy drag-and-drop features. While it might not offer a picture-in-picture mode, Animoto's stabilization tool turns raw footage into polished videos instantly.
The free forever plan by Animoto is available for desktop and iOS devices. It has all the standard features like screen recording, unlimited social sharing, and cloud import.
What users like best:
"Animoto comes with an intuitive UI that helps make videos easily for marketing purposes. I have no prior experience in taking care of things like video editing. But Animoto made it easy for me. So, if you are a beginner, don't worry about content creation. Animoto will do the rest for you."
- Animoto Review, Haritha C.
What users dislike:
"If Animoto had more diverse templates, I would love to see and use them more frequently. This would add more interest and variety to my videos, making them less monotonous."
- Animoto Review, Joseph B.
12. Typito
Typito is a one of its kind text video editor with audio tools, instant captions, playback options, and sound effects. Whether you are a small business or an enterprise, Typito will design videos that match the tonality of your brand's content.
The free plan is a good starting point for individual creators to learn the tool by experimenting with unlimited projects and identifying their video editing needs.
What users like best:
"I've recommended Typito to several people. It's very easy to use and incredibly good at backing up videos in real time. I've added text and effects to some large videos while having a bunch of browser tabs open and have never had Typito crash. In addition, I've even refreshed my browser during an edit session, and all of the video clips were saved. I'm using a 2015 Macbook Pro, which can get pretty taxed while editing. Still, Typito has always worked great even when my machine is running on overdrive."
- Typito Review, Adam C.
What users dislike:
"You have to upload the video, change it, and then download it again without being able to set the size parameters beyond basic sizes geared toward social media platforms. As a professional editor, I need to have more control. Although it was very close, this tool was not quite what I needed."
- Typito Review, Dee A.
13. Colossyan Creator
Colossyan Creator enables business owners and creative teams to make studio-quality videos without fancy equipment or a crazy budget. Choose from 30+ AI presenters and create videos for all purposes, including learning and development, marketing and sales, and corporate communication.
The free plan supports 70+ languages and lets you experiment with creating videos using text.
What users like best:
"The platform is super easy to learn how to use, and the ability to be able to create a whole video (and not just the avatar) is really useful. I work for an international company, and the tool lets you change languages easily. My colleagues were surprised by how good the translated voices were. The cost of a real presenter is always too much for eLearning content, so this gives us a new way to engage with learners."
- Colossyan Creator Review, Mark P.
What users dislike:
"One potential criticism of AI creation tools is that they may provide a false sense of simplicity and accessibility for developing AI models. While these tools can certainly make it easier for non-experts to create AI models, it's still a complex process that requires careful attention to data quality, algorithm selection, and model validation. Users who lack sufficient knowledge or experience in these areas may end up creating models that are inaccurate, biased, or inefficient, which can have serious consequences in real-world applications."
- Colossyan Creator Review, Erik R.
14. Wave.video
Wave.video combines all your video content needs into one platform. It supports video editing, live streaming, thumbnail making, hosting, and recording. Wave.video has a built-in stock library with over two million high-quality assets and templates for your video-making needs.
While Wave.video offers a free forever plan, it also caters to individual and business needs through multiple paid plans. Sign up for the free plan now to assess what you need.
What users like best:
"It has the features of many web-based tools (like live streaming, video editing, text to video, etc.), all housed in one site with MANY ready-to-go templates. I'm very happy with the ability to upload multiple brand identities, graphics, and color pallets along with the ability to organize these assets into folders."
- Wave.video Review, Darren C.
What users dislike:
"The tool can be slow at times. Downloading created videos can sometimes be frustrating as it can be quite slow. Also, the video templates need to have more variation."
- Wave.video Review, Marcus T.
15. Wistia
Wistia is more than just video editing – it's everything marketers need to create, promote, and analyze their video content. You can create and edit videos, host webinars, generate leads, and track performance, all on a single platform.
A free version of Wistia is available with basic features (10 videos, 200 GB per month, basic analytics, etc.). New users can also enjoy a 30-day free trial for any of the paid plans.
What users like best:
"The platform's ease of use was helpful, and I found a lot of benefits in sharing recorded videos with customers and clients. It was easy to upload and share too. Hubspot integration makes tracking things easier even after an event or webinar has ended. I also love the built-in analytics to track my campaign progress."
- Wistia Review, Mehul V.
What users dislike:
"The features for organizing your files are not always 100% straightforward. Sometimes it's hard to find what you're looking for when you have 1000+ media uploaded already. I'd also like to have a feature for having the same media in multiple channels without uploading them twice."
- Wistia Review, Gabor F.
16. Moovly
Moovly is a versatile video creator and editor that offers pre-built and custom templates, all on a browser. So, whether you're a Windows or Mac user, you can access the platform directly without installing any video editing app.
The free version has millions of royalty-free images, sounds, and footage for easy video creation and editing.
What users like best:
"Allows use of videos, has great templates, is easy, and is at home drawing pictures. It also improves the quality of the product, with professional upgrades available. Voice to text to voice is brilliant to work with."
- Moovly Review, Malinda S.
What users dislike:
"I don't particularly appreciate that when you write a text, it's impossible to have all text, for example, white and just a few words in another color. I think that could be a nice implementation."
- Moovly Review, Alessandra G.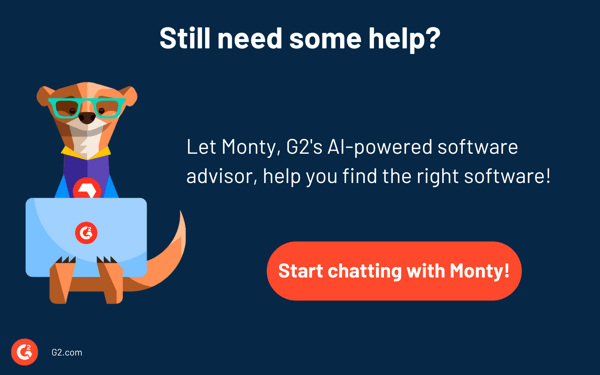 Let the magic begin
Video content is taking over the world. To ensure your business keeps up with this shift in content consumption, you must have competent video editing skills. The good news is you don't have to be a professional to perform the magic of video editing. Start by taking advantage of free video editing solutions that come with tutorials and upgrade your skillset at no extra cost!
Once you get the hang of video editing, check out some of the best animation software solutions to take the visuals in your videos to the next level.