Beats on the brain? You don't have to be an aspiring DJ to produce music on your computer. (And please, we have enough DJs.)
Not only is digital music production a fulfilling hobby and revenue source for many, it can contribute to a organization's success by spicing up websites and marketing efforts for optimum engagement.
If that's music to your ears, you might consider one of the numerous audio engineering and editing platforms on the market.
And thanks to some free audio editing software solutions, you can try your hand at making music without dipping into the piggy bank. (That leaves more capital for the speaker system and strobe lights, should you eventually get bitten by the EDM bug.)
With audio editing software, external snippets or long clips can be cropped and modified to meet your team's needs. This could mean interview recordings, random sound effects or songs culled from the interwebs. But many of these applications are also primed for the creation of original music, whatever your intentions may be. Whether providing built-in instrument sounds or integrating with real instruments — and in some cases, both — these products empower users to splice and dice assorted aural ingredients into mini masterpieces. And even though your favorite artist has likely dabbled in this software at some point, it doesn't take a music major to create a basic tune with these intuitive tools and interfaces.
Naturally, there are expert-level products in this category, while others offer increased toolsets for those serious about their craft and willing to spend the money. That said, several big players in the space provide a free solution so anyone can get started on their audio experiments — for the benefit of their company or just as a fun creative outlet.
---
Using reviews from real users, our list of free music making software is ordered by highest user satisfaction as of May 31, 2018.
The list we've outlined here includes any website builder solution with an available free offering. It should be noted that this does not include products that are only free on a temporary basis, such as limited trial versions for new users.
These products alone have around 300 validated user reviews on G2 Crowd as of May 31, 2018, and only represent a portion of the 30-plus audio editing software offerings listed on our platform. The products are ranked from an in-depth analysis of the best free music making software from their user satisfaction score as of May 31, 2018, and must have at least five reviews.
---
Best free music-making software apps 2018
1. GarageBand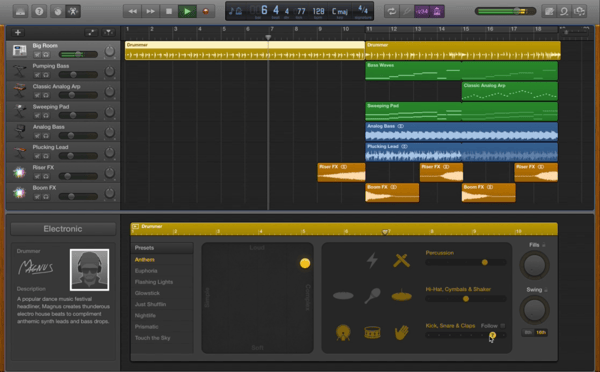 Image courtesy of GarageBand
For many melodic minds out there, Apple's own GarageBand is synonymous with music production. Though it used to be sold for a small one-time fee through iTunes, it was updated to a free download for iOS and macOS users in early 2017, alongside iMovie and iWork. No premium upgrades or add-ons — the free version is the full version, granting a rich set of tools capable of producing studio-quality sounds.
GarageBand allows for physical instruments to be recorded and the results modified as song components, with various effects and endless possibilities. It also provides realistic digital replications of instrument sounds for everything from snare drums to saxophones, as well as prerecorded drum beats and loops off which to stack your layers of sound. All in all, the zero-cost platform is a fantastic medium for amateurs or professional conductors to compose music for any purpose.

---
2. Audacity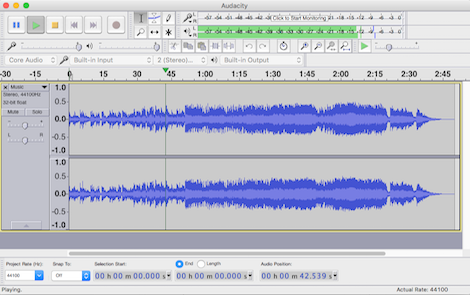 Image courtesy of Audacity
Audacity is the most-reviewed audio editing software in the category, averaging an impressive 4.5 stars after close to 200 reviews (as of this publication). This 100-percent free program was "developed by a group of volunteers as open source," as worded on the Audacity homepage, and is compatible across Mac OS X, Windows, Linux and other major operating systems.
Audacity allows for extensive live audio recordings and uploads of external sound files, in lieu of built-in instrument sounds a la GarageBand. The effect and editing tools are powerful and intuitive — users simply highlight tracks or track portions and modify to their heart's content. Keyboard shortcuts can streamline the process even further and can turn fledgling music producers into engineering ninjas. Finally, the software's open-source nature gives confident coders a way to customize the tool, with downloadable or custom plugins making it a truly malleable solution. Fans of Audacity can donate to the development team to help minimize advertisements and invest in the software's hosting and continued improvements.

---
3. Power Sound Editor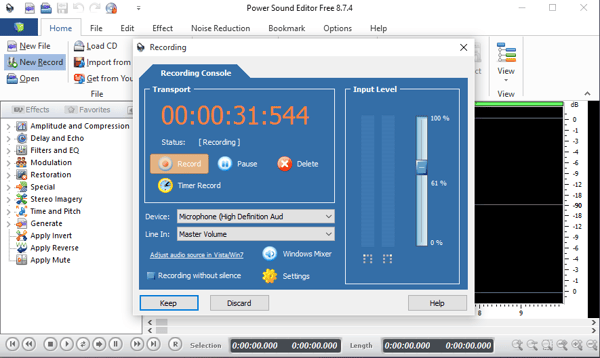 Image courtesy of Power Sound Editor
Remember burning CDs? The people behind Power Sound Editor sure do. This zero-commitment audio mixing tool can generate sound files from directly ripped CDs for users to sprinkle into personal mixes, alongside audio from other inputs (e.g., microphone, MP3, webpages). Users can then leverage the various editing tools to craft bonafide music from these disparate ingredients.
Once satisfied with the free version, Power Sound Editor users can upgrade to the Deluxe edition for $29.95 (previously $59.95). Paid features include text-to-speech capabilities, batch converting and merging of audio files and MP3 export functionality. There is also a full money-back guarantee included with the purchase. You can browse other solutions on the Power Sound Editor website, such as the Power Audio Extractor and Power YouTube to MP3 Converter.

---
4. Pydub
(Screenshot unavailable)
Pydub, from New York-based developer jiaaro, gives curious music dabblers a way to "manipulate audio with a simple and easy high-level interface," as worded on the bare-bones Pydub website. On the surface it's a bit more code-driven than the other solutions on this list, but reviews on G2 Crowd frame it as a simple system after the initial learning curve, while applauding the fact it is all open source. Standard features such as audio slicing and crossfading can fine-tune your rough tracks into the ideal finished product, transporting the ideas in your head into fully realized visions.

---
Additional music-making and production tools with free versions
---
Next steps for selecting the best free music-making software
It's no secret that music has the power to elevate brands and push good content over the finish line into greatness. Even if you don't have a resident Mozart on your team, modern audio editing products give you the tools to practice basic production and crank out some perfect music to complement your projects. And these free offerings make it easier than ever to take a chance and try your hand at this timeless, universal craft.
Once you've mastered music-making and production software, the next logical step is creating a music video! There are plenty of free video editing software tools to help you along this journey as well.
Visit our Audio Editing category to find more free or commercial options and track down the perfect music-making solution to fit your company's needs. Reviews can be tailored to view specific ratings, company sizes, user roles, user industries and additional categories to help determine which product will work best for your unique business.
* Please note: Reviews may have been edited for spelling and grammar.