Contracts are sort of a big deal.
We toss around all kinds of documents in a given day. But without contracts, ain't nobody getting paid. And lost or mishandled contracts can mean a world of trouble beyond that.
Contract management software gives businesses a streamlined, secure way to keep these files in order. No disrespect to your rusty file cabinet — but these solutions can be lifesavers for any organization or freelancer dealing with contracts on the daily.
These tools can be a natural complement to proposal software and e-signature software, for those in field sales or anyone tasked with making deals. Whether you're hiring a graphic designer for a quickie project or a new supplier for your office, digitizing your contract lifecycle is a smart play in the connected age.
If you're a visual designer or plan to work with one soon, check out this guide on creating an airtight graphic design contract.
Products in this category range from basic and barebones to all-powerful platforms with a variety of functions. If you're new to digital contract management and want to dip your toes in the water, there are some excellent free contract management software apps that can get you on your way.
For your troubles, we've compiled a handful that are worth checking out. (We won't make you sign any contracts for taking a peek.)
These products alone have nearly 50 validated user reviews on G2 as of May 10, 2019, and only represent a small portion of the 170-plus contract management software offerings listed on our platform. They are ordered by user satisfaction based on G2 data.
For each product we provide:
An overview
Highlighted features
Free and paid options details
The list we've outlined here includes any contract management software with an available free offering. Some products provide limited free options while others are completely free without restrictions. This list does not include products that are only free on a temporary basis, such as trial versions.
With that being said, there are a significant number of products in this category that offer trial versions that allow you and your team to test-drive them before making a larger commitment. Explore the category listings to learn more about the full spectrum of these solutions.
The best free contract management software in 2019
Below are some zero-cost solutions that can help your business organize and distribute your important contracts.
1. Agiloft

Product Name: Agiloft
G2 Star Rating: 4.6 out of 5.0 stars

Overview
Developed in Redwood City, CA, Agiloft is a well-reviewed tool for contract management with workflow management features and other capabilities. It also offers a suite of service desk software tools. This popular platform received the distinction of Editors' Choice from PC Magazine, which called it "the most customizable contract management system on the market."
Free option
The Free Edition of Agiloft is designed for small teams or large organizations hoping to see the product's features and scalability before making a commitment. It comes with a free, hosted knowledge base for up to five power users and five end users in addition to an administrator.
Paid option
Agiloft offers plans for Assigned Power Users and Portal Users as either a SaaS subscription or on-premise subscription. Interested users need to request a quote on the Agiloft website.

Features
Free online training
Product documentation
Tutorial videos
Free support for the first 30 days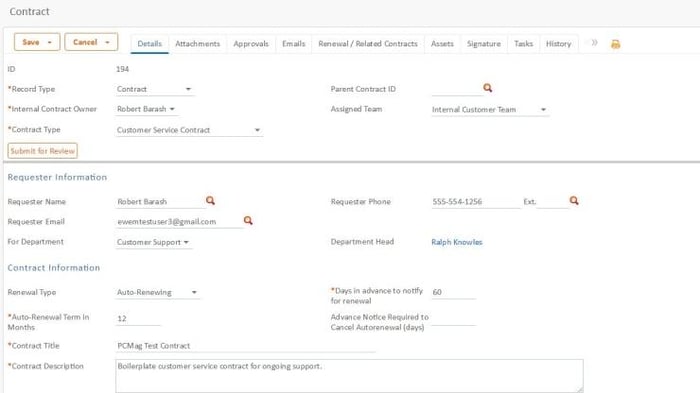 Image courtesy of PCMag.com
2. Trackado

Product Name: Trackado
G2 Star Rating: 5.0 out of 5.0 stars

Overview
Trackado is a cloud-based platform built solely for the contract management lifecycle. This Swedish software solution includes plan options for startup teams all the way to enterprise organizations, with intuitive features for sorting and searching contracts as well as contacts.
Free option
Trackado's Free Plan allows for 1 user, 15 contracts and 2 custom fields per document.
Paid option
Starter Plan, $39/month: Access for 3 users, with a limit of 50 contracts and 5 custom fields
Business Plan, $99/month: Access for 8 users, with a limit of 300 contracts and unlimited custom fields
Enterprise Plan, $199/month: Access for 25 users, with unlimited contracts, unlimited custom fields and single sign-on capabilities

Features
Dashboards
Contract repository
Business partner directory
Reporting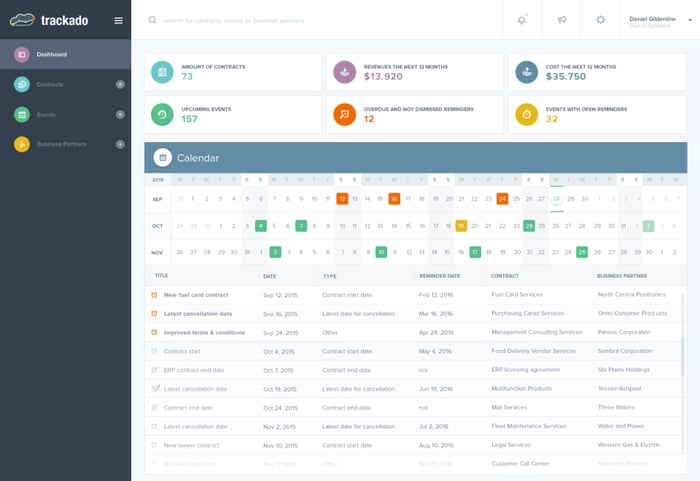 Image courtesy of Capterra
3. Agree.com

Product Name: Agree.com
G2 Star Rating: 4.0 out of 5.0 stars
Overview
Agree.com is not a website that just nods its head, as the name might suggest. This site allows for fast creation, transfer and completion of business agreements, with a focus on independent contractors such as videographers and designers. The Agree mobile app empowers users to create contracts from anywhere, and have them signed and paid off in a matter of seconds.
Free option
The Agree.com free plan offers the complete feature set with a limit of one contract at a time.
Paid option
The Agree.com paid plan is available for $13/month and allows for unlimited contracts.

Features
Notifications for views, signatures and payments
Contract and billing reminders
Automatic payments
Payment plans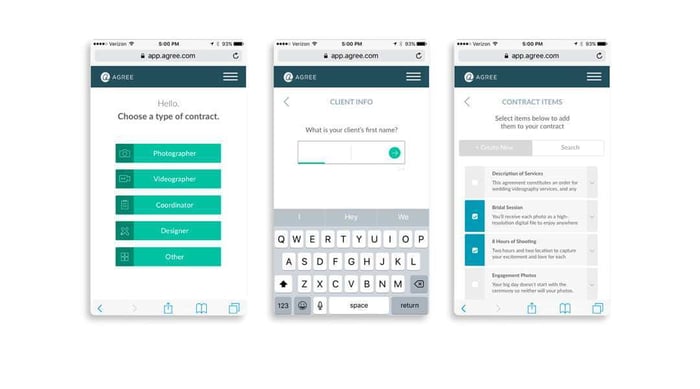 Image courtesy of Cody Rogers Design
4. ContractClub

Product Name: ContractClub
G2 Star Rating: 4.0 out of 5.0 stars

Overview
ContractClub is a contract management application that provides users with handy contract templates and built-in e-signature capabilities. The Calgary, Alberta-based software includes unique features like an audit trail and unlimited export of completed documents.
Free option
ContractClub is an entirely free solution.
Paid option
There is no mention of a paid upgrade on the ContractClub website.

Features
Contract template library
Digital signature
Draft editor
Audit trail
Automated notifications, status updates and reminder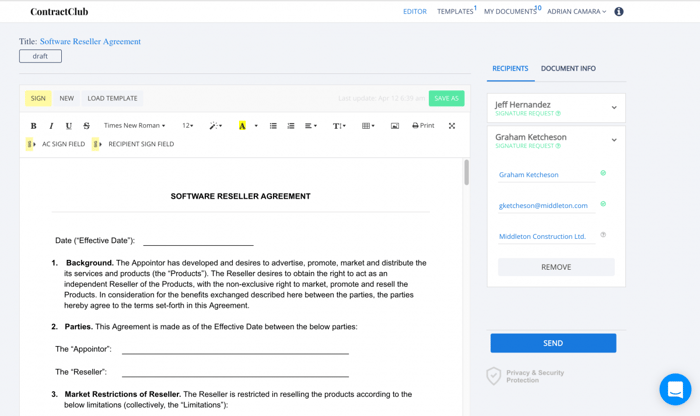 Image courtesy of SaaSGenius
5. Tradogram

Product Name: Tradogram
G2 Star Rating: 4.0 out of 5.0 stars

Overview
Tradogram bills itself as a comprehensive procurement software solution, with a combination of features related to purchase to pay software and order management software, among others. The contract management solution includes tools for the entire contract lifecycle, from planning to renewal and termination.
Free option
Tradogram's Free Basic Plan includes diverse procurement features for a single user, with a limit of 10 purchase orders per month.
Paid option
Premium Plan, $10/month per user (billed annually) or $15/month per user (billed monthly): Custom spend reports and one-on-one training, with unlimited monthly purchase orders and access for multiple users
Enterprise Plan, contact a Tradogram sales representative for pricing: Access for at least 20 users with no limit on the number of seats

Features
RFQ/RFP management
Delivery tracking
Invoice matching
Project management
Inventory control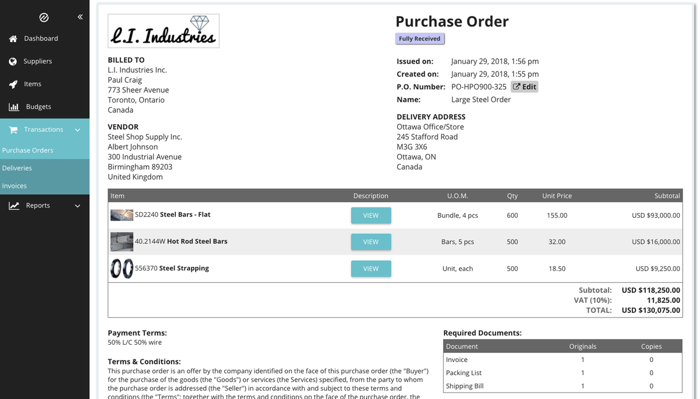 Image courtesy of QuickBooks Desktop Apps
Making your contracts count
The right software can up your game, there's no doubt about it. But there's more to proper contract work than plopping some names and numbers into your computer.
Take a stroll through our Learning Hub for helpful guides on drafting a statement of work and negotiating RFP contracts, also known as requests for proposals. You can also consult with a corporate law firm or financial consulting provider for some expert tips on proposing, drafting and managing your important business agreements.
Just like these software tools, the basic concept of contracts is continuing to evolve with the digital age. Read about smart contracts and how they might impact your business in the coming years.