Animation has come a long way since the days of "Steamboat Willie," developing into a precise and scientific art.
Just look at how Pixar has changed the animation game: With 1998's "Toy Story," the studio introduced the world to the first-ever computer-animated feature-length film. At the time, it was revolutionary. Before animation software, cartoons were created by hand, drawing or inking thousands of cells against various backgrounds in rapid sequence. Computer animation is cheaper, faster and allows animators for more flexibility.
However, watching "Toy Story" back more than 20 years later, its animation style looks rudimentary. Today, computer animation has become the norm and has vastly improved since the release of "Toy Story." The improvement is thanks to animation software. Each hair on a character's head is painstakingly animated. The correct shadowing is meticulously added in each scene to make it as realistic as possible. Animators study movement to ensure their characters are anatomically correct.
What's more, with the advancement of animation software, those outside the entertainment industry can utilize the technology as well. Marketing teams, product teams and more leverage animation solutions to enhance their websites and content. An animated video is a great supplement for a blog or advertisement; the inclusion of animated content can bring a company's brand to a whole new level.
Take Samsung, who used animation to promote their initiative for an increased use of their technology in schools. Or Johnson & Johnson, who used animation to demonstrate how to use their bubble baby bath and wash in an engaging format.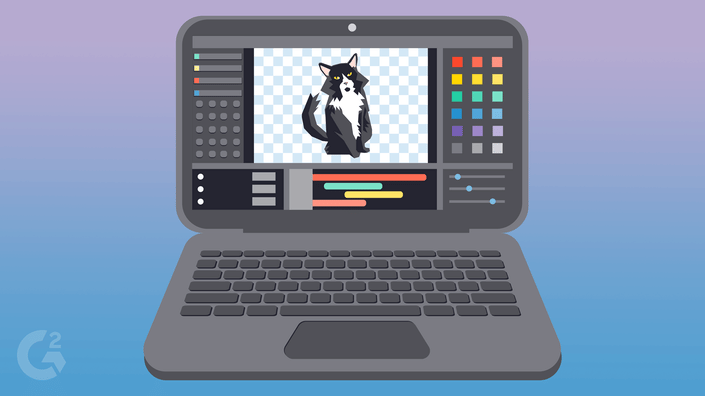 Whether you are an expert animator or looking for animation software for beginners, there are plenty of solutions available. Best of all is that you don't necessarily have to pay to hone your animation skills. These free animation tools will help you improve your craft.
---
The best free animation software
The list we've outlined here includes any animation solution with an available free offering. It should be noted that this does not include products that are only free on a temporary basis, such as limited trial versions for new users. They may only support one user or one project, but they're truly free offerings. Scaling, however, will often require full investments.
These products alone have well over 246 validated user reviews on G2 Crowd as of June 13, 2019, and only represent a small portion of the 45-plus animation software offerings listed on our platform. Whenever possible, products are ranked by user satisfaction score.
1. KeyShot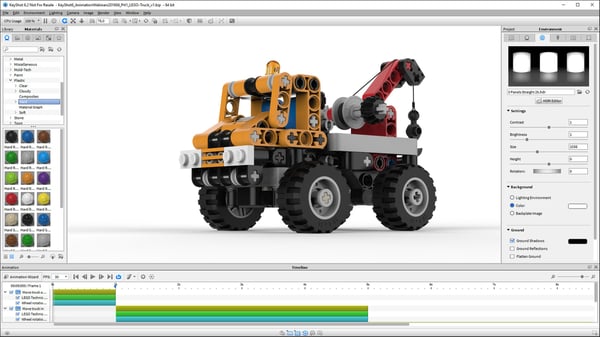 Image courtesy of KeyShot
KeyShot is a fast and user-friendly 3D rendering software with animation capabilities. This tool allows users to go from a simple model to a stunning visual in minutes. KeyShot is a completely free animation software.
KeyShot has a number of features to support animation and 3D rendering, including but not limited to:
2D animation and 3D animation

HDRI lighting that allows you to light and adjust your scene as needed

Camera control that enables users to simulate real-world camera behavior

Dynamic texture mapping to simulate the real-world appearance of a landscape

Focused caustics to ensure objects are properly lighted

---
2. K-3D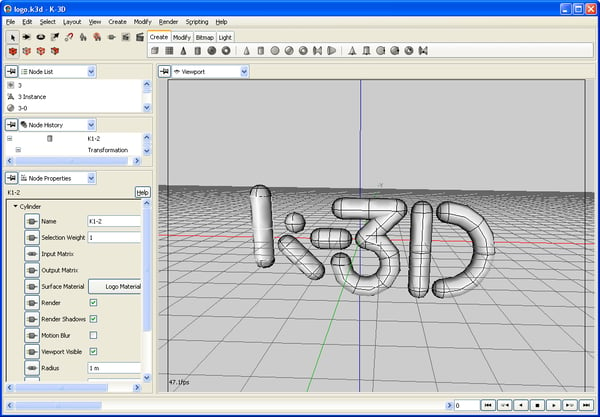 Image courtesy of K-3D
K-3D is an animation and 3D modeling software. It combines plugins with a visualization pipeline architecture to make it a powerful and flexible tool for artists. This free animation software allows users to create unique combinations in their work.
K-3D offers a number of features to make an artist's work as easy as possible:
An advanced undo/redo function

Properties that can be adjusted interactively

A node-based visualization pipeline

---
3. PowToon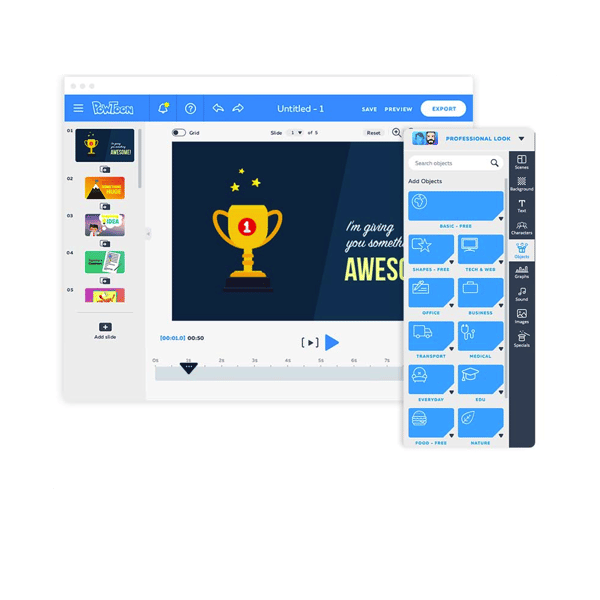 Image courtesy of PowToon
This free animation software is intended for making short videos and presentations. Users can upload their own content or choose from PowToon's library of royalty-free content. Animators can customize the existing templates to ensure they fit their needs.
PowToon offers paid options, but its free plan offers the following features:
Standard video resolution

Access to some of PowToon's video content library

The ability to create videos up to three minutes long

Export to YouTube, Facebook, Vimeo and more

The choice of aspect ratios and sizes

---
4. Pencil2D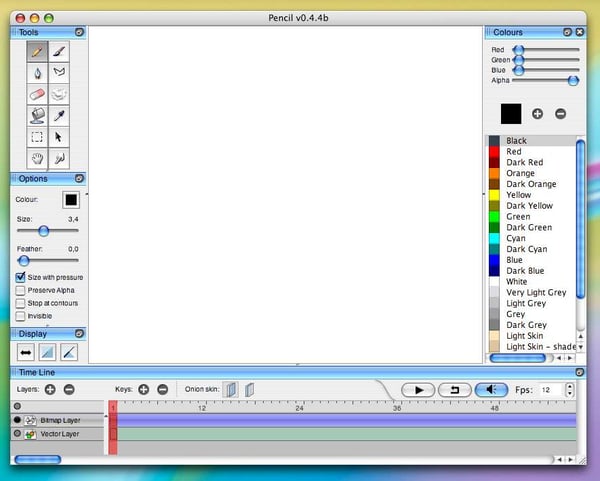 Image courtesy of Pencil2D
This 2D animation software allows users to create more traditional, hand-drawn scenes. This is accomplished using bitmap and vector graphics. Not only is Pencil2D free, but it is an open-source animation software.
Pencil2D offers a number of features to make animation easy, including but not limited to:
A lightweight and easy design interface

The ability to seamlessly switch between raster and vector files

Cross-platform functionality to facilitate operation on Mac, Windows and Linux

---
5. Blender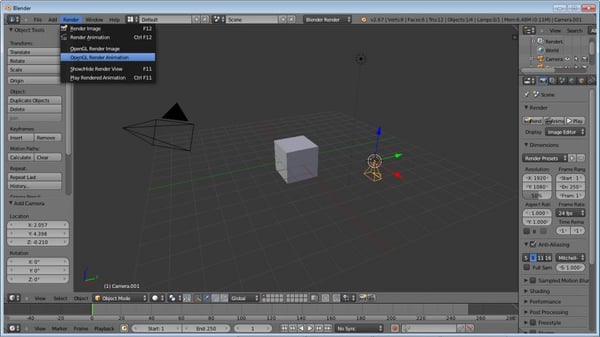 Image courtesy of Blender
Blender is a free and open-source animation software that also has capabilities for 3D modeling, game creation, motion tracking and more. This tool enables artists to turn stills into 3D animation. Blender also offers a fast rigging tool that allows users to turn 3D models into animated characters.
The following animation features are included in Blender:
Automated walk-cycles along paths

An editor for character animation poses

Non-linear animation for independent character movements

Mirror functionality

---
6. Animaker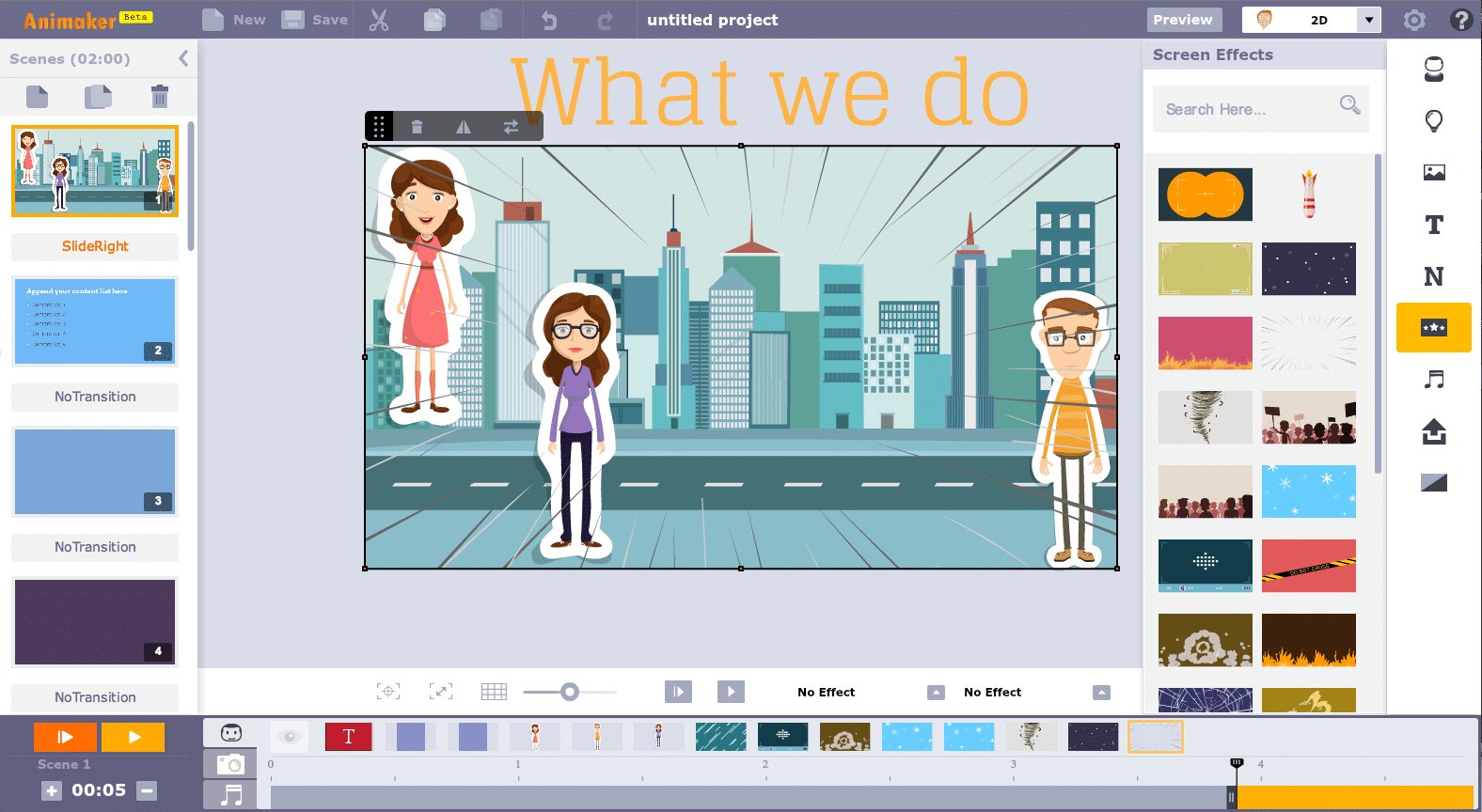 Image courtesy of Animaker
Animaker is a drag and drop, online animation and video making platform. This platform is free to register for, and is less technical than many other animation solutions. Animaker is targeted towards a content marketer persona, and includes templates for making different types of animations including infographics, motion typography, whiteboards, and 2D cartoons.
Some of the major benefits of Animaker are:
Large library of animated pre-created templates and characters

Drag and drop editing style with 6 types of animation video styles

Whiteboard video creation

Simple infographic creator

More advanced features for technical creations
---
7. Synfig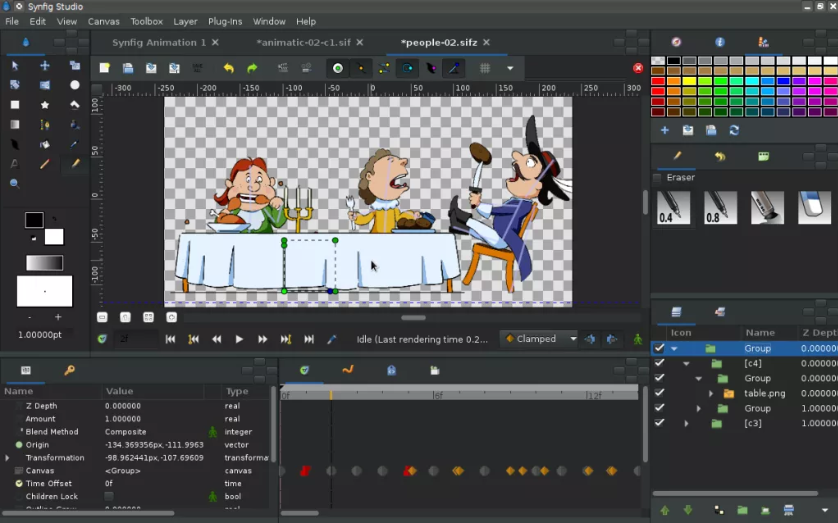 Image courtesy of Synfig
Synfig Studio is a free and open-source 2D animation software for Windows, macOS, and Linux operating systems. While it offers many technical and advanced features, the open-source community has created a large library of documentation and video courses in multiple languages to help novice animators become professionals. The platform is also always improving, and users have a choice between downloading the stable version or a new development version.
Synfig offers many technical animation features, including:
Vector tweening

Layers and filtering

Bone system for complex editing of bitmap images

Many advanced technical features for expert animators
---
8. Plastic Animation Paper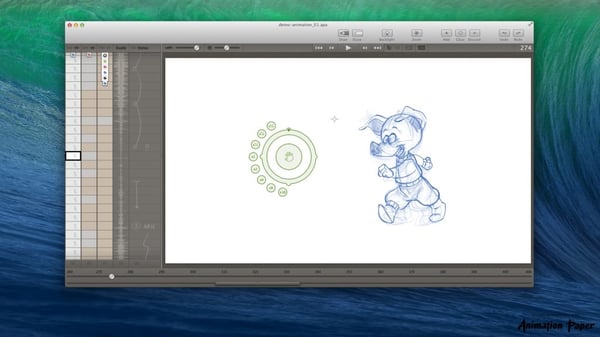 Image courtesy of Plastic Animation Paper
Plastic Animation is the free and original version of Animation Paper. This option is a great animation software for beginners, as the product offers tutorials on how to use the software. The tutorials in this free 2D animation tool allow users to work at their own speed.
Plastic Animation Paper offers tutorials on many of its features, including but not limited to:
Basic drawing tools

The ability to organize a workflow with a setup and marking menus

Layering

How to do a walk cycle, which includes timing with clones, a light table and working in passes

Zooming and rotating a sheet
---
9. OpenToonz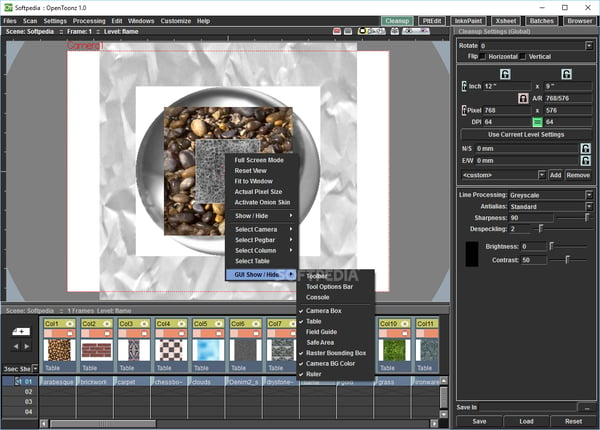 Image courtesy of OpenToonz

This free (and open-source) animation software enables users to produce 2D animation. Thanks to its open-source nature, developers can modify this free animation software to fit their needs.
Using OpenToonz, users have the ability to:
Produce affected incident light

Change picture styles

Create wavy distortion

Scan four different types of images within the product —

black and white, colored or with or without binarization
---
Next steps for selecting the best free animation software
Decide which features are important to you in a product. For example, it is important to decide whether you need open-source animation software or animation software for beginners. The features in the product you pick should allow you to effectively reach your end goal, such as educating your audience or promoting your brand in an exciting new way. Once you have chosen, read through some more verified user reviews to allow you to make the best decision for your business.
Are you ready to for your animations to go viral? Learn how to make a YouTube channel to host your best creations. If you're curious about these companies, learn more about American Software Companies.
* Please note: Reviews may have been edited for spelling and grammar.