How many operating small businesses did you pass today on your way to work?
Think about it. There was a gym full of people fitting in an early morning workout, the auto repair store with the bustling garage, and the coffee shop dishing out lattes faster than you can count.
Now, think about how many of those businesses are franchises. It's probably more than you think. In fact, one out of every twelve businesses in the United States is considered a franchise.
So, what is a franchise?
Looking for something a little more specific? Use the links below to skip ahead to the section you are most curious about:
What is a franchise?
While all franchises compete with every other businesses in the same industry, the structure is what makes it unique.
How franchising works:
A franchise is a type of business structure. In exchange for a fee, the owner of a business, also called the franchisor, will license a third party, called a franchisee, the right to operate a business using their name, brand, business plan, and operation techniques.
Technically, the franchise is the contract both parties sign, obliging them to fulfill certain duties as a franchisor and a franchisee. However, the term is often used to describe the business itself.
For owners looking to gain more geographical reach or market share, they can decide to franchise their brand and product or service. For an aspiring small business owner without much know how in creating a unique brand or business plan, franchising is a valid option.
History of franchises
The United States has more franchises than any other country in the world. However, those businesses didn't just pop up overnight. There is quite an involved history of the franchise business model in the US.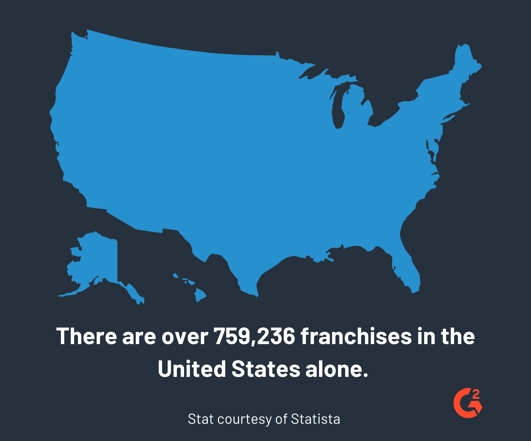 Isaac Singer, the renowned inventor of the sewing machine, became the first known franchisor when he had traveling sales people start selling his invention for him. Soon after, Coca-Cola distributed territories to third parties, and allowed them to distribute Coca-Cola products if they took on the financial risk themselves. Eventually, Ford and General Motors started establishing car dealerships because they couldn't fund the retail centers themselves.
How to start a franchise
If it has always been a dream of yours to start your own small business but you don't have an original idea or experience in creating a brand, starting a franchise is a solid career move. If this sounds like something you might be interested in, here are the steps for starting your very own franchise.
1. Do your research
Before you enter the world of franchising, you first have to understand its nature. Once you understand how it works, you then need to check out the options that are available to you. Make sure the franchise you are thinking of starting actually interests you. It would be a shame to start a franchise to only find out the passion isn't there.
2. Choose a franchise
After looking at all of your options, weed out the ones that make you yawn and choose a franchise you wish to start. Then, do even more in depth research on that specific franchise. Read up on regulations, customer reviews, and social media. If you are still sure of your choice, let the franchisor know you are interested. They will give you a copy of the franchise disclosure document, which is basically a sneak preview of the contract you will eventually sign.
3. Attend discovery day
At discovery day, you will have the chance to meet the franchisor and get a better read on the vibe of the business. Make sure you present yourself as a worthy business party and ask any questions you will need to know to move forward.
4. Review the franchise agreement
After discovery day, if both parties are still interested, you will be asked to review, sign, and return the franchise agreement, which is a legally binding contract between the franchisee and the franchisor. It outlines the terms and conditions of the deal, as well as obligations of all involved parties. If you read the franchise disclosure document, nothing included in the franchise agreement should come as a surprise to you.
5. Get funded
There are multiple costs associated with starting a franchise, such as the franchise fee and royalties.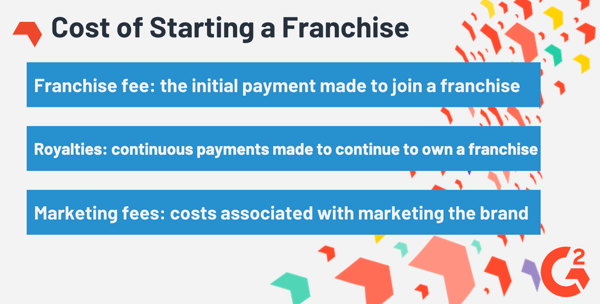 The fees listed above are not the only costs associated with starting a franchise. Think about it like this: any franchisee needs funding to start a business (the franchise) plus the costs listed above.
You will need to acquire the necessary business funding to start your franchise. The franchisor will provide you with the branding, business plan, and systems, but the funding is on you. The costs associated with owning a franchise depends on the industry and brand name.
6. Choose a location
The franchisor might give you a territory or some general guidelines to follow when choosing a location. If it is entirely up to you, be strategic. Take things like competitors, foot traffic, and neighborhood safety into account.
7. Complete all the required training
The franchisor you are working with will have some necessary training you will need to complete. The timing and contents of your training will depend on the franchisor.
8. Prepare for opening day
The last item on the list is to prepare yourself, your location, and your employees for opening day. Make sure you leave a good first impression!
How to franchise your business
If you are on the other end of the deal and are interested in franchising the business you own, this one's for you.
1. Make sure your business is ready
Franchising isn't right for every small business. You will need to review a couple of aspects of your business before considering franchising.
Business model: Is this something that other people will be interested in doing?
Financial situation: Is your business profitable? Is it possible for others to see the same profit?
Market: Is there more demand for your business?
2. Take a look at the legal side of things
To move on and sell franchises, you need to register an official franchise disclosure document with the Federal Trade Commission, which is an organization dedicated to protecting consumers and ensuring no business can monopolize an industry.
3. Create your franchising model
At this point, you will need to decide how you want this franchise relationship to look. Consider things like fees, terms in the franchise agreement, territories, training, and marketing.
4. Get the paperwork together
You are officially ready to register as a franchisor! But don't get too comfortable. Once you file the necessary documents with your respective state, they might have some critiques. Make those changes and refile until they are satisfied.
5. Hire the right people
It is wise for franchisors to have staff dedicated to being franchisee support. Hire qualified candidates that can focus on assisting your new franchisees.
6. Start selling franchises
With that covered, you can focus your attention on finding franchisees to buy into your business concept. You can hire a sales representative or rely on word of mouth marketing.
7. Provide support
Once the franchisee has signed the franchise agreement and paid all of the necessary fees, it might seem as if your work here is done. It's not, unfortunately. You will need to provide support to your franchisees. Whether or not you are there to guide them can be the difference in your business thriving or failing.
Franchise regulations
With any type of business, owners are required to operate in regulation with certain rules. Franchises are no exceptions to this.
Franchises are regulated on the state level, however, all franchisors must abide by the Franchise Rule. The Franchise Rule states that all potential franchisees must have all of the necessary materials for properly weighing the pros and cons of buying a particular franchise. These topics include fees, history of litigation, approved suppliers, and even sales forecasting.
Because the franchise agreement is a binding document once it is signed, the franchisee and franchisor are legally obligated to fulfill their duties outlined in the document. These franchise agreements are temporary, but can last anywhere from five to thirty years. Violation of the contract or ending the relationship prematurely can have some serious penalties.
Back to basics
There are countless ways to start a business nowadays. You can do it online, in your home, or cities away. No matter how you do it, franchising is the only option that doesn't require the owner to create a unique brand or business plan. If skipping those steps sounds appealing to you, franchising might be your best career move.
Want some help in the process so you stay compliant? Check out G2's top rated legal services to get some professional help along the way.