You gotta pay to play.
We've all heard it. And while it would be nice to enjoy things for free, that's just not the world we live in. Everything we do in life revolves around money so much that certain types of payments have even taken on their own original names.
You pay rent to live in your house or apartment, payments of principal to reduce your current debts, and franchise fees to join an extension of a particular brand.
What is a franchise fee?
Just like you need to surrender a couple of bucks to join a gym or country club, starting a franchise requires some cash upfront before you can participate.
How does a franchise fee work?
A franchise fee is a payment made to join a franchise. Once a franchisee gives their respective franchisor the set fee, they can start conducting business under the name of that particular franchise.
A franchise fee is essentially money you must pay to acquire a license you need to gain access to the branding, business plan, and operations strategy of a business. It's a kick-off fee. Once you pay, you can play.
What is a typical franchise fee?
Franchise fees depend on the brand you are buying in to. Here are the franchise fees associated with some of the most popular franchises: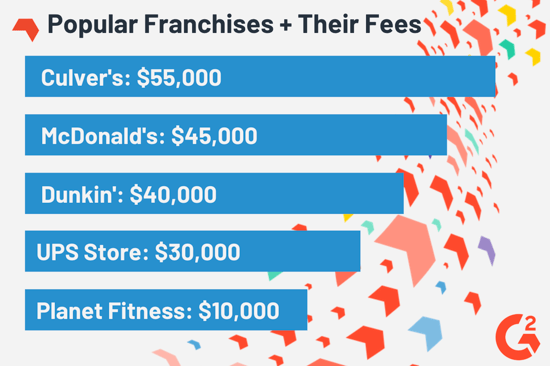 As you can see from the amounts above, franchise fees can typically range from $10,000-$55,000. Considering all the costs associated with starting, owning, and operating a business, that doesn't seem too steep, does it? It seems too good to be true.
Well, it is.
Let's go back to the gym example. When you join a gym, it doesn't end at the initial membership fee. As you continue to be a member and use it, you also need to keep coughing up more cash.
The same goes for franchises.
Other franchise-related fees
There are plenty of other fees a franchisee must pay to start their own franchise. Let's take a look at some of those wallet-emptiers.
Marketing fees
We see ads everywhere. On TV, busses, our cell phones. However, we all know that attention-grabbing content doesn't come for free. Before they can reap the benefits of this exposure, businesses need to conduct market research, produce engaging materials, find the right spot to put those materials, and buy the right to place it there.
Since their part of the franchise will be partially benefiting from this advertising, franchisees need to contribute funds to cover the marketing costs. The fees a franchisee pays for marketing will typically depend on how they are doing financially and the number of franchises in the area. It typically ranges from 2-5% of their monthly revenue.
Royalties
A royalty fee is simply a payment a franchisee must make to a franchisor to continue operating their business under that franchise's brand.
This fee is paid monthly to franchisors. The amount of this payment also depends on the monthly revenue of a franchise, however, the percentage is taken up a notch. Royalties typically account for 4-12% of the franchise's monthly revenue. The exact percentage depends on the industry that the business falls into.
High volume businesses, like fast-food chains (whose revenue can exceed $1 million annually), typically have lower royalty percentages because it doesn't take much for the franchisor to see a decent amount of money coming in. Low volume businesses, like retailers, will have a higher royalty percentage because they aren't making as much and the franchisor will need to charge a higher royalty fee in order to see a return.
Royalties might seem steep, but this is where the franchisor is earning most of their profit.
Pay up
There are a lot of fees associated with owning a franchise. In the end, it costs about the same as starting your own original small business. However, if you aren't keen on writing business plans, designing your own brand, or getting strategic with operations, it might be the best business option for you.
There is more to franchising than money. Read more about the franchise agreement to learn about the legal side of doing business with a franchisor.