Your career as an event planner is completely dependent on the quality and success of your event proposals.
Which I'll admit sounds a little frightening!
It doesn't matter how ingenious your ideas are or how great you are at planning if you can't successfully translate all of that into an event proposal that catches clients' eyes.
Learning how to craft a winning event proposal will make all the difference in your career when you start landing jobs and beating out your competitors.
This article will walk you through exactly what an event proposal is, the greater purpose, and the six most important elements you should include when crafting your own.
What is an event proposal?
An event proposal is a document that outlines how you, the event planner, will execute the client's event vision according to their RFP (request for proposal).
You will typically be bidding against other event planners, companies, and agencies for the client's approval, and ultimately, the job to plan their event, which is why it's crucial to create a well organized, meticulously detailed, and wow-worthy event proposal.
It's no secret that the event industry is wildly competitive. To ensure you get hired for the job, you must successfully showcase your creative skills, unique ideas, and one-of-a-kind vision of how you will translate the client's ask into an event that's executed better than anyone else ever could .
TIP: Want to ensure you have a competitive edge in the industry? Read up on the newest event trends!
Getting your creative ideas to translate properly on paper isn't an easy task, and it should now be clear that an event proposal is so much more than just a bland business proposal. An event proposal should bring the client's ideas to life in ways that they never could have imagined on their own.
Tips to ensure you craft a successful event proposal
There are a few boxes you should check off before you begin the writing process, and your attention to these pre-writing details will make all the difference to your potential client by proving your dedication to getting the job done exactly how they envision it.
Read the RFP thoroughly
Read it once, twice, three times or more to ensure that you fully understand what the client is expecting for their big event. You should also have a conversation with the client to get the details that aren't mentioned in the RFP. Remember, your job is to plan something that the client wants, not what you want. Having a firm grasp on the ask is an important first step before you can move forward.
Translate their ask into your unique ideas
Based on their ask, it's your job to make it into something great. Although the client knows what they want, they don't know how to make it happen. Your creative ideas and ability to transform basic themes into something amazing is exactly why they are considering hiring you in the first place.
Take time on this step to conceptualize the event. Even if this is your hundredth time planning an event just like this one, you should still make sure that you're coming up with unique ideas and possibilities. The last thing you want is for the client to see your past work and notice that every event has similar concepts. If you can't provide exciting, tailored ideas for each specific client, you probably won't get hired.
How to write an event proposal
Now that you have a firm grasp on exactly what the client is looking for, and you have brainstormed ways that you can creatively apply your abilities, it's time to write the proposal.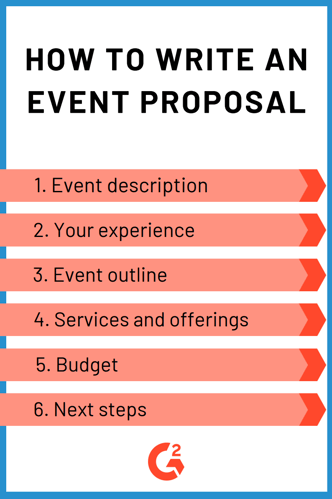 Every event proposal should follow a basic outline. There are six necessary elements that you should always include in your event proposal. Just because there is a standard outline to follow doesn't mean you shouldn't make it completely your own. The goal is to stand out, so make sure you're going above and beyond with the delivery of the proposal. This can be in the form of a creative design, through a dedicated event website, an introductory video, and so much more.
TIP: Does creating an event website pique your interest? Learn everything you need to know on how to make a website here!
1. Event description
Remember the prewriting stage we just went over? Here's where it comes in handy. In this first section of your event proposal, you should summarize the client's needs to prove you understand their ask.
This first section is a great place to get the client's mind whirling with possibilities. While you present their needs, you can offer up some suggestions or preliminary ideas you have to get them excited. This section is a foreshadow of section three, the event outline, so keep the suggestions brief, as you won't want to go overboard with it. The goal here is to prove you understand what they envision, and based on your meeting, have already come up with winning ideas that nail exactly what the client is looking for.
2. Showcase your experience
This section is all about you as an event planner. Highlight your past experience, certifications you've earned, your team's organizational structure, and more. Allow the client to get to know you and your team so they can feel confident in your ability to plan their special event. You can even share photos of similar events you've planned in the past or include testimonials. Just remember, the proposal is about the client, so keep this section brief, but make sure you're still sharing enough background on your skills and abilities.
3. Event outline
This is your take on the execution of the event, and arguably the most important element of the entire proposal. This is where you present your vision for the event based on their ask. You can provide additional suggestions like venue spaces, catering options, menus, and more!
It's important to not reveal all your best and most creative ideas just yet! Remember, the client is most likely looking at a few other event planners, so you don't want to share all your special secrets. This section is mainly to prove to the client that you can translate their ideas into an event that checks off all of their boxes while providing suggestions on specific event elements that they probably aren't aware of.
TIP: This is when the fun begins! Supplement your event outline with an awesome event marketing plan to ensure you have all your bases covered!
4. Share your services provided
In this section, you want to describe all of the services and offerings you provide as an event planner. Even if you don't think certain services will be used by this particular client, it's always a smart idea to share everything you can do in case they change their minds on what they want for their event.
It's a good idea to break down the service list by each section of the event. This strategy makes it easy for the client to absorb the information you're sharing, and it also helps your case by providing event organization upfront.
5. Budget
Here comes the dreaded budget section. Sharing the total cost will be a delicate conversation, so before you add up the grand total and shock the client with a large number, you should itemize each event component and provide options for different pricing levels.
Make sure the client knows which elements of their event are the driver of the highest costs, and then share the specific budget breakdown so the cost is easier to consume. Breaking it down by event component is a great way for the client to see what can be pulled to stay within budget or if there is extra room to add something.
6. Next steps
This last section is your wrap-up. You should include information like your contact details, hours of availability, specific deadlines to be aware of, what the specific next steps are if the client wishes to move forward with you, and the deposit they will need to provide. Remember, your event proposal is a sales document! Address any reservations the client might have and push for the next steps.
TIP: Once you get the job, you're probably going to need a little help. Check out the best event planning software on the market to guide you through the entire process!
Sell yourself strong
Wowing the client upfront and proving that you're the best option to hire is the ultimate end goal for any event proposal, but translating your creativity on paper is not an easy task to accomplish when you're first starting your career. With time and practice, you'll learn the tips and tricks that work best for you and you'll become an expert in no time! Just remember, with every proposal you write, you're selling yourself! So make sure you are always highlighting what makes you unique!
Do you love the event industry, but you're curious about the other opportunities that could be out there for you? Check out the most popular event planning jobs here!