Over the last few years, ephemeral content has become a popular social media phenomenon.
Since it lasts for a brief period (24 hours), the FOMO effect appears, making people hooked and engaged for fear of missing out.
In fact, ephemeral content is getting more and more popular at a rapid pace: social media story creation and consumption is up 842 percent since early 2016, and Instagram and Snapchat Stories are growing 15 times faster than feeds, according to TechCrunch.
Since the number of users is growing, it's no wonder that ephemeral content is one of the biggest social media trends. For brands, this means an opportunity to interact with the target audience in a funny and interesting way. Thus, no matter your business size and niche, short-lived content can help you get to the next level if done right.
Based on a study by Hootsuite, 90 percent of brands use social media to increase brand awareness. If you're not a big brand, it can be difficult to stand out from the crowd. If you're hoping for attention, companies need to keep up with the trends — which is where ephemeral content marketing comes in.
What is ephemeral content marketing?
Ephemeral content, also known as short-lived or impermanent content, is any visual content, video or photo, that has a brief lifespan of 24 hours before automatically disappearing (basically the exact opposite of evergreen content.) Today users can share short-lived content via Stories or Livestream on various platforms.
Which social media platforms have ephemeral content?
Back in 2013, Snapchat launched 'Stories', available for 24 hours. At first, this type of content was popular only among teens. But then other social media platforms like Instagram, Facebook and WhatsApp started copying the concept of distributing disappearing content.
For now, there are four social media platforms that support ephemeral content:
Snapchat
Instagram
Facebook
WhatsApp
With the rise of short-lived content, ephemeral content marketing has appeared. It is a type of marketing that uses a FOMO tactic to create a sense of urgency, making users more likely to take action. In plain English, it is the creation and sharing of short-lived visual content (images and videos) that not only promotes a brand but also stimulates interest in its products or services without wasting much time.
Reasons to use ephemeral content marketing
In 2019, using ephemeral content isn't an option anymore. It clearly brings better business results. For example, Lacoste tested the carousel ad format in Instagram Stories to promote its bedding collections. Just within 30 days, the company got a 32 percent lower cost per click and a 61 percent higher click-through rate (versus another digital ad format) from its Instagram business profile.
Still, not convinced? Here is a list of reasons to adapt ephemeral content marketing for your business:
Stay up-to-date on social media
At first blush, the idea of sharing content that only lasts 24 hours doesn't seem the best one for marketers. However, more and more people produce and consume short-lived content – Stories have increased the amount of time users spend on the platform from 15 to 32 minutes a day – and it has become a white-hot marketing medium.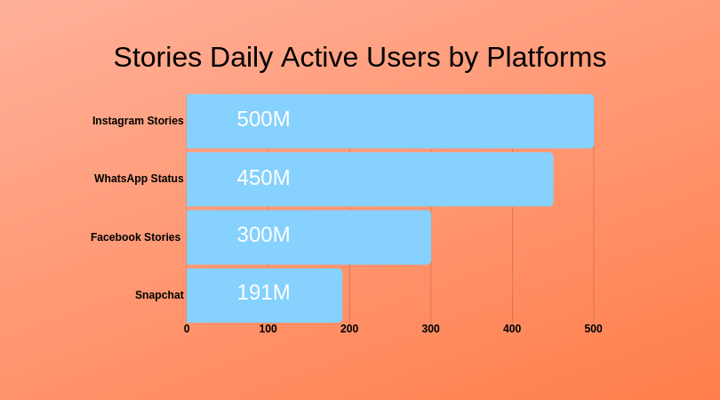 Although the concept of ephemeral content was introduced by Snapchat, all social media platforms surpassed its original Snapchat version. What is more, Facebook CEO Mark Zuckerberg also says that ephemeral content is the future of social media: "Today we already see that private messaging, ephemeral stories, and small groups are by far the fastest growing areas of online communication."
Ephemeral content keeps the audience engaged, so it gives many opportunities for marketers to connect with people and deliver brand messages in an authentic way. According to Business Instagram, brands don't miss a chance to use short-lived content to interact with their followers: 96 percent of US marketers plan to continue using Stories ads, 1/3 of the most viewed Stories are from businesses, and 50 percent of businesses create at least one story a month. If you want to tap into social media's potential, you need to stay up-to-date, so marketers should leverage the Stories format.
TIP: Learn about the top content marketing influencers are to help you craft your content strategy in 2019.
Embrace authenticity
Branded information bombards people from all the sides online and they are overwhelmed with the amount of overly-polished ads they receive daily, so it's no wonder that 86 percent of users crave authenticity more than ever.
To be more authentic, give ephemeral content a try: since it has a short lifespan and it won't appear on the profile grid, Stories don't have to be perfect - they can be spontaneous and genuine. To stay authentic, you can post the following:
Behind-the-scenes (BTS) content: introduce the team members, publish an interview with the owner, demonstrate the product creation process, etc.
User-generated content: publish pictures of customers who use your product, share reviews and testimonials, answer customers' questions, etc.
Let's take a look at Roots, lifestyle clothing brand. This company is a great example of how to use ephemeral content to embrace authenticity without clogging up the main feed with content.
The company takes followers behind the scenes: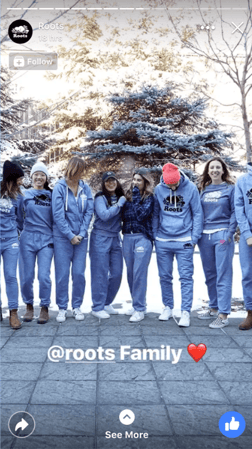 And it also shares user-generated content to prove that people choose it: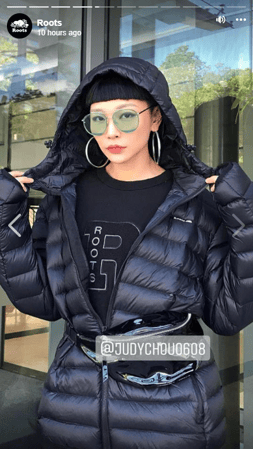 In the era of sponsored posts and endorsements, short-lived content feels more authentic, so it helps brands gain trust. In other words, authentic content keeps audiences hooked and engaged, making you one step ahead of your competitors.
Reach more people and drive website traffic
Wouldn't it be great if you could get more followers on Instagram with ephemeral content? What if you could drive website traffic, too?
In fact, Stories allow companies to achieve these marketing goals. First of all, geofilters and hashtags are the main ways to reach a wider audience without investing money into paid Stories ads. What is more, accounts can add a website link if they have more than 10k followers.
Case in point: Last year, Supergoop! promoted its products during the Coachella Valley Music and Arts Festival. To attract more offline customers, the company used Instagram Stories with a geotag and hashtag - it helped to be discovered by other people interested in your location, and therefore get more local exposure.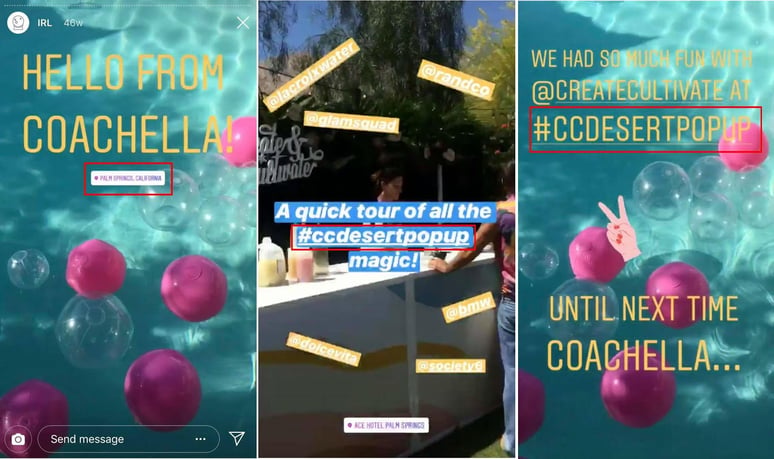 At the same time, the company has more than 10k followers, so it can make the most out of Instagram features and drive website traffic with clickable links: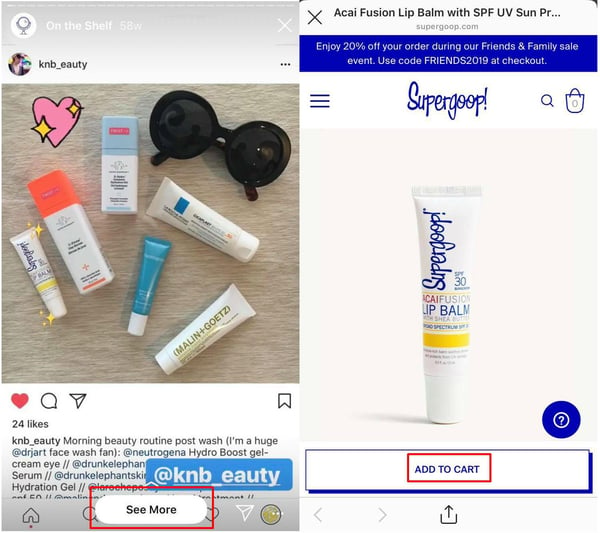 Although most business owners believe that having a huge fan base on social media means success, the follower count can be a vanity metric — if you spent a lot of time and effort attracting hundreds of followers only to have a few of them interact with your content, you may not be attracting the right audience. When it comes to reaching potential customers, short-lived content is a great source as it reaches people who are interested in your location or hashtag.
Engage your target audience
Social media engagement is a great way to indicate whether your content meets followers' needs and wants. The more people interact with your content, the higher engagement rate is which means increasing the chances of being seen by other users. All in all, engagement is important to any business, and so engaging your target audience is a must.
Since ephemeral content has a limited lifespan, that FOMO effect appears: people are afraid of missing out on something important. Plus, no matter what social media platform you use for business, whether Instagram, Facebook, or Snapchat, it has a Stories feature that helps keep your followers hooked and engaged. From polls to augmented reality (AR), there are many interactive ways to connect with customers.
For example, Taco Bell created sponsored Snapchat geofilters to advertise its products on Snapchat. AR is appealing to users, so the brand has gained more exposure and social media reach — the sponsored lens campaign resulted in 224 million views in one day.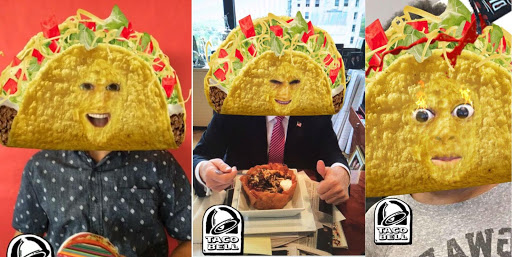 Obviously, creating sponsored lens filters takes time, money, and creativity. If you're not a big brand with a solid budget, it's better to rely on features that ephemeral content has on social media platforms.
Take, for example, Airbnb. To engage its following, the company publishes several Instagram Stories with additional information about a location so that users can guess the place in the picture. Since people love quizzes, this content attracts many viewers.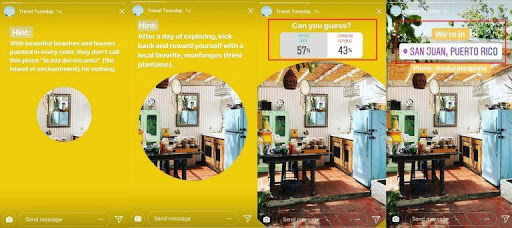 Here's some other ideas for developing short-lived content that will engage your audience:
share tutorials and how-to videos
organize Q&A sessions
feature UGC
ask followers to share their thoughts via emoji slider or polls
In other words, short-lived content creates a sense of urgency and offer different ways to keep your followers interested.
Boost e-commerce sales
It seems obvious that ephemeral content builds brand awareness – 62 percent of people become more interested in a brand or product after seeing it in a story. Since 80 percent of shoppers make impulse purchases online, using shopping stickers in stories is a great way to increase sales. Thus, selling with short-lived content is not only beneficial for e-commerce companies, but also for their followers who want to make in-app purchases.
Here's an example from GAP Kids that uses Instagram Stories to drive e-commerce sales. With shoppable stickers, followers can tap on the shopping bag icon to discover more about the product: its description and price.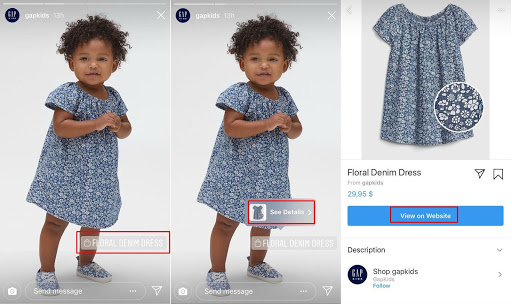 Another example comes from beauty brand Sephora that increases the sense of urgency by sharing time-limited offers: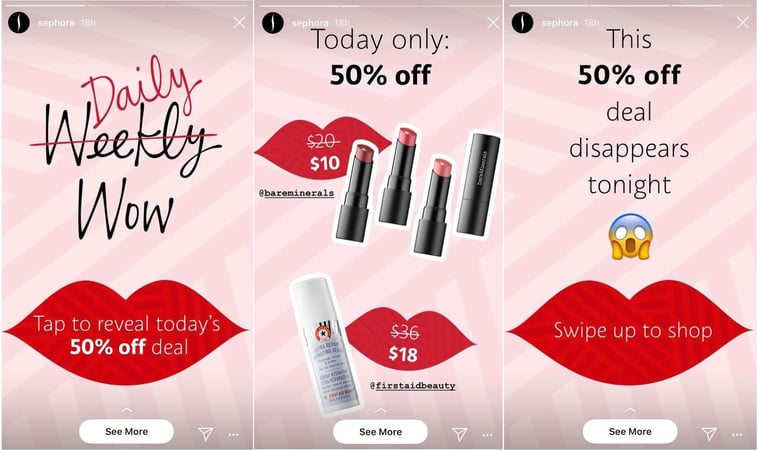 Social shopping is on the rise: followers are ready to not only discover products on social media but also make purchases. Thus, it's important to provide them with a better customer experience and optimizing accounts for e-commerce is a must. Encourage that impulse buyer in all of us!
Don't miss the trend
Ephemeral content marketing is taking the world by storm. With a growing number of its fans, it's essential for marketers to rely on the concept to cut through the noise, build brand awareness, promote products and services, and even boost sales. In other words, short-lived content has huge marketing potential, so it's a must in 2019.
Ready to learn more? Use social media analytics software to track the performance of ephemeral content.