Employee journey mapping is a crucial part of HR processes.
It reveals how your employees feel about your organization and how you can improve their experience while they work with you. Learn how you can leverage employee journey mapping for increased talent retention in your organization. We have outlined some helpful tips and templates for you below.
What is employee journey mapping?
Many businesses use comprehensive sales funnels and design thinking processes to map customer experiences for increased customer retention. However, they often forget that employees are just as important as a part of an organization as customers. Developing employee journey maps is crucial to retaining valuable talent in your company.
Employee journey mapping
Employee journey mapping is the visual representation of an employee's professional experience at their workplace. It begins from their first interaction with the company to their exit from it.
The 2020 Talent Optimization Report revealed that the turnover rate of even the most high-performing employees is approximately 47%. Employee journey mapping is a key exercise as it unveils "moments that matter" in an employee's journey. Optimizing such moments can help increase employee engagement and satisfaction.
When people in your organization are emotionally satisfied with their work experience and engaged in what they do, they give discretionary effort, i.e. they put in extra hours and effort just because they want to. With a greater number of employees showing discretionary effort, a company's output and profits are bound to increase. There's also less discontent in the workplace internally as employees are happy and less likely to leave.
Let's look at some statistics from customer journey mapping to substantiate the use of employee journey mapping by businesses.

If we extrapolate this data onto employees, businesses are expected to have a 54% greater return on employee investment, 10 times improvement in their HR costs, and 3.5 times more recruitment from employee referrals.
Furthermore, the rise of remote work means that keeping your employees motivated and engaged is critical now more than ever. Hence, employee journey mapping is a key tool that must be used by HR managers everywhere.
Understanding the employee journey
Now that we know how important the employee journey map is, let's take a look at what it is about.
An employee journey map typically consists of 10 basic stages, or moments that matter:
Pre-boarding
Onboarding
Ongoing learning and development
Ongoing engagement
Performance planning, feedback, and review
Rewards and recognition
Advancement
Fire, resign, or retire
These moments are illustrated below to give you a fair idea of their chronological order in an employee's journey.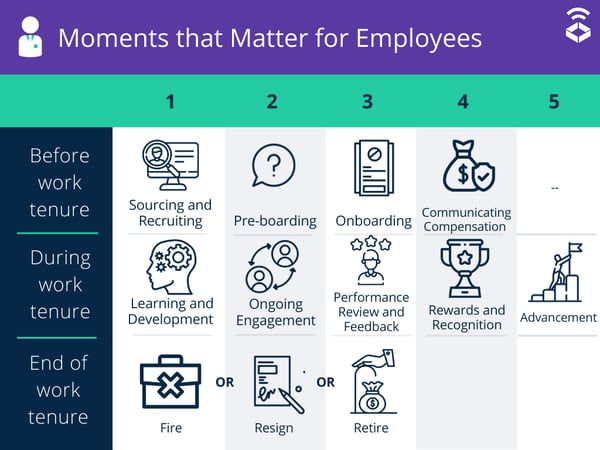 However, note that the order of moments in the "during work tenure" phase does not have to be fixed for each employee. It can vary for different employees and their personas (which we will discuss later). Let's go through the employee journey map and discuss each of its stages in detail.
Sourcing and recruiting
The sourcing and recruitment part of an employee journey is perhaps the most important. Since it is an employee's first touchpoint with your organization, it is key for developing an employer brand image. Right from the start, you can demonstrate that you are an organization that cares for and values its employees.
Sourcing and recruitment consist of organizing career fairs and recruitment drives at various universities and posting job advertisements on digital or print media. Alternatively, it can also be a word-of-mouth referral by one of your current employees to a potential employee. A good recruitment drive, job advertisement, or employee referral is one that results in many sign-ups by prospective candidates. It is the engaging stories of current employees, borne as a result of employee journey mapping that leads to this.
This step also involves the entire selection and interview process of candidates and the communication that happens in-between with representatives from HR and other departments to which the candidates apply. You can ensure a smooth recruitment process by clearly defining and communicating job descriptions, roles and responsibilities, selection criteria, and application deadlines to prospective candidates. It is also important to follow up with these candidates, schedule timely interviews, and make sure there are no missteps in the interview process.
Pre-boarding
Pre-boarding helps placate the anxiety of starting a new job. Acquaint your newly hired employees with all the necessary details of their new workplace. Where is the office located? What is the pin location on Google Maps? Where's the parking space? What is an acceptable dress code? You can have a concise manual prepared for the new employees to give them an idea about what they should expect from the first week of their job. However, try not to be too overwhelming. Just a few quick tips should be enough.
Onboarding
Onboarding is where the rubber hits the road. This is where your employees get the actual sense of the nature of work and the work environment. Did you make your new employee sit on a desk that was later occupied by someone else? Did their laptop encounter issues and they weren't able to start work for two days? Did their team warmly welcome them? These things may seem trivial but it's the little things that really matter when it comes to how a person feels about working at your company.
With the rapidly growing trend of remote work culture, onboarding is even more crucial. You must schedule virtual ice-breaking and onboarding sessions with the new employees and their team members. This makes the new workers more accustomed to the people they're supposed to work with. They also get an idea of how task information and reporting flows within and between teams.
You can devise a seamless onboarding process by surveying your most recent employees about the shortcomings in the current onboarding process (if you have one in pace, that is). Be sure to ask them about what worked or did not work well for them. This will reveal a pattern of the strengths and weaknesses of your onboarding process and allow you to keep or discard practices.
Compensation and benefits
While a good job title or the name of a reputable employer is very appealing to employees' resume, an ample paycheck is also necessary. Employees don't want to spend more than what they earn for a job. Before employees start a new job at your company, make sure to clearly communicate the compensation and benefits package to them. Cover all the expenses they have to incur in order to kick start their new job and try not to incessantly change benefits policies.
Ongoing learning and development
Great company culture aside, if the work at your organization isn't challenging enough to foster ongoing learning and development, employees might just start looking for other opportunities on Glassdoor or LinkedIn during the lunch break.
To keep an employee's journey fulfilling and challenging, you can design monthly, quarterly, or semi-annually goals for them. These goals can focus on building different skills. For instance, you can ask a Digital Marketing Associate to take Google Analytics or SEMRush courses during their first month, design SEO-optimized advertising campaigns in the second month and revamp the entire marketing strategy after six months.
A culture of ongoing learning and development ensures that your employees do not hit a wall and resign from the job due to a lack of daily excitement.
Ongoing engagement
The ongoing engagement has to do with the social activity of your employees. Do the team members gel well with each other and go out for coffee after work, or do they just pack their bags up and hurry off to their homes as soon as the clock strikes 5 p.m.?
Have you ever spotted an employee who doesn't hang out or participate in your work activities as much as the rest? Anybody who has lunch by themselves and appears reticent most of the time? This may sound like a snippet from the diary of a lonely teenager. But "social acceptance" is a valid need in the hierarchy of needs for humans and it applies to your employees as well. After all, they spend a major chunk of their day at your office.
It is the responsibility of an HR manager to make sure that their employees feel accepted, acknowledged, and valued at their workplace and by their peers. Despite how well suited they are for the job, if an employee does not feel the social connection with the people at their workplace, they are very likely to leave for a place where they feel more comfortable.
Performance planning, feedback, and review
Nobody likes squandering their time in vain. Without a clear vision in mind, employees just feel distracted, demotivated, and exasperated. When a person joins your organization, you must clearly communicate their goals and give them a practically reasonable amount of time to accomplish them. Do not expect a social media manager to report a 1K+ spike in your company's Twitter following over two weeks.
Once you've established goals for each employee and set a time frame for them to attain these goals, you can review their progress. This can be done on a quarterly, semiannually, or an annual basis.
Here are some questions you can ask while planning a performance review and feedback:
Who is reviewing the employee? The immediate line manager or the Director of the department?
What is the review process like? Which output or productivity metrics does it focus on?
Is the review more qualitative or quantitative?
What is the recurrence period of the review?
What kind of feedback (positive or negative) does the employee get?
What is the cause of the feedback that they're receiving?
How can the employee improve their performance?
Are there any shortcomings in the review process itself? How can it be improved?
Rewards and recognition
An employee who puts in nine long hours of work every day but doesn't get their due praise even after years is sure to have a negative employee experience at your workplace. Employees expect to see something coming out of their hard work. This entails verbal, sometimes monetary recognition for the value that they provide. It should not just be by their immediate team members and leads but also by the top-level executives.
Employees must know that their hard work is acknowledged and valued; that they're creating an impact. Throwing parties for an employee after every five years is the easy part. It's really the recognition of their daily hard work and productivity that helps them feel positive about their position in a company.
Advancement
Advancement or promotion in a career is another crucial moment in the journey of an employee. It assures them that they're progressing in their profession and have gained enough skills and experience over the years to reach this position.
However, an HR professional must also ensure that the concerned employees receive adequate onboarding when they're promoted to a new job title. Intra-team and inter-team syncs are important to make sure that the promoted employee is aware of the overarching company goals and can develop team goals based on that. It is also vital to discuss how the daily routine of the employee is to change after the promotion.
Fire, resign, or retire
This step wraps up an employee's journey in your organization, although many argue that a former employee has an impact on your business even after they leave. The answer lies in referrals and how their exit impacts the other team members - their responsibilities and their workload. You need to make sure that their knowledge, resources, and login credentials are passed on to those who replace them.
Lastly, how easy is the offboarding process for someone who retires, resigns, or is fired from your office? Is it cold and reflects that you've burned the bridges with your employee? Or is it warm and personal?
Try that the exit interview is not merely perfunctory but identifies the real reason why the employee had to leave. Was it a misfit between the job description and the employees' skill set? Was it the company's culture? Did they find a better paying job? If retiring, how satisfied were they all these years by working for your company?
How to design the perfect employee journey map
Now that we know the steps in an employee journey map, let's learn how to make one. There are four basic steps to creating an employee journey map.
1. Segment your employees
Each employee's journey is different. It is based on their qualifications, skill set, personality traits, compensation level, and their internal needs and drivers. For this reason, it is important to segment your employees into different personas and develop employee journey maps suited to each persona. It's all about getting inside your employees' heads and discovering what motivates them and what holds them back.
You can give a name to each persona, for instance, Jane the Solutions Consultant. You can even add details like Jane's age, her address, her job profile, her career ambitions, and her behavior with her peers.
You can use an employee persona template to guide you with the process of making a persona.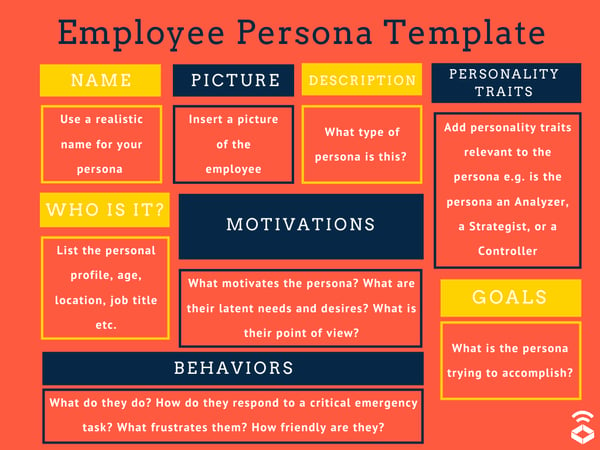 2. Establish the journey for each employee persona
After you're done drafting the employee personas, you need to take each of your employees through a journey mapping activity. This is where the steps we identified above come in. Ask your employees about their experience in the workplace as they pass through each step. You can take the help of employee engagement surveys to do so. You can choose whether you want to keep the surveys anonymous or not, although employees are expected to give more candid answers for anonymous surveys.
Once you have the answers, really focus on what your employees are trying to tell you. Do not sideline any warts in your system. Even if it's just one broken link, it must be fixed promptly or it could break the whole chain.
Additionally, map the emotional status of your employees across each of the stages identified above. Perhaps, Jane, the Solutions Consultant had an exceptional recruitment experience but she was really left all by herself during the onboarding process and decided to quit later.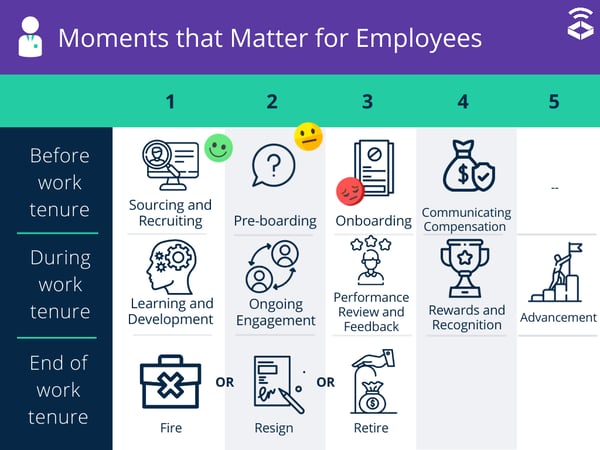 When making an employee journey map, you can also include other aspects that impact an employee's journey such as their goals, touchpoints, barriers, and motivators. Below is an employee journey map template for your reference: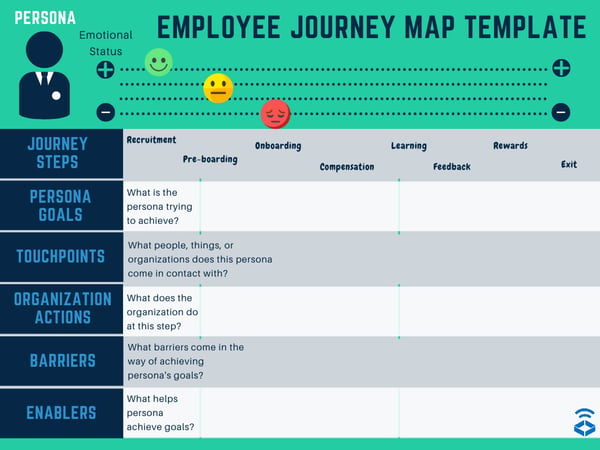 3. Identify the moments that matter on each journey
One thing to note here is that different employees give different preferences to different stages in the employee lifecycle. For instance, for some employees, a rocky onboarding might not be as bad as zero chances in professional growth. You really need to figure out what is the last straw for an employee. The motivators, barriers, and emotional status of an employee can help uncover this.
Now that you have the entire profile of your employees' experiences and their enablers, you can easily highlight areas that need improvement. Note that it is the neutral and negative employee experiences we want to find and rectify here. As for the positive ones, ask your employees what made them happy so you know what works and which policies to hold onto.
4. Establish measurements for each stage of the employee journey
After taking the desired actions, measure whether and how the employee experience has improved.
Here are some metrics you can track:
Absenteeism and Employee Turnover Rate
Employee Net Promoter Score (NPS)
Employee engagement
Acceptance Offer Rates
Engagement of Onboarding Journeys
Personal Development
You can also choose different employee satisfaction and engagement metrics to monitor based on what it is you want to accomplish.
A positive employee journey is a positive company journey
Employee journey mapping is not only beneficial for an employee's professional and personal development, but also for an organization's success. The key experiences of your employees are precisely the ones you should track to gauge your company's success in talent acquisition and retention.
If you diligently follow the technique of employee journey mapping and value the sentiments of your employees, you are sure to retain the most exceptional talent in your organization and lower employee replacement and recruitment costs.