How many websites do you visit in a day?
I'm not talking about mobile app versions of a website, I'm talking about using an actual web browser. For me, typing in some of my favorite website URLs into a search bar has become second nature. I can do it with my eyes closed.
But before my favorite website could become my favorite, it had to be created, and the first step in the creation process is often deciding on the right domain name. While there are many steps to learning how to make a website, one of the first items needed to do so is determining a domain name.
Interested in something specific regarding domain names? In this article, we'll cover.
What is a domain name?
A domain name is used in a URL (uniform resource locator) to identify particular web pages. As an example, in the URL https://www.g2.com/categories/crm, the domain name is g2.com.
Basically, your domain name is how your website will be known online, regardless of what kind of website you have. Users who already know your domain can simply type it into their browser and be taken to your website.
The domain name consists of two parts, one being the name (g2crowd) and the other being the extension (.com).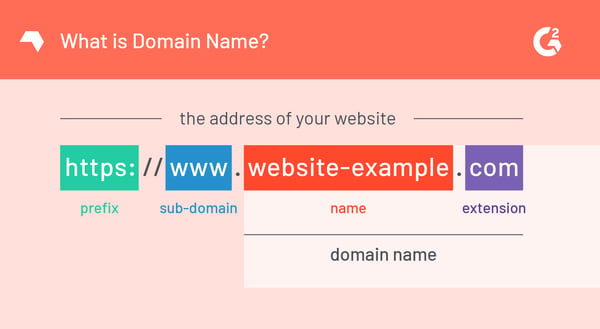 Types of top-level domains
Every domain name has a suffix that reveals which top-level domain (TLD) it belongs to. The TLD is often an indicator to a website visitor of what the website is actually pertaining to.
There are many types of TLDs, which is the extension portion of a URL found to the right of the dot, and you're able to choose the one that is best fitting for your website during the registration process.
.com
The most popular and common TLD is .com, as 75 percent of all websites have .com as its TLD. It stands for "commercial" and is used by most commercial websites. Example: www.youtube.com
.io
A website URL with an extension of .io usually means the website is related to the tech industry, as it stands for input/output. It's a popular domain choice within the tech and startup communities. Example: www.hunter.io
.org
Website URLs with a domain that ends in .org are nonprofit organizations. Example: www.change.org
.gov
When a website URL ends in a .gov TLD it is a government agency. Example: www.usa.gov
.edu
Website URLs with a domain ending in .edu are websites that are an educational institute. Example: www.depaul.edu
.net
A URL ending in .net belongs to a network organization. Example: www.slideshare.net
Related: Learn more about the difference .com vs .net so you can make the right choice for your website.
Choose a domain name
When you choose a domain name for your website, think of it as your home address. Because a website domain has to be registered, no two website domain names are the same. Remember that your domain is what customers and viewers of your website will associate with your brand, so it's not something to be rushed and taken lightly.
5 tips for choosing a domain name:
Make it easy to type

Keep it short and simple

Avoid numbers, hyphens, and underscores

Use keywords that relate to your brand

Use the correct TLD
Registering a domain name
Once a domain name has been decided upon, it's time to move on to the registering phase. Some popular domain registration providers include:
GoDaddy
Google Domains
Network Solutions
Register.com
Bluehost
Some website builder platforms offer a package that includes domain registration if you don't want to register your name separately as you build your website. It's important to keep in mind that web hosting is separate from registering your domain name.
If you're even thinking about getting a domain name, it's best to act fast. Thousands of new domains are registered every day, so the catchy and clickbaity domain name you thought of yesterday could be gone today if you wait too long. According to a study conducted by Verisign, there were approximately 342.4 million domain names registered across all TLDs in 2018.
Cost of a domain name
A lot can go into the cost of building a website, including the cost of a domain name. The price you'll pay for your domain will depend on which web host, or registering website, you choose. The range can be anywhere from $10 a year to thousands of dollars a year. However, the average new domain runs between $10 - $15 a year.
What's in a name
As you can see, a lot goes into choosing a domain name. There are many factors to consider, as it'll represent your website brand for (hopefully) years to come. Deciding upon and registering your domain name are must-do steps when it comes to website building, so make sure you take some time brainstorming potential ideas and get ready to fully commit to whatever domain name you choose.
Interested in learning more about the basics of website building? Check out these must- have Website Features!