You may think that diversity, equity, and inclusion are just trendy buzzwords. But for businesses committed to sourcing the best talent, it's not a factor to be ignored.
Your organization's commitment to DEI initiatives is a vital part of your employer branding that starts early in the talent sourcing process. As you build this employer brand, creating a diversity statement will show that your company takes diversity seriously and has given it the proper consideration it deserves.
What is a diversity statement?
A diversity statement for your organization is a written explanation of its commitment to diversity, equity, and inclusion for its employees and customers. It tells stakeholders how diversity fits into your organization's mission and values.
Creating a diversity statement involves considering the feelings of the many different stakeholders (both internal and external) of your organization. Poor diversity statements (or none at all) can be detrimental to your organization's mission and even contradict your values.
If you need some help, I've lined up some tips on how to write a diversity statement. Jump ahead to see a diversity statement sample from a few companies doing it right.
How to write a diversity statement
In writing a diversity statement for yourself or your organization, it's crucial to consider your mission, values, and vision. Also, consider how various stakeholders may perceive your statement. Diversity statements should be created in coordination with your recruitment marketing goals to prevent people from believing you foster a hostile work environment.
It's likely that people will examine a diversity or position statement upon its first release, so create a diversity statement that is waterproof and leaves no room for misinterpretation. It may be best for your organization to hire a freelance copywriter or agency to assist with this process.
5 diversity statement tips
Because diversity statements can have major implications for your organization, it's important that you really consider the optics of the content in your diversity statement, as well as where it lives. A smart choice is to create an easy to find landing page on your website for anyone who has questions about your organization's stance on diversity, equity, and inclusion. Highlight this page through the application process to take it a step further.
1. Craft a powerful headline
A headline is the simplest way to encompass your diversity statement. This should be a simple phrase that can be remembered easily throughout your whole organization and even external stakeholders. These headlines are designed to introduce people to your diversity statement and motivate them to read further.
2. Use positive language
This tip may seem obvious, but stick with me. Positive language can be slightly subjective. Your best route is to focus on words proven to evoke positive feelings rather than negative ones (e.g. inclusive, celebrate, grow, freedom, commitment, experience).
3. Cite specifics
A diversity statement can be made even stronger by not just talking in overarching themes and ideas, but by actually pointing to tangible ways in which your company is committed to DEI initiatives. For example, recognizing specific resources or internal support groups shows you don't just talk the talk, you walk it too.
4. Keep it the right length
Remember that you're crafting a statement, not a thesis. Generally speaking, keep it below 100 words. It's always an option to draft supporting articles to the statement. Focus on being more concise and easy-to-understand throughout your diversity statement.
5. Make data available
The best diversity statements make it clear just how the organizations are progressing at creating a diverse and inclusive workplace. Your company should have (self-reported and anonymous) demographic data on the ages, ethnicities, and genders of its employees. Sharing this with stakeholders shows how you measure up against other organizations. If you don't have this data, consider collecting snapshot employee data and publishing a diversity report.

Diversity statement samples
Through my research, I came across a few organizations that I believe are totally nailing it with their diversity statements. Perhaps seeing these will help you in crafting your company's own diversity statement landing page.
HubSpot
If you're familiar with HubSpot, it's no surprise that it is a perfect example of what a diversity statement should look like. The page begins with a powerful, yet simple headline: "You are welcome."

The statement even concludes with a powerful call-to-action for interested applicants to view all the available jobs and build a company that future generations can be proud. Scrolling further down the page, you'll see employee testimonies, resource groups, demographic statistics, and the tangible efforts made towards the company's DEI goals.
Salesforce
The Salesforce diversity statement kicks off with the strong headline: "We're greater when we're equal." You're then encouraged to watch a short video of employees telling the viewer about what makes them unique and explaining their personal experiences with inclusion at Salesforce.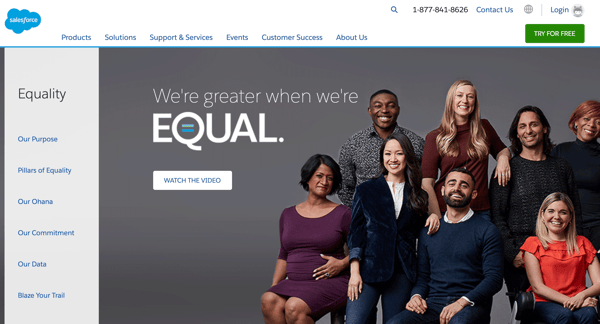 Continuing down the page, you're shown the company's four equality pillars, can learn more about employee resource groups, an infographic detailing diversity statistics, and trainings on how to "join [Salesforce] on this path to Equality." Salesforce puts all the information directly in front of its stakeholders in a way that's simple and engaging.
Related: Learn how to create a core values list for your company to lay out what principles you cherish and encourage.
Push beyond the norm
A truly memorable diversity statement is crafted in a way that shows potential employees and other stakeholders a complete snapshot of what your organization's commitment to integrating diverse perspectives into your corporate culture is. DEI initiatives are expected of large companies in the current climate, so how will you go above and beyond with yours?
Younger generations are the most diverse in American history. Diversity, equity, and inclusion are expectations these generations have in the workplace. These 3 proven strategies will help you recruit Millennials and Gen Z to your organization.