Customer service is like flour.
Just like a cake, too much will result in dry and overbaked conversations. Too little, and the cake will have no foundation, resulting in failure. Customer service has had an extreme impact on the way consumers communicate, process information, and make buying decisions. People rely on customer service teams to assist them now more than they ever did in the past.
Think about it. You can order food, get a ride in an instant, and find the answer to your question quickly all thanks to a dedicated customer service team.
What is a customer service team?
A customer service team is focused on providing the best possible customer experience and continuing to nurture relationships after a product is sold.
Customer service teams communicate with consumers on an as-needed basis and use a variety of communication channels such as over the phone communications, social media customer service, or through a chatbot. In this article, we'll walk through 10 tips on how to build and manage a high-functioning customer service team.
How to build a great customer service team
To create a customer service team that goes above and beyond, you'll first need to start with some basic customer service training. Come together with your team and have a brainstorm session about what your company and department expect of customer service employees. The following tips will help guide you as you begin to hire and build out your team.
1. Build a strong foundation
Before anything, define what great customer service is for your company. This is an important jumping-off point to get everyone on the same page in regards to the expectations they'll need to meet that align with your customer service philosophy. When you start the process of building a team, you need to define the quality of service that the team will provide. Once you've defined this, you'll have a baseline of competencies with which you can measure team performance.
Exceed customer expectations
To impress your customers, always aim to exceed their expectations. What are the typical response times that other customer service teams meet? Who are your biggest competitors? How can you go above and beyond to dazzle your customers? Continuing to push your team to provide the best service possible will land your company among others that are known for great customer service.
Regularly ask your team the following questions to set baseline expectations: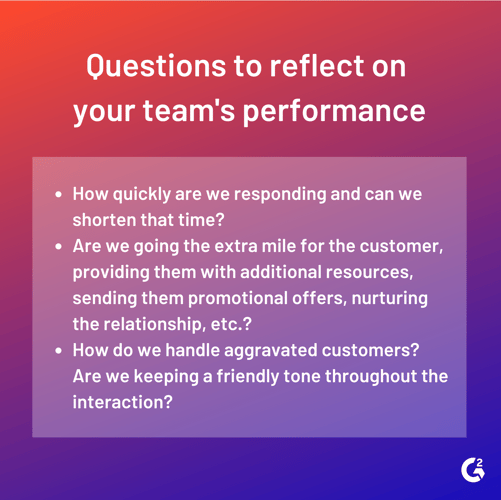 Asking your team these questions can help to create standards and build a strong foundation as you begin the hiring cycle.
2. Empower your team
As you hire your customer service team, don't put limitations on their capabilities. To empower them, give each member the responsibility and authority to make decisions when in contact with customers. Training your team to work in the best interest of the customer will make the difference between just okay customer service and a five-star rating.
Empowering your team doesn't stop at giving them the flexibility to call their own shots. Providing them with the proper tools to do the job sufficiently is essential. From help desk software to live chat software, check out the top customer service tools your team can utilize to wow your customers.
3. Motivate with recognition
Happy employees will result in happy customers. There are a variety of ways to motivate your employees and ensure they arrive to work with a positive demeanor. Recognizing team members for their accomplishments is just one way to encourage hard work.
Note: Every company and team is different and should be tailoring their efforts to recognize employees appropriately. Not everyone enjoys loud congratulations. Sometimes a quiet word of affirmation will go further than a team-wide announcement.
Rewarding your team with recognition can improve team morale and overall job satisfaction. Another way to continuously motivate your employees is to offer feedback on their performance. When someone receives notes that they're exceeding expectations, they'll be more motivated to work even harder and maintain that level of performance.
As a manager, you should also always be open to taking suggestions from the team members that directly report to you. It should be a collaborative team effort to improve and strengthen processes for everyone.
4. Stay transparent with your team
Transparency can go a long way. Keeping your team in the loop with where you're at will let them know you trust them and that they can come to you if they need to. Clear internal communication will set the tone for how employees, management, and executives should treat each other. The larger the company, the more important (and challenging) transparency will become. Achieving and advocating for it should be at the forefront of your mind as you lead your customer service team.
5. Always listen to the customer
Now that we've laid down the ground rules for how you should manage your team, let's talk about how your team should interact with your customers.
Although "listen to the customer" seems obvious, many businesses fail to truly hear their customers and understand what they want. As an exercise, dream up the perfect customer/customer service worker interaction. That is what your team should always be striving for. The one true teacher is life experience, so think about all of the bad customer service interactions you've had and train your team to do the exact opposite.
In short, take the time to understand your customers. Put yourself in their shoes and work from there. When someone knows you are trying your best to solve their issue while respecting their time, they'll be more likely to stay loyal to your brand.
6. Determine the channels you'll use
Be open with your customers and let them know which channels they can find you on. If the large majority of your audience lives on Facebook and LinkedIn, link these social accounts in as many places as possible. It's easy to say that your customers can "find you on social", but dedicating two or three channels where you have reps monitoring at all times will ultimately let them know where they need to go if they're facing issues with your product or service. It's always better to provide quality support on a few channels than spread your team too thin and provide inconsistent assistance.
7. Prioritize quick responses
According to Oracle, more than 80% of Twitter and 50% of Facebook users expect a response to a customer service inquiry in a day or less. Other surveys reported that some customers expect a response within the hour.
No one wants to waste time calling a customer service line to only have to call back because the rep didn't properly help them. Prioritizing a quick customer service response time will need to be paired with the right solution to the problem to truly provide great service. If you can solve their problem quickly, the customer is more likely to stay with your brand.
Always respect the customer's time. Include a contact number and the best social platform to contact you on in your text messages, emails, and (of course) on social.
8. Trustworthiness + keeping promises
If your customers don't feel they can trust you, you're in trouble. The task of building trust between you and them doesn't have a finish line you can cross. The more honest you can be and the more you can fix the issue with their best interest in mind, the better.
No matter what, only promise what you know you can deliver. The customer will appreciate your honesty and won't be let down if you promise what you're capable of.
9. Create a team who cares
Get to know the customer. For any size business, showing them that you care enough to remember them can nurture the relationship even more than giving them something for free.
People like to be remembered and although it's impossible to remember everything a customer tells you, documenting the interaction and taking brief notes while you're talking to them can keep track of different customers.
Ultimately you want to create a customer service team that cares. As you go about hiring, ask yourself these questions to ensure you're building a reliable team: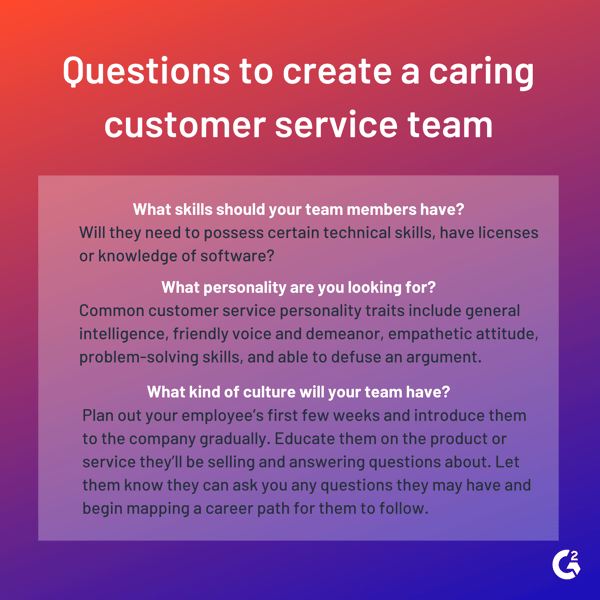 Creating a team culture that promotes first and foremost taking care of the customer will not only foster creating meaningful customer/rep relationships but also meaningful employee/manager relationships.
10. Build a community
The last tip to create a great customer service team is to build a community for your customers. If your company specializes in something, create a community around that thing and establish yourself as the source to go for information and assistance. Whether the community lives online or physically in a storefront, you can host events to help the customers. Think webinars and customer exclusive events with classes or demonstrations on how to use your product or service.
Building this community for your customers will improve the customer experience, help your reps to gain face-to-face customer interactions, and can be a great additional source of revenue.
Show you care
Thanks to technology, empowering your team to provide exceptional service has become easier than ever. Techniques like integrating automated customer service reps into your strategy to monitor your inbox while your human reps are sleeping have revolutionized the industry.
On the opposite end, when a customer experiences poor service, they can log onto a review site and leave some pretty sour words about the company. Small changes in processes and continual improvement to your customer service strategy can help you avoid this altogether.
Do you want to change the way your team works? Discover how AI in customer service is used to improve the customer experience.