In a world where both grabbing and keeping, a customer's attention is becoming increasingly difficult, companies are constantly on the lookout for the most innovative and interesting ways to increase customer service by engaging their customers.
But what does that really mean? How does an increase in customer engagement improve the customer experience and impact your bottom line? And what ways can you make sure you create an engagement strategy that drives real value for your business?
What is customer engagement?
What makes the concept customer engagement so tricky is that there is no universal definition. Customer engagement means different things to different people, and to different companies, and rightly so. While many definitions of customer engagement focus on interactions, there is no one-size-fits all definition of the term that suits everyone.
In fact, the sheer volume of definitions on offer proves just how tricky the term is to pin down. So, what if we take a different stance: let's not restrict the term to one definition at all.
Here's a look at how it's defined by some industry leaders:
Precisely because customer engagement doesn't have one all-encompassing definition, companies can mould the meaning to fit their needs—this becomes particularly clear when you consider the main difference in customer engagement in B2B and B2C organizations.
In B2B organizations, customer engagement tends to be more focused on stakeholder management. In other words, instead of dealing with one specific customer, as in B2C companies, B2B engagement often means working with a number of decision makers in an organization, who may change position at any time.
Related content: Learn more about the similarities and differences between B2B vs. B2C marketing
With this in mind, our Customer Success Manager at inSided, Martine Van Deursen, focuses on the two-way relationship building behind engagement in her definition:
"Customer engagement in B2B is all about customers experiencing a real partnership. When customers feel listened to they tend to share their opinions and experiences with you, and each other, in order to influence the development of your products and services. This both drives revenue and allows you to continuously improve your product."
Ultimately, no matter how you define customer engagement, the truth is that organizations are becoming more and more aware that its way to generate revenue for the business.
Tracking the rise of customer engagement
Despite the varying definitions, what's not in dispute is the growing popularity of the term—as you can see from Google search trends over the last ten years: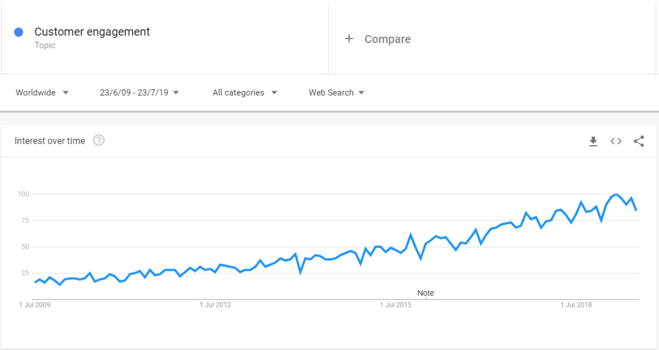 Clearly businesses are understanding how important a role customer engagement plays in their success and, at the same time, customer experience expectations are constantly rising. In fact, according to 'The State of the Connected Customer' survey by Salesforce, a massive 54% of customers think companies need to transform the way they engage.
This could mean anything from reducing reliance on automated chatbots, to improving the response time on customer requests, to increasing communication with customers through social media...but before we move onto the how, let's look at the why.
What's the value in customer engagement?
As a general rule of thumb, the more active and engaged the customer is with a company, the more satisfied they tend to be. Just take a look at these stats from that same Salesforce report.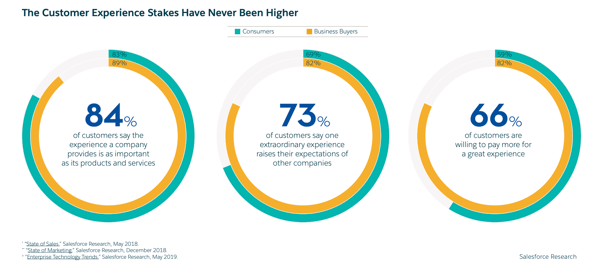 Source: Salesforce State of the Connected Customer Report
There are some that argue with this point by saying that it's not the role of an organization to make customers happy, only to make them successful, but that's simply not the case. The data shows that customers expect companies to meet them in the middle.
1. Customer engagement indicates your business health
So taking this to be true, customer engagement is a key indicator not only of the happiness (or successfulness) of your customers, but also of the health of your business. A recent survey on Customer Success from Deloitte indicated that,
"Nearly three fourths of the respondents include customer engagement and sentiment indicators in customer health evaluations today."
In other words, an increase in customer engagement results in a better customer experience, which leads to higher customer satisfaction and likelihood of success. And this will ultimately lead to an increase in customer retention and more revenue! Simple, right?
When you put this idea into the context of, say, having a meal at a cafe or restaurant, it's quite easy to understand.
You have a waiter who asks how you are, interacts with you and informs you about the menu. Your waiter checks on you during your meal to make sure everything is meeting your expectations.

You automatically have a more pleasant customer experience. You are more likely to be satisfied and go back to that restaurant. Not only that, but if your experience was really good, you might even recommend it to a friend, write a positive online review or give feedback to the restaurant on what you loved from the menu or what you would like to see them offer up in future.
While this is a simplified example, wouldn't it be fair to say that the engagement goes a long way to influencing your decision to return to the restaurant and/or share your positive experience?
When you add to the mix that, at least in SaaS (software as a service) companies, acquiring new customers can be more expensive than up-selling, it's easy to see why businesses are making customer engagement and retention a focal point.
2. Customer engagement drives retention
What's more? Customer engagement isn't only a key driver for retention, it can create brand ambassadors—those customers who are loyal to your company, give you repeat custom and rave about your product to others.

While brand advocates have been a mainstay in B2C marketing for years, more and more B2B companies are now tapping into the power of customer ambassadors. Advocates promote your product or brand, suggest use cases that others may not have considered, and even give your business feedback on your product or service so that you can continually improve.
As we move more and more into a subscription economy, with customers paying a monthly or yearly fee for a service (be it Netflix in B2C or Salesforce in B2B for example), it's hard to overstate the power of brand ambassadors and word-of-mouth-marketing. The vast amount of choice on offer means that customers rely on authentic recommendations they both believe and trust, and who better to give those than other customers or users themselves?

So we know its value, but how do you go about improving customer engagement?
5 tips for an effective customer engagement strategy
There are a host of different approaches to improving and increasing customer engagement, and of course they depend on the industry you are in. So with these 5 tips for driving customer engagement remember to tailor them to suit your business needs, and more importantly, the needs of your customers:
1. Unite your users
This should be at the heart of all B2B and B2C customer engagement strategies. Webinars, meetups, round table discussions, social events: these are all great ways to meet your customers face-to-face and let them share their experiences with your business. It's also an ideal way to help customers feel like they are really part of your brand, not only increasing engagement, but also loyalty.

That said, in person events do have their limitations, particularly in B2B organizations. For example: it's hard, if not impossible, to include all of your customers, often they are expensive to put on, and it can be difficult to adequately collate feedback from them. That's where having an online community can really bring your customer engagement to the next level.

Online communities give your customers a transparent platform to interact and share best practices with each other, and your business. Communities foster the feeling that customers are part of an interactive and interesting group that allows them to learn from each other and drives engagement.
What's more? Customers can vote on the best answers in a community which not only increases interaction, it reduces pressure on your customer support teams by allowing customers to self-serve and help each other.
2. Make it personal
Showing the face behind the product or service is of paramount importance nowadays. Adding personal touches to your product or service promotes trust and increases authenticity. Although people want easy and efficient self-service, they don't want to get stuck speaking to a chat-bot.
Instead, customers appreciate interacting with the real people behind a company. Whether it be a relatable post on social media, a personalized email or, a polite phone call—don't hide behind your brand, increase the likelihood of customer engagement by showing some character!
3. Use Gamification
Everyone loves a little fun, right? Gamification—in other words adding elements of game playing into a product of service—is a great way to engage customers and encourage interaction. Believe it or not, your customers already expect you to use technology to improve their experience.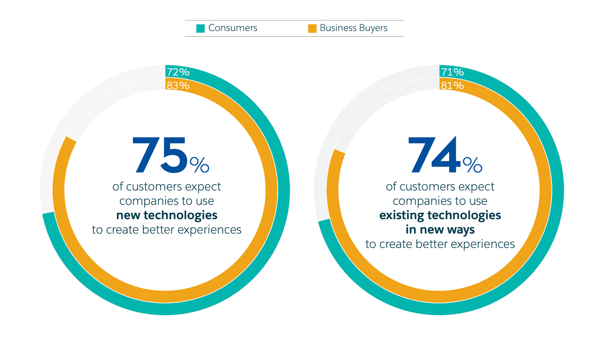 Source: Salesforce State of the Connected Customer Report
And it doesn't have to be complicated. It could be as simple as offering badges to your most loyal or active customers (online or offline), asking customers to rate their favorite elements of your product or sending them a scratch card in the post!
Not only does this engage customers, it can go a long way to turning them into advocates. Be inventive—the more interesting you make it, the more likely customers are to engage, and shout about it.
4. Hear customers out
You can't expect customers to engage if you don't listen to them. Whether it be taking on their feedback form emails, phone calls, letters, face-to-face meetings or comments on a community forum, your customers can give you hugely valuable input to help you improve your product.
This is particularly important in the SaaS industry where allowing the voice of the customer to help shape your roadmap ensures that they get the most out of your product and you build a plan that addresses their needs. Online communities also offer a closed platform to beta test elements of your product and get feedback/buy-in before launching feature updates—a perfect way to let your customers feel included in the building of your brand.
Of course, you can't respond to, or take on, all of your customers' requests—but showing a willingness to acknowledge and listen to them is a crucial step to improving engagement.
TIP: Claim your G2 profile today to get started listening and responding to your customer reviews!
5. Measure correctly
Last, but certainly not least, make sure you are correctly measuring customer engagement. This is easier said than done and, again, what you measure depends on the goals of your organization.
A few metrics you should consider are:
Frequency of customer contact (by phone, social media comments, likes, email - whatever communication channels your company uses)
Website/mobile interaction (web/mobile sessions, content downloads or blog subscriptions for example)
Event attendance
Reviews and comments (particularly relevant on an online community)
For online platforms measuring engagement effectively often requires having a diverse tech stack. In other words, making sure that your systems are well integrated with each other to give you a 360, holistic view of the customer.
Of course, none of these matters without ensuring the data you're collecting is high quality. Without the assurance that the data you've measured is accurate and precise, the data tracking process is no good. That's why many companies employ the help of a data quality software system to help them identify data inaccuracies, normalize data formatting, and more.
Of course there are many more, but remember that what you drive, and measure, when it comes to customer engagement should reflect the overall goals of your business.
Customer engagement increases customer care
One thing's for sure: the need for innovative ways to engage your customers and enhance the customer experience is here to stay. Always bear in mind that it's a two-way street.
It relies just as heavily on the company as it does the customer, so companies need to make sure it's front and centre of their overall business strategy. If businesses forget about their customers, their customers are likely to forget about them.
Interested in learning more? Learn how AI is changing customer service and check these awesome customer experience examples from different industries.