Customer relationship management (CRM) aids businesses in collecting, housing, and managing your contact, lead, and customer data.
It's important to note, CRM software does more than help keep track of your contact data, it provides a foundation for growth across your entire organization.
CRM is a strategy. Success with it takes careful planning and implementation, active user adoption, and consistent management.
The best CRM for SMBs
While larger businesses and enterprises tend to have unlimited resources for this, small and midsize businesses (SMBs) need to focus on simple and effective, yet feature-rich solutions to help them succeed with their CRM implementation.
7 basic CRM feature requirements for SMBs
Not all CRM platforms are created equal and one-size does not fit all. One trick to CRM success is investing in a platform with the right features for your business. If you don't have the features your team needs, user adoption dwindles and your entire implementation fails.
Lead, sales funnel, and opportunity management
This may seem like obvious functionality, but you'd be surprised how many CRMs are limited in these areas. The purpose of a CRM is to streamline your sales process and improve your customer-facing strategies. Not having access to an accurate sales funnel or opportunity management severely stagnates the benefits of having a CRM in the first place.
I highly recommend looking for a CRM that has a robust lead management feature with contact filtering by campaign, demographic, and lead scores, along with customizable sales funnels and company management, to name a few. While you may not use all these tools right away, as your business grows, so will the need for more features.
Mobile CRM
CRM on the go is one of the best ways to get your team members to use the system, especially while they're out in the field or at an event. CRM usage shouldn't stop once you leave the office.
Nobody wants to come back after a long day to try and remember every conversation that happened. Having access to lead data, notes, and more makes it so your sales team members can access any information they need no matter where they are doing business.
Quote, invoice, and document management
Quote management software, invoice software, and e-signature software are all important in growing your business. Having a system that integrates these pieces right into your CRM means you can execute these tasks easily and right from the contact record. You can also pull up a contact record and view all purchase and billing history from the same place.
Project management
This may seem like a superfluous feature, but it changes the way a small business works. It helps track projects and tasks internally. Additionally, it helps streamline projects for clients, giving them transparency into your work with them.
Not to mention, tasks and projects will be trackable within the CRM. All you have to do is pull up a contact record and view any projects associated with that particular contact. Having this built-in saves teams a lot of time and energy that would have been spent pulling data from one system into another.
Marketing automation
CRM and marketing automation software have to be integrated in order to work most effectively. To actively personalize and/or segment your messages, you need to pull this data from your CRM.
Sales teams can view which messages were read, including when and how many times, right from with the contact screen. When the two are integrated (along with these other features), you gain an accurate 360-degree view of the customer and significantly improve your sales and marketing alignment.
Customer service tracking and management
Just like with any automation, integrated customer service management, such as ticketing, enables you to provide better, more in-depth, and personalized customer services and support. For example, the support team can access up-to-date customer data to provide better context for the inquiry at hand. The sales team can then review these inquiries and issues prior to following up with the lead or client, while the marketing team can create content to better speak to the pain points and needs of the target market.
Access control and data security
Your company's data must be secure at all times. Controlling who can see certain information or access specific parts of your CRM is one way of protecting your business and, not to mention, the information of your leads and customers.
Never use one login for multiple people. Having multiple people use the same login negatively impacts accountability within the system, especially when it comes to updating contact records or assigning specific tasks to be completed.
Make sure everyone is onboarded and setup properly with their own logins. While selecting a CRM that charges based on users can get expensive, you may want to opt for a system that has a pricing system based on contacts, ensuring the entire team has a login and proper access.
Why an integrated CRM solution is the best for SMBs
As we can see from this list above, CRM has evolved. It is no longer a one trick pony acting as just a contact management system. It is integrated and complete, coming with a multitude of essential tools right out of the box.
Integrated technology is the future for small businesses. Most SMBs do not have the resources to support multiple systems, let alone the budget to invest in all these different tools.
As a small business, you have to think about Total Cost of Ownership, which is the actual cost of purchasing, implementing, and managing a platform, not just your monthly subscription cost.
Three CRM Options for SMBs
GreenRope complete CRM
GreenRope is an all-in-one CRM and marketing automation platform combining sales, marketing, customer service, and operations into one single dashboard. Out of the box and at all subscription levels, this fully integrated tool includes the features mentioned above, along with websites and landing pages, social media integration, predictive analytics, campaign optimization, and a learning management module. GreenRope's subscription levels start at $149 and are based on contacts, rather than users, making it affordable to onboard your entire team. View GreenRope reviews on G2Crowd.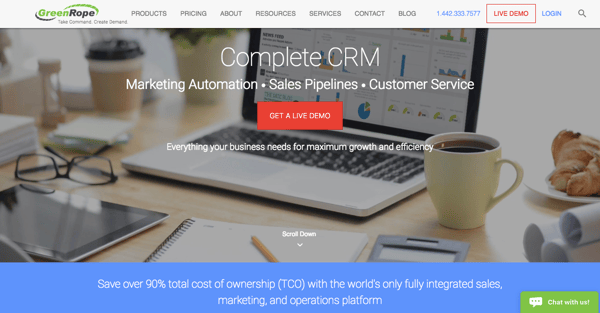 Mothernode CRM
Mothernode offers SMBs a comprehensive tool designed to help an organization streamline and grow. It offers four separate editions, each offering an additional set of features on top of its base sales team package. At the highest level, the software includes invoicing, purchase and work order management, among other additional features. Prices are based per user and start at $49/month. View Mothernode reviews on G2Crowd.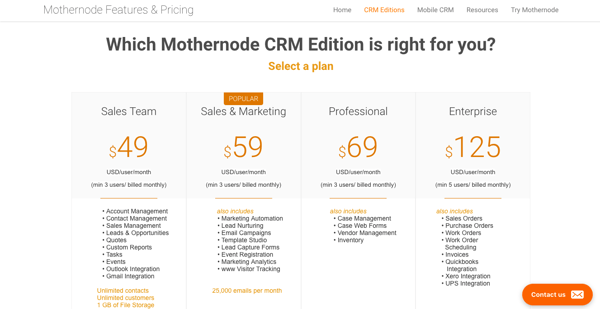 HubSpot
HubSpot's CRM is an easy-to-use tool designed for smaller companies to get started with CRM.
TIP
: HubSpot users are syncing their account with G2 to never miss another opportunity to attract, convert or retain customers.

While its CRM is free, in order to access any marketing or additional features, you must subscribe to its Marketing Hub and Service Hub for full marketing automation and customer support capabilities. Once subscribed to all three modules, you have a powerful tool that will successfully and effectively manage your day-to-day operations across departments. View HubSpot reviews on G2Crowd.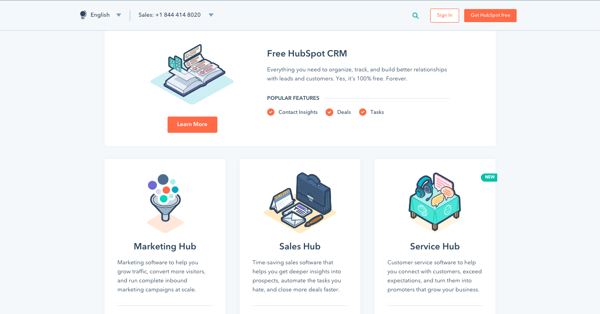 Final Thoughts
These platforms are some of the more integrated tools on the market.
While each is different in its own way, I highly suggest evaluating 2-to-3 solutions before making a final decision. CRM is not one-size-fits-all and it's important to implement a platform that will work for your entire team.
As a growing small business, every little expense, strategy, and tactic matters. Choosing a highly integrated platform gets you started on the right path, saving you the time, money, and resources you need for future growth.
For more SMB best practices, learn about the best financial questions for small and medium sized businesses to keep in mind.