Personalizing an email can mean many different things, from simply addressing a prospect using their name, to writing a completely bespoke email that's been crafted for that recipient and them only.
It's always important to personalize to some degree – after all, if you don't know anything about who you're sending an email to, why are you sending it? However, you won't (or shouldn't be) personalizing every single email to the same extent. Some prospects are worth more of your time than others.
Before we go into that though, let's talk about why you should make the effort to personalize cold emails in the first place.
The power of personalization in cold email
Personalization is powerful. It can take your campaigns to the next level. Compliments, establishing connections, or mentioning mutual acquaintances can all turn a cold email warm.
Take this experiment executed by Shane Snow and Jon Youshaei. It involved sending 1,000 cold email outreach with only the contact's first name as personalization. The response rate was just 1.7 percent.
Perhaps more interesting is the fact that this wasn't even a sales email – it was a request for help and advice – something that, in Shane's experience, typically sees higher response rates than sales emails.
While we can't be certain that the lack of personalization was to blame, we can be pretty confident that it played a part. After all, why would you email someone asking for advice if you don't know who they are and you don't show that you respect their knowledge or opinions? Odds are, the results of this experiment would have been very different if they had leveled up the personalization and buttered up each respondent by stating why they valued that person's thoughts and opinions.
On the other hand, in the same article, Shane and Jon explain that they met as a result of a hyper-personalized cold email that Shane sent to Adam Grant: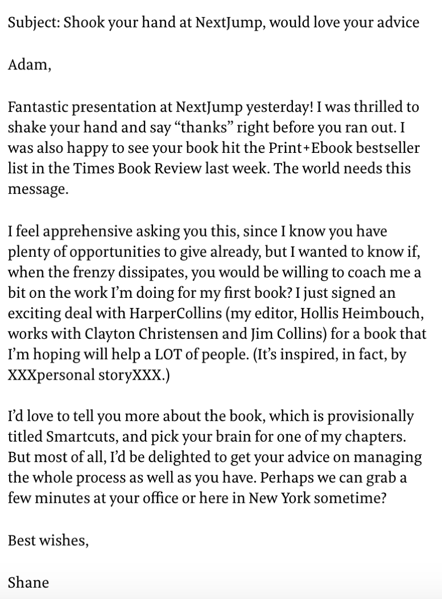 Although the ask was a pretty big one (Shane wanted to pick the brain of the prospect in person), the fact that the email was clearly written for that recipient and them only got the desired response and sealed the deal. What Shane did in this cold email is almost a form of relationship selling – he opened his email by reminding Adam of their "relationship" (even though it was just a quick handshake and greeting). He then established common ground (their mutual profession), added a real, honest and humble ask, and closed with a bit of flattery.
You won't do this often, but when there's a perfect prospect/proposition match, 100% personalization may well be worth your time. In any case, this goes a long way toward demonstrating that personalizing emails – even to a lesser degree – is worth it.
TIP: Find the ideal contact then personalize your email using G2's integration with Clearbit.
How much should you be personalizing cold emails?
While hyper-personalizing every cold email you send is a nice idea, it simply isn't feasible – or at least, it's not scalable. Marketers can't use their experiences to personalize every email.
The majority of marketers and salespeople execute cold email campaigns en-masse. That means that being strict about how much time they spend writing and personalizing the messages they send is part of it. Not every prospect can, or should, get the same level of attention. How much an email should be personalized depends largely on the lead themselves, and how qualified they are.
To establish this, you can use lead scoring.
Lead scoring is a way of determining how likely a prospect is to convert. This score can be calculated using a number of different demographic and lead intelligence metrics, from the size of a prospect's company and their role at work, to the actions they have (or haven't) completed. (Lead scoring software can help companies manage this process.)
Of course, barring opening an email and not replying, cold leads are cold because they haven't completed any actions. This means that when assigning scores to cold contacts, you're going to be relying on demographic data you can collect from prospecting tools and your own research, instead.
While the result won't be foolproof, it will help you decide between simply inputting a prospect's name and hitting send, or writing an email that is nearly, or entirely, personalized.
Where to use personalization
When crafting a cold email, you don't just need to decide how much to personalize it – you need to decide where and how to personalize it, too.
While there are many ways you could theoretically do this, here are a few of the most common and most effective ways to personalize cold emails.
When segmenting cold email lists
Segmentation offers a powerful way to personalize emails. When organizing prospects, divide them into different lists according to attributes like their job role or industry, and target each of those lists using a customized template. You could leverage hyperlocal marketing and segment by geographical location as well.
In your email subject line
This would likely entail writing a different subject line for each segmented email list, but you could also experiment with including prospects' names in subject lines (a tactic that has been shown to boost open rates), or a snippet of information that demonstrates you know who you're emailing, and that you have a legitimate reason to be getting in touch.
Using images, GIFs, or video
Using images and other forms of media in emails has been shown to have a significant impact on reply rates. Try including images, GIFs, or videos that you match in line with segmented email lists or the information you have on prospects. Or go one further and use a tool like BombBomb to quickly create and send personalized videos over email.
In pain points
While pain points are mostly unique to the individual and their business, we can typically group them according to attributes like industry or job title. Use this information to personalize cold emails according to the pain points you can safely assume particular prospects are affected by.
In follow-up cold emails
Follow-ups are an often-overlooked element of cold outreach. Many marketers don't want to be seen as "hassling" people, or they simply don't understand how effective a great follow-up email can be at getting replies.
Follow-up emails should be personalized in just the same way as your initial email. Use names. Send customized emails to segmented email lists. And make sure to highlight how what you're offering can address each prospect's likely pain points.
What do you do to personalize cold emails? Do you think putting in the extra effort improves your return on investment? It'd be great if you could spare a second to share your experiences in the comments below.